William Field Crichton Snow J10517
July 5, 1915 - January 28, 1943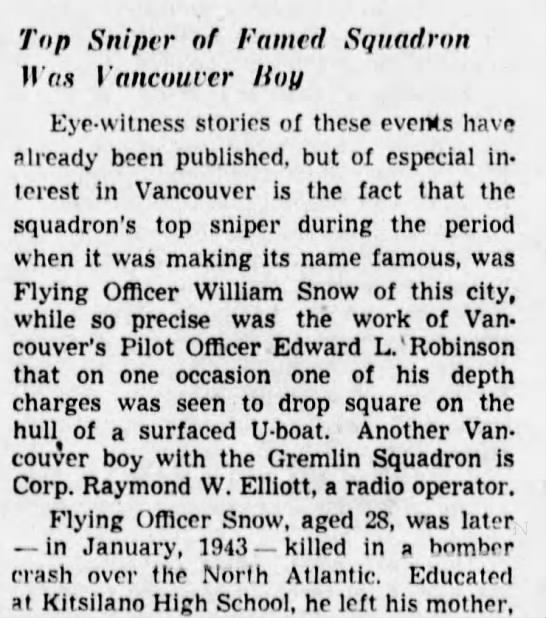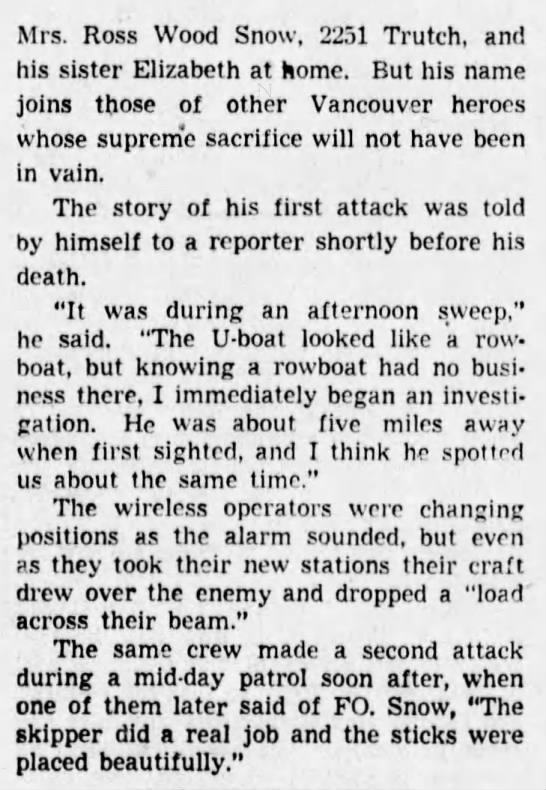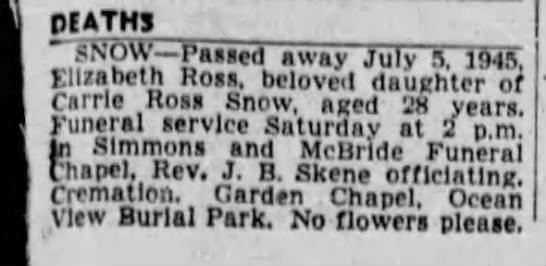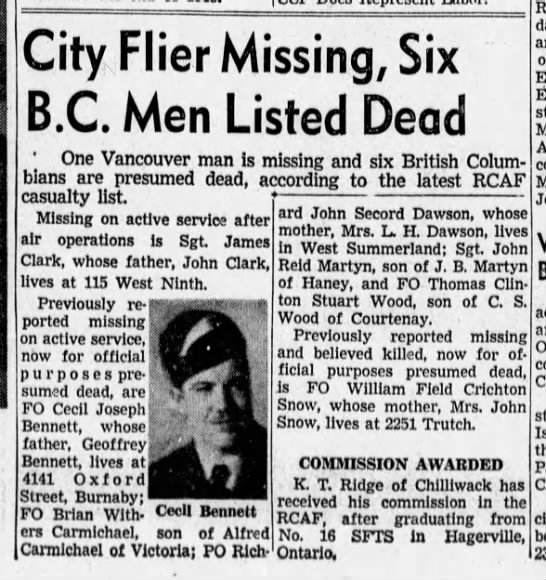 Bookkeeper became pilot in Torbay, Newfoundland. Aircraft lost during convoy patrol over Atlantic Ocean.
William Field Crichton Snow, born in Montreal, Quebec, was the son of John Snow, banker, and Carrie Ross (nee Wood) Snow of Vancouver, British Columbia. He had one sister, Elizabeth Ross Snow, who was a nurse, and contracted consumption while nursing. She died on William's birthday in 1945. (His father's whereabouts were unknown for many years.). The family was Presbyterian.

"I have two dependents for whose support I am solely responsible – Carrie Ross Snow, mother, and Elizabeth Ross Snow, sister (invalid)." William's last will and testament stated: "I give, devise and bequeath all my property both real and personal to my mother, Carrie Ross Snow, and in the event of my mother predeceasing me to my sister, Elizabeth Ross Snow. I further with it to be known that my father, John Snow, has no claim or interest against my estate and that it is deliberately and will full intent that he is ignored in this document." He paid $70 a month to support his mother and sister.

William worked at Canada Rice Sales Co. in Vancouver in bookkeeping for three years prior to his enlistment in the RCAF in May 1941. He had been a labourer for six years before that. He hoped to stay in aviation after the war. His prior military experience included nine months with the NPAM, Irish Fusiliers.

William liked to play Canadian football, golf, tennis and swam, and liked to read. He smoked eight cigarettes per day and drank the occasional alcoholic beverage. He stood 5'6 ½" tall and weighed 140 pounds by August 1941. "Athletic physique. Quick. Intelligent, straightforward. Seems well adjusted. Stable. Good interest. Wants pilot. Should do well. Direct. A good candidate for aircrew." Other comments: "This candidate has good appearance. Healthy, fresh complexion. Keen to be pilot and serve his country. Seems good material."

He started his journey through the BCATP at No. 2 Manning Depot, Brandon, Manitoba May 21 until June 21, 1941. He was then sent to Medicine Hat, Alberta to No. 34 SFTS until he was sent to No. 2 ITS, Regina, Saskatchewan on August 8, 1941.

From there, he was sent to No. 15 EFTS, Regina until November 8, 1941.

At No. 11 SFTS, Yorkton, Saskatchewan, November 10, 1941 to February 27, 1942: "A good average pilot whose instrument flying requires practice, learns slowly but remembers. Is somewhat lacking in self-confidence." In Ground Training: "Good type. Quite well liked, above average ability. 6th in class of 64." He earned his Pilot's Flying Badge on February 27, 1942, with a commission. While here, he forfeited some of his pay as he was AWL from 0600 to 1400 hours December 29, 1941.

He took a Bomber Reconnaissance Course in Patricia Bay, BC from March 9 to May 31, 1942: Average. Passed.

William travelled east to Halifax to Eastern Air Command and took a Hudson Training Course in Yarmouth, NS, from June 27 to August 8, 1942: High average. Passed. He was then posted to 145 Squadron, Torbay, Newfoundland August 13, 1942.

William was in the station hospital from January 17 to 19, 1943.

No. 10 Squadron Composite Training Flight, 145 BR Squadron: "65% on navigation training. At first his attitude was one of absolute sufferance but improved considerably toward the end of the course. Has the ability to turn in an excellent job when he puts his mind to it. On flying training: extent: this pilot has had 100 hours Hudson time but was sent on the course for bombing practice in a full bomb load check out. Qualifications: first pilot day: as yet his landings are not considered good enough for a bomb load check. Remarks: due to the shortage of aircraft, little flying was given this pilot. His flying is not considered smooth enough as yet for operational work. Average.

On January 28, 1943, Hudson 760, No. 145 Squadron, crew F/O William Field Creighton Snow, Captain, J10517, F/O R. R. Barnes, WAG, J12549, F/Sgt Jack Sinclair Boyer, Navigator, R90741, and F/Sgt Joseph Edmond Ouellette, WAG, R84524, took off for a routine convoy patrol. Snow had about six months on convoy duty and was assessed as an average pilot. Observer was in nose, pilot in position, WO between spars and 2nd WAG in co-pilot's seat. Four -250-pound depth charges were on board as were four Brownings, fully loaded. This aircraft was detailed to provide protection to an east-bound convoy which was in a danger area.

Memo: "A/C dived into the sea and blew up on contact two miles ahead of convoy and 200 miles from base. Bodies not recovered."

A Court of Inquiry was struck, and fifteen witnesses were called. F/O L. T. Ross, pilot in the convoy noted that his crew had contacted the convoy escort, exchanging recognition signals, experiencing considerable difficulty in counting the ships in the convoy due to poor visibility. The sea was very rough and the air above the sea was also very rough. There were snow squalls, fog and intermittently poor visibility and bumpy air conditions.

Description of Flight: "F/O Snow and crew of three took off in Hudson 760 at 0935 hours authorized to carry out a routine convoy patrol. Aircraft was to pick up the convoy approximately 170 miles east of base. As no word was received at base from Hudson 760 since takeoff, a signal was transmitted requesting the position. No reply and no further word were received from Hudson 760. At approximately 1135 hours, persons [Navy] on the escort of the convoy saw an aircraft crash about 2 miles ahead of them and saw a bomb or depth charge explode when aircraft struck the water. There were no survivors. The senior officer of the escort reported by signal the text of which was as follows: "Height 100 to 200 feet. Course NW, a/c banked to starboard away from wind, flattened out on course of 050 degrees and plunged nose first into the sea. Machine looked unsteady but no distress signal. Had recently passed call signs by V/S on request. Snow squalls, 3 miles rough sea; air temperature 26F." Searching aircraft were dispatched but no trace of the missing aircraft and occupants was found and nothing had since been heard of from Hudson 760 and its crew.

"Maintenance to the effect that about January 10th 1943, Hudson 760 was brought into maintenance squadron with a report that the air crew anti-icer system was not functioning. Upon investigation it was found that the piping system was completely plugged up by a gummy substance with about the same consistency as thick mud, and there are also certain definite signs of corrosion inside the tank and pipelines. A sample of this deposit was sent to Government laboratories for analysis which disclosed the substance was probably hydrochloric acid. The anti-icer system and tank from this aircraft were removed and completely replaced by new parts. The system was flushed through and checked and found to be perfectly serviceable."

FINDINGS OF THE COURT: A. Failure of one or both engines. B. Failure of fuel supply in one tank and the momentary distraction of the pilot's attention from his instruments while changing over to another tank may have caused a stall, or a stall may have been caused during a turn downwind. Carburetor icing does not appear to be involved. The Court finds that the occupants of Hudson 760 were on Air Force duty when they crashed into the sea; they are missing and must be presumed dead."

"Scene of crash not visited because it was unknown. Approximate locality in ocean known only. Until more detailed information of aircraft's attitude at time of crash is received, it is not possible to even hazard a guess as to cause of crash. Cause of depth charged exploding is not clear unless they were torn loose from carriers on impact."

For full account, please visit https://heritage.canadiana.ca/view/oocihm.lac_reel_t12340/4778?r=0&s=2

In February 1943, William Field Crichton Snow was recommended for being Mentioned in Despatches. "Flying Officer Snow has carried out 37 operational sorties over the North Atlantic having flown 171 operational hours out of a total flying time of 562 hours. While carrying out an anti-submarine sweep, he sighted and immediately attacked an enemy submarine with unfortunately no apparent results beyond a small oil patch. Later again he carried out a well-planned attack on another enemy submarine. Although no visible damage was apparent, it is believed that the submarine must have received a severe shake up. This officer has consistently displayed will and judgment of a high order. Flying Officer Snow, apart from the good work he did himself, was a source of inspiration to other crews." He was mentioned in despatches as of June 1, 1943.