William Francis Smith J36238
June 12, 1924 - April 24, 1944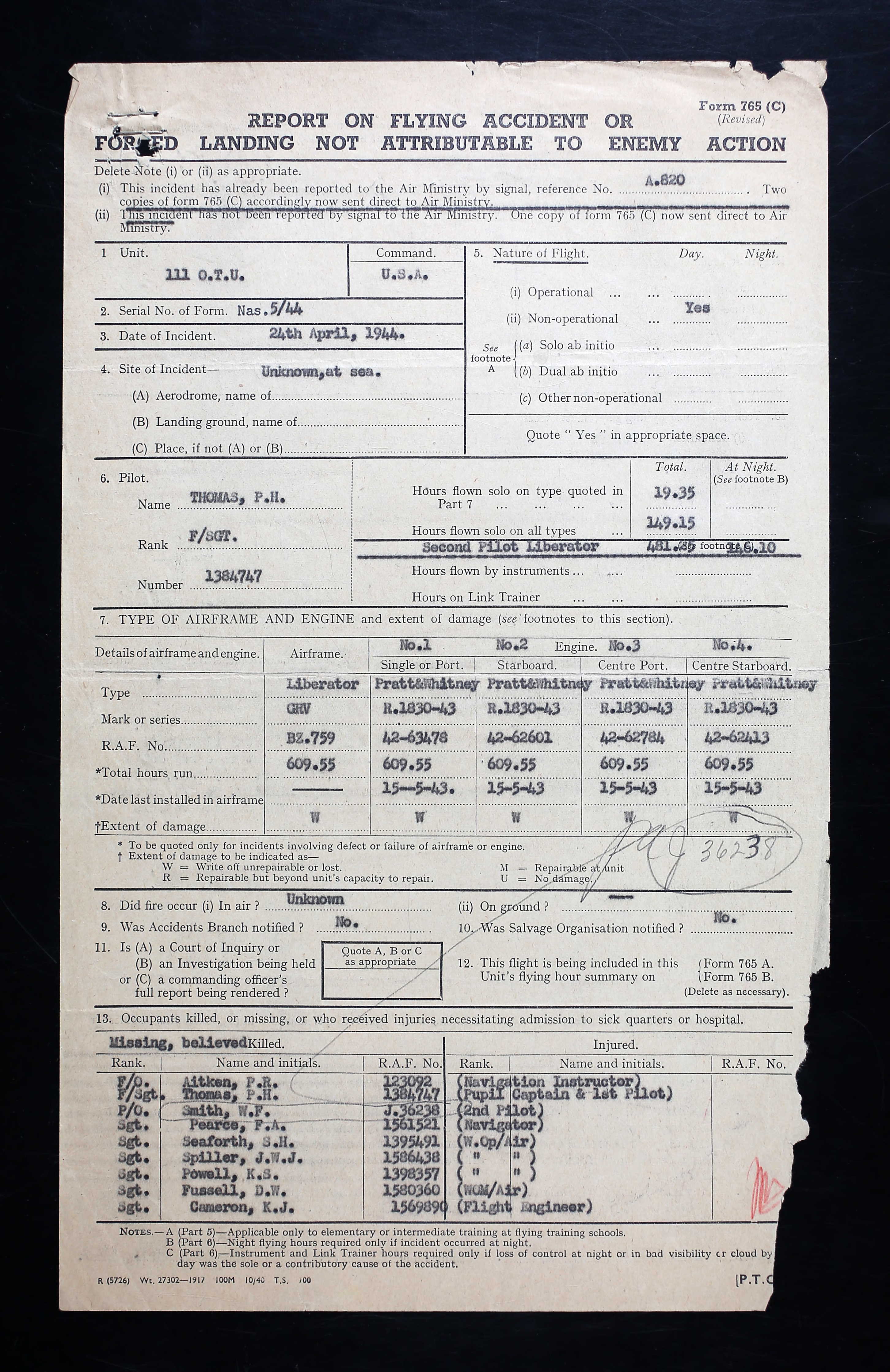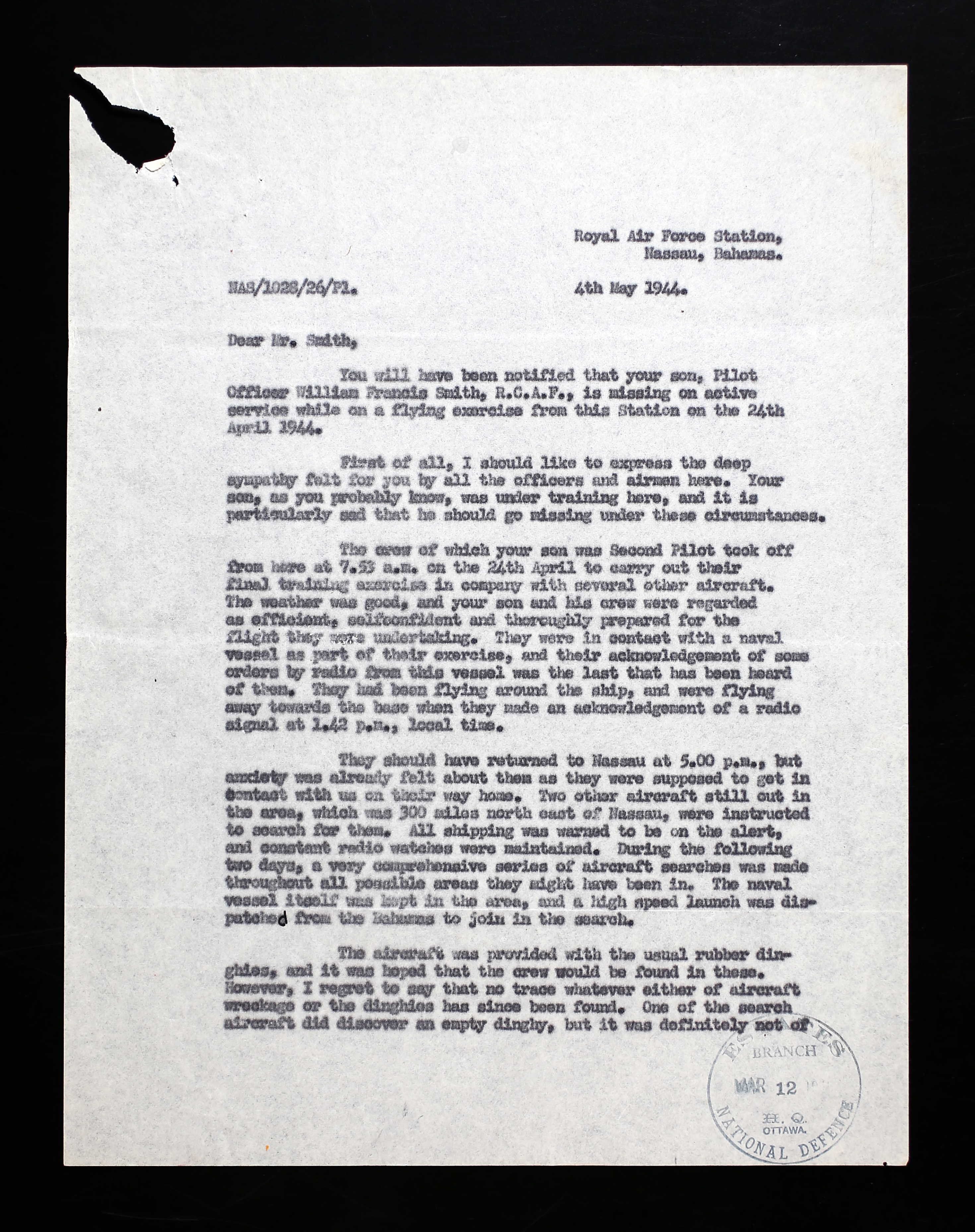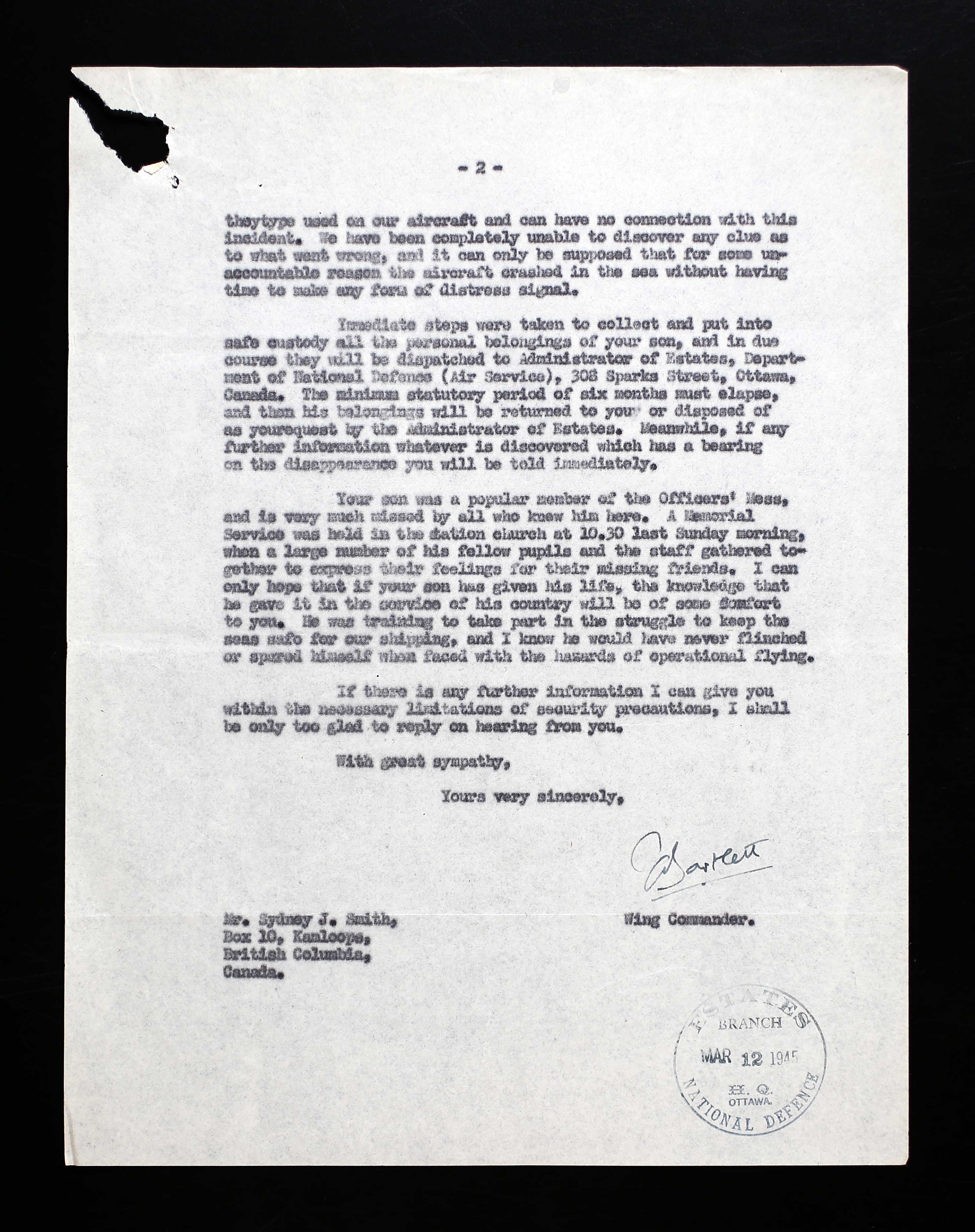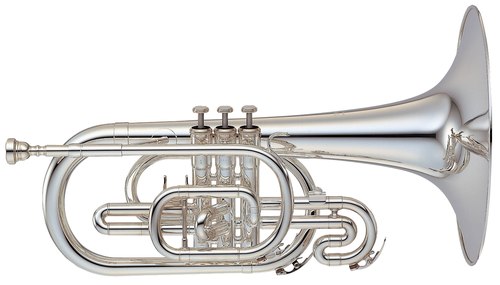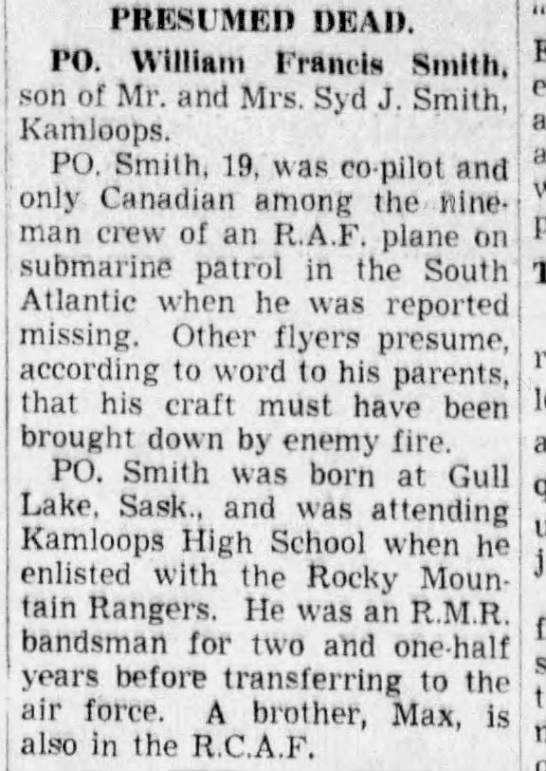 Underage student joined Canadian Army as a bandsman, then joined RCAF and became an above average pilot. Attached to No. 111 O.T.U., Nassau, Bahamas, he and eight others (RAF) were lost during a convoy exercise in April 1944 aboard Liberator BZ759
William 'Bill' Francis Smith, born at Gull Lake, Saskatchewan, was the son of Sydney John Smith (1892-1976), automobile dealer and politician, and Marion Shelburn (nee Holloway) Smith of Kamloops, British Columbia, Ottawa and Victoria. He had two brothers, Gordon Earl Smith and Henry 'Maxwell' Smith, who was in the RCAF, India Command, and one sister, Patricia Portman. The family attended the United Church.
Bill had blue eyes and fair hair. He stood 5'11" tall and weighed 148 pounds. He liked to play softball, rugby, hockey, lacrosse occasionally. He had an appendectomy in 1939. He very seldom smoked and on occasion, drank alcohol. He also liked photography and playing 'the horn.' He felt qualified to work as a store clerk. He hoped to return to school after the war and become a machinist and/or resume being a musician.
"A labourer by trade, he enlisted in the Rocky Mountain Rangers on 8 July 1940 in Kamloops, British Columbia, Canada. In Nov 1942 he was discharged from the army in order to enlist in the RCAF. A bandsman (playing the mellophone) by trade, he enlisted in the RCAF on 22 Nov 1942 in Vancouver, British Columbia." (From Find a Grave). Bill noted he was a student on his enlistment papers.
In November 1940, he was admitted to the Shaughnessy Hospital in Vancouver for influenza. In December 1941, he had bronchitis. He was confined to barracks for three days (neglect to the prejudice AA40) in Vancouver January 10, 1942 and in February 1942, he used insubordinate language to a supervisor officer and was again confined to barracks, this time for seven days. In July 1942, he was granted one good conduct badge.
Bill was considered athletic. "Seems fit and probably good type for transfer to aircrew." On February 17, 1943: "Age 18. Was in army 27 months as bandsman (underage). Poorly educated but fairly keen. Good pilot material. Fair navigator material."
Bill started his journey through the BCATP at No. 3 Manning Depot, Edmonton, Alberta November 22, 1942 to January 23, 1943. He was sent to No. 36 SFTS, Penhold until February 9, 1943. Bill was at No. 4 ITS in Edmonton from February 10 to April 17, 1943 and was 22nd out of 104 in his class with 88%. "Grade 10 BC. Was in Army for wo years. Normal sports. Assured, confident, cheerful, good appearance and personality. Father is an automobile dealer. One brother in RCAF (P/O)."
At No. 5 EFTS, High River, April 17 to June 13, 1943, he was 2nd out of 45 in his class with 86% in his finals. In flying, he was 4th with 80%. He was considered to be above average in natural skill, instrument flying and aerobatics. "Above average ground school, a very hard worker. Navigation is above average. High average pilot. No outstanding faults. Should make a very successful service pilot. Very good attitude and conduct." He found himself at the station hospital for two days, May 28-29, 1943.
His next posting was at No. 12 SFTS, Brandon, Manitoba from June 13 to October 8, 1943 where he earned his pilot's wings.
Bill was taken on strength at No. 1 GRS, Summerside, PEI in October 1943 and then sent to Lachine January 9, 1944 before being sent to the Bahamas where he was stationed at No. 111 O.T.U., Nassau January 26, 1944.
"Consolidated B24 Liberator GR.V BZ759 aircraft failed to return to its Nassau base from a flight training exercise which involved a flight to Key West, Florida. Contact with the aircraft had suddenly been lost midway through the flight. Several days of dinghy searches for signs of the missing Liberator and its crew of nine airmen followed, but no evidence of the aircraft having crashed at sea was recovered." (From Find a Grave). The plane took off at 0753. It was indicated that the plane could have flown for twelve hours. "Aircraft disappeared on non-operational convoy exercise with a pupil crew. Last seen by Royal Navy frigate at 1313 hours…Enemy action extremely unlikely. No W/T contact with aircraft since 1254 hours by ship." The plane was expected back at base by 5 pm, local time.
The airmen who are assumed to have perished when Liberator BZ759 was lost were: F/O Philip Raymond Aitken, 123092, Navigation Instructor, F/Sgt Peter Henry Thomas, 1384747, Pupil Captain and First Pilot, P/O William Francis Smith, J36238, 2nd Pilot, Sgt. Frederick Archibald Pearce, 1561521, Navigator, Sgt. Stanley Henry Seaforth, 1395491, Wireless Operator/Air Bomber, Sgt. John William James Spiller, 1586438, WOAG, Sgt. Kenneth S. Powell, 1398357, WOAG, Sgt. Denis William Fussell, 1580360, WOM/AG, and Sgt. Kenneth John Cameron, 1569890, Flight Engineer.
A memorial service was held at the station church at 10:30 am on the Sunday following. The Wing Commander wrote a letter to Mr. Smith. (See documents above.). Bill is remembered on the Ottawa Memorial, along with his crewmates. Bill was the only Canadian.