William Stewart Pullar J18049
February 1, 1918 - December 15, 1944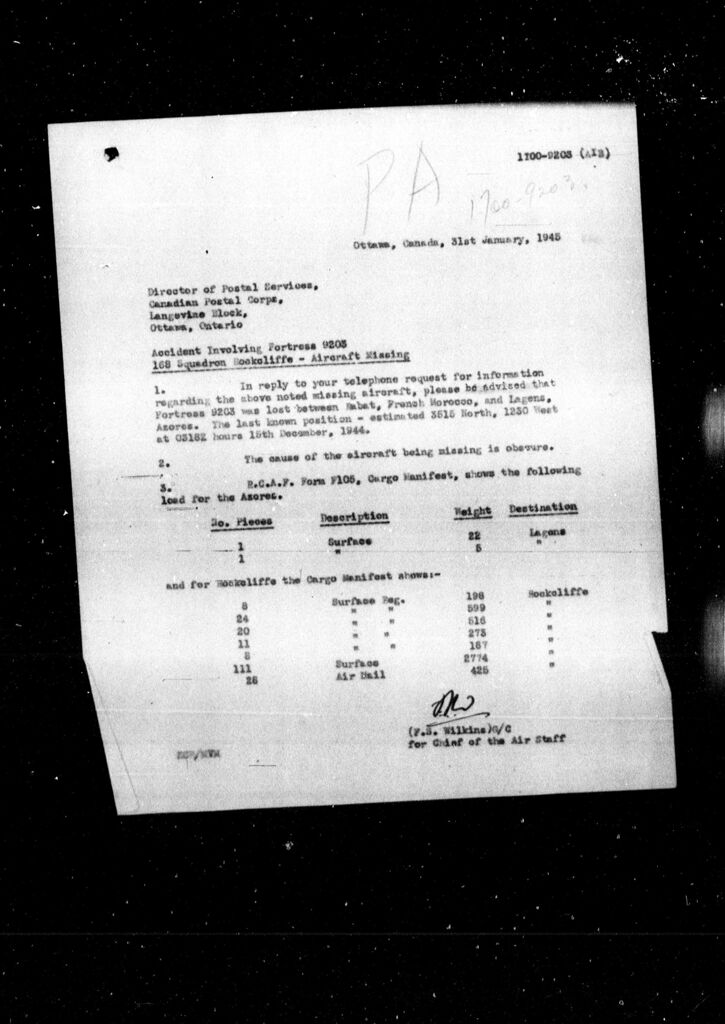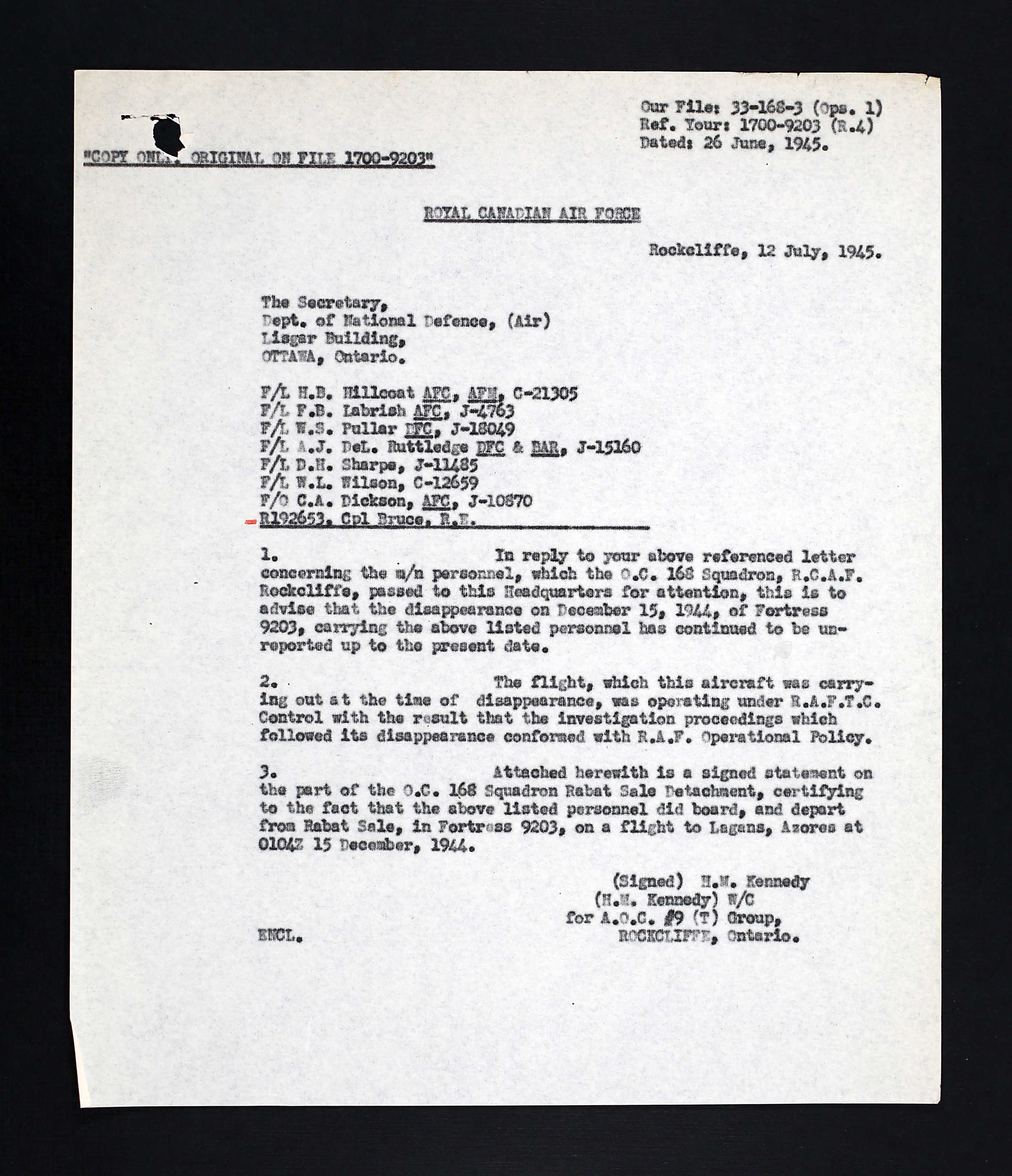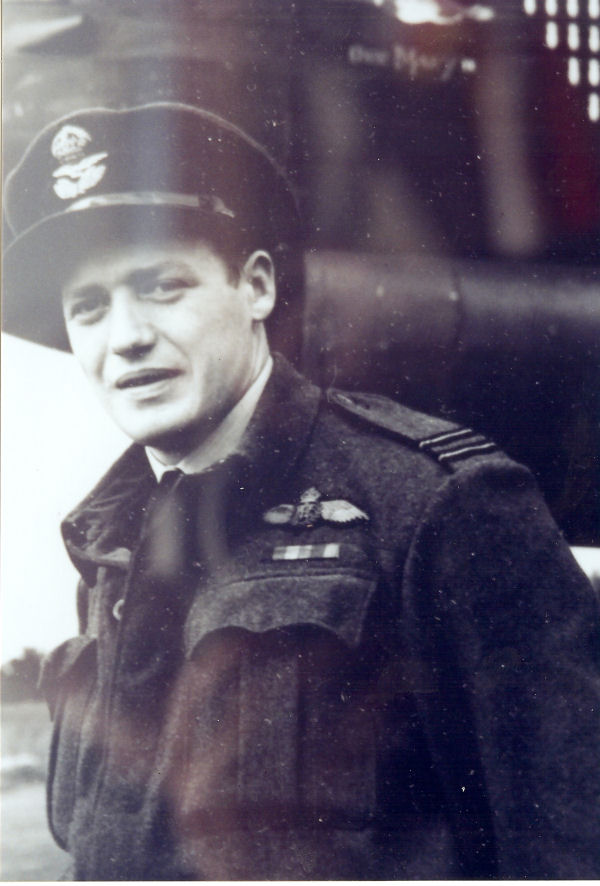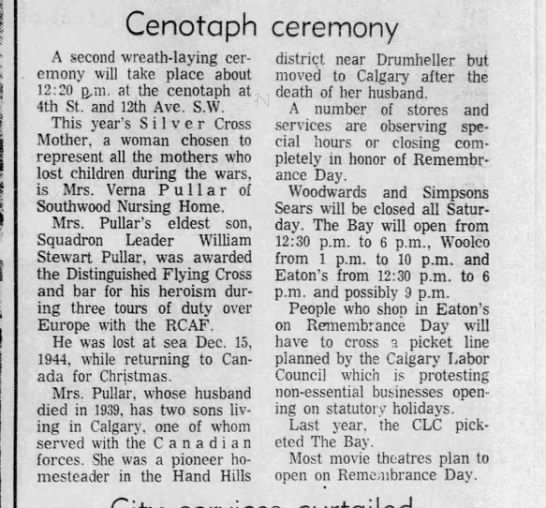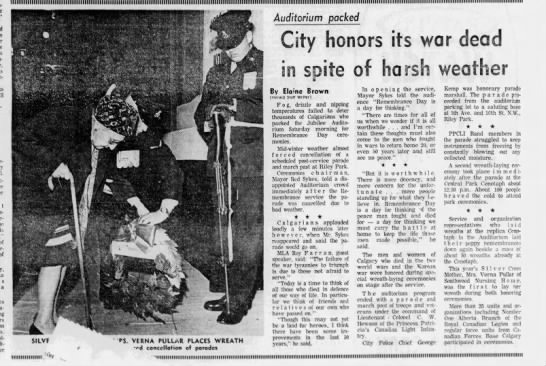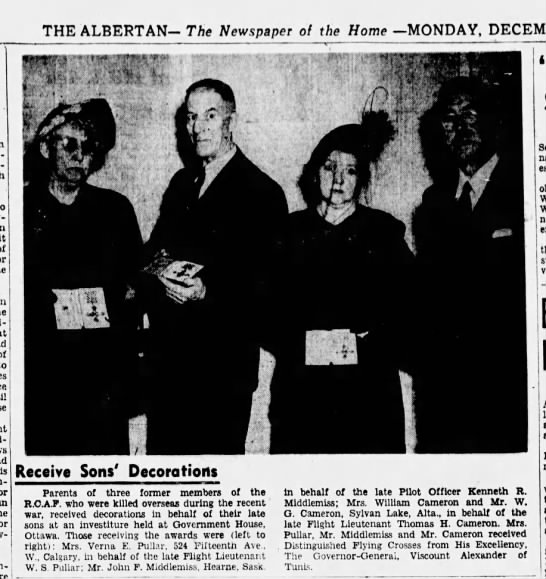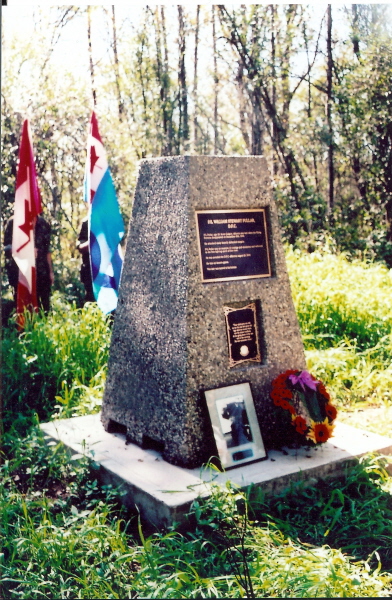 Truck driver became decorated pilot with RCAF, serving two operational tours and one non-operational tour overseas. A passenger aboard Fortress 9203, he and the crew were lost over the Atlantic Ocean. His mother was Calgary's Silver Cross Mother in 1972.
William Stewart Pullar, born in Delia, Alberta, was the son of Andrew Clyde Pullar (1889-1938), tinsmith, and Verna Elizabeth (nee) Pullar (1893-1973), of Calgary, Alberta. [His father died of blood poisoning.] He had two brothers, James (1921-2011) and Harry (1928-1975), plus one sister, Mrs. Wilda Allen (1923-2001) who resided in Castor, Alberta. (She married Robert Anthony Barbosa and lived in New Westminster.)
William was a truck driver and farm mechanic prior to enlisting with the RCAF in May 1940. He stood 5'8" tall and weighed 154 pounds, had blue eyes and light brown hair. A boil scar on his front chest and back chest were noted. He had many cavities. "Very fine type of boy. Healthy and of good build. Clean, neat, mature, and very pleasant. OK any position air crew. Recommended for pilot."
He did some guard duty at No. 35 SFTS prior to being sent to Regina. At No. 2 ITS, Regina, Saskatchewan, from March 17 to April 10, 1940: "40th out of 72 in class. Appears average on alertness and determination. May be restless and self-conscious. Has been moderate active in sports. Approximately 4 months in NPAM."
At No. 8 EFTS, from April 22 to June 9, 1941: "Average in all sequence. Ground training: Conduct excellent. Average ability in flying and ground school subjects. Should make a good Service pilot with more experience." He was 26th out of 27 in his class with a 67%.
At No. 15 SFTS, Claresholm, Alberta, from June 9 to August 20, 1941: This pilot has lots of ability but is careless at times, thus spoiling his complete competence. Slow in ground school, average ability, not exacting in ground school. Tends to let slide. Will improve with experience."
William was sent overseas, arriving September 30, 1941 and completed two operational tours and one non-operational tour. He trained on Wellington aircraft and proceeded to No. 21 O.T.U. for crewing. He served in the Middle East remaining there until June 24, 1942, then posted to No. 40 Squadron; after returning to the UK, he was posted to No. 22 O.T.U. for non-operational duty, employed as a Flying Instructor, then January 18, 1944, was sent tno No. 1670 Conversion Unit to train on Lancasters, then posted to No. 408 Squadron where he completed his second operational tour. He was repatriated to Canada on July 10, 1944. Up to that time, his total flying time was approximately 1250 hour, 367 which were operational. He was granted his commission effective June 26, 1943.
He earned the Distinguished Flying Cross. He is mentioned in the London Gazette, August 22, 1944: "F/L Pullar is a keen and efficient captain whose example of courage and resolution has been well reflected in the find fighting spirit of his crew. He has attacked many heavily defended targets and his successes are an excellent tribute to his ability and tenacity. He has set a find example to all."
William was on temporary duty in the United Kingdom in October 1944, returned to Lachine, Quebec in November 1944, then returned overseas. He was a passenger aboard Fortress 9203. The crew and passengers were on a transatlantic flight from French Morocco to Canada via the Azores. A few mailbags were spotted floating on the surface during the search.
CREW: • F/L Horace Brougham 'Pat' Hillcoat, Pilot, Ottawa, Ontario • F/L Frederick Blair La Brish, Navigator, Regina, Saskatchewan • F/L Alfred John De Laune Ruttledge, Co-pilot, Simcoe, Ontario • F/O Cecil Alexander Dickson, WO, Edmonton, Alberta • Cpl. Robert Emerson Bruce, crewman, Victoria, BC PASSENGERS: • F/L William Stewart Pullar, passenger-Pilot, Delia, Alberta • F/L Douglas Haig Sharpe, passenger-Navigator, Montreal, Quebec, • F/L William Laurel Wilson, administrative officer, Chatham, Ontario
(See Dave O'Malley's article. for additional information and photos.)
July 9, 1945: "The situation is that the RAF look upon this as an operational flight, concerning which they usually take no action beyond a circumstantial report. No. 9 Group can produce witnesses' statement showing that the personnel concerned were actually in the aircraft when it left Rabat, that no other call was made enroute and that nothing further is known of the aircraft since its disappearance."
A letter written by W/C R. W. Goodwin of No. 168 Squadron, dated September 20, 1945, arrived at Mrs. Pullar's home as she had requested more information about William's disappearance. "The only information that we have at the present time is that the calculated position of the aircraft when last heard from at 0318 hours Greenwich time was 35:30 W which would mean the aircraft was flying approximately 390 miles off the short of French Morocco heading west. Immediately this aircraft was considered overdue, search parties were sent out from all direcctions by air and sea, but absolutely no trace has been found of this aircraft. It is very unlikely that the aircraft would be over land as it was proceeding to the Azore Island and should it have turned back, the closest point would have been its departure point, Rabat Sale, French Morocco. It is regretted that we cannot supply you with any further information at the present time."
In late October 1955, Mrs. Pullar received a letter from W/C Gunn informing her that since William had no known grave, his name would appear on the Ottawa Memorial.
In 1972, Mrs. Pullar was chosen as the Silver Cross Mother in Calgary that year.
From the Canadian Virtual War Memorial: "The province of Alberta honoured Flight Lieutenant Pullar on September 7, 2002 by erecting a cairn in a ceremony at Birkland Lake near Lac La Biche. A memorial plaque with biographical and historical information has been placed in a prominent location at the lake."
He is also remembered on the Honour Roll at Delia, Alberta.
LINKS: