William Ernest Mitchell R151826
November 18, 1918 - April 24, 1943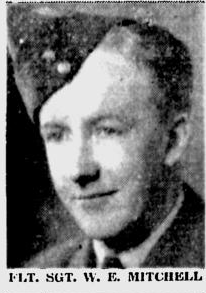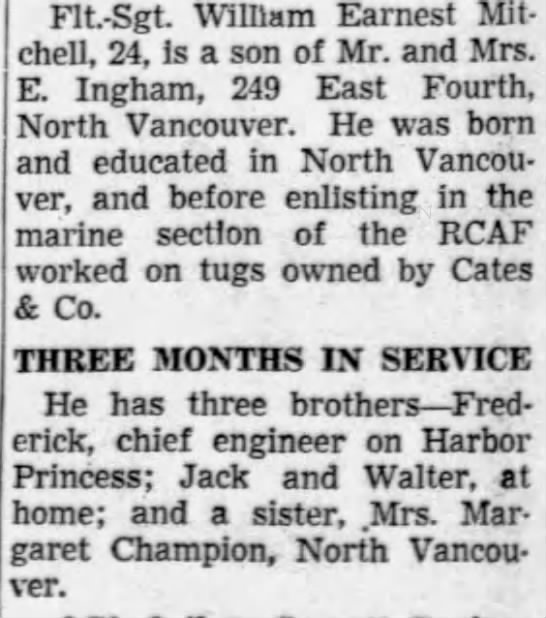 Experienced tugboat engineer joins RCAF Marine Section
William Ernest Mitchell was the son of Rowland Mitchell (1878-1923) (boiler maker) and Priscilla (nee Swales) Mitchell (1882-1946). Mr. Mitchell passed away in 1923 and Priscilla married Edward Ingham (1887-1962). The family lived in North Vancouver, British Columbia. William had three brothers: Frederick (1902-1983), John (1905-1995), and Walter, plus one sister, Margaret Champion (1906-1999). The family was Anglican.
He attended Queen Mary Public School, then North Vancouver High School, finishing with a Grace IX education. He attended Vancouver Technical (night school) from 1938-1940 studying diesel engineering.
William was a tow boat engineer/tugboat deckhand prior to his enlistment with the RCAF in August 1941, working for his step-father from 1934-1940, then for Chas. H. Cates & Sons. He had 30 days' training with the DCOR, Gordon Head, Victoria, BC in the month of October 1940.
William liked to play badminton, he fished, and he loved to swim. He stood 5'2" tall, weighing 126 pounds. He had blue eyes and fair hair, with a fair complexion. When he was 19, he had fractured his left leg.
William became a standard Motor Mechanic with the Marine Section of the RCAF. He traveled from Vancouver to Victoria by boat, upper tourist berth, CPR, February 13, 1942, as he proceeded to Western Air Command, Belmont Building, Victoria. "This man has a wide experience as diesel engineer and is considered suitable for NCO rank by F/O Johnson, Western Air Command."
From February 13, 1942 to December 2, 1942, he was the second engineer aboard M9 Amaryllis, a supply vessel. "Sea going." (The Amaryllis from Nauticapedia: "In 1918 she was a sub-chaser in the US Navy. In 1940 she was owned by Fred Evans, Vancouver BC. In 1941 she was chartered by the Royal Canadian Air Force. In 1942 she was owned by William P. Armor, Prince Rupert BC. In 1942-1946 she was owned by the Royal Canadian Air Force for service in the Western Air Command Marine Squadron at Vancouver BC. In 1943 she was purchased by the RCAF. In 1946-1948 she was owned by Armour Towing & Salvage Co., Vancouver BC...On February 7, 1948 she foundered 2.5 miles off Scarlett Point in Queen Charlotte Strait with the loss of three lives.") William also had spent time at No. 3 Repair Depot, Vancouver on temporary duty, August 1942.
At Patricia Bay, BC: "This NCO has been employed as Chief Engineer on a torpedo re___ner and carried his duties out very well." His appearance and deportment on duty as well as off duty were graded "A." In late May 1943, he earned 80% on his tests while at Bella Bella, BC where he was attached to the BC Star beginning December 2, 1942.
On July 24, 1943, the BC Star sunk. Theories as to the cause of the sinking of the BC Star included the ship was overloaded, it was torpedoed by a Japanese submarine, or it hit a land mine. Please see links below for more information.
William had $123 at the Bank of Montreal, plus $50 in Victory Loan bonds, and $2000 life insurance, his mother sole beneficiary. Mrs. Ingham wrote that William "did not have a will before he joined up. If he made a will when he joined the Air Force, I have forgot whether he mentioned it, the Air Force would know, I think."
On a post-dated evaluation (September 11, 1943), William rated highly on his personnel assessment. "A good marine engineer."
In October 1955, Mr. Ingham received a letter from W/C Gunn telling him that since William had no known grave, his name would appear on the Ottawa Memorial.
LINKS: