William Murray MacNeill R124630
January 27, 1919 - July 24, 1943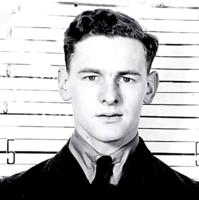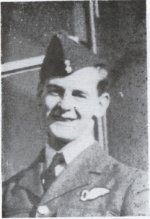 Maritime machinist trained for pilot, but suffered air sickness; became an air gunner with the Marine Section on the west coast.
William Murray MacNeill was the son of Hugh Archibald MacNeill and Jean C. (nee Murray) MacNeill of Sydney, Nova Scotia. (Mr. MacNeill passed away February 17, 1932, from heart disease at the age of 53.) He had two brothers, Donald and Gordon. Donald was with the RCAF overseas. He also had one sister, Marjorie, who trained in Quebec to become a nurse. The family was Presbyterian.
William took a short course at night school in "blueprints and machine shop work."
In August 1941 in Halifax, Nova Scotia, on his RCAF attestation form, William indicated he had never been in the hospital, had no bad accidents, and no fractures. He was a machinist's apprentice. He had no hobbies, but later reading was added. He enjoyed sports, including basketball, hockey, and baseball. He smoked ten cigarettes per day and said he was a 'total abstainer.' He was considered to have "an excellent athletic physique" and his mentality standard. He had a large dark mole below his left back shoulder. His dental health was not very good. "Several bad teeth. Count of 14." Other evaluations: "This is an excellent athletic steady boy, good stamina. All tests good. Vision fine. He is very alert. Should be excellent pilot." William stood 5'10" tall and weighed 155 pounds. He had blue eyes and brown hair, with a fair complexion.
William wrote, "I am the sole support of my widowed mother and wish to apply for the dependent's allowance."
Previous military experience: 30 days with the army (No. 61 CARTC, New Glasgow, November to December 1940.)
F/L C. G. Stogdell wrote on December 1, 1941: "Completed Grade XI in Nova Scotia by the age of 18. He worked in a wholesale grocery firm as a shipper and traveling salesman for three years and started to learn machinist's trade but after Christmas joined the RCAF. Quiet, alert, responsible, sincere, a little shy. Lad of not more than average intelligence. Will put forth good effort. Emotional stability and self-confidence not more than average, probably rather less."
William had a $1000 life insurance policy with Crown Life.
He started his journey through the BCATP at No. 5 Manning Depot, Valcartier, Quebec, September 1941. He then went to No. 31 Operational Training Unit in Debert, Nova Scotia until he started Initial Training School.
William was at No. 3 ITS, Victoriaville, Quebec from November 24, 1941 until January 16, 1942. He was admitted to the station hospital due to an abscess on his lower right jaw from January 4 – 6, 1942. His final mark was 66%. He was recommended for training as a pilot. "Rather nervous and tense. Good sense of duty. Responsible. Character and leadership: 87."
He passed to No. 22 EFTS, L'Ancienne-Lorette, Quebec where he would fly the Finch. "This student's flying was discontinued due to air sickness." His ground training: "Average type in personality conduct. Good ability. Does not seem suited to pilot duties. Suggest ground signals duties."
William was sent to Trenton to the Composite Training School mid-March 1942.
William found himself in Calgary, Alberta, at the No. 2 Wireless School in the spring of 1942. He was admitted to hospital again from April 29 to May 1, 1942.
He was in Jarvis, Ontario at No. 1 Bomb and Gunnery School November 9, 1942 until December 12, 1942. Here, he was first in his class of 25. He earned his Air Gunner's Badge on December 7, 1942. "Good worker. Should make reliable gunner." His final assessment: "Better than average man; dependable and well-liked by classmates. Suitable for commissioned rank."
William was sent to No. 34 O.T.U., Greenwood March 22, 1943, then Dartmouth, Yarmouth, then to Montreal, all in the span of a week. He was then sent to the west coast of Canada to Vancouver, BC June 20, 1943. He was attached to the Marine Section of the RCAF.
On July 24, 1943, aboard the BC Star, William perished. Many theories came forth as to the sinking of the ship: Japanese submarine torpedoed it, the ship was overloaded, or it hit a landmine. William was presumed dead that day for official purposes.
Please see links below for further information.
On October 24, 1955, Mrs. MacNeill received a letter from W/C Gunn informing her that since William had no known grave, his name would be included on the Ottawa Memorial.
LINKS: