William Ronald Lance R70035
October 28, 1919 - September 27, 1941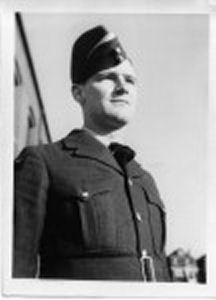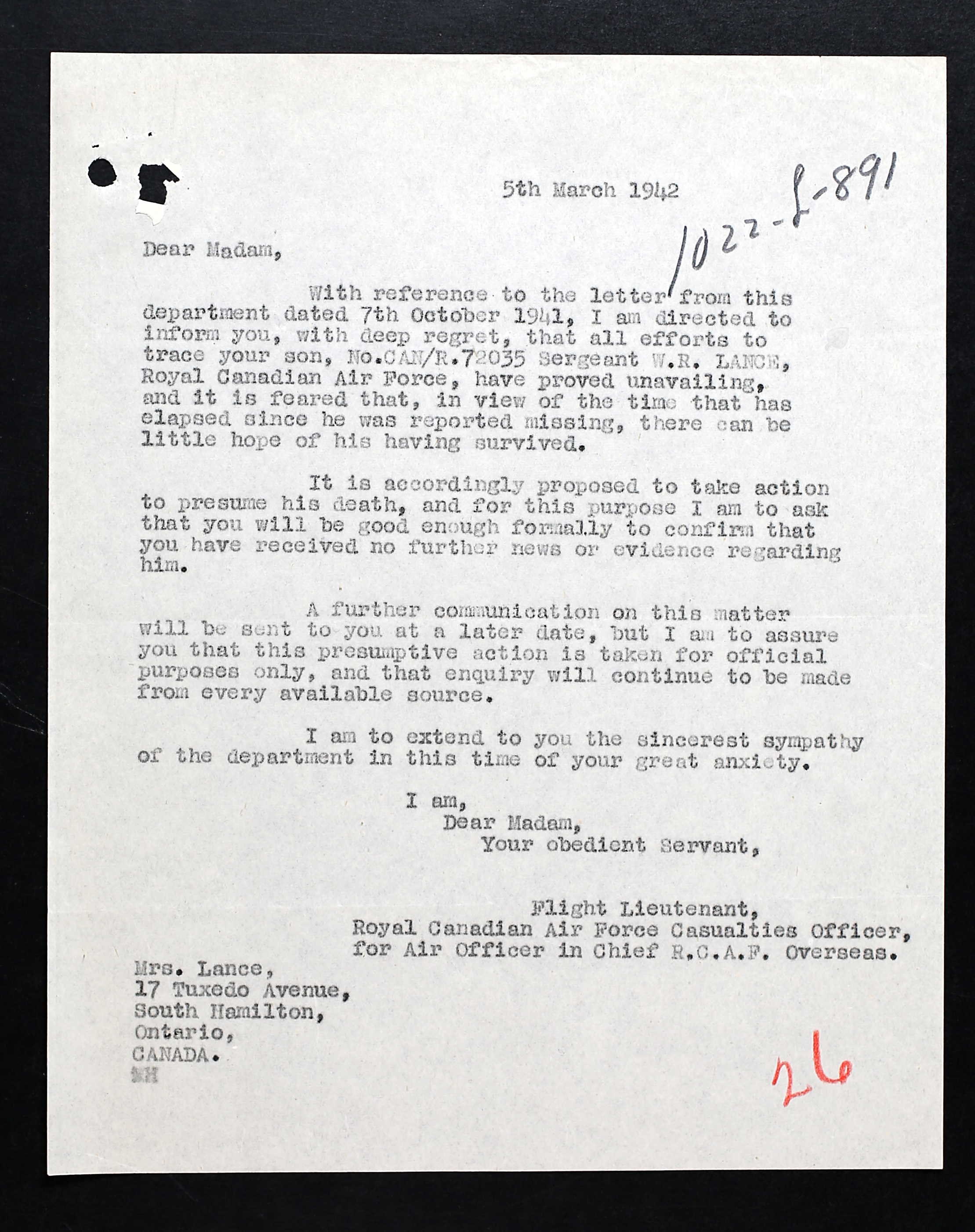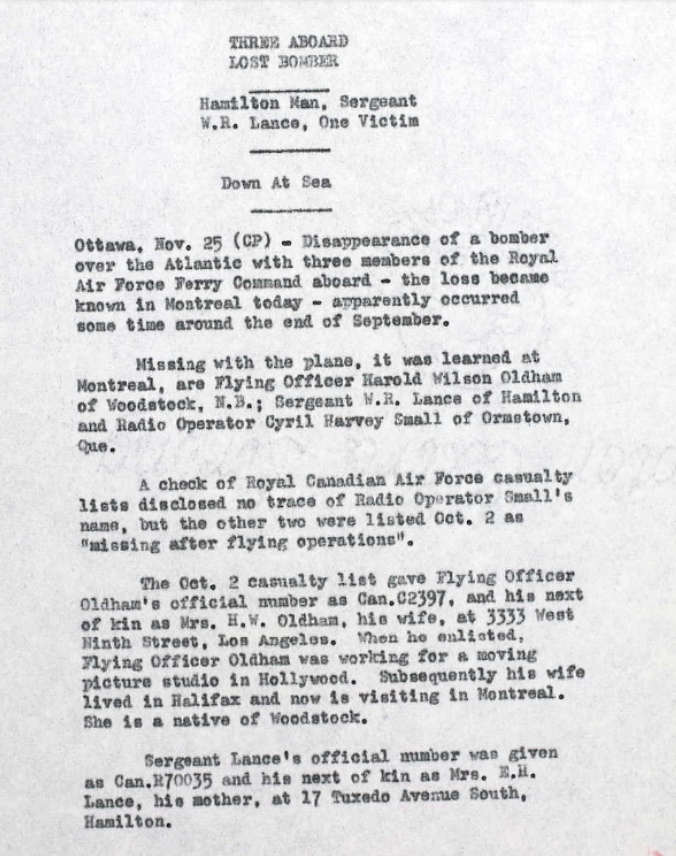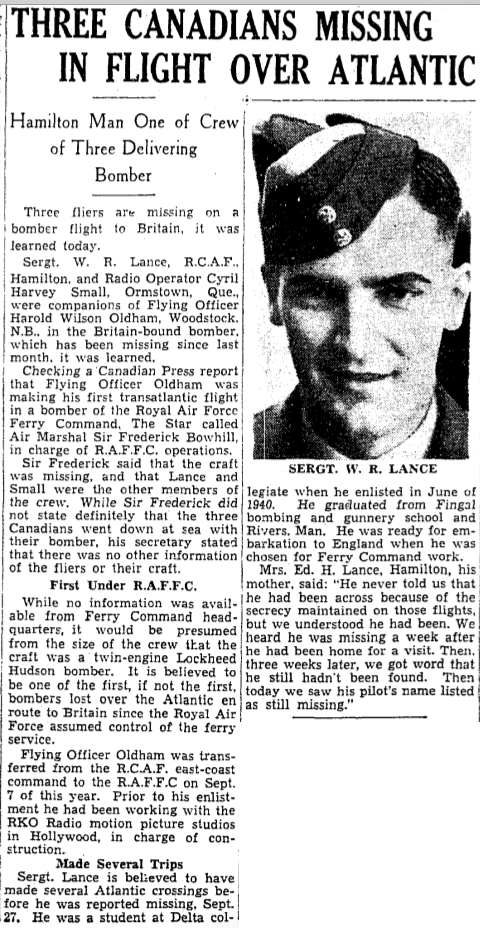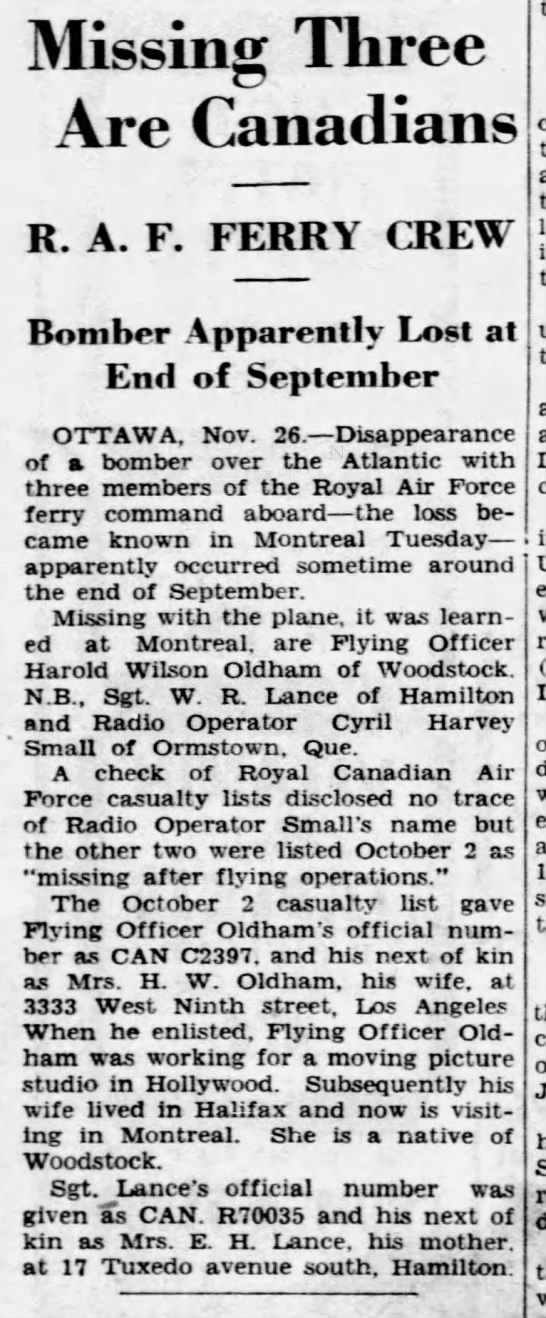 Student heavily involved in sports became navigator with RCAF. During a transatlantic ferry flight aboard Hudson AM940, he and two others were lost.
William Ronald Lance, born in London, Ontario was the son of Edward Henry Lance (1891-1953), sales manager for Ontario Beauty Supply, and Martha Ellen (nee Avey) Lance (1890-1975), of Hamilton, Ontario. He had three brothers and one sister: George Henry Lance, Edward Robert Lance, David Ray Lance, and Shirley Ellen Farnsworth. The family was Anglican.
William, known as Ronald, had full junior matriculation and two Upper School subjects. In 1938, he fractured his right tibia. He was four years in the Cadets Corps, captain of hockey, gymnasium, football and baseball teams at Delta Collegiate and an athletic director at several boys' camps. "Good, clean athletic type. Been associated with sports. Exceptionally clean cut. Keen. Consider above average in intelligence. Believe will make an excellent officer upon completion of term." Recommended for OBSERVER. William was 20 years old student when he applied to the RCAF in June 1940. He stood 5'8" tall and weighed 150 pounds. He had brown eyes and black hair, with a dark complexion. Ronald had been trained by Life Camps Inc, NY, as a counsellor and instructor. He held part time jobs as a clerk at a drug store and then at a grocery store. Waiting to be called to the RCAF, he was working at Canadian Industries Ltd., a chemical plant, where he was a helper to the lead burner. He was accepted in August 1940 into the RCAF. He spoke English fluently and could read English and French well. After the war, he intended to continue his school in the field of radio production.
He began his journey through the BCATP at No. 2 Manning Depot, Brandon, Manitoba August 12 to September 23, 1940, then was sent to Vancouver Sea Island until November 27, 1940. December 16-18, 1940, Ronald as at the station hospital while at No. 2 ITS, Regina, Saskatchewan. He was then at No. 10 EFTS, Hamilton, January 3 – 25, 1941, returning to No. 1 Manning Depot, Toronto January 26 to March 3, 1941. It appears he had started training for pilot, but discontinued.
At No. 1 AOS, from March 3 to May 25, 1941, he was 24th out of 38 in his class with 78.9% in ground training. "Keen worker and has shown considerable progress since start." He was considered to be above average, but unsuitable for an instructor. "Good officer material, a leader with the boys in sports. Works hard with gratifying results. Possesses a lot of common sense." He was passed onto No. 4 B&G School, Fingal, Ontario, until July 5, 1941. He passed with 73.33%. "A little slow in making decisions, well-spoken and tries hard." Ronald was then sent to No. 1 ANS until August 4, 1941. "Slightly above the average. Very conscientious and wants to learn." He was 31st out of 114 in class. "Not outstanding in appearance nor in ability, but would be good NCO and possible officer. Ronald was awarded his Air Observer's Badge. He was sent to No. 1 ANS, River, Manitoba July 6, 1941.
Ronald was taken on strength at No. 31 O.T.U. Debert, Nova Scotia, then sent to Ferry Command by September 1941.
Hudson AM940 with crewmembers Sgt. William Ronald Lance, RCAF, Flying Officer, Harold Wilson Oldham, RCAF, and Radio Officer Cyril Harvey Small, civilian, were reported missing en route from Gander, Newfoundland to RAF Prestwick on a transatlantic ferry flight. "An "XXX" signal from Small indicated that the crew had encountered a situation of urgency, but the aircraft was not heard from again and vanished over the North Atlantic." From the Extract of Accident: "aircraft failed to reach destination." See link below for more information. Lance was from Hamilton, Ontario, Oldham was from Woodstock, New Brunswick. Small was from Ormstown, Quebec, born in St. John's, Newfoundland. Lance and Oldham's names are on the Ottawa Memorial and Small's name appears in the United Kingdom Book of Remembrance.
In late October 1955, Mrs. Lance received a letter informing her that since William had no known grave, his name would appear on the Ottawa Memorial.
LINKS: