William George David Harber J11291
May 12, 1919 - November 8, 1942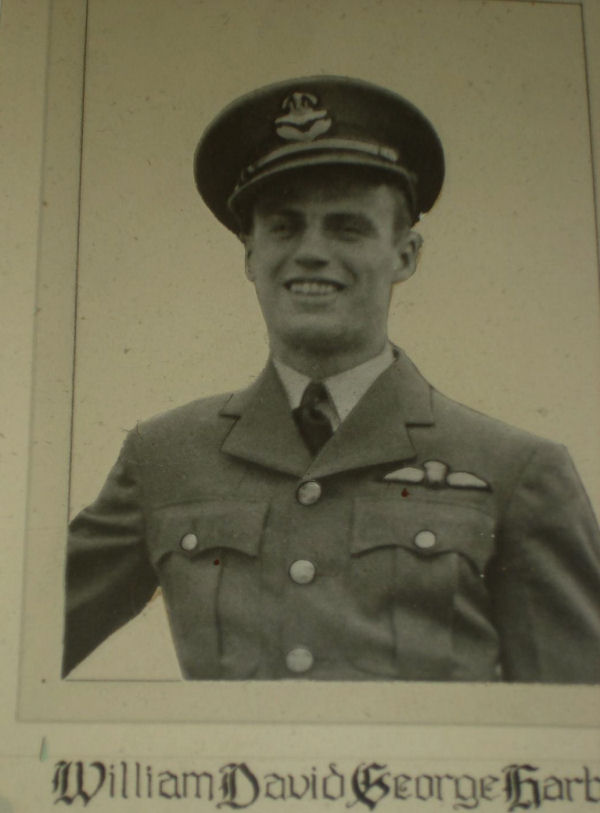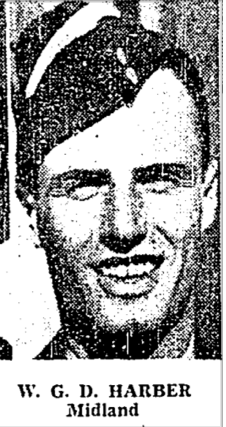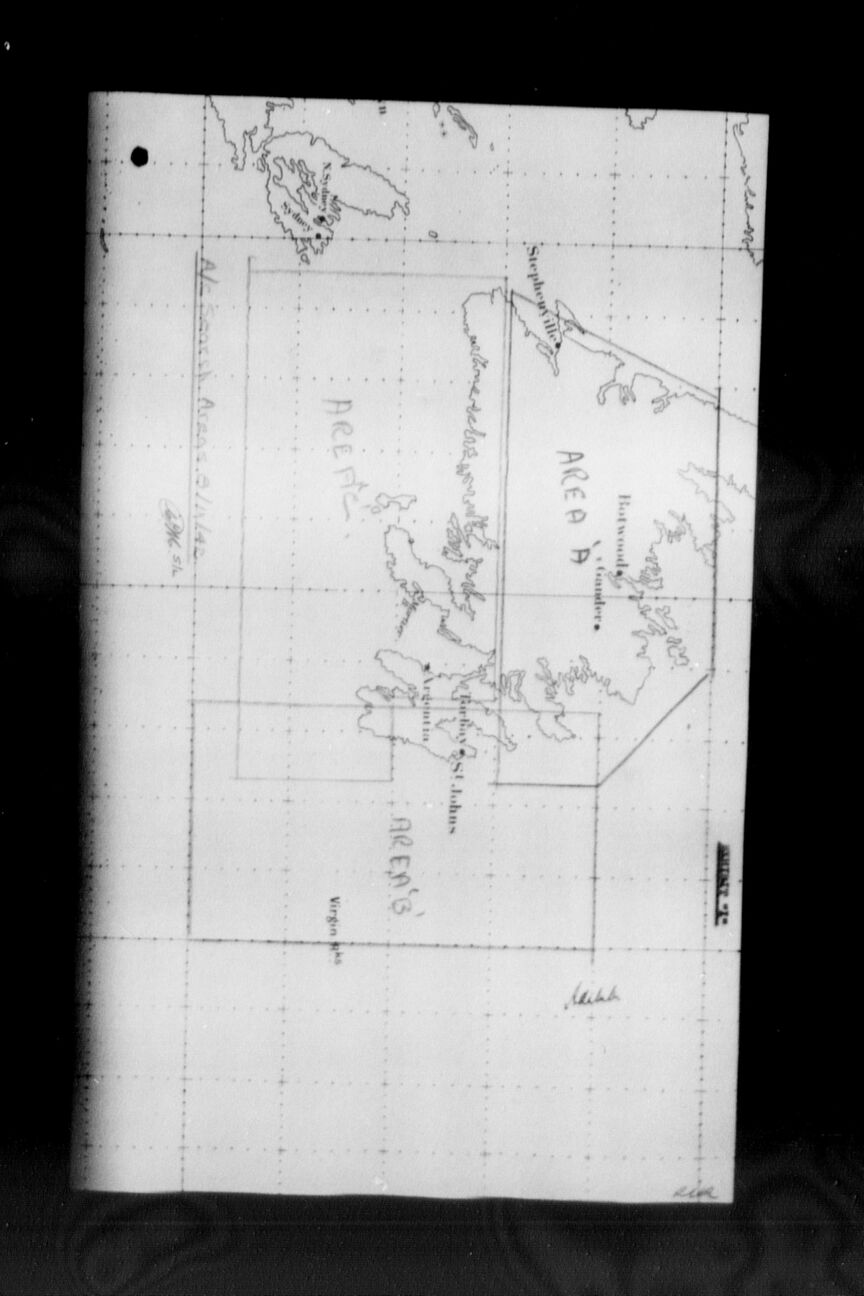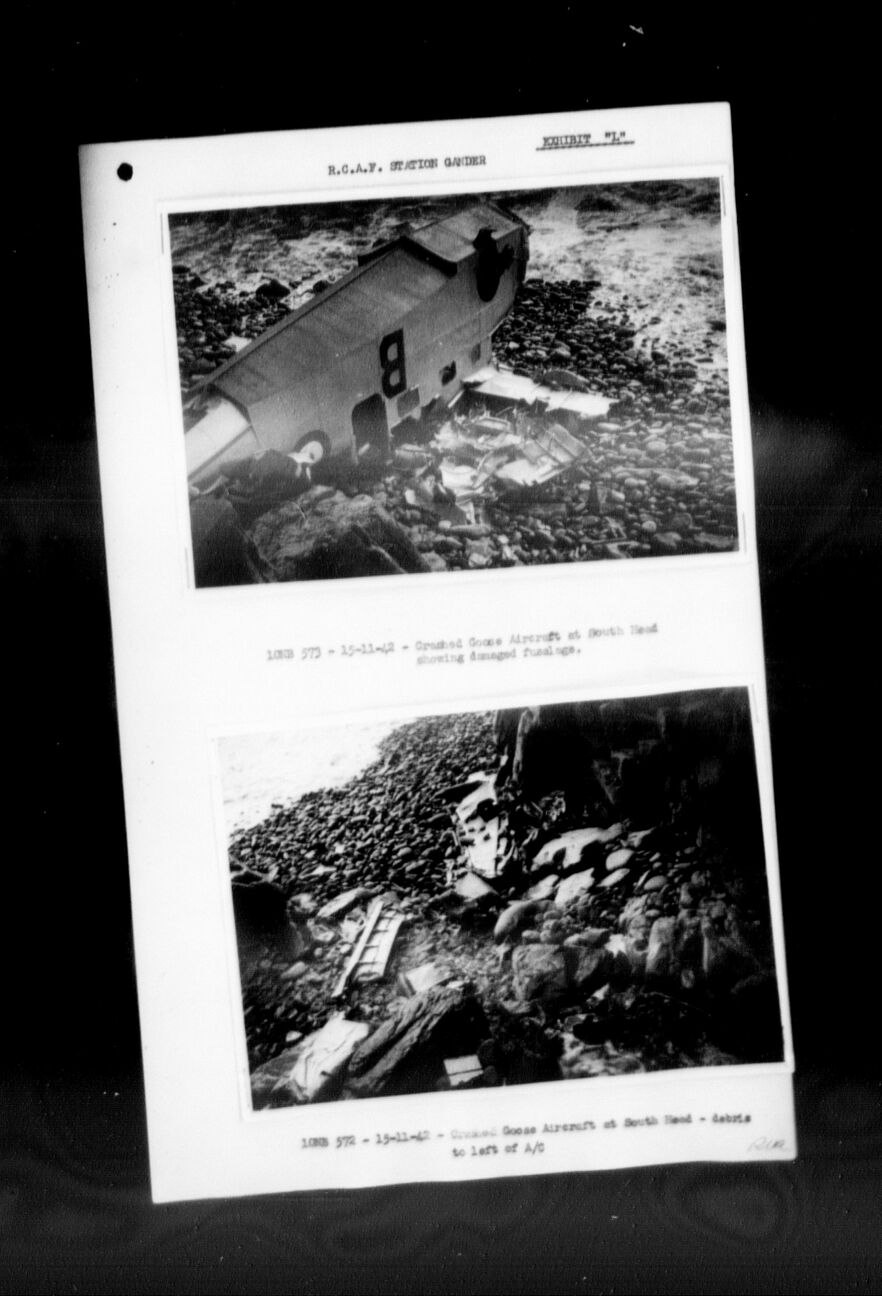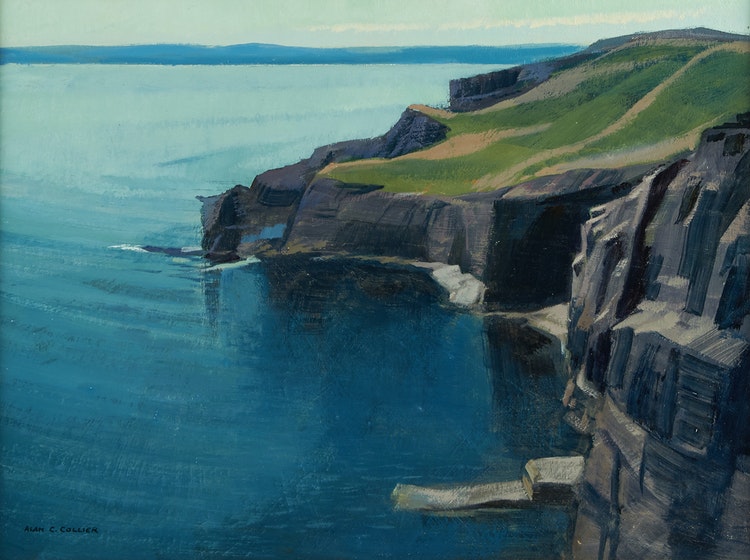 Clothing salesman became pilot of Goose 925, lost at sea on routine communications flight to Newfoundland from Nova Scotia.
William George David Harber was the son of Thomas Lorenzo Harber, Fuller brush salesman, (d. 1949) and Alice Jane (nee Wilson) Harber (d. 1971) of Midland, Ontario. He had two sisters, Marie Rita (d. 1969) and Margaret (d. 2007), and two brothers, Lloyd and John. Lloyd was serving with the Canadian Army during WWII . The family was Roman Catholic.
William stood 5'7 ½" tall and weighed 127 pounds. He had blue eyes and fair hair. Scars on his right upper forehead and right ankle were noted on July 28, 1941 at the RCAF Recruiting Centre, Toronto, Ontario. He earned his commission April 24, 1942. He had been a men and boys' clothing store buyer and salesman for five years prior to enlistment.
"Got night Forth Form, High School, stopping at 16…choice Pilot, Observer. Played good deal of hockey. Alert, quick lad of average intelligence in this Class. Appears well adjusted, stable, and has good self-confidence." On his interview report: "Healthy appearance; intelligent and alert. Keen to serve in Aircrew."
Hockey, baseball, softball, track and field, plus skiing and gymnastics were listed as sports William engaged in.
William's journey through the BCATP: St. Hubert, Quebec July 28, 1941, then to No. 5A Manning Depot, Valcartier, Quebec September 1, 1941. He then went to No. 3 ITS, Victoriaville, QC the next day until November 1941. (82%, 14th out of 108 in class) In Victoriaville, he failed to appear on Duty Watch Parade at 1830 hours and was confined to barracks for three days. "Average intelligence, pleasant personality. Talkative, self-assured. Calm, serious, good average type."
From there, he went to No. 20 EFTS, Oshawa, Ontario until January 3, 1942. (64.3%, 51st out of 52 in ground school) "This student's progress was slow at first, but is doing a very good job at last half of course. Is a little nervous under the hood." In Ground School: "Did a very good test at 50 hours and should make a good service pilot on twins. Very quiet and well-behaved type." He was rated average as an operational pilot. "High average ability in all phases of flying. Nervous on tests."
He then continued his flying training at No. 16 SFTS, Hagersville, Ontario until May 8, 1942. (71.47%, 20th in class) "A reliable conscientious pupil with plenty of initiative. Average student. Good type."
He was granted his Pilot's Flying Badge on April 24, 1942.
Sent to Eastern Air Command, Halifax, May 9 until May 11, 1942, when he was sent to No. 121 C. S. Dartmouth (Landplane Base), then in August to Torbay, Gander, and Botwood, Newfoundland, 121 Squadron, August 28 to September 3, 1942. In between, he was on temporary duty New York, Bangor, Maine, July 7, 1942 to July 10, 1942.
In October 1942, William wrote to his parents telling them that he had "a little job – selling victory bonds to our squadron. It's going well. I took a $300 myself." He also had $2000 in life insurance, his mother sole beneficiary.
The Harbers wrote to the Secretary of National Defence for Air in Ottawa May 24, 1943. "We regret that you have been unable to secure further information and detail regardin [our son's] unfortunate disappearance on November 7, 1942. It more than grieves us to tell you that we have received 'no further evidence or news concerning him.' Since it is not so apparent that no further good news is forthcoming we shall try to bear nobly your official presumption of death."
By October 1943, William's personal belongings arrived at his parents' home in Midland, Ontario.
In July 1945, Mrs. Harber applied for the War Service Gratuity.
In late October 1955, Mrs. Harber received a letter informing her that since William had no known grave, his name would appear on the Ottawa Memorial.
Crew of RCAF 925: F/O William George David Harber, age: 23, pilot (Royal Canadian Air Force) • Lt. Col. Arnold Albert Ernst, age: 47, (West Nova Scotia Regiment, R.C.I.C.) • Maj. Herbert Bruce Munro, age: 29, (4th Princess Louise Dragoon Guards, R.C.A.C.) • Cdr Francis Robert William Robert Gow, age: 43, (Royal Canadian Navy) • F/O Horace Montague Beck Arney, age: 41, (Royal Canadian Air Force)
Ernst, Munro, and Gow are commemorated on the Halifax Memorial.
Purpose of Flight: Transportation of passengers from Dartmouth NS to Torbay, Newfoundland.
"This aircraft took off from Dartmouth in time to reach Torbay, Newfoundland, in daylight, including a stop for gas at Sydney, NS. Due to a delay of one and a half hours at Sydney, the aircraft could not reach landfall before dusk and the pilot must have known that he would have to land at night despite the fact that he had only 2:30 hours night on the Goose and was therefore not qualified. The aircraft crashed at Horse Chops, Trinity Bay, Newfoundland in good weather, but in heavy sea. A clock was found stopped at 7:45 which may indicate two hours of gas remained. The cause of the accident is obscure." November 14, 1942
The Camouflage Committee was lost in this accident. January 14, 1943: "This Court has been thoroughly considered by my staff who agree with the finding of the Court with the added proviso that the Commanding Officer of No. 121 Composite Squadron cannot be considered as entirely free of blame. When it became evident that the flight could not be completed during daylight, he should have made sure that this pilot was instructed to remain overnight in Sydney."
Pilot Harber was not qualified as first pilot (night) on Goose aircraft but was fully qualified as Captain (day) of Goose aircraft.
Place of Accident: Dabs Gulch, near S. Head, in Trinity Bay, Nfld.
Court of Inquiry: Due to the fact that the passengers arrived late and resultant difficulty in starting due to cold weather Goose 925 did not take off until 1630 hours. The pilot filed a flight plan for Torbay direct. The authorization back called for a stay at Sydney so after takeoff the pilot was called from the central tower of the Dartmouth range ordering him to land at Sydney. This instruction was acknowledged by Flying Officer Harber. Goose 925 landed at Sydney at 1805 hours. 57 gallons of gasoline and three gallons of oil were out put into the aircraft during the stop at Sydney. At 1917 hours, the aircraft took off for Torbay, the pilot was on the portside. Commander Gow in the second pilot's seat, the two army officers were sitting on the starboard side behind the co-pilot's seat. Flying officer Arney sat on the port side behind the pilot. No message and no word was heard from the aircraft after it left Sydney. When the aircraft failed to reach Torbay at 2135 hours estimated time of arrival, messages were sent out to try to locate the missing aircraft. Extensive searches were made on the 8th, 9th, and 10th of November, but it was not until about 2100 hours on the 10th that word was received that Goose 925 had been located in the breakers at Dabs Gulch on the east Newfoundland coast at a point which was considerably off course. Due to bad weather, it was not until 1740 hours on the 12th of November that an inspection was made of the wreckage on the shoreline. The aircraft was missing wings, motors and tail assembly. The wings were not located, only one motor was located 150 feet from shore the remainder of the plane was ashore bottoms up, the forward end of 925 was best in board all of 18 inches and flattened out on bottom inside. The instrument panel was shattered completely, and anyone could walk right in through the forward end, the roof of the fuselage was shattered, only one safety belt remained fastened in place, all others were unhooked, in other words not secured for person in seat. The remainder of 925 was spread over beach in an indescribable matter, some pieces were 18 by 10 inches, other pieces smaller and one long part of the wing measured nearly six feet and showed bottom half of numbers 925. The instrument clock on the panel stopped at 1047 or 2247 hours the case may be. Certain pieces of wearing apparel were washed ashore namely one RCAF officer's cap, two RCAF officer shirts, marking VC71 and one pajama jacket marked hma, also towels and other articles. There were no signs of aircraft having had contact with hills, trees and so forth. The wheels show no signs of tears or scratches and were in A1 condition. An extensive search by land, air, or water was made of the district where the wreckage was discovered and no trace whatsoever was found of the bodies of the occupants of the aircraft.
Findings of the investigation. Cause: the primary cause of the accident was negligence on the part of the pilot for leaving Sidney on a flight plan which required him to fly at night for which he was not qualified on Goose aircraft. The secondary cause which is all probability contributed to the final accidents are: the pilot became lost. The pilot attempted a landing on the sea in an area where the sea condition swells were unfavorable for that type of seaplane or flying boat.
Recommendations. All pilots to carry credentials indicating their qualifications. All itinerate RCAF pilots prior to the senior generalist officer of a station must produce their credentials showing their qualifications before departure from the station or base. The commanding officer of a station in accordance with conditions as paragraph 2 is required to grant or refuse clearance to any pilot from that airdrome or seaplane base as he may see fit.
Observations: the cause of the accident is very clear. The cause being as error of judgment on the part of the pilot in the in departing for Sydney without sufficient time to complete the flight to Torbay during the hours of daylight. However, facts brought in light concerning the something of the Composite squadron which are brought to your attention.
The Goose aircraft is too limited in range and load carrying capacity to meet the full requirements for transportation in Eastern Air Command. This leads to the necessity of using only one pilot on occasion and to its failure to carry flares for emergency night landings. Dependable air transportation requires the use of radio. Goose aircraft are equipped with only the one transmitter and one receiver which allows no safety targets if a radio failure is experienced. At the present time, therefore, this type of aircraft is unsuitable for communications work following commercial airline procedure unless radio equipment in duplicate is provided. There is some question as to whether a passenger, other than a qualified pilot should be permitted to occupy the second pilot seat.
Conclusions of Accident Investigation Branch: Goose aircraft en route from Dartmouth to Torbay landed in the sea near the eastern Newfoundland coast, off course due probably to the pilot becoming lost after darkness set in. The sea conditions were unfavorable for any type of seaplane or flying boat. The pilot who was not qualified to fly at night, erred in taking off from Sydney for Torbay when his ETA Torbay was about an hour after dark. It should be noted however that this original flight plan filled at Dartmouth called for direct flight to Torbay with no stop in Sydney which flight, without mishap, would have landed the Goose at Torbay at dusk. It is considered that some blame should be placed on the officer detailing the flight. The flight should not have been allowed to take off at 1630 hours which gave no margin of daylight at the destination. Once having allowed the aircraft to take off at 1630 hours, Squadron Leader Gardner ordered the aircraft to stop at Sydney. This did make a further delay of one hour 7 minutes. The pilot should have been ordered to stay overnight at Sydney. it is considered that the occupants may reasonably be presumed to have perished."
An Army Court of Inquiry was to be held as well, and there was concern that they might come to a different conclusion.
"It is believed this aircraft landed on the sea, as there are no signs of having made contact with hills, trees…certain people interviewed claim to have seen flares, their claim were not disbelieved…no sign of parachutes or personnel were sighted."
NOVEMBER 7, 1942 The aircraft left Dartmouth on a maritime patrol flight over the North Atlantic. The crew made a stopover in Sydney before continuing to Torbay, north of St. John's, Newfoundland. En route, in unknown circumstances, the aircraft crashed into the Trinity Bay, off Port Rexton. The aircraft wreckage was found floating upside down few hundred yards off shore by local fishermen. All five crew members perished and were never recovered. Passengers arrived late and resultant difficulty in starting the aircraft due to cold weather.
The eleventh witness, Sergeant James Stewart McLaren, R52192 stated: "In the afternoon of November 7, 1942, I went out to meet Goose 925 on arrival (in Sydney) to find out what servicing was required. The pilot asked to have the starboard tank filled, but stated that no fuel was required in the port tank, as he had not used it. He also asked to have the oil checked and filled if necessary. He seemed to be in a hurry, after giving me instructions…there were two delays: firstly the pilot had trouble starting the engines and secondly, the traffic delayed him on the ground….it was quite noticeable that they appeared to be in a hurry and were looking at their watches, particularly P/O Harber and Commander Gow, who was sitting in the co-pilot's seat."