William Lionel Halperin C4234
October 24, 1915 - November 6, 1943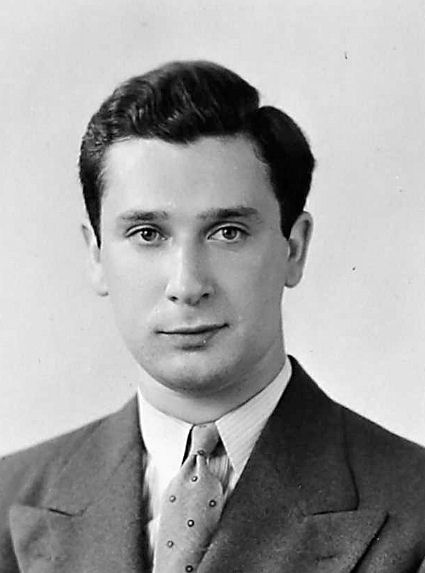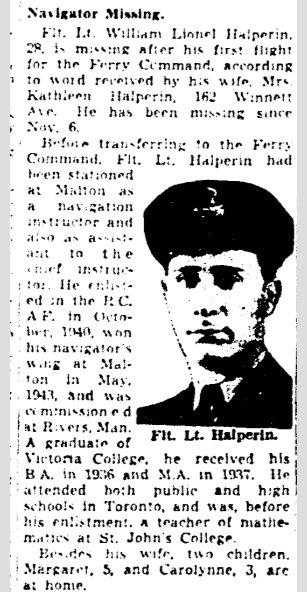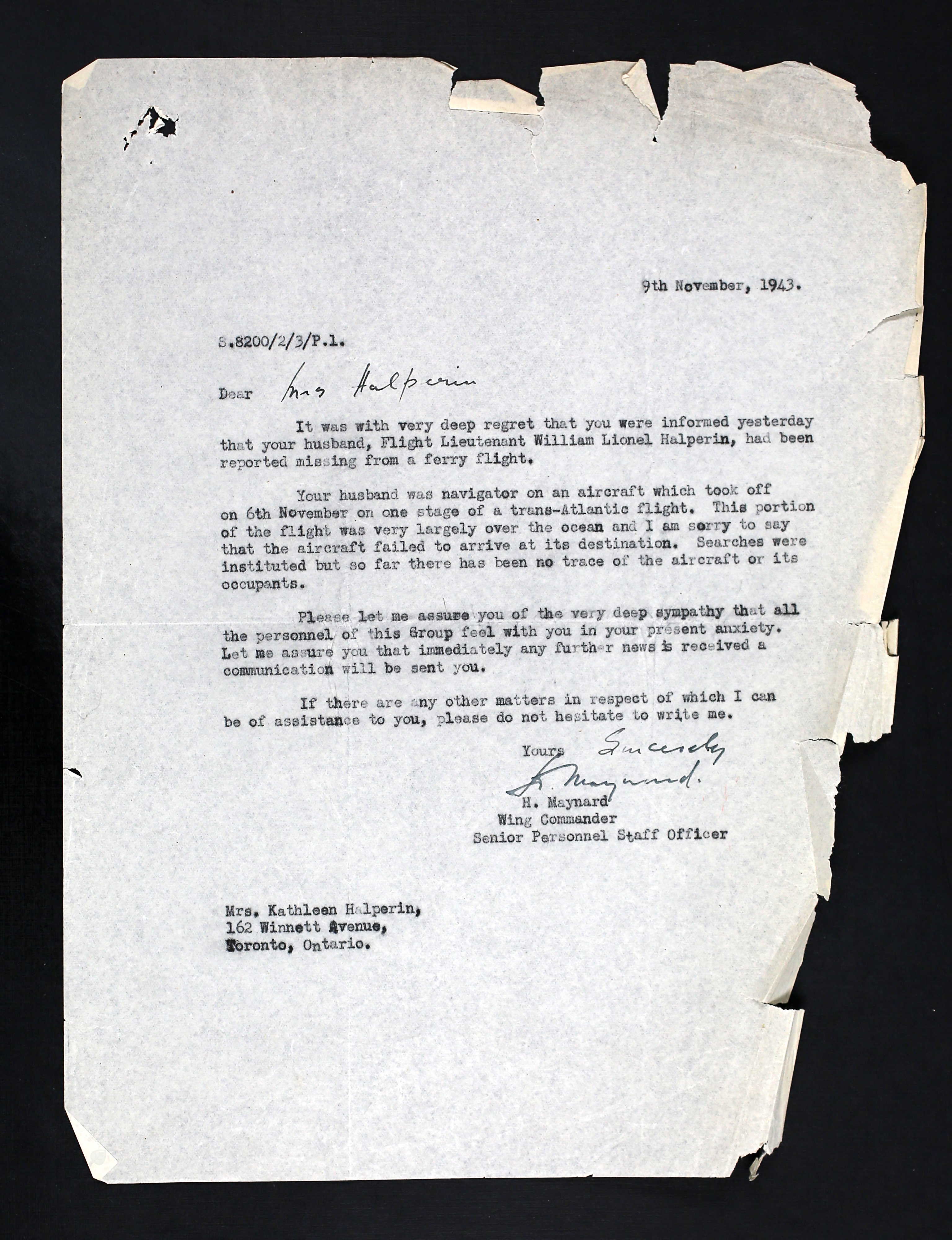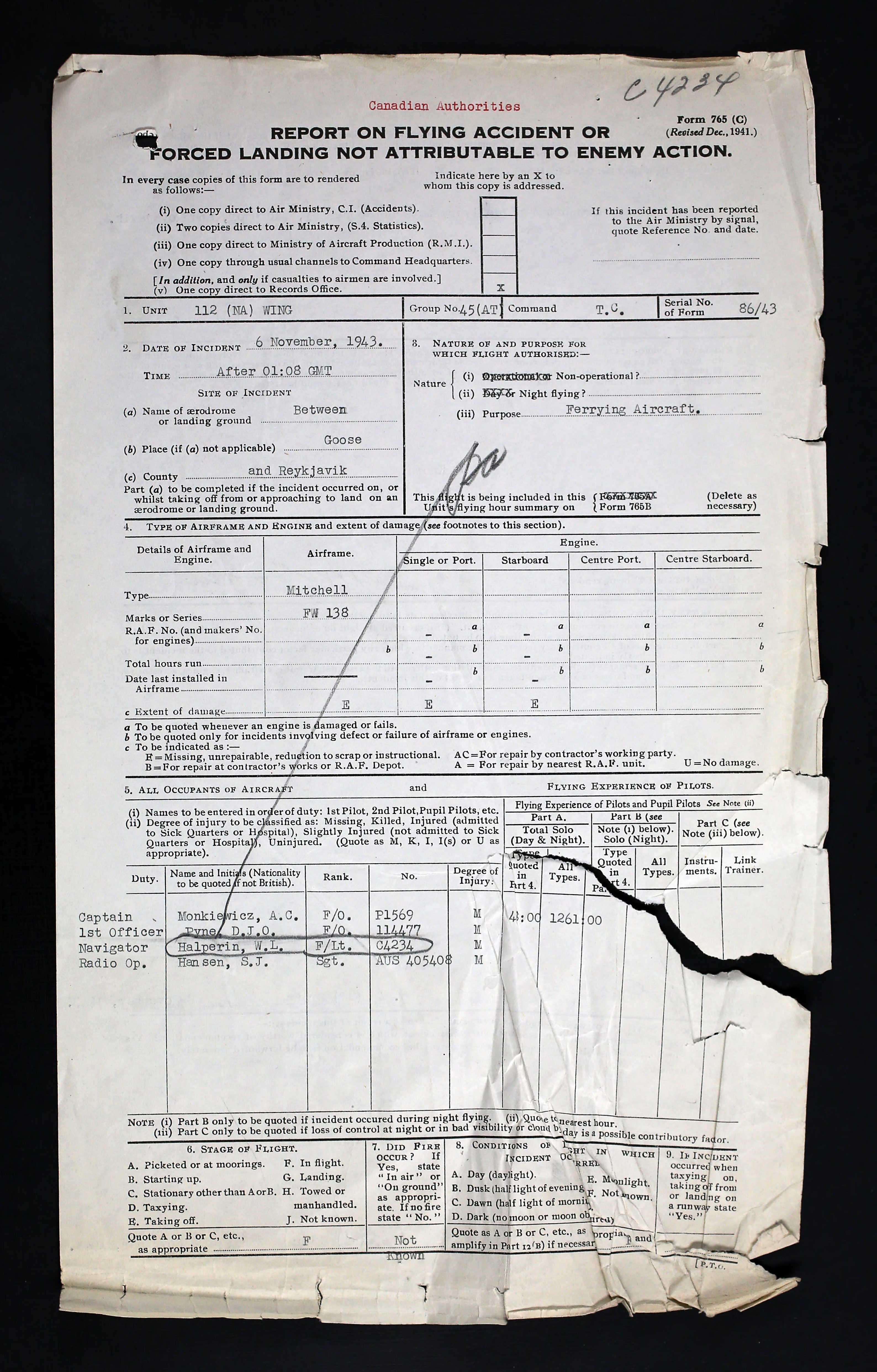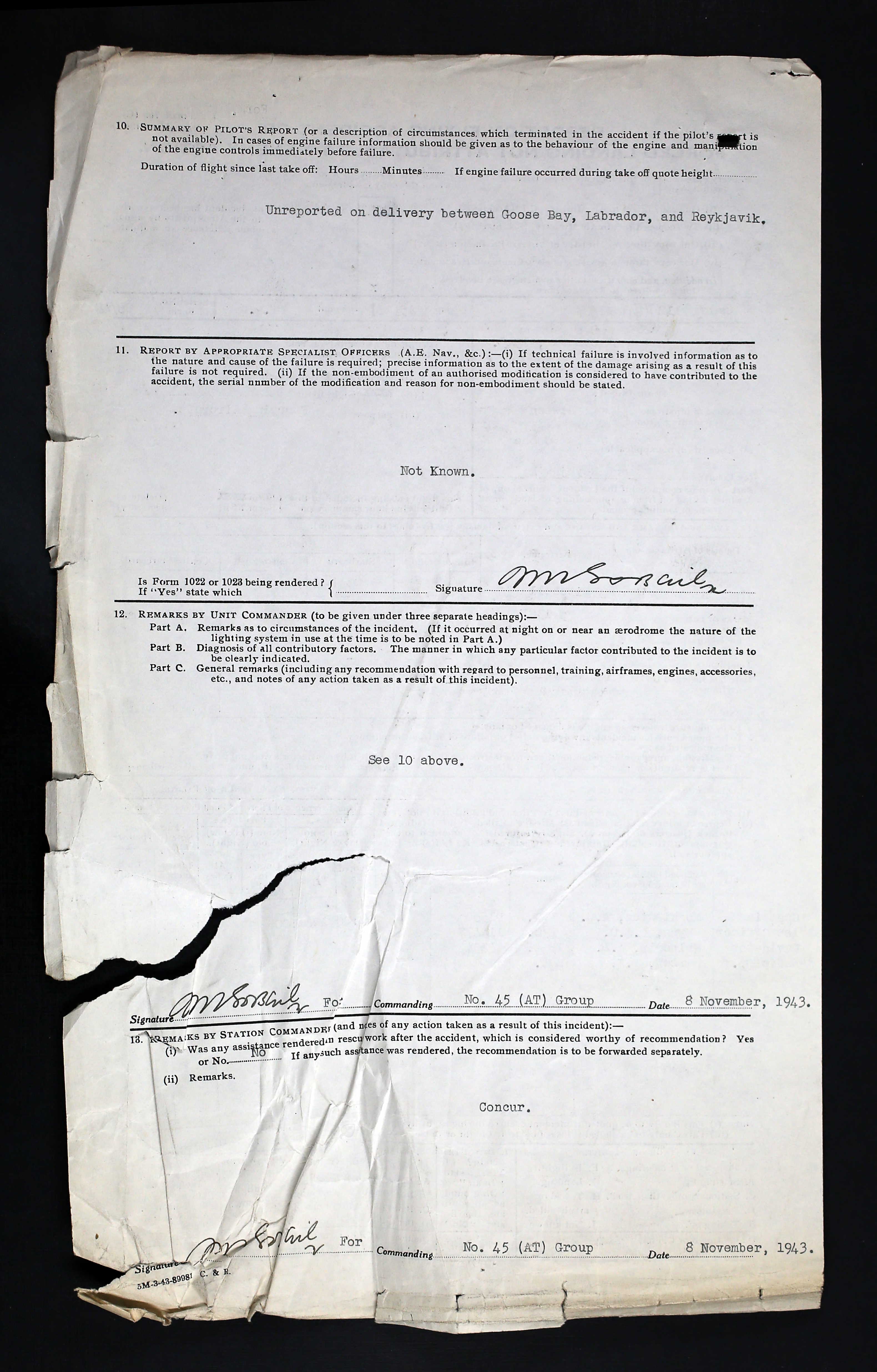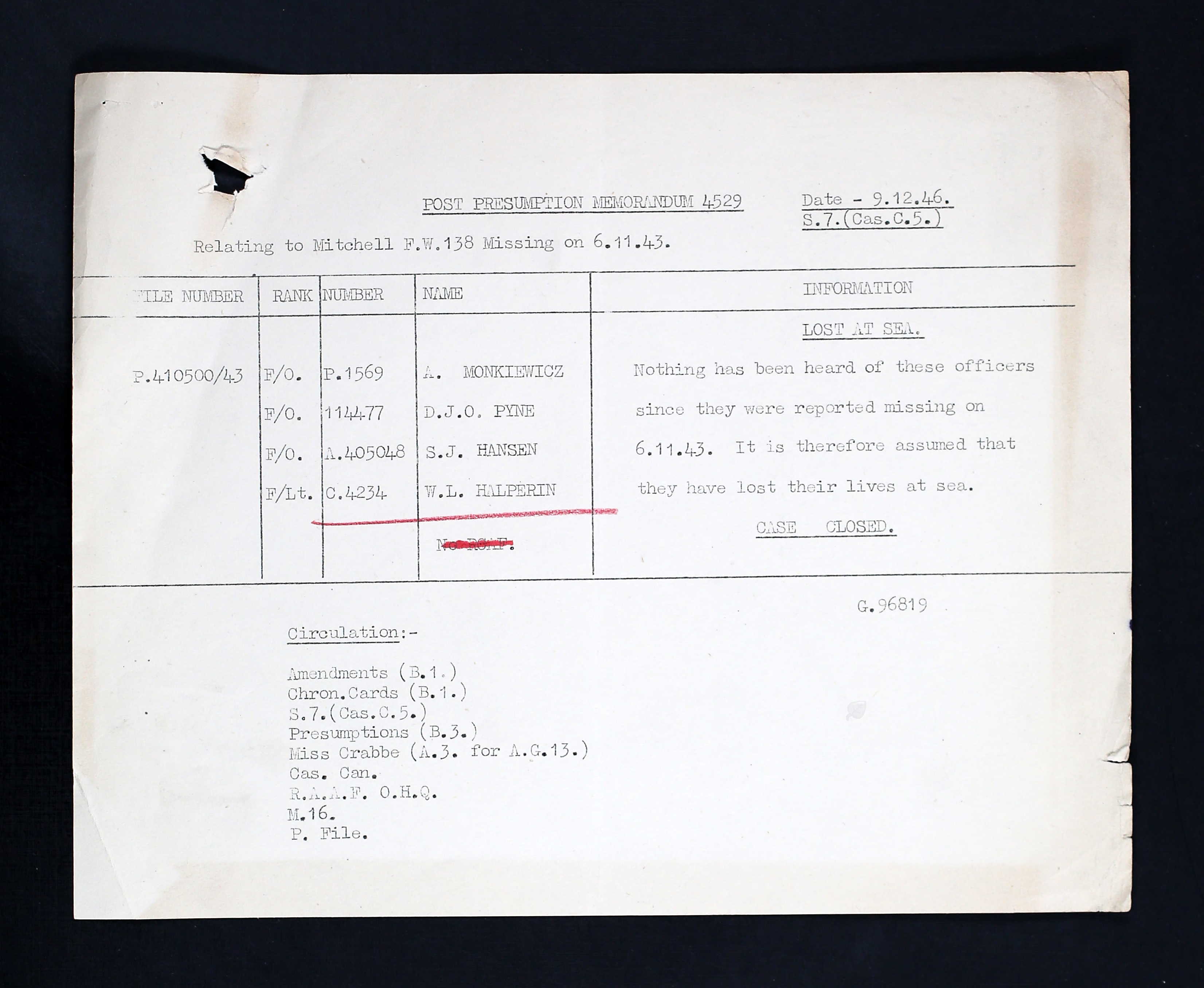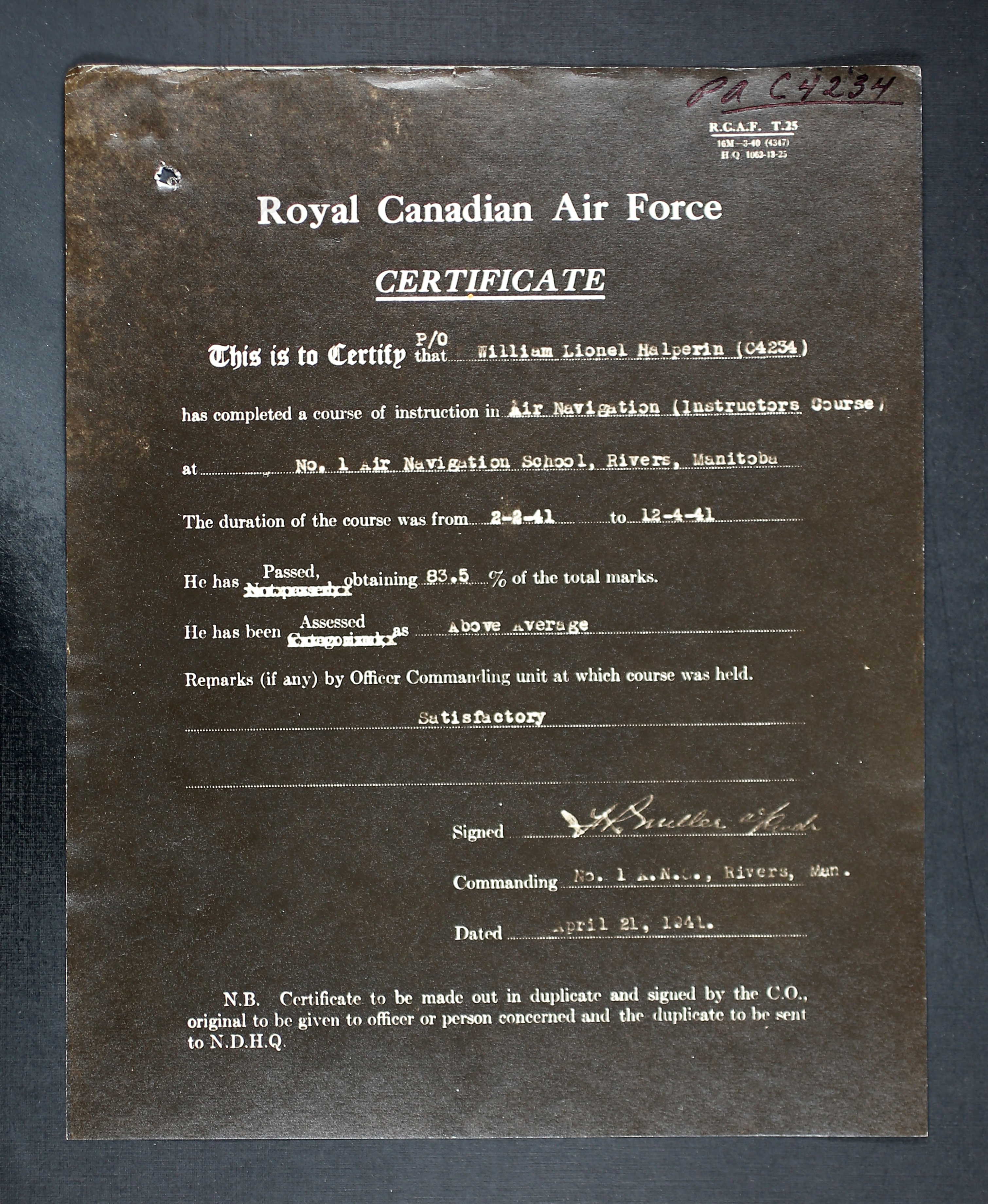 Married mathematics and physics professor at U of T, then University of Manitoba became a navigation instructor, then was taken on strength with Ferry Command, lost on a flight between Goose Bay, Labrador and Reykjavik, Iceland aboard Mitchell FW138.
William Lionel Halperin was born in Toronto to Solomon Halperin and Fannie (nee Lundy) Halperin, both born in Russia. He had two brothers: Benjamin and Israel, plus one sister, Clara. He indicated his religion was Anglican. He could read some French and German.
William attended University of Toronto from 1932 to 1939, maths and physics. He earned his M.A. and pre P.A.D. He was a gold medalist in honour M&P at graduation in 1936 at U of T. He worked as a lecturer at the U of T from 1935-36, then taught maths 1936-37. He then was a professor of maths and lecturer in physics at St. John's College, University of Manitoba from 1937-1940.
He married Kathleen Patricia Dixon in Toronto on October 22, 1936. They had two daughters, Margaret Joanne, born on February 20, 1939, in Winnipeg, Manitoba and Carolynne Patricia, born on October 10, 1940. He had under $100 in his bank account and had $400 in Bearer Bonds at the Bank of Montreal in Toronto.
William enlisted in Winnipeg, Manitoba on December 18, 1940. He liked squash and tennis, plus mathematics and athletics. "Rugged, tasteful, clean, neat, smart dress. Splendid education and teaching experience. Good appearance. Polite and gentlemanly. Canadian born. Russian descent. First applied for Aircrew June 12 but immediately came back and asked for an Administrative Commission. Action was delayed on this because of his age. He is an outstanding type for a Navigation Instructor."
He was first sent to No. 2 Manning Depot, Brandon, Manitoba until January 19, 1941. William completed a course of instruction in Air Navigation (Instructors Course) at No. 1 Air Navigation School, Rivers, Manitoba on April 12, 1941. He was considered above average with 83.5% and was 4th out of 16 in his class. "Works very hard in the air. Main fault is sloppiness." From there, he was sent to No. 4 AOS, London, Ontario April 15, 1941 until September 22, 1942. He was then sent to No. 1 AOS, Malton, Ontario until taken in strength in Montreal with No. 2 Ferry Command October 8, 1943.
William was in the hospital or on the sick list four times, when he suffered from pharyngitis, rhinitis, plus three other minor illnesses through 1941-42.
While on his first flight with 45 ATG after spending a year or more teaching at navigators' school, he was aboard Mitchell FW138, disappearing with crew en route from Goose Bay, Labrador to Reykjavik, Iceland on a ferry trip. CREW: *F/L William Lionel Halperin, C4234, RCAF, Navigator (1915-1943); *F/O Stewart James Hansen, 405408, RAAF, Radio Operator (1920-1943); *F/L Derrick Joseph Oswald Pyne, 114477, RAF, First Officer; *F/O Aleksander Cezary Monkiewicz, P1569, RAF, Captain, [1251 hours on all types aircraft] (1920-1943).
Katherine, residing in Toronto, received a letter from W/C H. Maynard dated November 9, 1943, "Your husband was navigator on an aircraft which took off on 6th November on one stage of a trans-Atlantic flight. This portion of the flight was very largely over the ocean, and I am sorry to say that the aircraft failed to arrive at its destination. Searches were instituted but so far, there has been no trace of the aircraft or its occupants."
In late October 1955, Kathleen received a letter from W/C W. R. Gunn informing her that since William had no known grave, his name would appear on the Ottawa Memorial.
LINKS: