Wilfred Johnson J23528
September 4, 1921 - July 13, 1943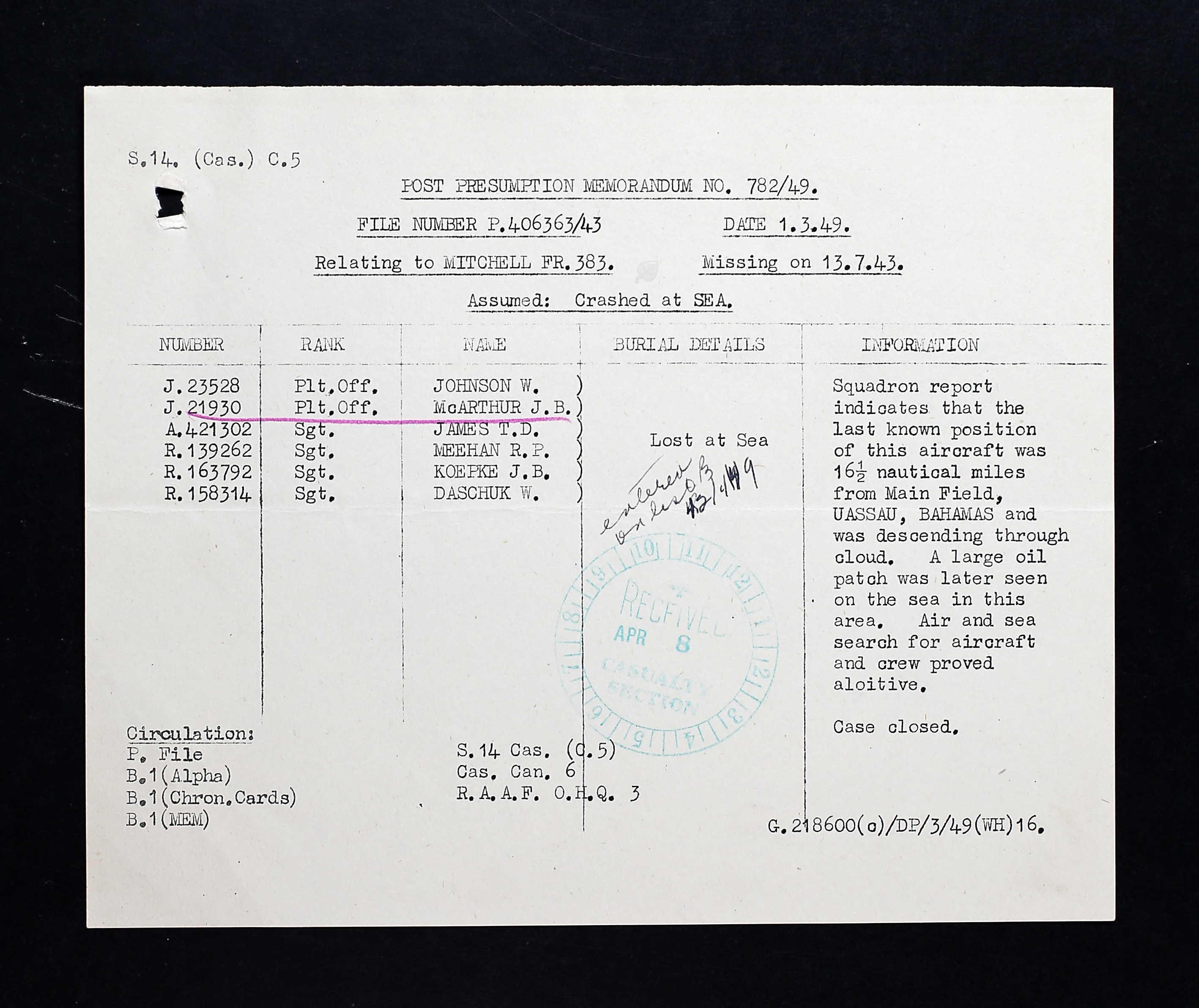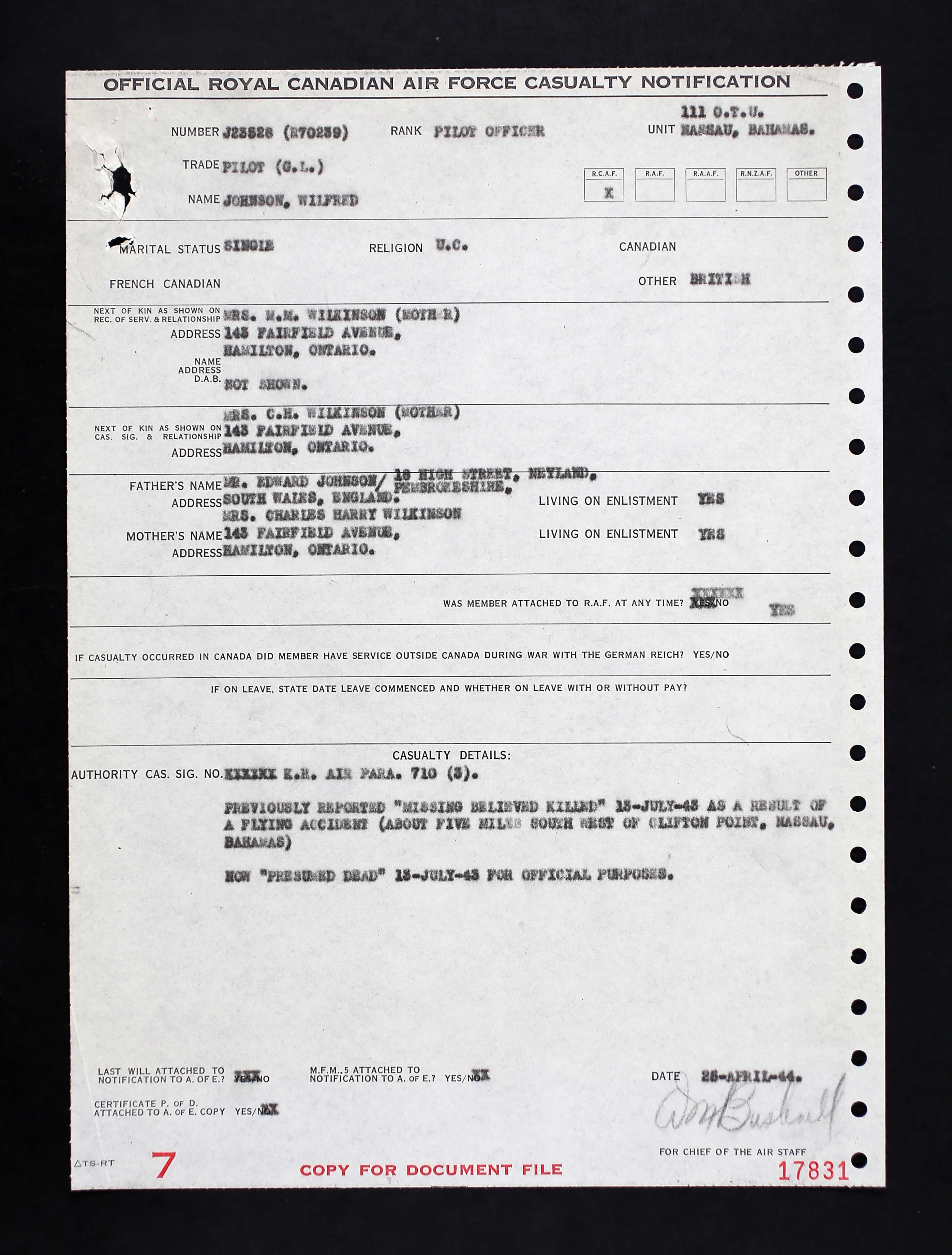 Student became pilot in RCAF, awarded Proficiency Cup at No. 6 EFTS as most outstanding pilot in his class.
Wilfred Johnson, born in Smethwick, England, was the son of Edward Johnson and May Maud Mary (nee Townsend) Johnson, later Mrs. Charles Harry Wilkinson (1901-1976), of Hamilton, Ontario. Mr. Wilkinson was the foreman at Firestone Tire Co. Wilfred had three younger half-siblings: Stanley, Hazel, and Barbara Ann, living in England until he was three years old before immigrating to Canada. His father lived in Pembrokeshire, South Wales, England. Wilfred attended the United Church.
Wilfred was attending high school prior to enlistment with the RCAF in August 940. He thought he would qualify as an aircraft mechanic. He had worked as a store and postal clerk on and off for two years. He hoped to be a chemist or bio-chemist after the war. A reference letter from William Townsend, Building Contractor stated: "I have known Wilfred Johnson since he was a small boy. From about 12 years of age, his ambition has been making and flying model planes. He does not smoke or use bad language and tries to live a good life. Honest and trustworthy. I can recommend him as a boy that will do his best and should make a great name for himself." Wilfred built gas model airplanes for "four years ranging from four foot span to eight foot. Considerable experience with miniature 2 and 4 cycle gas engines." He liked baseball, basketball, volleyball, rugby, hockey and swimming.
Wilfred started out at Galt, Ontario, studying airframe mechanics. He said he could read and write in French. In 1939, he broke his nose. He stood 5'10" tall and weighed 146 pounds. He had brown eyes and brown hair with a medium complexion. He had a partial upper denture. A scar inside his left great toe and many moles scattered over his body were noted.
He wanted to remuster and was accepted into pilot training in June 1942. While an AFM, he was at Trenton, Winnipeg, Dafoe, and Saskatoon. He as at the station hospital January 19-21, 1942 and again January 26-30, 1942 in Dafoe. "Good type of candidate. Keen, alert, good responses. Composed and mannerly. Athletic and average mentality." Additional comments, "Parents separated when candidate was two and has lived with mother who remarried. Good home background. Likes aviation. Never airsick. Talks very fast, perhaps slight tenency to stammer. Enthusiastic, energetic type. Cheerful and adjusted. Fair average type; some nervous trends under stress."
At No. 7 ITS, Saskatoon, SK, from June 8 to July 31, 1942: "31st out of 150 in class. 82.9%. Very good type. Remustered from AFM. Keen, steady, dependable, and confident. An all-around good type. Should go a long way in Aircrew." At No. 6 EFTS, Prince Albert, SK, from August 31 to October 23, 1942: "1st out of 37 in class. 91.9%. Above average student in all respects. No particular faults. Awarded proficiency cup at this school for most outstanding pilot in class. Should develop into valuable pilot." At No. 7 SFTS, Macleod, AB, he was 18th out of 55 in class. "A good average pilot who started rather slowly but has worked very hard. Definitely above average in ground school. General attitude and deportment very good. Recommended for commission. Link: 68%."
At GRS, from March 1 to April 30, 1943: "A very intelligent keen pupil whose work both in the class and in the air has been consistently good. Recommended for future employment: Land based GR or Fighter RECCO. This pupil has considerable ability and achieved very good results. Should make an excellent GR pilot."
He was sent to Nassau, Bahamas and No. 111 O.T.U. in the spring of 1943.
At 1200 hours on 13 July 1943, Mitchell FR383 took off from Nassau detailed to carry out a five hour navigation and patrol flight. Wireless communication with the aircraft ceased at 1545 hours and the aircraft failed to return to base. Searching aircraft located an oil patch and wreckage in the sea five miles south west of Clifton Point, but no survivors were found. A surface vessel recovered small pieces of wreckage only. All the crew members are lost at sea.
The crew members of FR 3983 were: *Sergeant Billy Daschuk (R/158314) (RCAF) (WOAG) *Sergeant Thomas David James (421302) (Observer) *Pilot Officer Wilfred Johnson (J/23528) (RCAF) (Pilot) *Sergeant John Barth Koepke (R/163792) (RCAF) *Pilot Officer James Brewer McArthur (J/21930) (RCAF) *Sergeant Robert Paul Meehan (R/139262) (RCAF)
Wilfred's blue slacks, blue tunic, blue raincoat and blue greatcoat were to be sold instructed by his family.
In late October 1955, Mrs. Wilkinson received a letter informing her that since Wilfred did not have a known grave, his name would appear on the Ottawa Memorial.