Walter Szportan J38039
August 15, 1922 - February 5, 1944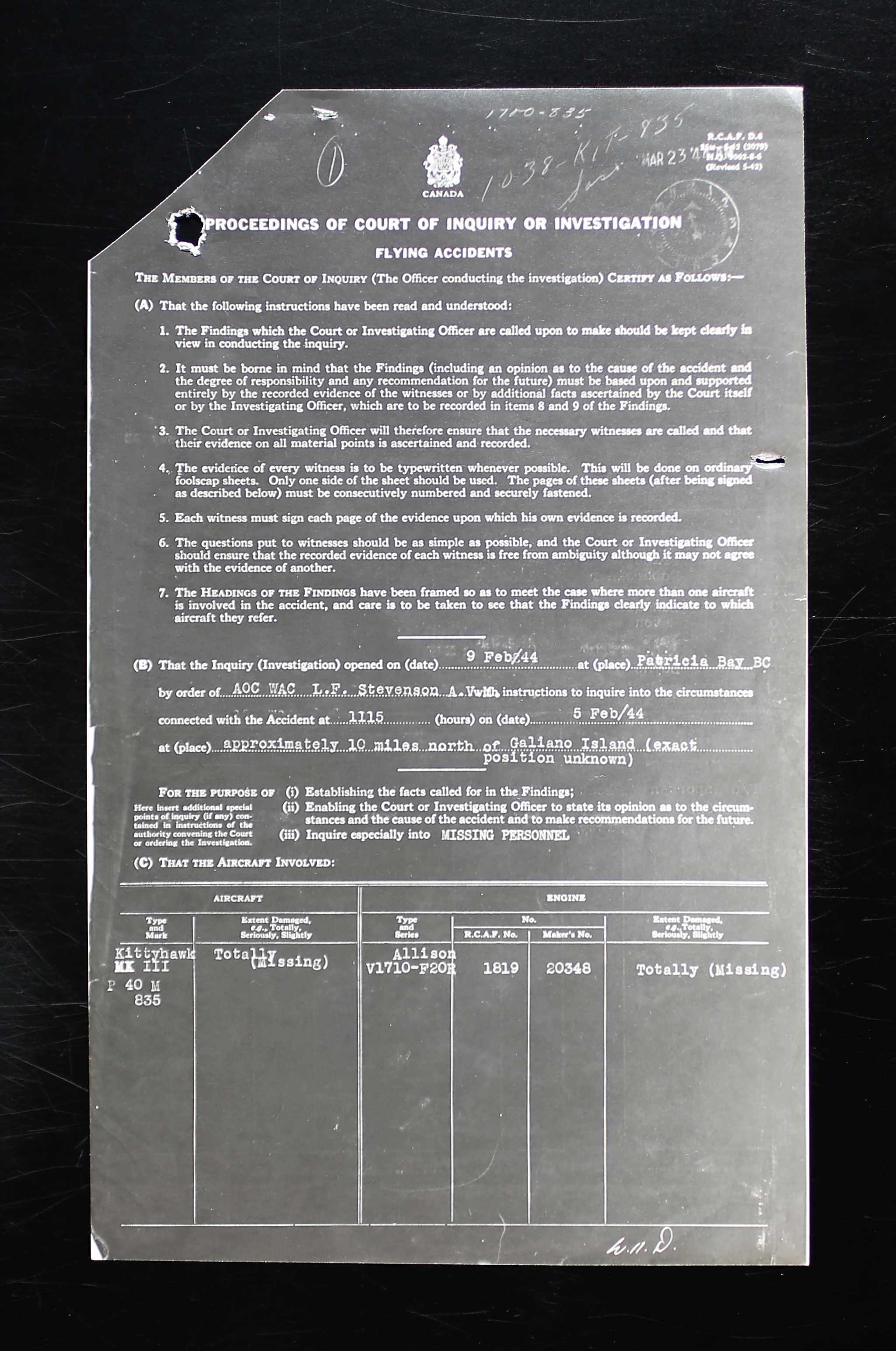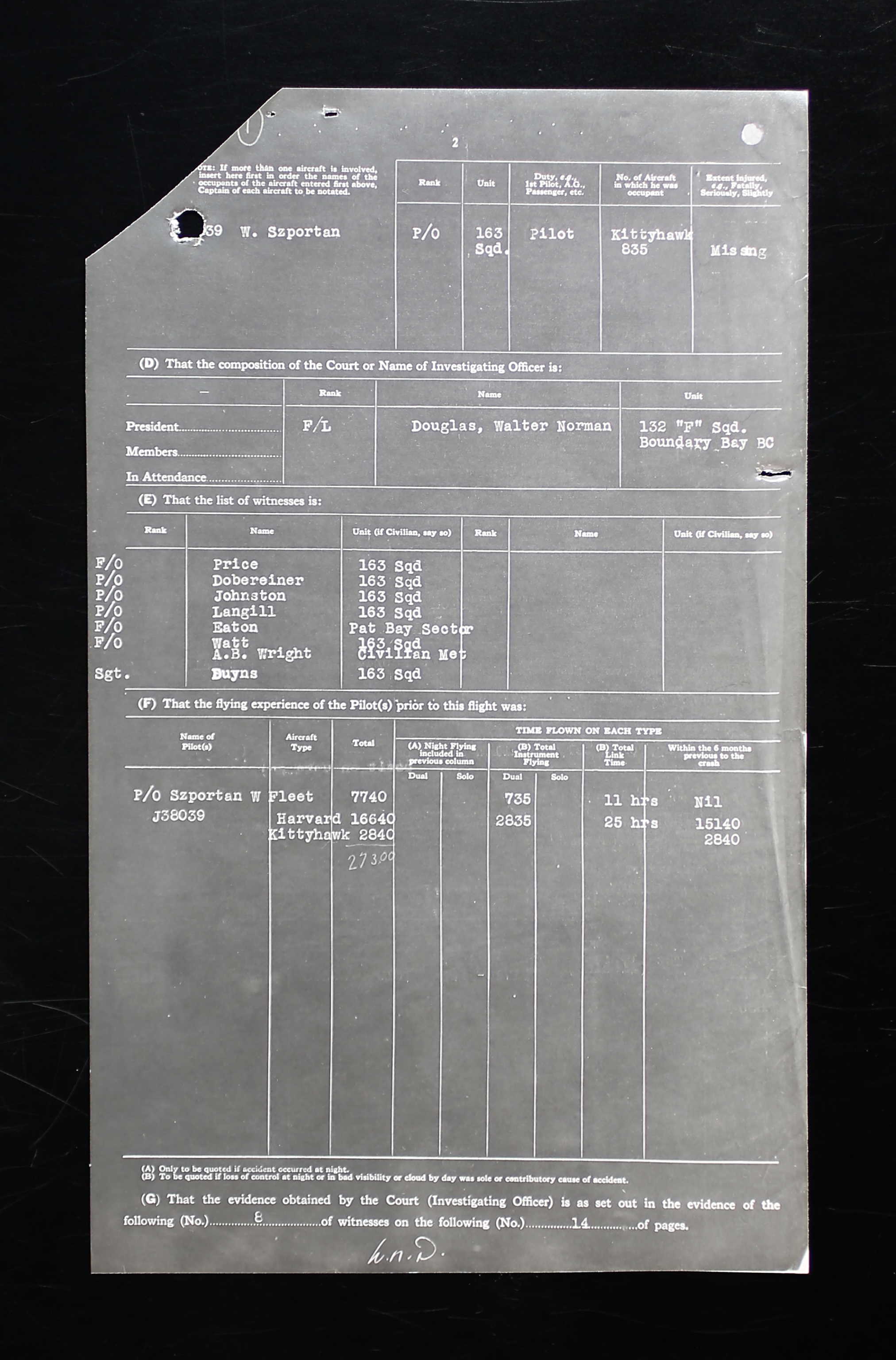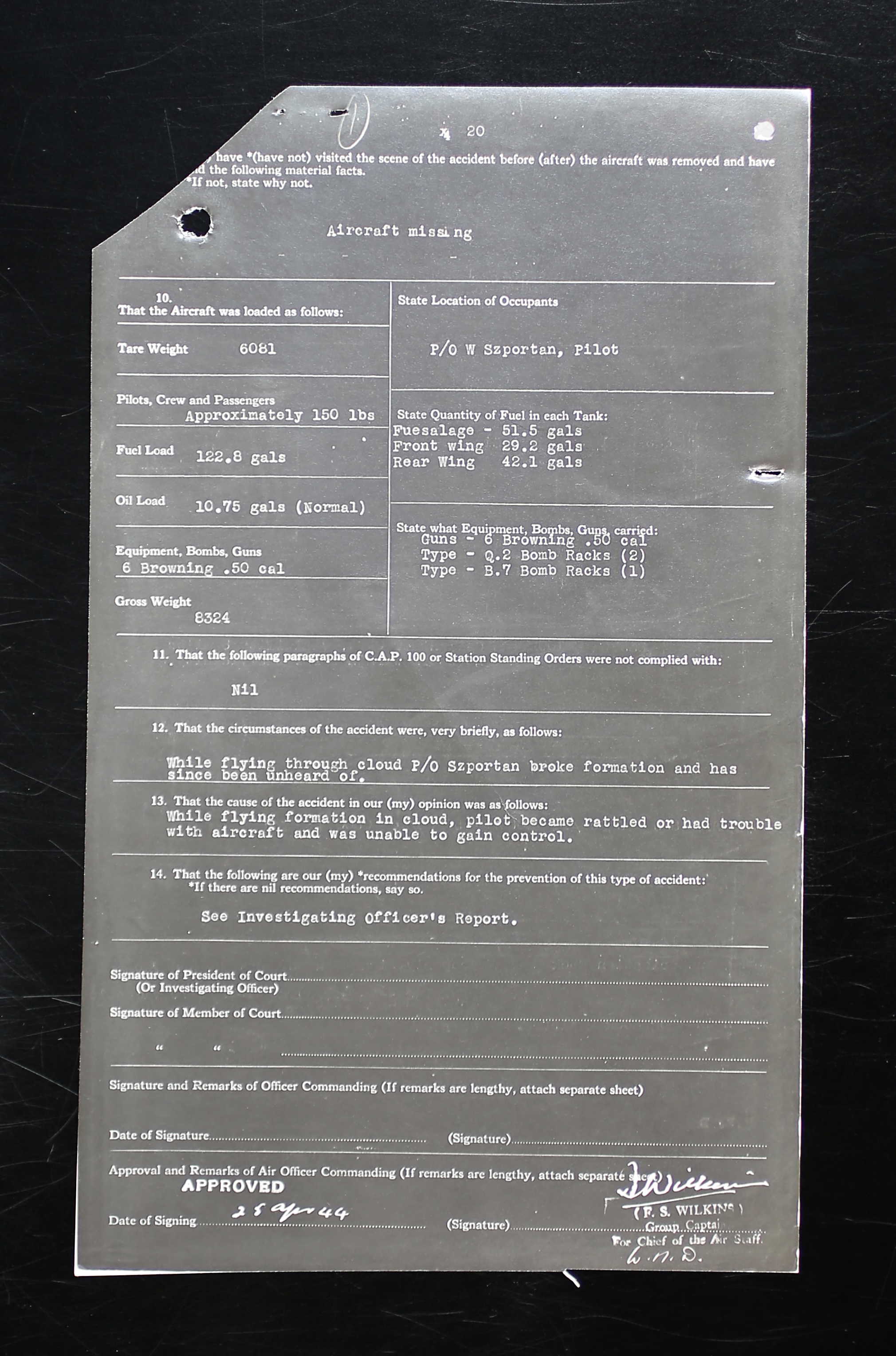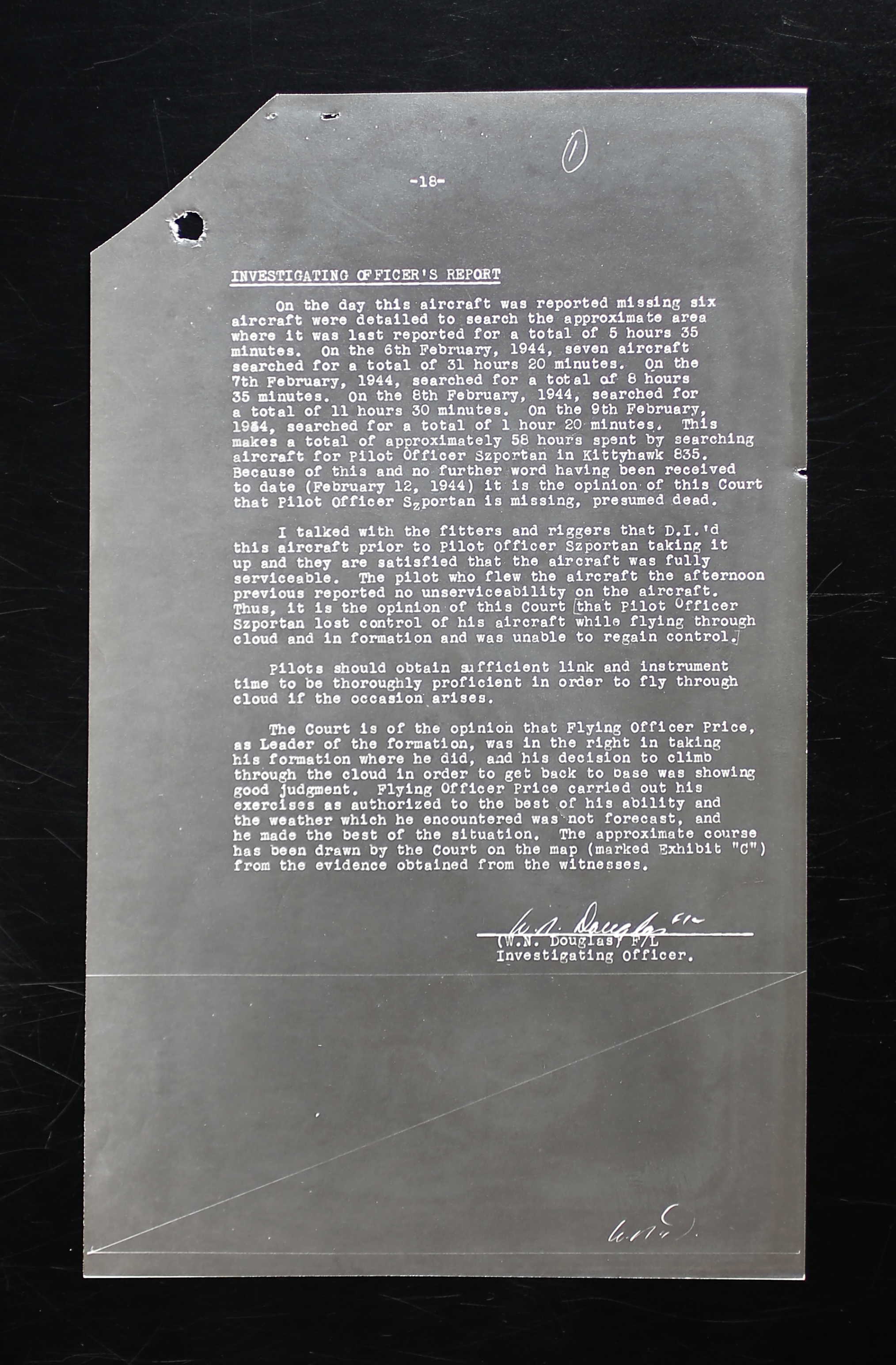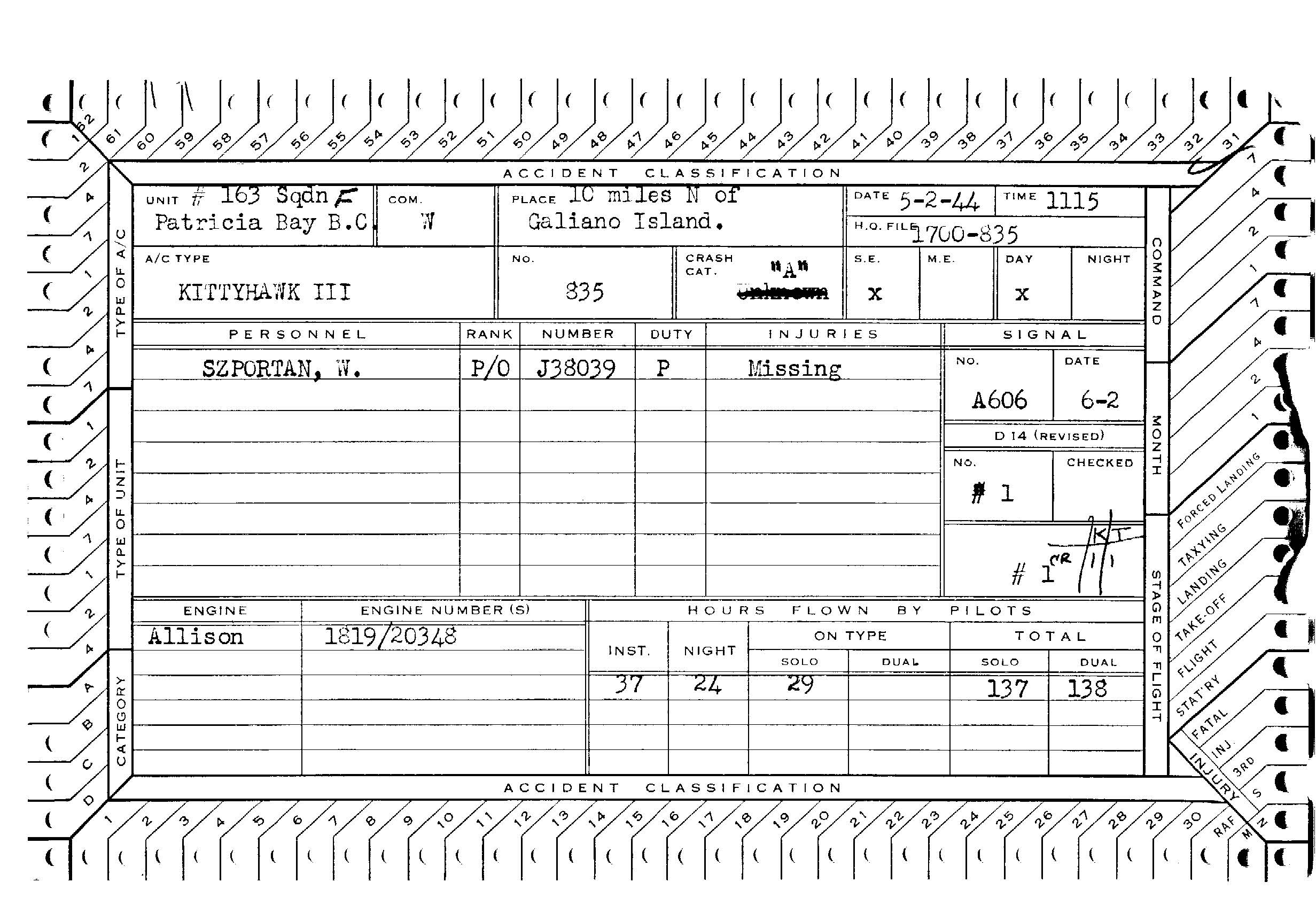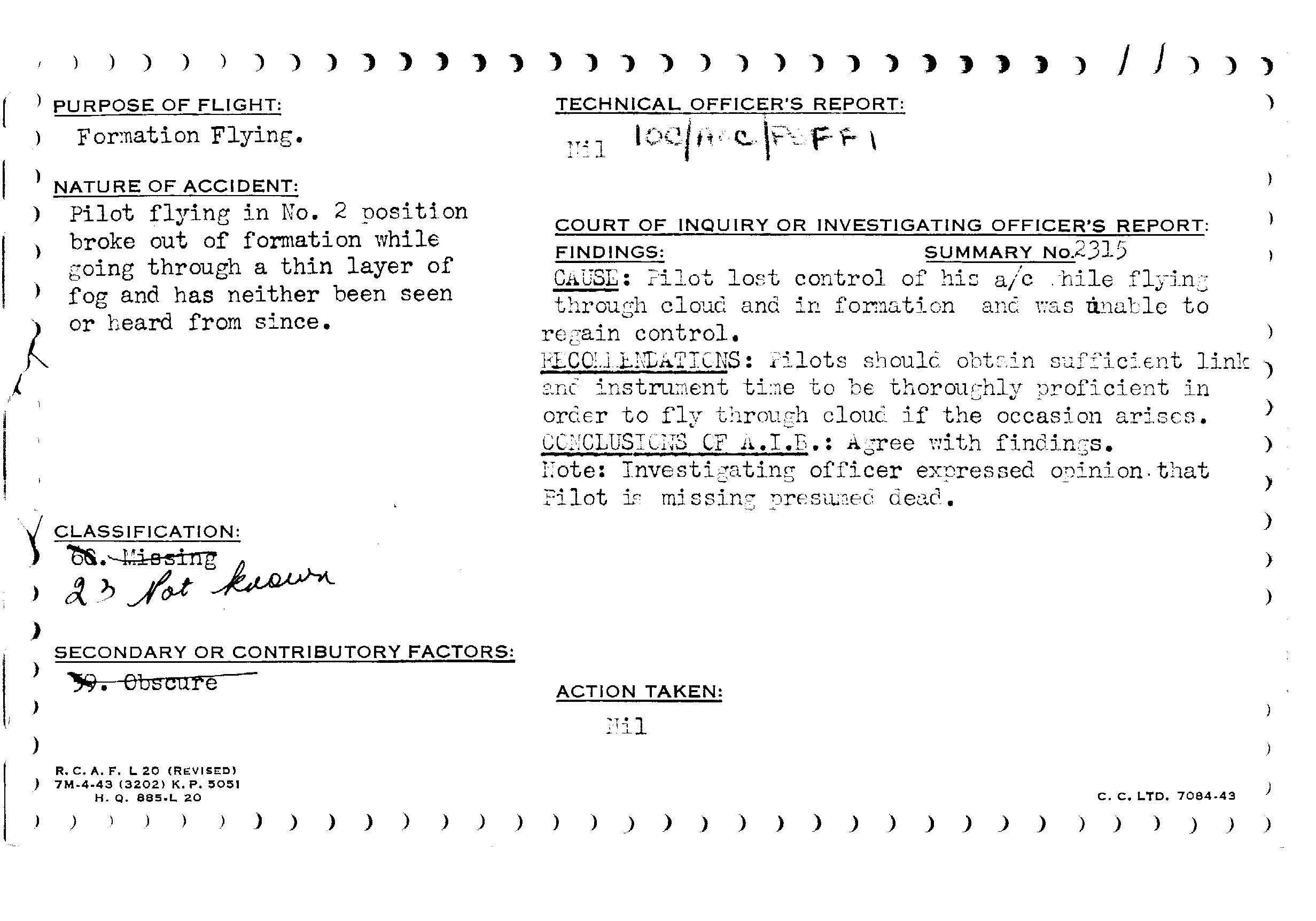 Electrical apprentice at a mine joined RCAF and became pilot. Flying Kittyhawk 835 out of Patricia Bay, he disappeared in cloud near Galiano Island and was never found.
Walter (Wolodomyr) Szportan was born in Zaleszcyki, Poland (now Ukraine), the son of John (Iwan) Szportan, operator in a coal plant, later a grocery store owner, and Mary (Marja) (nee Prokop) Szportan. He had a younger brother, Bohdan. Mother and sons traveled to Canada when Walter was 8, to Noranda, Quebec. The family were Greek Orthodox.
Walter was fluent in Ukrainian and English. He worked as an electrical apprentice at Noranda Mines, enlisting in the RCAF on September 22, 1942, in North Bay, Ontario and became a pilot. He stood 5' 4 ¾" tall and weighed 125 pounds. "Wiry." He had hazel eyes and brown hair.
Flying Kittyhawk 835 out of Patricia Bay, BC, 163 Squadron, in a formation flying exercise. Cloud was encountered and F/O Price, the leader, climbed through the cloud and returned to base. P/O Szportan's aircraft disappeared in the cloud and was never located. It is believed the plane crashed ten miles north of Galiano Island. On the Court of Inquiry summary page, "While flying formation in cloud, the pilot became rattled or had trouble with aircraft and was unable to gain control."
A letter dated September 12, 1944 from Mr. Szportan: "We wish to thank you for your kind words of sympathy in the great loss of our son, Pilot Officer Walter. We also wish to say that to date, we haven't received any further news concerning our son, other than what you sent us. Will you kindly let us know the results of the Court Investigation re: our missing son. What we would like to know is, why couldn't he get in touch with the air drome or other planes when he found himself in difficulties. Surely both his motor and his radio didn't get out of working order, just on the spur of the moment. As I understand it, planes are supposed to be completely checked before leaving the ground. If so, why did his plane go out of order so soon after he was up in the air? And he couldn't get in touch with other planes or aerodrome? It looks like his plane was tampered with before he took to the air. Please see to it that we receive a complete report on this. We understand that his clothes and personal belongings are held at the Vancouver base. Will you please notify them to send all his belongings to us, as soon as possible. He also had a savings account at one of the post offices, if they should not find his savings account book amongst his belongings, will you instruct them to find out at what post office he had his account in. When he was down on a visit, before this tragic occurrence, he mentioned to us that he purchased $200 worth of Victory Bonds in his mother's name, Mary Szportan, but to date we haven't received those bonds. Why? Trusting to hear from you as soon as possible and thanking you in advance."
Mr. Szportan received a reply dated October 31, 1944: "As the Court of Inquiry, it was established that your son's radio and aircraft were serviceable at time of takeoff and that both radio and aircraft were functioning properly up to the time he left his formation while flying through a cloud. Your inquiry regarding your son's personal effects, savings accounts, and Victory Bonds, has been passed to the Director of Estates in Ottawa who will distribute your sons services state according to his wishes as expressed in his will after presumption of death action has been completed."
For more of his story, please visit the link below, courtesy of BCAM and the Court of Inquiry: Microfiche T12341, Image 245.
Walter is remembered on the Ottawa Memorial as he has no known grave.
In December 1964, Mr. and Mrs. Szportan owned a grocery store in North Bay, Ontario, making the papers across the country when their store was robbed around Christmas.
LINKS: