Trask O'Neil Johnson J9235
May 29, 1915 - June 1, 1942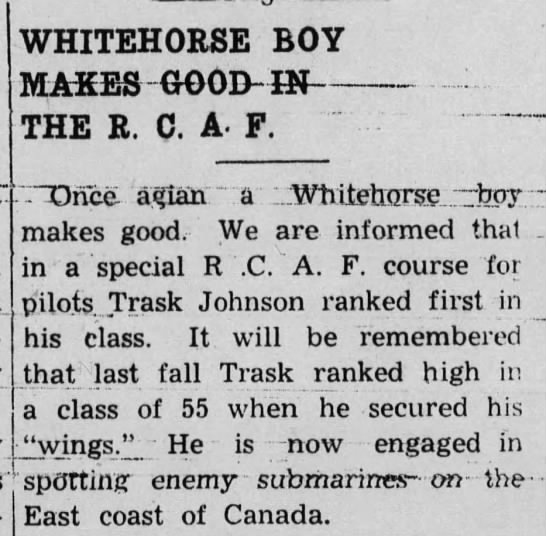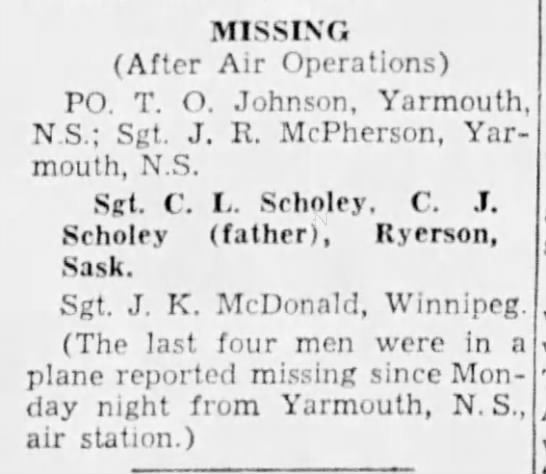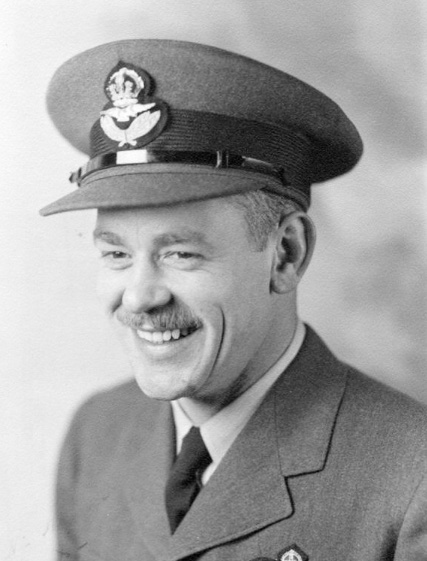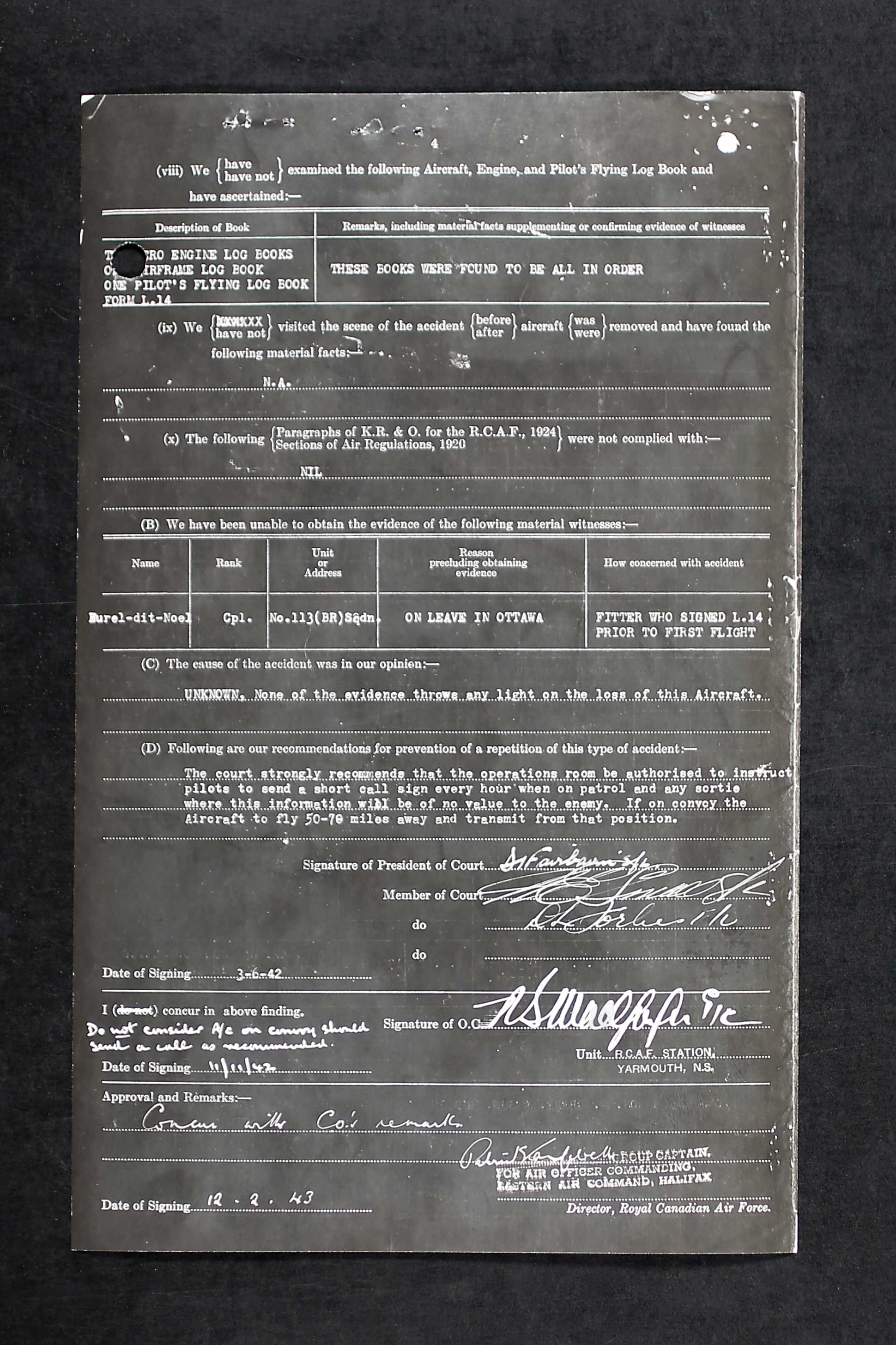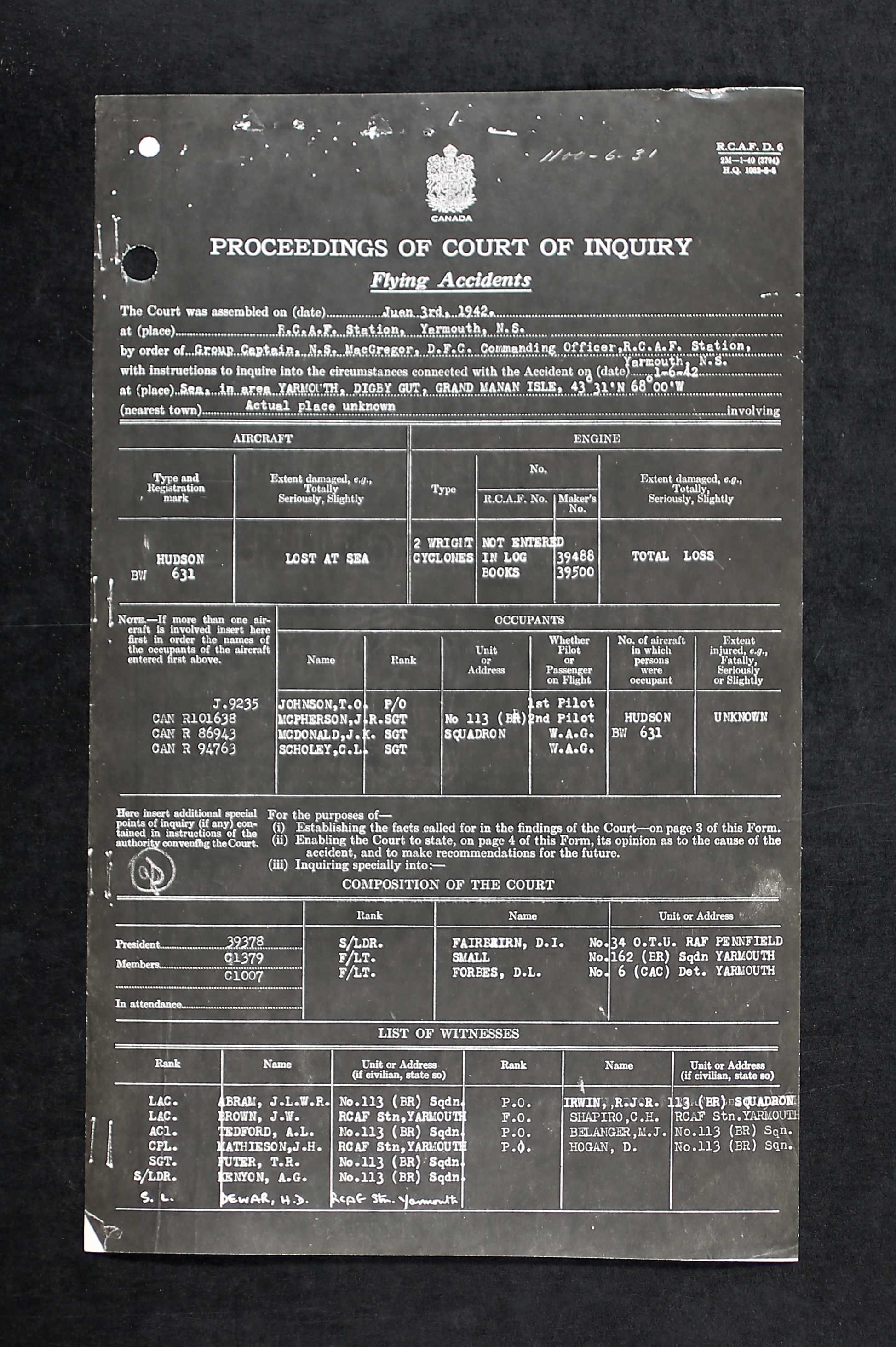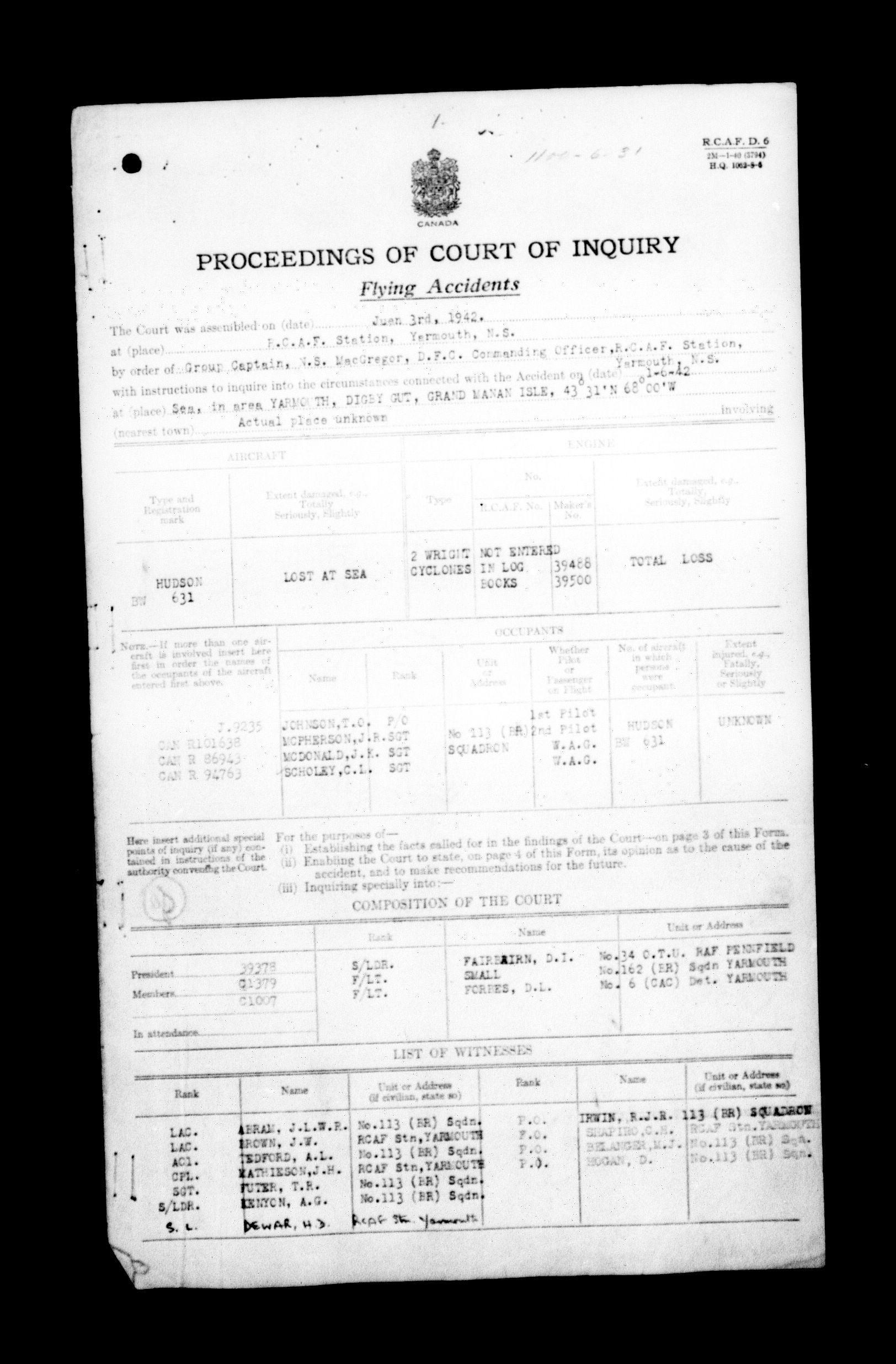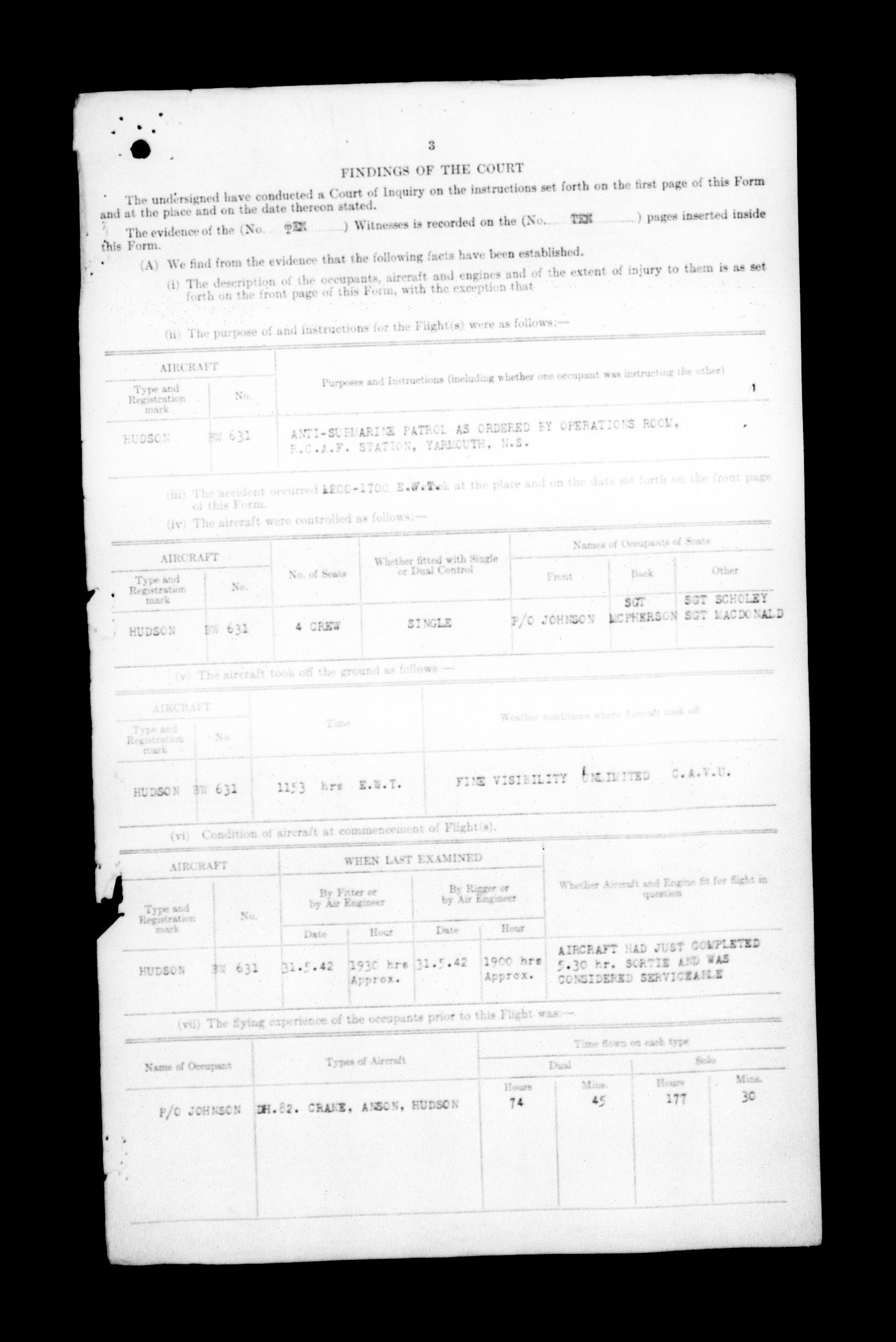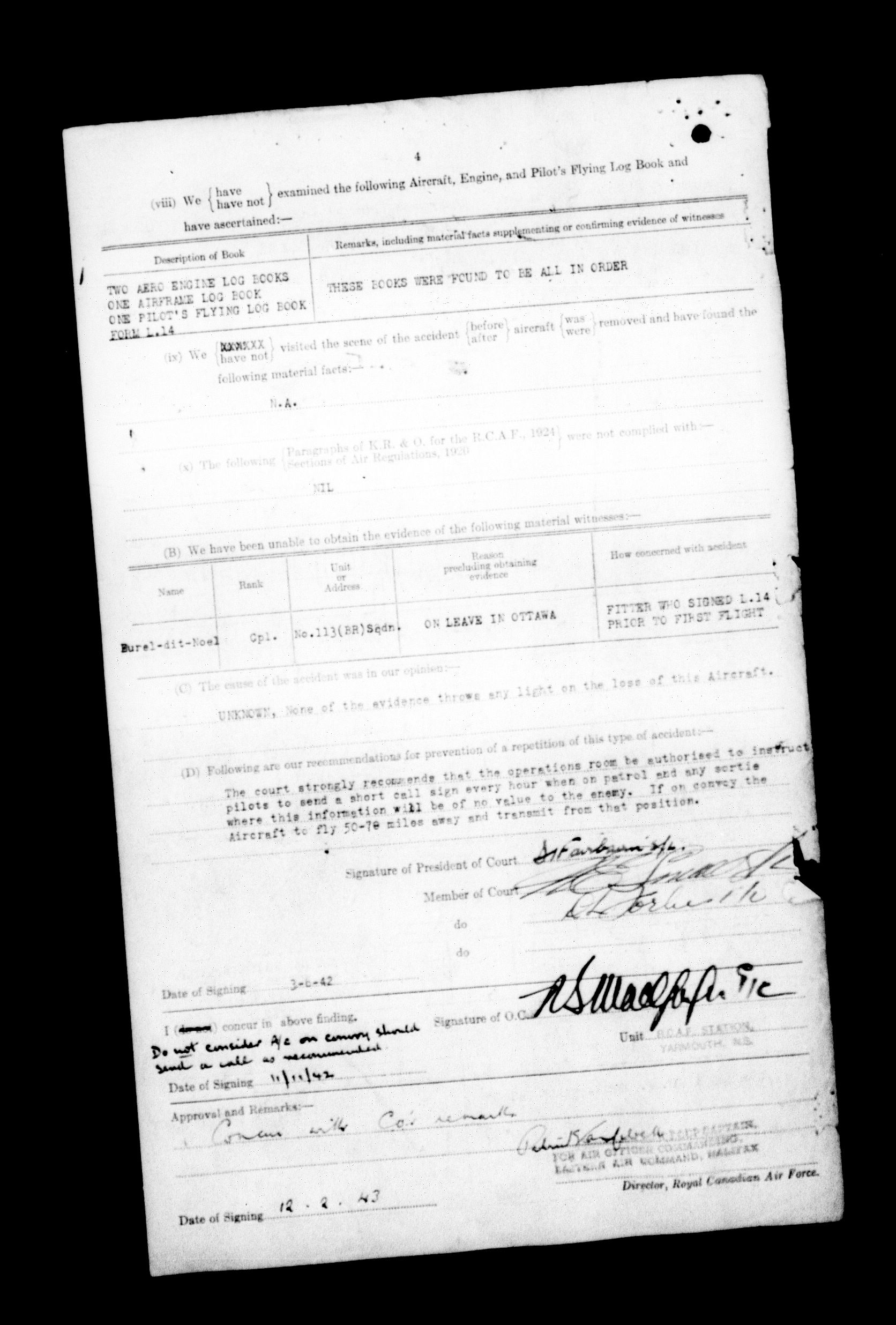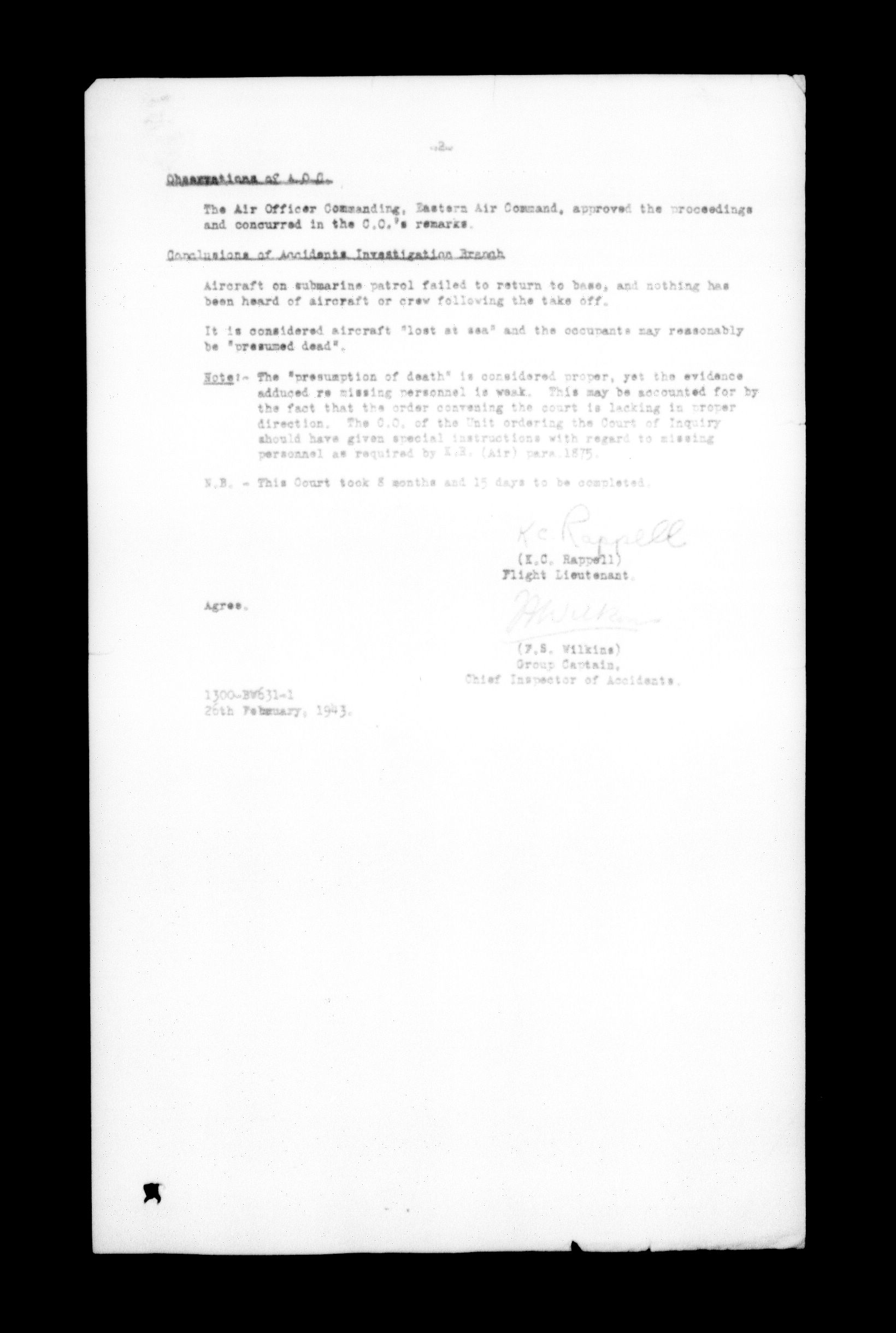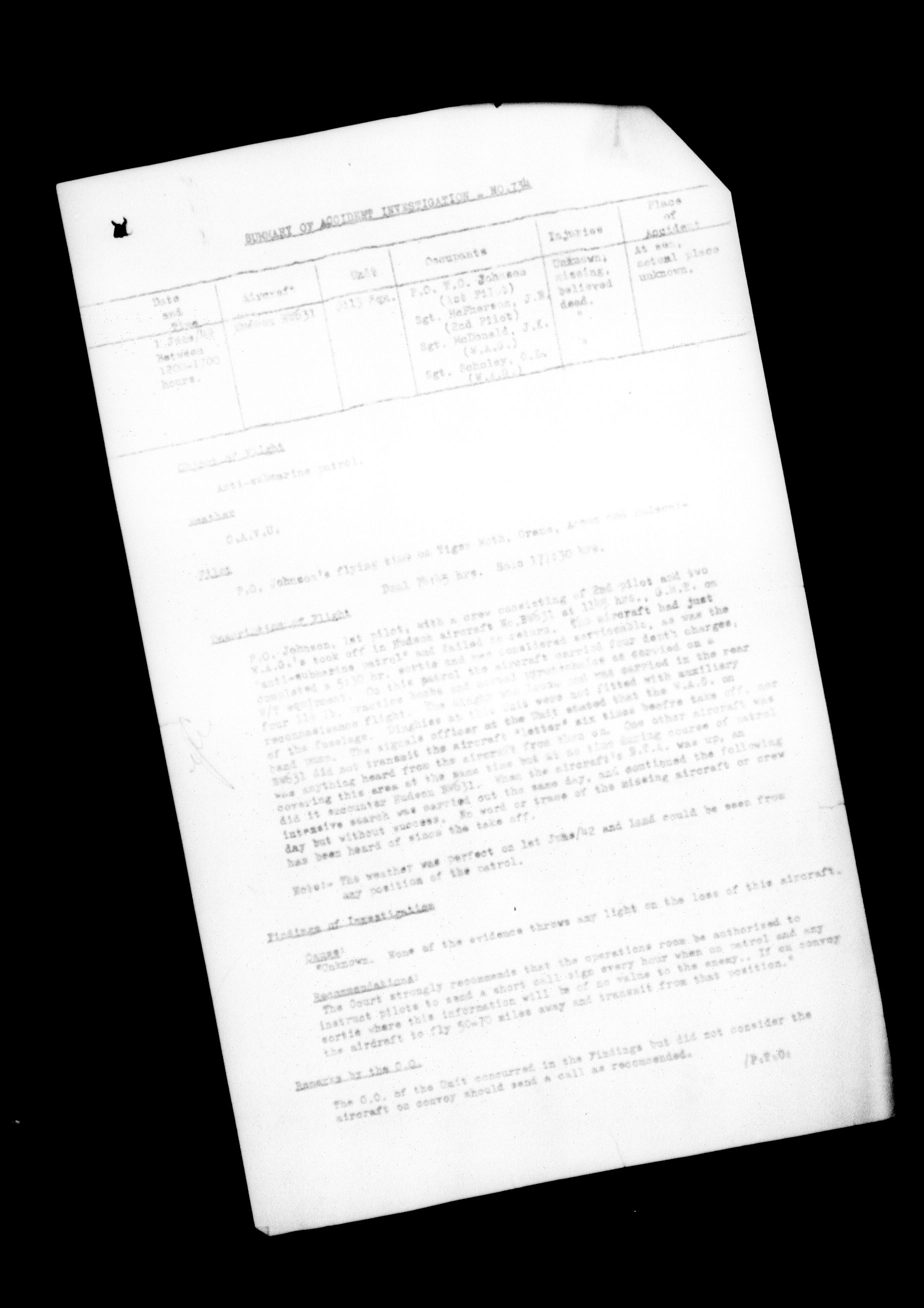 Warehouseman joined RCAF and became above average pilot. Aboard Hudson BW631, he and three others were lost near the Bay of Fundy in June 1942. No sign of the aircraft was found.
Trask O'Neil Johnson, born at Fort Scott, Kansas, USA, was the son of Eugene Henry Johnson (1884 –1953), bookkeeper, later of Wichita, Kansas, and Edna Lockery (nee Baker) Morgan (1895-1981) of Penticton, BC, who married again and was Mrs. Lloyd, residing in Vancouver. Trask had one sister, Barbara Louise Sorrell. He attended the United Church.
Trask's family lived in the Yukon and then they moved to British Columbia. He received his education in Whitehorse. He was employed by the White Pass & Yukon Route railway company during different seasons in 1931, 1932, and 1933. From 1933 to 1935, he was a section man and cook's helper. He wrote that he took correspondence school through Rutgers University, New Brunswick, New Jersey, 1939-1940 studying heating and air conditioning engineering. He had no definite plans after the war but hoped to continue in the aviation field "as pilot, either in RCAF or in the commercial lines."
Trask resided in Vancouver, BC when he enlisted with the RCAF in May 1941. He was a shipper for Wholesale Plumbing and Heating. He liked to play ice hockey, tennis, and golf. He enjoyed photography and boats "amateur speed boat building," plus singing. Trask stood 5'6 ½" tall and weighed 162 pounds. He had black hair and a medium complexion, with brown eyes. "Athletic. Fit. Overweight. Rough, carefree, careless, confident. Inaccurate in tests and in statements. Gives up easily. Ready with excuses. Wants Pilot. May succeed, but unlikely to make sustained effort at anything." He indicated on his enlistment form that at the age of nine, his right thumb was crushed in a printing press without issue in 1941. He also presumed his father was dead.
On May 1, 1941, Trask married Ann Beverly Hardy of Chilliwack, BC, at St. Johns Church, Vancouver, BC. Trask was in debt to Le Roy Jewellers in Vancouver BC, probably for her wedding ring. "At tie of death, no children were left, but one expected first week of February." Ann later resided in Charlottetown, PEI, Vancouver, BC, then returned to Chilliwack, BC. She remarried as of March 1950 and was Mrs. Ann B. Place living in Charlottetown.
Trask was at No. 2 ITS, Regina, Saskatchewan from June 21 to July 21, 1941. "Very good type, is interested in sports. Did well on his course and has the ability to make good." He was 57th out of 150 with 82%. He was at the Station Hospital with pharyngitis and tonsillitis from June 23 to 29, 1941.
He was taken on strength at No. 15 EFTS, Regina from July 27 to September 13, 1941. "Above average ability as a pilot and student. Potential instructor. 72% final test." Ground training: "Mature. Tendency to curry favour too much. 6th out of 30 in class with 77.3%." Trask was then sent to No. 4 SFTS, Saskatoon from September 13 to December 5, 1941. "Has applied himself to his full extent throughout the whole of his course and is now above the average in all aspects of his flying training. He is conscientious, steady, displays a good deal of initiative, is particularly keen, and will be a definite asset to the service. There are no special faults to be watched in his flying." Ground training: "Exceptional student of superior intelligence and aptitude. Very quick in grasping subjects. Very determined in his efforts. Did good work as class senior. Studied a great deal at night, as his results prove. Attitude and aptitude towards the service: excellent." Trask was 1st in his class of 55. Formation flying and ability to maintain speed, course and height: high average. Navigation, night flying, navigational ability, determination and initiative, instrument flying were all above average. "Has been a typical class senior, practically leading the class in all phases of his training at this station. Is very conscientious, intelligent, and well-disciplined. Is popular with his fellow students and always presents a good appearance. Strongly recommended for a commission.
At No. 31 GRS, Charlottetown, PEI, from December 29, 1941 to February 28, 1942: "Above average. One of the hardest working pupils on the course. He is intelligent and really sound. Should do extremely well and highly recommended for flying boats." 83% Recco. Ground Training: "Above average. This pupil has not wasted a spare moment during the course. He is quick and intelligent. Knowledge of GR subjects." Remarks of OC: "This officer has shown exceptional keenness and seems to have a real knowledge of GR work. Strongly recommend for flying boats." Remarks of OC Station: "Good, keen officer. Very anxious to go in flying boats and should be most suitable for that work. Will make a sound, reliable and steady GR navigator and develop into a useful captain of aircraft."
Hudson BW631 went missing near the mouth of the Bay of Fundy while on an anti-submarine patrol. CREW: First Pilot, Pilot Officer Trask O'Neil Johnson, J9235, RCAF, WAG, Sgt Joffre Kitchener McDonald, R86943, RCAF, Second Pilot, Sgt John Roderick McPherson, R101638, RCAF, and WAG Sgt. Charles Leonard Scholey, R94763, RCAF, all with 113 Squadron, Yarmouth, NS.
Eleven witnesses were called during the Court of Inquiry. [Microfiche C5936, Image 1369 and T12340 Image 3345]. The court convened at 0930 hours June 3, 1942 and completed it investigation and findings at 2200 hours the same day, with two adjournments: 1145-1330 and 1700 to 1900 hours.
S/L A. G. Kenyon, Officer Commanding 113 (BR) Squadron, RCAF Yarmouth, Nova Scotia wrote on June 3, 1942 to Air Force HQ, Ottawa: "instructions were received from the Assistant Controller RCAF station, Yarmouth NS, on 1-6-42, foreign aircraft to make a general reconnaissance, beginning 1330 GMT, this time was subsequently changed to 1500 GMT. the patrol detailed was as follows: proceed to Digby Gut, thence to southwest head of Grand Manan Island, and assuming a visibility of five miles, carry out a creeping line ahead patrol, in the area bounded by the following points: 1. Yarmouth, 2. Digby Gut, 3. South west head of Grand Manan Island, 4. 43 35 N 6800 W return to base by 1915 GMT. P/O T. O. Johnson (j9235), Captain, R101638 Sgt. McPherson, JR (Navigator), R94763 Sgt Scholey, C.L, WOAG, R86943 Sgt. McDonald, J.K., WOAG, took off in Lockheed Hudson BW 631 at 1453 GMT and completely disappeared, as no signals were received from them after take-off. An intensive search was organized beginning at 2215 GMT June 1st 1942, Anne continued to 2355 GMT June 2nd 1942, further searches on June 3rd 1942 or cancelled due to weather. Mrs. Johnson and Mrs. McPherson reside in Yarmouth and were advised verbally, next of kin of Sgt. Scholey and Sergeant McDonald were advised by telegram and are being kept posted as to further developments. A court of inquiry was convened on authority of the Commanding Officer Group Captain end. S. MacGregor and is now sitting, a full report will no doubt be forwarded shortly."
The first witness, LAC Joseph Lewis Wilfred Roland Abram, R81873, rigger at 113 (BR) Squadron stated that he carried out a check and found "everything in order for the first flight," including a dinghy and emergency rations. "The dinghy was a loose dinghy carried in the rear of the fuselage."
The aircraft had just completed 5.3 hours sortie and was considered serviceable. The second witness, LAC James William Brown, R67897 electrician, stated that he carried out an inspection on May 31, 1942 and found everything in order. The third witness, AC1 Alfred Lee Tedford, R84841, wireless electrical mechanic also found the airplane's equipment serviceable.
The fourth witness, Cpl. John Hannah Mathieson, 374A, armourer, stated that he was in charge of arming Hudson BW631. "At approximately 2000 hours, May 31, 1942, I carried out the check on the daily inspection performed by the flight armourers. I found everything in order. The explosives carried on Hudson #631 are: 4-MK Vick depth charges, 4 – 11 ½ pound practice bombs, and normal pyrotechnics as carried on a reconnaissance flight."
The fifth witness, Sgt. Thomas Richard Futer, R87505, NCO pilot of No. 113 (BR) Squadron stated that he was "captain of Hudson aircraft 631 which carried a patrol sweep from 0540 hours to 1110 hours NES, June 1, 1942. This was the first flight of the day for this aircraft. I carried out my patrol as instructed and am satisfied that the aircraft was in a serviceable condition on the completion of the flight. On the take-off, the W/T equipment was tested by transmitting our call sign to the Yarmouth Station. This transmission was acknowledged."
The sixth witness, S/L Arthur Gordon Kenyon, C845, OC 113 (BR) Squadron, stated that "I was instructed by the officer in charge operations to detail an aircraft and crew to carry out an anti-submarine patrol as per forms green which I produce…I duly authorized this flight detailing aircraft 631 with the crew consisting of Johnson, McPherson, McDonald, and Scholey. I was satisfied that the pilot and crew were qualified to carry out this mission. The dinghies are inspected every period by maintenance squadron. The dinghies are not equipped with auxiliary hand pumps. These are on the scale of issue but none are available at this station."
The seventh witness, P/O Richard Joseph Irwin, pilot, certified that Hudson BW631 took off from Yarmouth "on an anti-submarine patrol at 1453 GMT on 1st day of June, 1942 with P/O Johnson as first pilot, Sgt. McPherson as second pilot, and Sgt. McDonald and Sgt. Scholey as Wireless Air Gunners. The weather over the patrol area was CAVU during the whole day. One other aircraft was covering this area at the same time but at no time during the course of patrol did it encounter the missing a/c."
The eighth witness, F/O Clarence Harris Shapiro, C8896, Officer in charge of W/T, stated that "a w/t watch was kept at Yarmouth on all bands on which Hudson BW631 could have transmitted during 1-6-42. The WAG on BW631 did not transmit the a/c letter six times before take-off, nor was anything heard from the a/c from then on."
The ninth witness, P/O Maurice John Belanger, J10432, Nav Officer stated "all a/c on patrol can obtain D/F bearings from Rockville near Yarmouth or a/c can use Yarmouth Broadcasting Station for homing. As the weather on June 1, 1942 was perfect, there should have been no need for this as the pilot could see land from any position of his patrol."
The tenth witness, P/O Deryck Hogan, J9122, pilot, stated that "three a/c carried out a search in the same area as a/c BW631 was lost from 2215 hours GMT 1-6-62 to 0210, third a/c returned at 0420 hours GMT 2-6-42. At first light, at 0820 hours GMT, three a/c continued search and this number of a/c continued throughout that day until dark without result. Visibility was reduced to two miles during 2-6-42 and various reports were followed up without result."
Squadron Leader Douglas Dewar Howard, C1136, was the final witness called. He was the assistant controller at Yarmouth. "Hudson aircraft BW631 from 113 (BR) Squadron took off base on patrol at 1415 GMT June 1, 1942, and did not return. An intensive search was carried out, but no trace of the missing aircraft or its occupants could be found at the time and no word has been received from them since."
Recommendations: "The court strongly recommends that the operations room be authorized to instruct pilots to send a short call sign every hour when on patrol and any sortie where this information will be of no value to the enemy. If on convoy, the aircraft to fly 50-70 miles away and transmit from that position."
Engine logbooks were found to be all in order. "Cause of accident: UNKNOWN. None of the evidence throws any light on the loss of this aircraft. The court strongly recommends that the operations room be authorized to instruct pilots to send a short call sign every hour when on patrol and any sortie where this information will be of no value to the enemy. If on convoy, the aircraft to fly 50-70 miles away and transmit from that position." The CO of RCAF Station, Yarmouth: "Do NOT consider a/c on convoy should send a call as recommended."
In a memo dated February 27, 1943: "This matter of transmitting call signs every hour has been raised before and has been turned down. The signals procedure now is vogue pretty well airtight, if followed correctly. No action to be taken on this recommendation."
In late October 1955, Mrs. Morgan, Trask's mother, received a letter informing her that since he had no grave, his name would appear on the Ottawa Memorial.