Thomas Davidson Thomson J36368
September 25, 1912 - January 17, 1944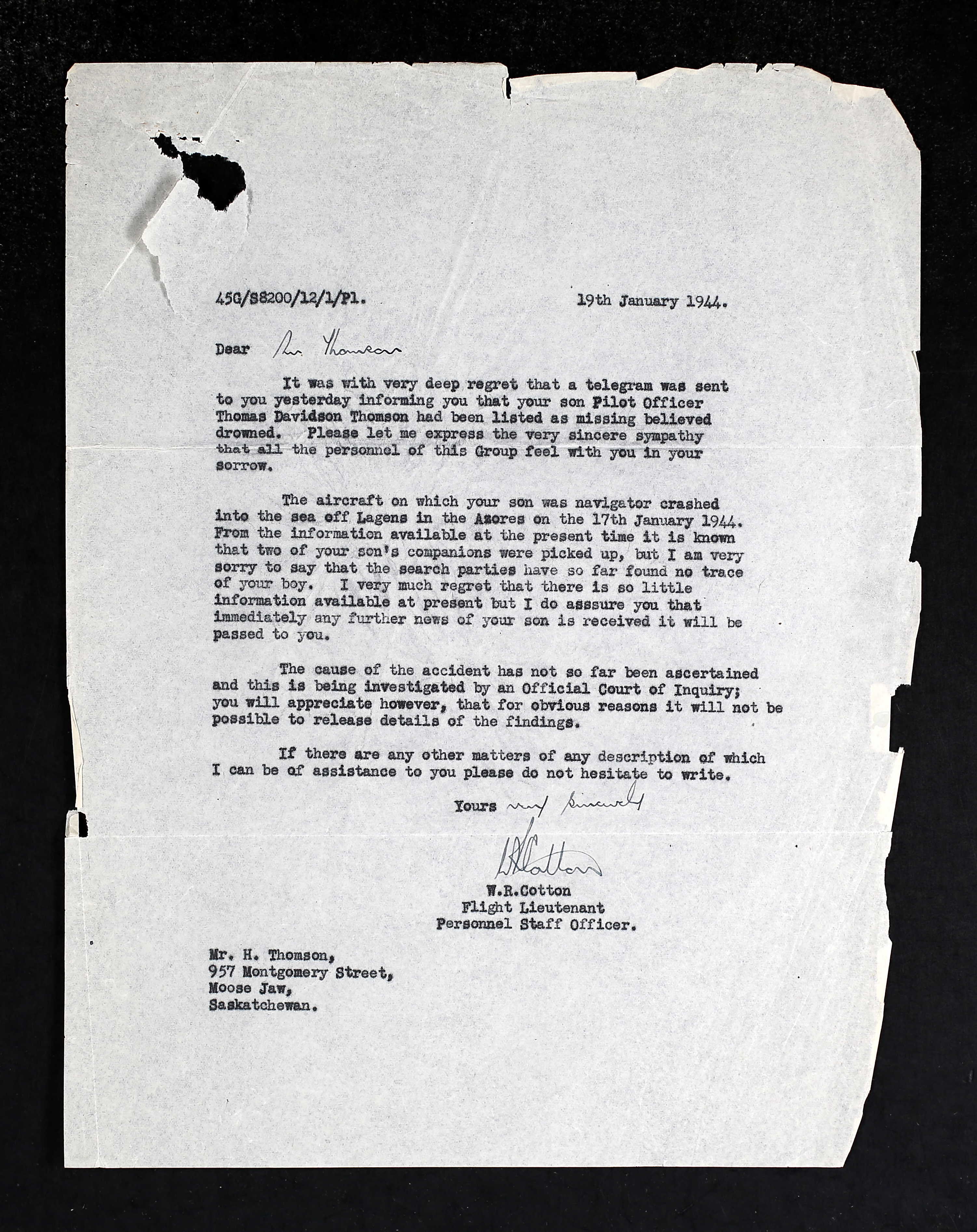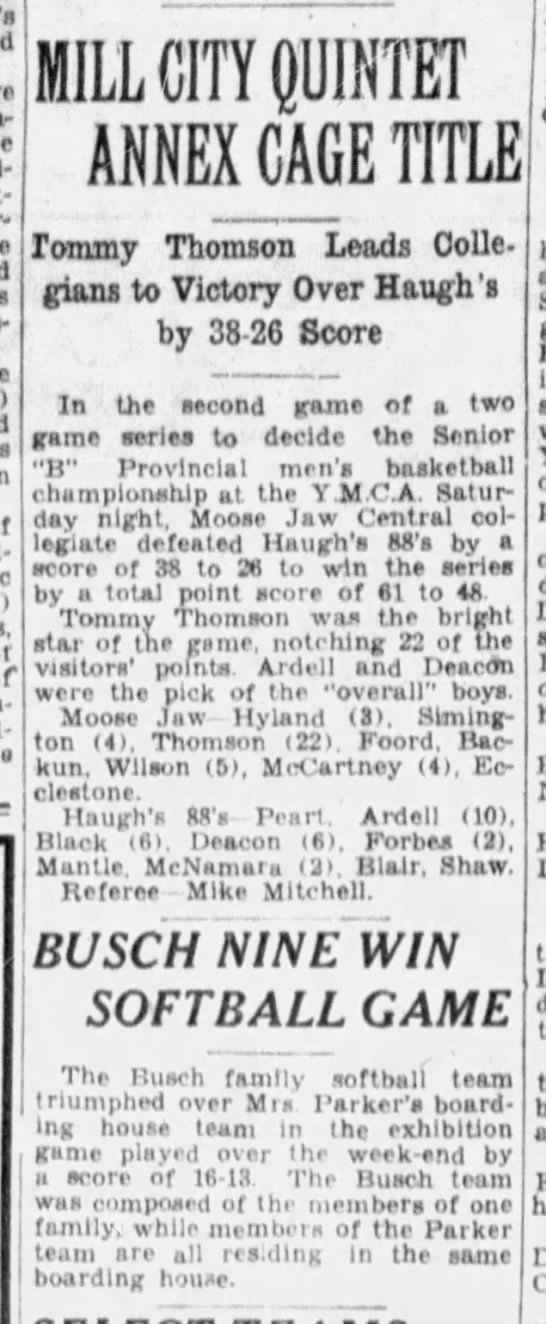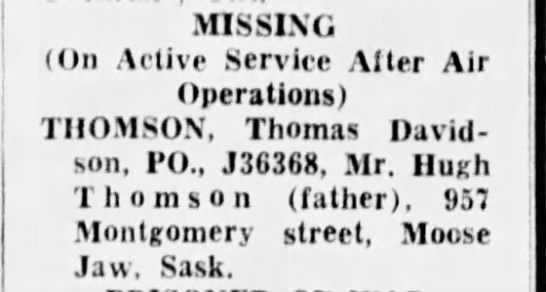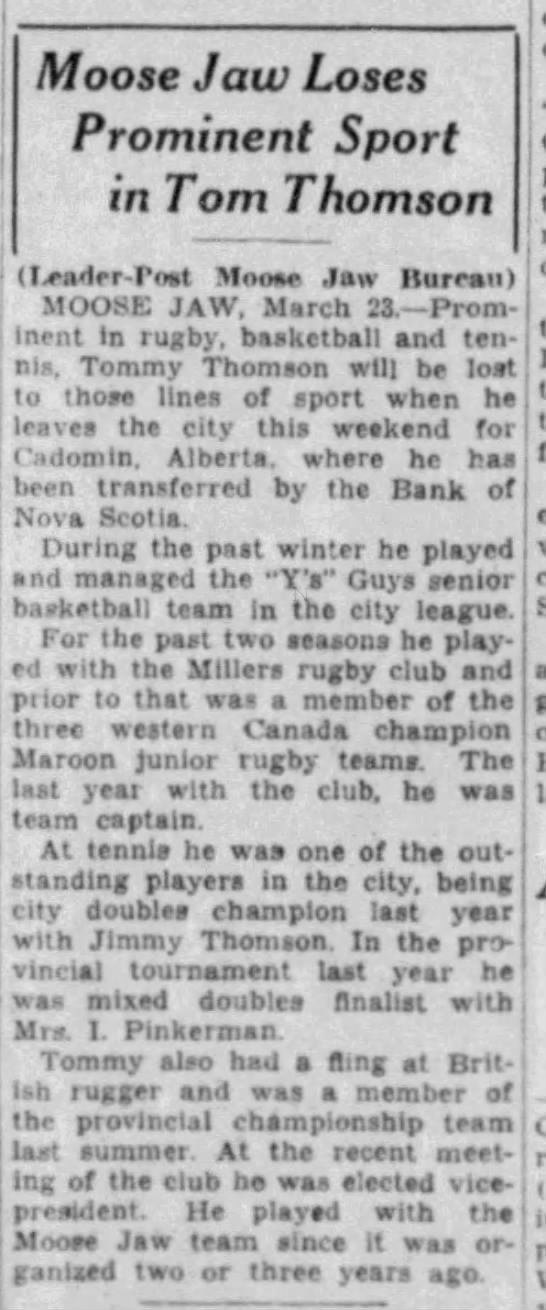 Athletic bank teller joined RCAF as navigator. Attached to No. 45 AT Group out of Dorval, aboard Dakota FZ632, he was believed to have drowned when the airplane crashed into the sea, fifteen miles from the Azores. The other two crew members were picked up.
Thomas Davidson Thomson was the son of Hugh Thomson (1877-1961), carpenter, and Jane (nee Davidson) Thomson (1881-1960) of Moose Jaw, Saskatchewan. He had three brothers and two sisters: James in the Canadian Army, Hugh Jr., and William, plus Ethel Barkoff and Ruth Sigurdson. A third sister, Margaret, died in July 1905. They attended the United Church.
Tom or Tommy as he was known, worked for the Bank of Nova Scotia from 1930 until 1942, working in Moose Jaw, SK, Cadomin, AB, Kinistino, SK, Fort William, Haileybury, and Ottawa, Ontario. He started out as a ledgerkeeper, then teller, then chief clerk, and in 1941-1942, relief staff. "As a bank clerk, he was subject to be transferred every few years." Tommy liked to play the trombone, curl, golf, and was well known in the sporting world when he was a teenager, making the local papers.
He had previous military experience with the KORC, Moose Jaw, from 1930-1931. Tommy enlisted with the RCAF in August 1942. He stood 6' tall and weighed 151 pounds. He had blue eyes and brown hair. "Approximately one year Arts Degree work, University of Sask, plus a fellowship Banking Course at Queen's University. Applicant shows above average ability to learn indicating excellent promise of success in training. Personal background good. Banker, EAT Score indicates refresher course unnecessary before entry…Excellent type…This chap seems to have a lot on the ball. I would say he is above average aircrew material. He has a pleasing personality and good appearance. Should do well with training." After the war, he planned to return to his previous position with the Bank of Nova Scotia.
Tommy was at No. 1 Manning Depot, Toronto from August 24 until October 9, 1942. He was then at No. 1 TC, Toronto on October 10, 1942, then attached to Long Branch, Ontario, until February 6, 1943. Tommy was at the Christie Street Hospital, Toronto, October 28, 1942.
At No. 6 ITS, Toronto, Course 72, from February 8 to April 16, 1943: 9th out of 118 in class with 86%. "Studious, sensible airman. No speedball, but good solid material."
At No. 7 AOS, Portage la Prairie, Course 76, from May 17 to October 1, 1943: 76.2% in air work and 86% in ground work. 83% in assessment of qualities of character and leadership. "Top of class. Superior ability shown both in air and ground work. Able, intelligent worker."
Tom was sent to No. 5 Manning Depot, Lachine, Quebec in October 1943 and then taken on strength at No. 45 AT, Dorval, Quebec October 19, 1943. He received his commission that month.
Dakota FZ632, enroute to the United Kingdom via the Azores, P/O Thomson and the plane were lost. The plane crashed about fifteen miles from the Azores. Two crewmembers were picked up.
In a letter dated January 19, 1944, addressed to Mr. Thomson: "it was with very deep regret that a telegram was sent to you yesterday informing you that your son pilot officer Thomas Davidson Thompson had been listed as missing believed drowned. Please let me express the very sincere sympathy that all the personnel of this group feel with you in your sorrow. The aircraft on which your son was navigator crashed into the sea off Lagens in the Azores on the 17th of January 1944. From the information available at the present time, it is known that two of your son's companions were picked up, but I am very sorry to say that the search parties have so far found no trace of your boy. I very much regret that there is so little information available at present, but I do assure you that immediately any further news of your son is received it will be passed on to you. The cause of the accident has not so far been ascertained and this is being investigated by an official Court of Inquiry; you will appreciate however, that for obvious reasons it will not be possible to release details of the findings. If there are any other matters of any description of which I can be of assistance to you, please do not hesitate to write."
Tom is remembered on the Ottawa Memorial and mentioned in the book Ocean Bridge by Carl Christie, published in 1995.