Thomas Clarence Judiesch R115925
July 28, 1917 - February 7, 1943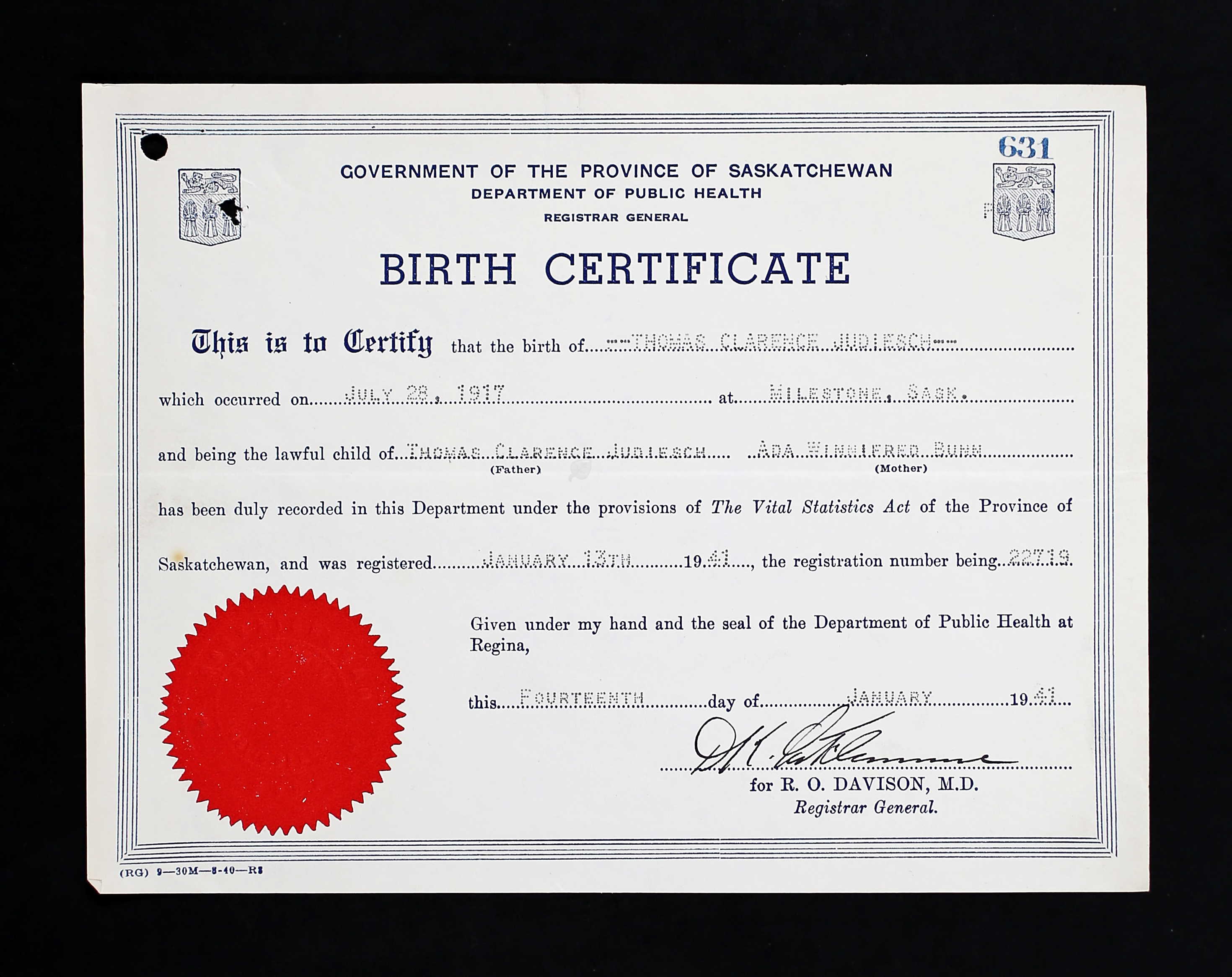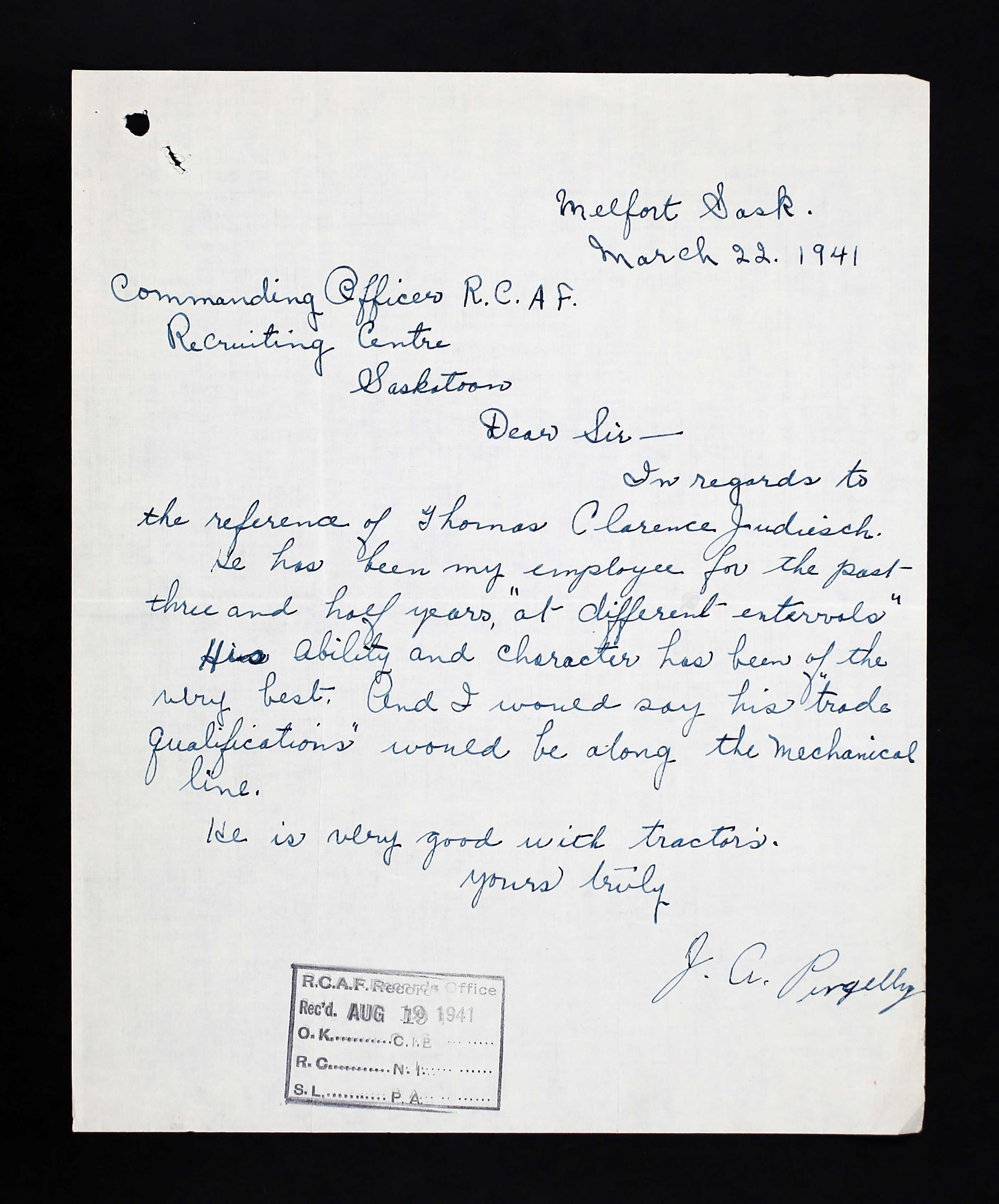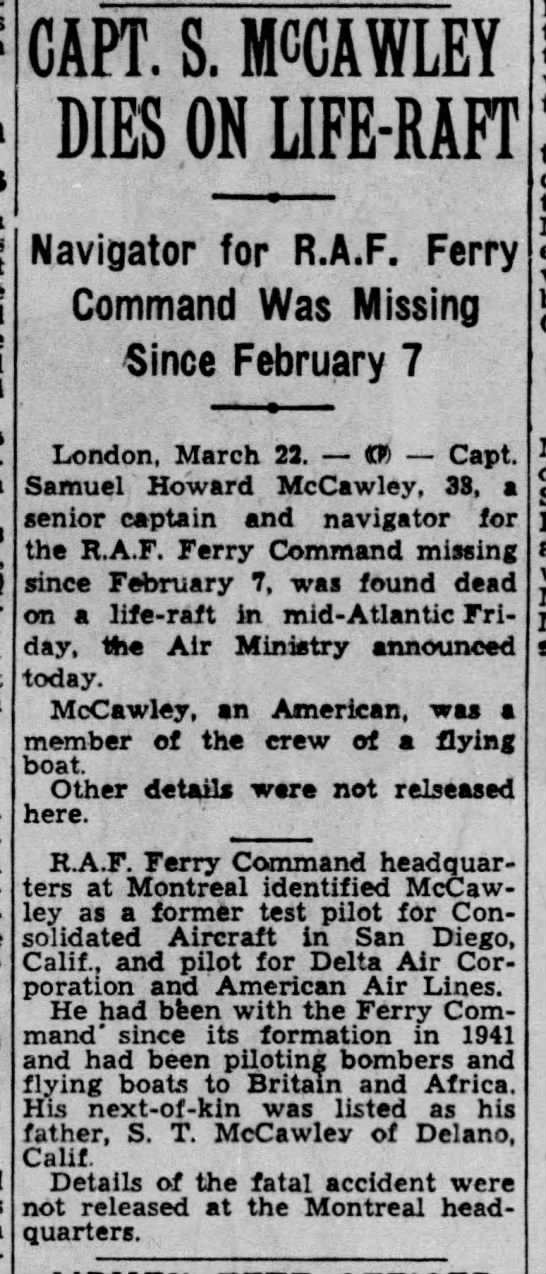 Farm worker joined RCAF and became air gunner. Aboard Catalina FP309, he and crew were lost on a ferry flight from Georgetown, British Guiana to United Kingdom. Body of one of the crew was spotted in a rubber dinghy in the 'blizzard-ridden Atlantic'.
Thomas Clarence Judiesch, Jr. born in Milestone, Saskatchewan, was the son of Thomas Clarence Judiesch, Sr. (1882-1961), farmer, and Ada Winnifred (nee Bunn) Judiesch (1884-1972) of Pleasant Valley, Saskatchewan, then Victoria and later Qualicum Beach, British Columbia. He had two brothers, Donald O'Neil Judiesch and John Frederick, Judiesch, a pilot with the RCAF, and one sister, Jean Winnifred Strain. The family attended the United Church.
In 1938, Thomas had his tonsils removed. The broken lens of coloured glass embedded in his eye, with the glass recovered. He broke his nose at the age of 3 or 5, noted as 'unattended.' He had a Grade X education and was a farm labourer in the area of Melfort, Saskatchewan for twelve years when he enlisted with the RCAF in August 1941. He liked softball and hockey. He did not smoke, nor drink alcohol. "Athletic. Scar left forearm, scar right cheek." He stood 6' tall and weighed 185 pounds. "This chap was composed and co-operative. Slow in reaction time. Excellent cardio-vascular and respiratory efficiency. Polite and mannerly. Good carriage and physique. Desirable type of material." Other comments: "Has a marked deviation nasal septum and crooked nose. To have submucous resection done. Acceptable as gunner following this." In June 1941, Thomas had the resection done. In August 1941: "Seems to be willing, conscientious, and thorough going chap."
Thomas's journey through the BCATP began at No. 3 Manning Depot, Edmonton, Alberta August 14, 1941. He was then sent to No. 15 SFTS, Claresholm, Alberta in September until November 1941. Thomas was at No. 3 Wireless School, November 24, 1941 to May 7, 1942. He was rated average. He was 6th out of 148 in his class with 87.7%. He was sent to No .8 BGS until June 8, 1942. Here he was 4th overall in his class out of 38. "Has an excellent grasp of ground training subjects. A dependable man." Other comments: "Very good in practical exercises. Somewhat slow and deliberate but very reliable. Suitable for commissioned rank. Recommend for commission." He earned his Air Gunner's Badge.
No. 31 O.T.U. was Thomas's next destination, Debert, Nova Scotia from July 6 to September 25, 1942. "Keen and willing to learn. Has obtained sound average results. An average air gunner and air operator." From Debert, he was sent to RAF Ferry Command, based out of Dorval, Quebec, October 9, 1942.
Crew: Catalina FP309: First Officer Andrew Eugene Bleau (American), RAF, Air Gunner F/S Thomas Clarence Judiesch, R115925, Navigator P/O Edward Dennis Markham, 133720 RAF, Captain Samuel Howard McCawley (American) RAF, Flight Engineer Sgt Cecil Stanley Rumble 615014 RAF, Radio Officer Stephen Francis Whatmore RAF. Aircraft lost in transit (ferry flight), Georgetown, British Guiana to United Kingdom. From newspaper articles, McCawley's body was found in a raft, perished from exposure "on blizzard-ridden Atlantic." All the crew members' names appear on the Ottawa Memorial.
Thomas had $60 in War Savings Certificates, $100 in Victory Loan Bonds, and a life insurance policy worth $2000.