Tadeusz Ludwig Polec R56918
April 26, 1918 - July 24, 1943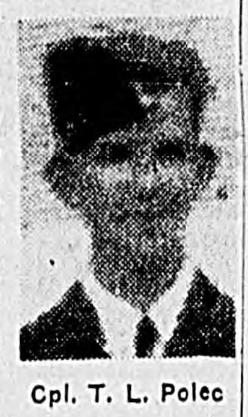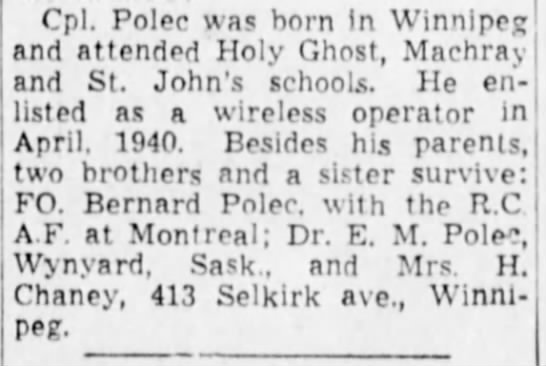 Radio enthusiast from Winnipeg became Wireless Operator (Ground) for RCAF. Passenger aboard the BC Star.
Tadeusz Ludwig Polec was the son of Casimar Polec, CPR switchman, and Eugenia (nee Myslicka) Polec of Winnipeg, Manitoba. He had two brothers, Edward and Bernard. He had one sister, Mrs. Helen Eugenie Chasney. One of his brothers was in the RCAF stationed at No. 10 (BR) Squadron, Halifax, Nova Scotia in April 1940. The family was Roman Catholic.
Tadeusz, known as Ted, spoke both English and Polish. He was studying radio when he enlisted with the RCAF in the spring of 1940. He had also applied in 1938 and 1939. He listed that his special qualifications included radio construction, lathe work. He hoped to be taken on as a Wireless Operator. He had been working for his brother in law, Dr. WilliamPo Chasney prior to his enlistment. "…I have known Ted for many years and I always found him to be diligent, obedient and trustworthy." Ted wanted to go into radio communication after the war, attending vocation school.
He enjoyed swimming very much as well as stamp collecting. Ted attended St. John's Technical School from 1933-1939, studying industrial arts, with three of those years of special work in the electric shop. He had the equivalent of a Grade XI education. "Ted Polec has been in my room for three years and I can vouch for his integrity, fidelity, and loyalty. He has ability as a mechanic above the average, and has during the last year, had full charge of stocks and equipment fulfilling his duties very satisfactorily. I have no hesitation whatsoever in recommending him…During the last year, he has specialized in radio construction."
Ted stood 6'4" and weighed 152 pounds. He had brown eyes and brown hair, with a sallow complexion. He had flat feet.
The RCAF accepted Ted. He began his journey through the BCATP at No. 1 Manning Depot, Toronto, then moved to No. 1 Wireless School, Montreal, were he became a Wireless Operator (Ground). In October 1940, Ted was posted to Western Air Command Headquarters, Victoria. He was attached to Gordon Head February 1941. In March 1942, he traveled to No. 4 Works Construction Unit, then to Ucluelet, Kennedy Lake (Wireless Signals), Victoria, back to Ucluelet, all by March 30, 1942. He was rated AA in both dress and personal appearance, as well as in deportment on and off duty. He scored an 81 ½% on his tests as he was promoted to Corporal from Leading Aircraftman. "Has a good knowledge of drill – confidence. Requires more practice."
In mid-September, he was at Coal Harbour. In January 1943, he was at that station's hospital for almost a week. He was also in the hospital from May 6 to 8th, 1943. In June 1943, he was in Tofino, then headed up to St. James Island aboard the BC Star in July 1943.
Ted was involved in installation work.
On July 24, 1943, Ted was a passenger aboard the BC Star when it was sunk. Theories as to the cause of the sinking of the BC Star included the ship was overloaded, it was torpedoed by a Japanese submarine, or it hit a mine. Please see links below for more information.
Ted had $40 in savings, plus $60 in War Savings Certificates, plus $200 in Victory Loan Bonds. He also took out a $2150 life insurance policy, his mother his sole beneficiary. Other assets: radio equipment, a typewriter, and books, which were presumed to have been at his last posting.
Mr. Polec received a letter date March 8, 1944, explaining to him that Ted was now, for official purposes, presumed to have died on active service on July 24, 1943.
A letter dated February 7, 1945 from G/C T. K. McDougall to The London Life Insurance Company stated that "the inquiry concerning the loss of the BC Star on which Corporal Polec was a passenger, did not disclose the exact location of her sinking and consequently no conclusion was arrived as to whether or not the ship sank within territorial waters of Canada. It can be definitely stated that when the BC Star left Bella Bella on voyage on which she was lost, she was under order to proceed directly from Bella Bella to Cape St. James Island."
In October 1955, Mr. Polec received a letter from W/C Gunn telling him that since Tadeusz had no known grave, his name would appear on the Ottawa Memorial.
LINKS: