Stanley Frasier Fairbairn J11639
July 4, 1921 - November 12, 1942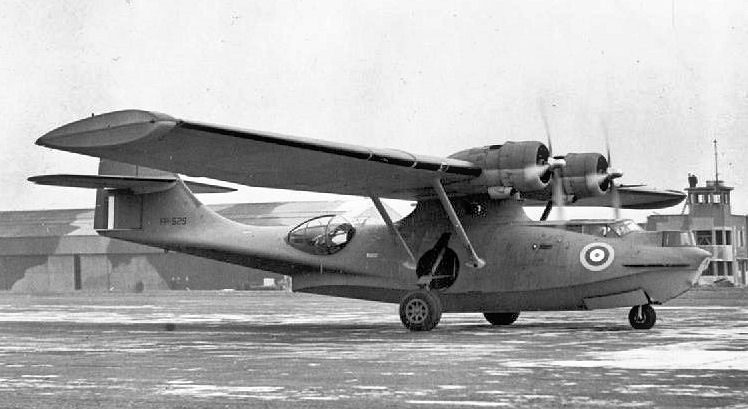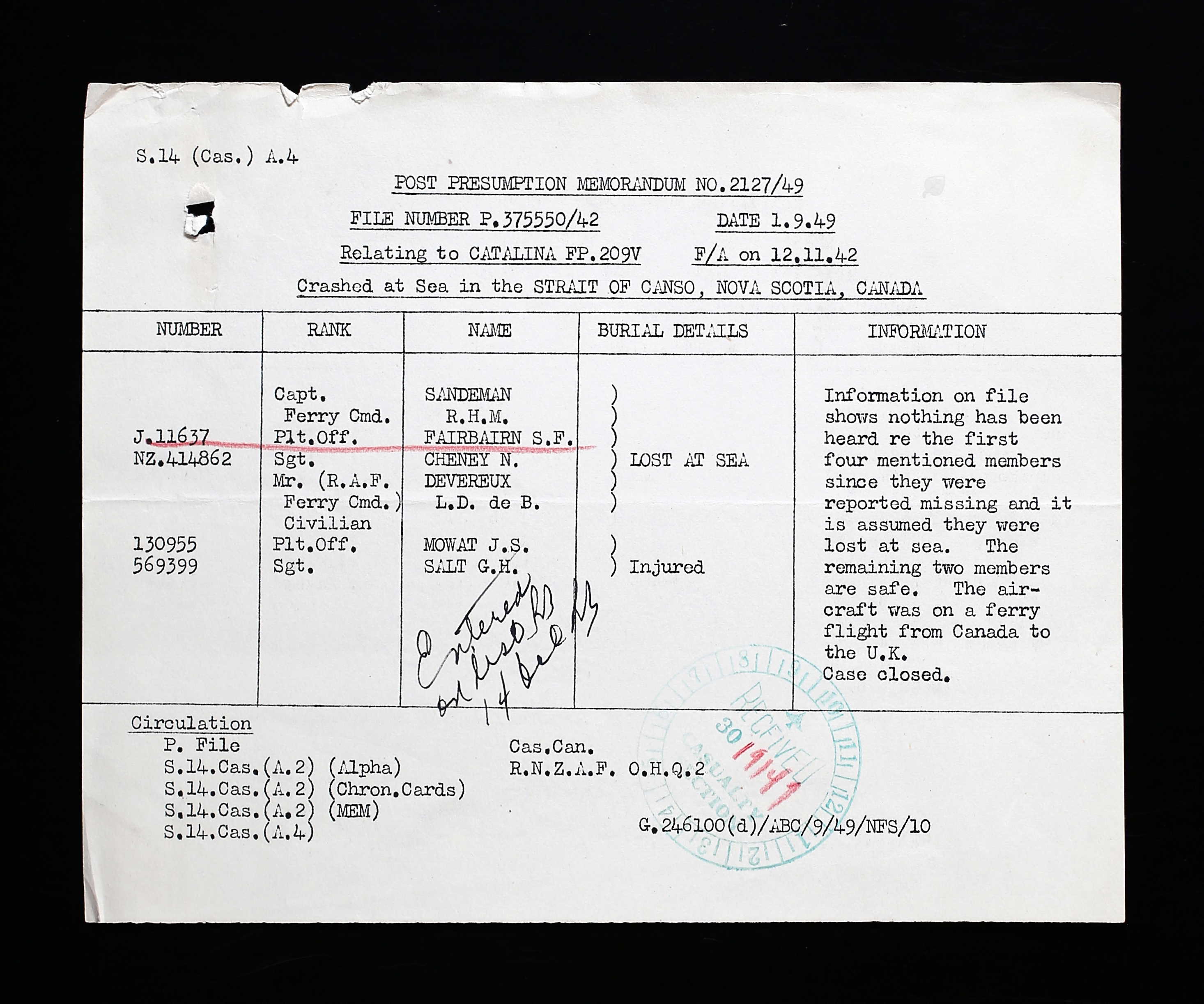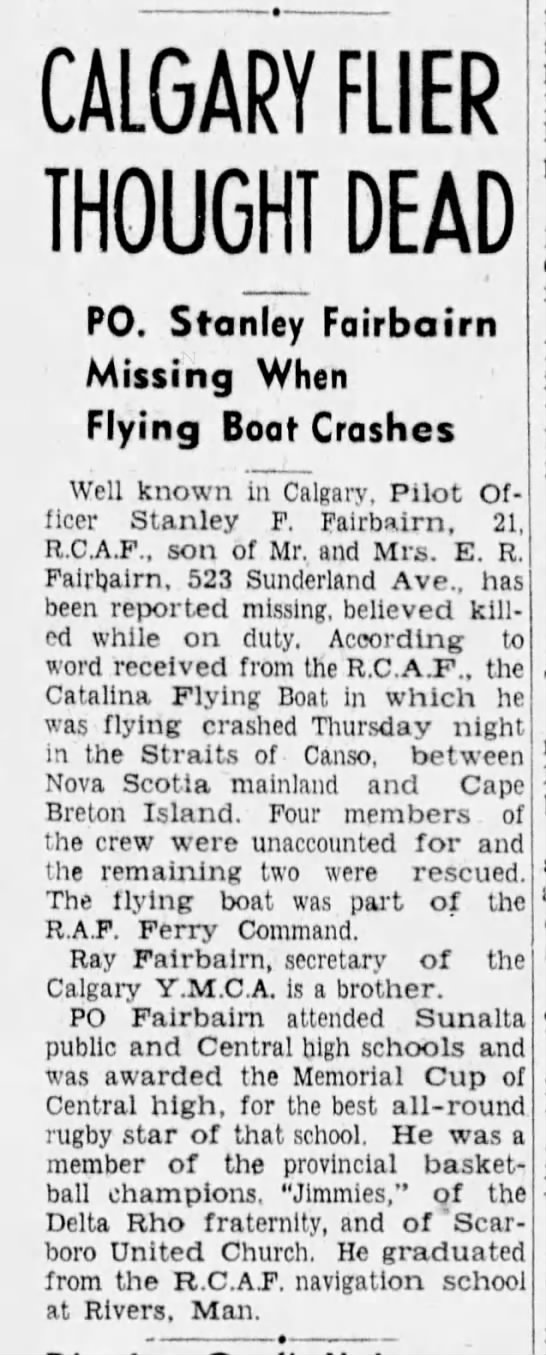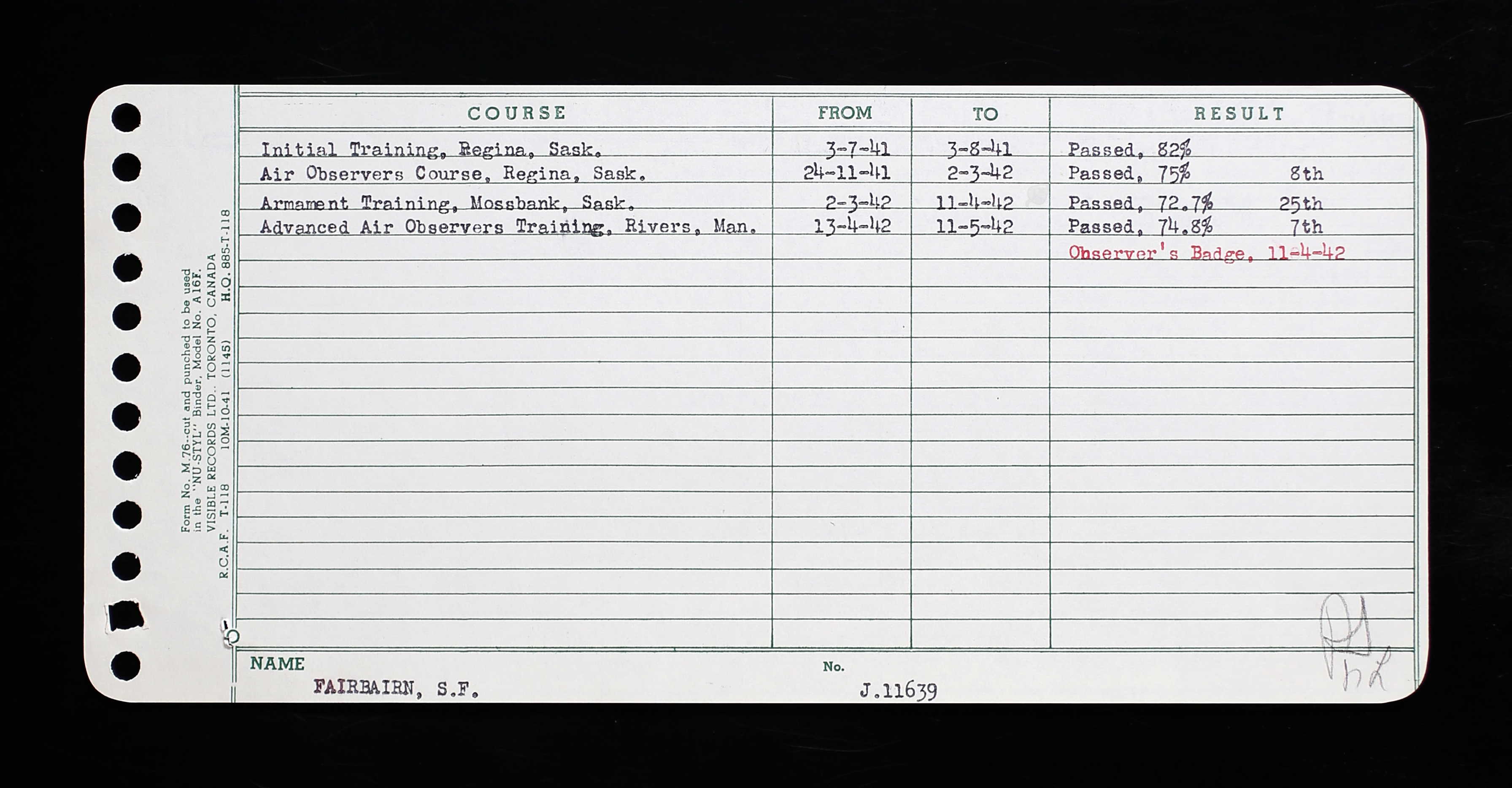 Clerk with General Electric tried pilot; became navigator. Joining Ferry Command with numerous overseas ferrying flights, aboard Catalina FP 209 in the Strait of Canso, Nova Scotia, the plane went down. Two of the six-man crew survived.
Stanley Frasier Fairbairn was born in Rumsey, Alberta to Earl Richie Fairbairn, mortgage loan inspector for Canada Life Assurance Co., (1896-1997) and Vida Louise (nee Stafford) Fairbairn (1897-1992) of Calgary, Alberta. He had two brothers, Dawn and Raymond, and a sister, Ethel Elizabeth (Betty). The family attended the United Church.
He was a clerk for General Electric in Calgary prior to his enlistment in May 1941. He had previous military experience with the 91st Battery RAF, non-permanent militia, Calgary, as a gunner from August 1940 to April 1941. "During his period of service, he was proved himself very capable and an energetic soldier. Gnr. Fairbairn is a good athlete and takes part in most sports. He has had considerable experience in Physical Training and possibly could be used in the capacity of a Physical Training Instructor."
Stanley enjoyed basketball, baseball, and rugby, as well as hockey. "I have obtained my Grade XII standing." He stood 5' 7 ½" tall and weighed 133 pounds. He had blue eyes and fair hair. He had had Scarlet Fever and diphtheria. "Clean cut lad, good physique, clear eye, not nervous, intelligent, well educated. Should be excellent material for pilot or observer. Good in mathematics." Stan smoked "moderately." Other comments: "Tremulous, hypertensive, sweating, tachycardia."
Stan was at No. 2 ITS Regina, SK, from July 3 to August 3, 1941. "82%. Posted to No. 14 EFTS, Portage la Prairie, Manitoba effective 19-8-41. Visual Link: 65%. An aggressive, cheerful type with plenty of initiative and a good sense of responsibility. He was not particularly good in Link but it is believed he has the ability to make a good pilot."
On September 14, 1941, Stan was involved in a flying accident one quarter mile south of the aerodrome in Tiger Moth 4118 while doing circuits and landings. The aircraft spun in from 50 feet on take-off. "Student attempted turn at 300 feet at too low air speed." Cause: inexperience. He was uninjured. He had 12 hours 55 minutes dual and 1 hour 10 minutes solo. "This student's flying at this stage is too inconsistent to warrant further training as a pilot. He has failed to show the necessary ability for a pilot. He seems a solid person but is slow thinking and possibly immature." September 19, 1941. Stan washed out of pilot training and was sent to KTS Trenton for two months before being remustered.
At No. 3 AOS, Regina, SK, from November 24, 1941 to March 2, 1942: "A good student. Did not seem to have much trouble throughout the course. 75%. 8th out of 27 in class. Unsuitable for instructor. A bright, neat, alert lad. Works fast and should make a good observer. A very good type."
At No. 2 B&G School, Mossbank, SK, Course 38, March 2 to April 11, 1942: "25th out of 27 in class. Weak on academic work. Steady and willing worker. 72.7%". He was sent to No. 1 ANS, Rivers, Manitoba until May 11, 1942. "Very good air work and crew member. Slipped slightly in DR plotting but during the course made a favourable showing. Overall: 7th out of 24. 74.8%. Is a reliable and capable observer." Stan was recommended for immediate commission.
Stan was taken on strength with Ferry Command By July 1, 1942, and he had made several trips outside of Canada.
On November 12, 1942, in the Strait of Canso, Nova Scotia, he was aboard Catalina FP209 on a ferry flight from Canada to the UK. CREW: Captain Robert Hugh Malcolm Sandeman (1908-1942), Pilot Officer Stanley Frasier Fairbairn, J11637, Sgt. Norman James Cheney, NZ414862, Mr. Lionel Doria De Bretigny, RAF Ferry Command civilian, Pilot Officer J. S. Mowat, 130955, and Sgt. G. H. Salt, 569399. Mowat and Salt were injured, the others lost.
From an RAF Forum: "The accident occurred near land and P/O Mowat and Sgt Salt were rescued taken to the Mulgrave Military Hospital, Nova Scotia. P/O Mowat is suffering from slight shock, laceration of the scalp and sprained left shoulder, condition not considered serious. Sgt. Salt is in a serious condition, suffering from shock, multiple lacerations, a compound fracture of the lower jaw and burn and has been place on the S.I. list. The bodies of the occupants have so far not been recovered." Other comments in the forum: "An official accident summary states the above take-off time and crash times to be in GMT, resulting in a flight time of over 17 hours. The direct route is only 780 nautical miles, however, and this should normally be covered by a Catalina in about seven hours. Either one of the times is in error or the aircraft was diverted en route possibly to carry out a search for a U-boat, or survivors from one of its victims."
Mr. Fairbairn wrote on the estates form: "I do not know whether he had a bank account in addition to the Post Office deposit account. P.O Harvey Elliott with whom the deceased resided in Montreal reported to me that he had some hundreds of dollars in cash on his person when he left Montreal on his last trip and if you would think it necessary to contact him, I can obtain his address."
In late October 1955, Mrs. Fairbairn received a letter informing her that since his son has no known grave, his name would appear on the Ottawa Memorial. Cheney's name is also on the Ottawa Memorial. De Bretigny and Sandeman's names are found on the Runnymede Memorial.