Stanley Dean J24543
February 16, 1923 - April 22, 1943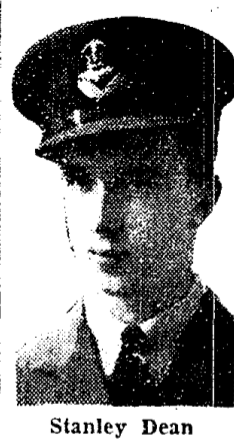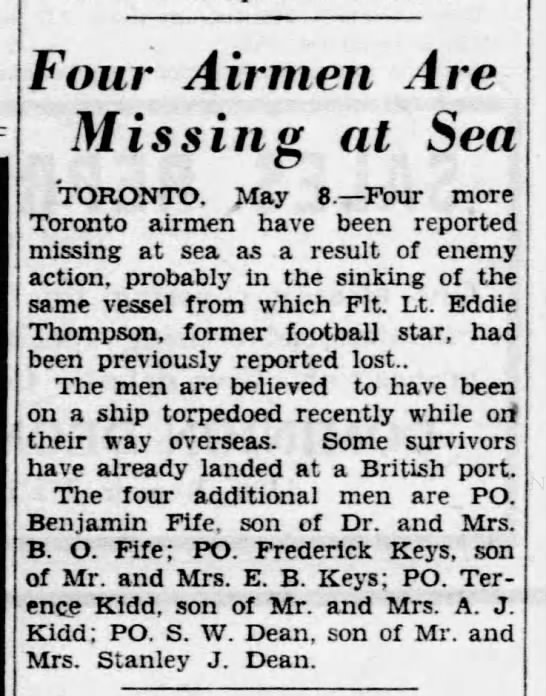 Office clerk joined the RCAF to do his part to become Air Observer
Stanley William Dean, born in Aurora, Ontario, was the son of Stanley Joseph Dean, a driver, (1892-1961) and his wife, Sadie Hannah (nee Campbell) (1884-1968) of 509 Carlaw Avenue, Toronto. Stanley had one brother and four sisters. The family was Presbyterian.
Stanley attended Pape Avenue Public School, with Grade XI, then attended Eastern High School of Commerce in accountancy. His reference letter from the Director of Accounting, Clayton R. Smith, said, "Stanley Dean is a quiet student who always shows spirit of cooperation. I consider him to be a young man of good character and habits." He continued to live at home, not paying any room and board, when he was an office clerk with General Steel Wares prior to enlistment in May 1942 at No. 1 Manning Depot.
He indicated he liked to play hockey and rugby on his attestation form, plus collect stamps. On his medical form, the examiner noted that Stanley had had the measles, mumps and an occasional sore throat. A birth mark on his right corner of his eye was notated. Stanley stood 5'10" tall, weighed 136 pounds and had a fair complexion with brown eyes and brown hair.
March 5, 1942: "This lad is intelligent and cooperative. After his confidence gains, but is somewhat reticent in discussion. This boy will impress after he gets away from influence of parents. Too much of a home boy. RCAF will do him good." F/O W. Alexander.
March 6, 1942: "Tall, slender, neat, clean, average appearance. Colourless personality, apprehensive, sincere, hesitant response. Short on Maths and Physics. Roller skating, ice skating, baseball moderately. Average family background. Lacks aggressiveness. Below Average aircrew material." Recommended for Pilot or Observer.
September 16, 1942: "An immature lad, younger than average who was hardly ever in a scrap as a boy and took little part in team games. Cannot drive car. Has little mechanical interest. Rather shy and quiet. Feels it a strain on him to be in large group of people. Joined RCAF to do his bit and to get out of office where he was working. " F/L C. G. Stogdill
October 28, 1942: "Choice: Pilot, Bombardier, Navigator. Motivation: duty to join up. Wants to fly. Education: had to leave school (financial) after 3½ years high school to go to work. Intelligence standard. Sports: fancy roller-skating. Has never skied or sailed boats. Has been sleeping badly here because of thoughts of course and while at St. Hubert's because of thinking of his family in Toronto. Emotional stability?? Physically fit. Might this lad later develop anxiety neurosis??" F/L R. D. McKenna
Stanley was sent to No 13 SFTS, St. Hubert, Quebec in July 1942 for about a month, then was sent to No. 1 ITS in Toronto at the end of August until the beginning of November 1942. "A serious, conscientious airman who showed good application at this Unit. He lacks drive and will require guidance in order to bring forth his best efforts. Service spirit and deportment: good. Assessment of character and leadership: 66."
He was sent to No. 1 Bomb and Gunnery School at Jarvis, Ontario. In February 1943, he was at No. 1 Air Observers School, Malton, Ontario. "Average ability. Above average ability in bombing. He has shown interest in his work and has qualities for leadership. This man will be commission material with a little more experience." He earned his Air Observers Badge on March 19, 1943. "Average ability in both ground and air work. Armament: above average. Had good bombing scores. Young and inclined to be cocky. Should be a good air bomber with experience. Not quite ready for a commission." In March 1943, he was appointed to a commission and was an officer by the 19th of that month. His parents celebrated, spending $100 to honour their son, when he came home on leave before being sent overseas.
On April 4, 1943, he arrived in Halifax, Nova Scotia where he was sent to the Y Depot, RAF Trainees Pool. On April 22, 1943, he was noted as missing due to enemy action at sea.
Mr. and Mrs. Dean received a letter dated June 16, 1943 from F/L W. R. Gunn, RCAF Casualties Officer for Chief of the Air Staff. "Since my letter of May 6th, no additional news has been received. Attached is a list of the names and next-of-kin of sixteen Royal Canadian Air Force officers who embarked on the same ship as your son and following enemy action at sea were safely landed in the United Kingdom. The following official statement was made in the House of Commons....'I have been in receipt of communications from a number of members of this house and from people outside with reference to rumours regarding the recent loss of a number of members of the RCAF by the sinking of a ship in the north Atlantic and I desire to make the following statement on the facts. The vessel in question was a ship of British registry of 8,862 tons, designed for peace-time carriage of both passengers and freight, and having a speed of fifteen knots. She carried a crew of 86 and the passenger accommodation consisted of 12 two-berth rooms with bath and 29 other berths, providing cabin accommodations for 53 passengers. She was fitted with lifeboat capacity for 231 and travelled in naval convoy. Under the recently revised regulations agreed to by the United States authorities, the joint United Kingdom and United States shipping board, the Admiralty, the Air Ministry and the Canadian authorities, a vessel of this description travelling in convoy is permitted to embark as crew and passengers a maximum of 75% of the lifeboat capacity. The lifeboat capacity as stated above was 231, 75% of which is 173. Personnel on board consisted of the crew of 86, and RCAF personnel numbering 53, a total of 139, well within the prescribed limits. Because of the superior type of available passenger accommodation, the speed of the ship and the provision of naval convoy, the offer of the entire available space to the RCAF was immediately accepted. Rumours to the effect that this was a slow freighter not suitable for passenger accommodation are, of course, not in accord with the facts. Every precaution was taken to safeguard the lives of these gallant young men. It should be pointed out that on account of the serious shipping shortage every available berth on such ships must be used, and had the space not been taken up by the RCAF officers of the other arms of the services would have been placed on Board. It should also be stated again that the submarine is still the enemy's most powerful weapon and that the Battle of the Atlantic is not yet won. Any ocean trip today in any part of the world is fraught with danger and I think I may safely say that our record in transporting our soldiers and airmen to the United Kingdom is one of while we may all be proud. No one deplores more than I do the loss of 37 of the finest of our young men who gave their lives for their country as surely as if they had done so in actual combat with the enemy, and I extend my deepest sympathy to their loved ones in their bereavement.' If further information becomes available, you are to be reassured it will be communicated to you at once. May I again extend to you my sincere sympathy in this time of great anxiety."
At the end of December 1943, Mr. and Mrs. Dean received another letter from S/L Gunn informing them that in early January, their son's death would be considered official.
Mrs. Dean filled out her son's estate forms in March 1944, almost a year after her son's death. "Sorry about delay of returning this estate declaration owing to illness. Was unable to do so about relatives, I couldn't stop to think of all I have as it is so long since I left Scotland but I do know I have lost 15 relatives in this war and now I have given my son. He never got a chance, which I blame Ottawa for sending them on a freighter."
In October 1955, a letter addressed to Mrs. Dean from W/C Gunn informed her about the memorial for those with no known grave would be erected in Ottawa and her son's name would appear on that memorial.