Russell Clarke J24709
December 18, 1920 - April 22, 1943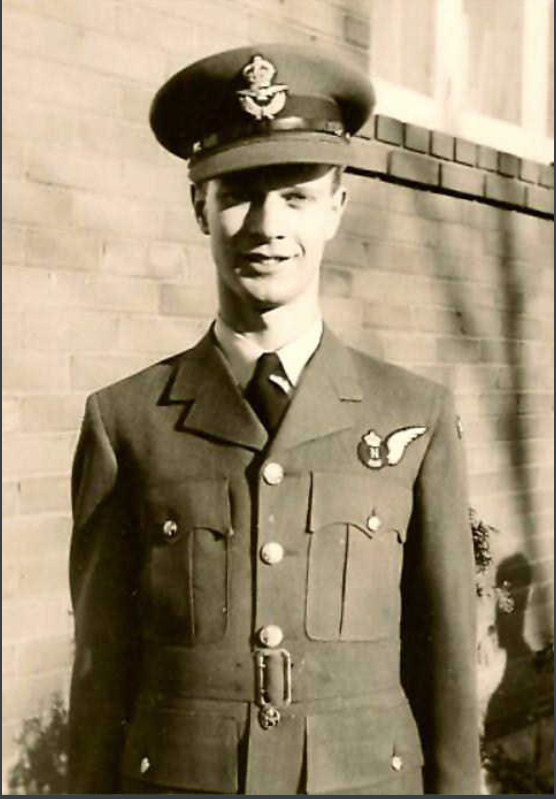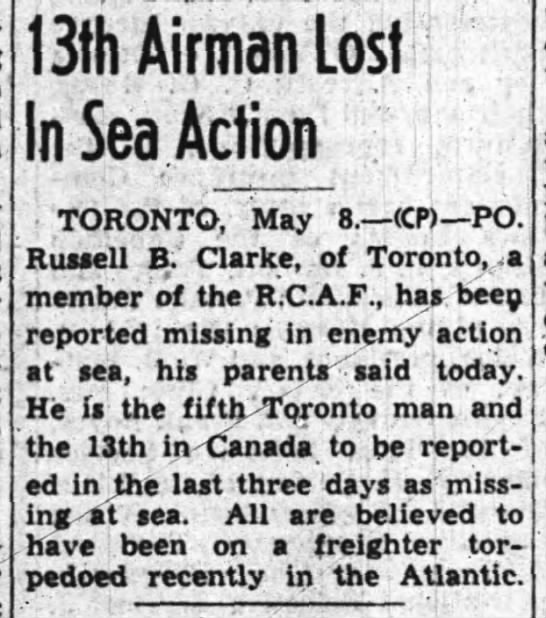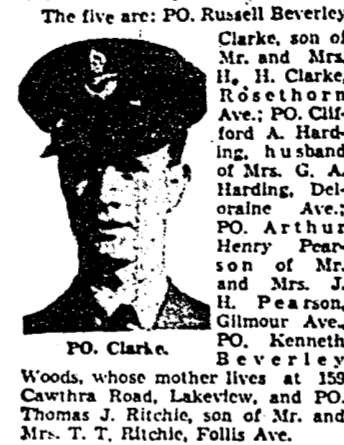 First Joins Army, then RCAF. Becomes Air Observer.
Russell Beverley Clarke was the son of Harold Hubert Clarke, an aircraft worker, and his wife, Eva Louise (nee Madill) Clarke, of 163 Rosethorn Avenue, Toronto, Ontario. He had two older brothers, Allan and Ralph. Allan had also enlisted, served at the Canadian Base Ordnance Depot, with the Canadian Army. Ralph was also in the Canadian Army. The family was Presbyterian.

Russell worked as a night store clerk at Acme Farmers Dairy in the summer of 1939. He then was a general labourer for H. H. Clarke (his father) for four months, and then at the Royal Bank of Canada as a teller from February 1940 to April 1942 when he enlisted with the RCAF, wishing to become a pilot. He attended Queen's University from 1940 to 1942 taking an associate's course in banking, completing four out of six subjects.

He enjoyed all sports 'moderately.'

On his medical form, identifying marks included a pigmented mole to left of midline, a horizontal scar ½" long left side of forehead 1 ½" above eyebrow, and a mole on top of his left foot, 4th toe and ½" from midline. He stood 5' 10 ½" tall, weighed 140 pounds, had blue eyes, brown hair, and a medium complexion. His mouth and teeth were considered healthy.

On his interview report dated April 8, 1942, No. 11 Recruiting Centre, RCAF, Toronto, Ontario.

PERSONNEL OFFICER: Good aircrew material. Keen to fly. MEDICAL OFFICER: Good all round a/c material. Pilot or Observer. Suitable for commission. INTERVIEWING OFFICER: Young, good appearance, tall, wiry build, pleasant personality but hesitant about aircrew. Application doubtless was motivated by notice from army to report for training 9-4-42. With Royal Bank since 1940 and now teller. Intelligent, good type lad, but not the desired keenness to fly and not recommended for aircrew. Recommended for Standard Trades or Radio (UT). Found acceptable: P or O.

On one of Russell's letters of recommendation, it was noted that Russell had received notice to report at Newmarket, but Russell wanted very much to get into the Air Force. "I hope you will be able to do something for him." Signed W. E. Hanna, Principal of Oakwood Collegiate Institute, Toronto, to F/L R. W. Philp, recruiting HQ, RCAF, Brock Building, in Toronto.

Russell was granted a Certificate of Discharge from the Queen's York Rangers (Canadian Army) on May 13, 1942, having served from April 9, 1942 to May 13, 1942. He was out of the Army.

Russell found himself at RCAF No. 1 Manning Depot, Toronto May 14 to July 17, 1942, then sent to Rockcliffe, Ontario for five weeks before being sent back to Toronto to attend No. 6 Initial Training School, Course 61 from August 31, 1942 to October 23, 1942. "He is reserved, self-conscious, and tenses unduly. Is very methodical, energetic. Although still a youthful type, he should mature steadily with added responsibility." 86%. 19th out of 128 in class.

He was then sent to No. 4 AOS, Course 64, from November 22, 1942 to March 19, 1943. He was considered to have "excellent all round air work, slightly nervous type, which no doubt explains lower ground marks; quick to grasp new knowledge; cooperative." He earned 79% and was 5th out of 23 in his class. He was assessed as an above average navigator.

On January 24, 1943, while at No. 4 Air Observers' School, London, Ontario, he was AWL from 0130 hours to 0510 hours and was confined to barracks for three days.

He earned his Aircrew Navigator's Badge March 19, 1943 and was given a commission.

Russell was then sent to Halifax, Nova Scotia April 4 where he was attached to the Y Depot and the RAF Trainees' Pool until April 13,1943.

According to a letter from Mrs. Clarke, Russell gave her a $20/month allowance while he was training and when he received his commission, Russell increased the allowance to $90/month. She was listed as his sole beneficiary. He had purchased 2 $50 bonds, had a $1000 life insurance policy with the Royal Bank, and a second life insurance policy with London Life for $2500. This would be an equivalent of $15,270 and $38,167 in 2021.

On April 22, near Greenland, a torpedo hit the Amerika, on which Russell was aboard. He did not survive.

Mr. and Mrs. Clarke received a letter dated June 26, 1943 from F/L W. R. Gunn, RCAF Casualties Officer for Chief of the Air Staff.

"Since my letter of May 6th, no additional news has been received. Attached is a list of the names and next-of-kin of sixteen Royal Canadian Air Force officers who embarked on the same ship as your son and following enemy action at sea were safely landed in the United Kingdom. The following official statement was made in the House of Commons....'I have been in receipt of communications from a number of members of this house and from people outside with reference to rumours regarding the recent loss of a number of members of the RCAF by the sinking of a ship in the north Atlantic and I desire to make the following statement on the facts. The vessel in question was a ship of British registry of 8,862 tons, designed for peace-time carriage of both passengers and freight, and having a speed of fifteen knots. She carried a crew of 86 and the passenger accommodation consisted of 12 two-berth rooms with bath and 29 other berths, providing cabin accommodations for 53 passengers. She was fitted with lifeboat capacity for 231 and travelled in naval convoy. Under the recently revised regulations agreed to by the United States authorities, the joint United Kingdom and United States shipping board, the Admiralty, the Air Ministry and the Canadian authorities, a vessel of this description travelling in convoy is permitted to embark as crew and passengers a maximum of 75% of the lifeboat capacity. The lifeboat capacity as stated above was 231, 75% of which is 173. Personnel on board consisted of the crew of 86, and RCAF personnel numbering 53, a total of 139, well within the prescribed limits. Because of the superior type of available passenger accommodation, the speed of the ship and the provision of naval convoy, the offer of the entire available space to the RCAF was immediately accepted. Rumours to the effect that this was a slow freighter not suitable for passenger accommodation are, of course, not in accord with the facts. Every precaution was taken to safeguard the lives of these gallant young men. It should be pointed out that on account of the serious shipping shortage every available berth on such ships must be used, and had the space not been taken up by the RCAF officers of the other arms of the services would have been placed on Board. It should also be stated again that the submarine is still the enemy's most powerful weapon and that the Battle of the Atlantic is not yet won. Any ocean trip today in any part of the world is fraught with danger and I think I may safely say that our record in transporting our soldiers and airmen to the United Kingdom is one of while we may all be proud. No one deplores more than I do the loss of 37 of the finest of our young men who gave their lives for their country as surely as if they had done so in actual combat with the enemy, and I extend my deepest sympathy to their loved ones in their bereavement.'

If further information becomes available, you are to be reassured it will be communicated to you at once. May I again extend to you my sincere sympathy in this time of great anxiety."

A letter dated January 12, 1944 from Air Marshall Robert Leckie arrived at 163 Rosethorn Avenue, Toronto. Mr. and Mrs. Clarke read that their son was, for official purposes, presumed to have died on April 22, 1943 while on Active Service.

Mrs. Clarke wrote a letter to the Estates Branch of the RCAF in Ottawa February 20, 1945. "My last cheque for allowance was for $20 and that came in April 1943. Now that leaves an allowance payment for April still due, and that at the rate of $90 per month from March 20th, so your balance of pay and allowance is not correct. I also understand those boys did not receive their pay when due on the 15th of March of 1943. I know my boy had to get money from me to go on with while traveling to Halifax and in writing to me from there, after the first of April, had still not received his pay. I would appreciate an itemized statement, as I am not at all satisfied with the one I have received from you. Thanking you for looking and checking up the account. A friend has just told me that there should be a gratuity for this estate also. Would you kindly inform me in your next letter about this?"

In June 1945, Mrs. Clarke wrote again, asking about the gratuity for "deceased single men who have given their lives on active service."

In late October 1955, Mrs. Clarke received a letter from W/C Gunn informing her that Russell's name would be appear on the Ottawa Memorial.