Roy Holden Marshall Patterson J39901
January 31, 1920 - July 4, 1945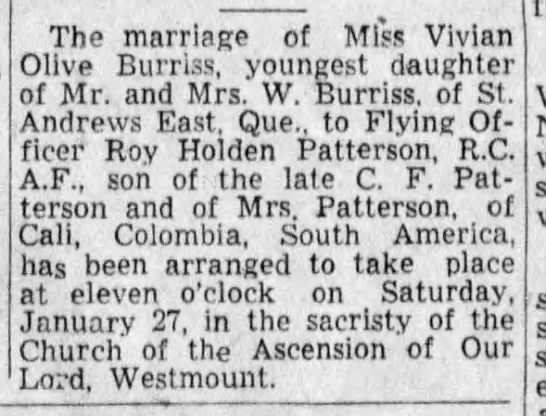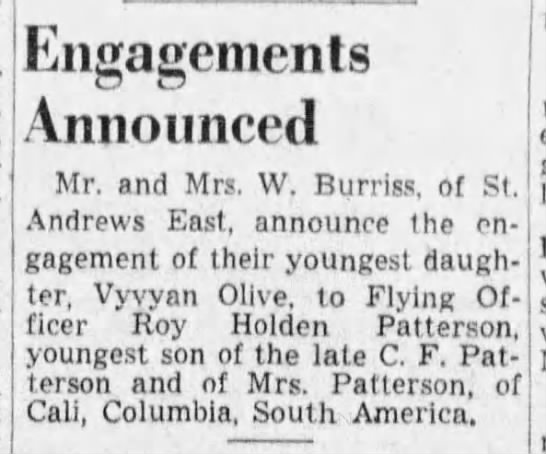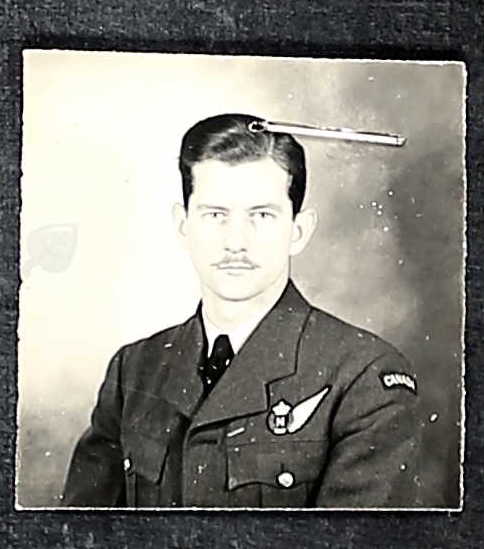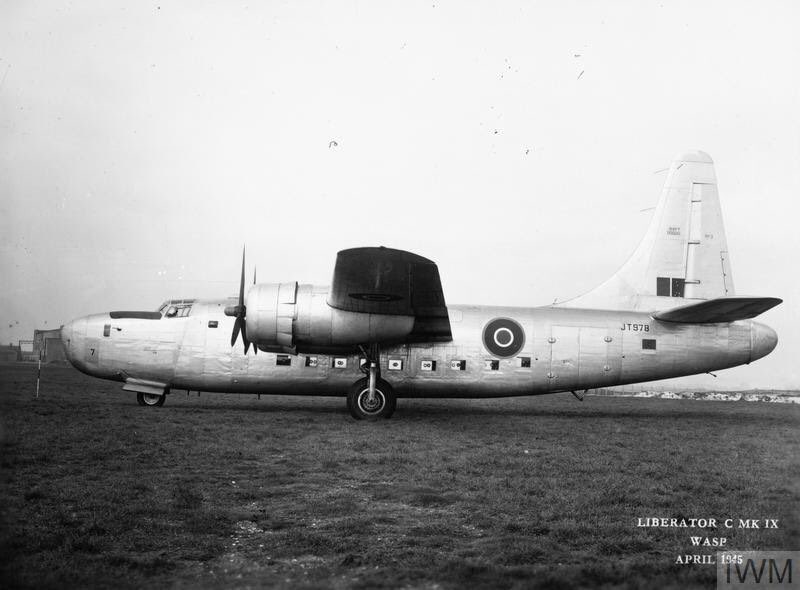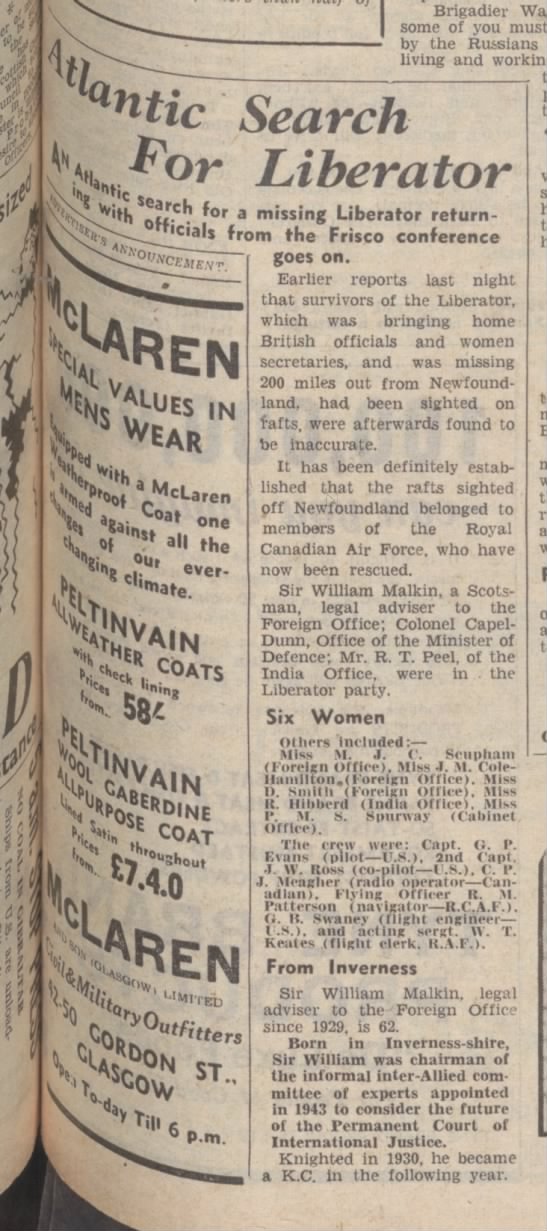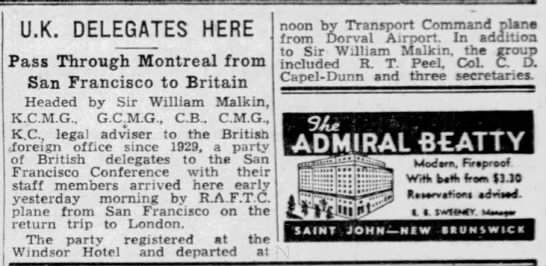 Chilean-born, British-educated office clerk from Columbia became navigator. Aboard Liberator JT982, he, crew, and passengers were lost over the Atlantic Ocean, making headlines in many newspapers around the world.
Roy Holden Marshall Patterson, born in Valparaiso, Chile, was the son of Charles Frederick Patterson, British Consular Agent, and Fanny Elizabeth (nee Lillyman) Patterson of Cali, Columbia, South America, originally from England. He had one brother, Squadron Leader Eric Holden Marshall Patterson, 1384217/119231, RAF, of England, mentioned in the London Gazette, June 23, 1942. The family was Anglican. His father was deceased (cancer) prior to Roy's arrival to Canada.
Roy attended Deal School in Deal, Kent, England from 1925-1936. Roy returned to South America and worked for H. L. Carter, in Cali, Columbia, as an office clerk 1936-1939, then for three years at Tracey & Co. as an office manager, then returning to an office clerk position. Roy liked photography and driving. He liked to golf, play tennis, fish and hunt, as well as ride horseback extensively. He was the acting British Consular Agent at Buenaventura from April 23, 1941 to February 3, 1942. After the war, he planned to reside in Bogota, Columbia. Roy spoke Spanish fluently and a bit of French.
In September 1942, he headed to Canada to enlist in the RCAF, residing at the Mount Royal Hotel, Room 1097 in Montreal. On an interview sheet, his legs were noted as too short for A1B, but he would make good aircrew material. "Fine type of young British subject born in Valparaiso, Chile. Jr (Cambridge) Matriculation (England). Motive to serve and urge to fly and fight…Interest dates back two years. Change of success, good. Alert, slight build, but wholesome and healthy. Mental attitude excellent, serious, but cheerful. Has lived in South America all his life apart from six years at school in England. Good scholastic background, sociable and dependable. Mother approves."
Roy stood 5' 7 ½" tall and weighed 116 pounds, a small round scar on his right knee noted. He had hazel eyes and brown hair. He had diphtheria and Scarlet Fever as a child, plus measles, mumps, whooping cough, and chicken pox. "Candidate small, wiry type. Has come up from Chile to become a pilot. Has brother in RAF. Length of leg too short for pilot." Roy smoked 20 cigarettes a day and drank alcohol occasionally.
Roy started his journey through the BCATP at Lachine, Quebec. from October 27 to December 28, 1942. He was at the hospital November 17 to 19, 1942 while at No. 5 Manning Depot, Lachine, Quebec.
He was then sent to No. 13 RC Montreal until January 15, 1943. At the University of Montreal, completed a pre-aircrew education course and passed for ITS. He was then in Kingston, Ontario at No. 31 SFTS from April 1 to May 1, 1943.
From there, Roy was at No. 5 ITS, Belleville from May 2 to August 7, 1943. "Good appearance and motivation. Highly intelligent and sincere." He earned 81% and was 27th out of 124 in his class.
He was sent to No. 9 AOS, St. John's, Quebec from August 8, 1943 until January 6, 1944. He scored 80.8% in air work and 75.8% in ground work. He was seen as moderately suitable as an instructor, but not for further training. "Navigation: Air navigation is excellent. Logs and plotting are exceptionally neat. At ease under all circumstances. Ground work is well above average. Very neat and well arranged. Intelligent, industrious and methodical. This man should prove a first-class navigator. General: Clean cut, neat appearance. Well-oliked and respected by his fellow classmates. Always pleasant and willing to co-operate. Very well motivated. Recommend for immediate commissioned rank. Standing: 3/23."
He was taken on strength with 45 (AT) Group, Dorval, Quebec. May 30, 1944: "Has made three trans-Atlantic delivery flights and has performed his duties satisfactorily." November 30, 1944: "Can speak Spanish fluently. Smart appearance. Good personality. A very capable navigator. Work consistently good." No. 45 Transport Group, Dorval, Quebec.
Roy married Vivian Olive Burriss on January 27, 1945 in Montreal. Their engagement was announced in The Montreal Star on October 27, 1944.
From Aviation Safety Net: "On July 6, 1945, RCAF 10 (BR) Squadron was involved in the continuing search for a missing RAF Ferry Command C.IX Liberator JT982, which had been on a route leg from RCAF Station Gander to Keflavik, Iceland. The aircraft carried 15 crew and passengers. Apparently, the Liberator had ditched into the North Atlantic on July 4, 1945 due to the elevator becoming jammed. Liberator GR.V/Can 595 X, of 10 (BR) Sqn, took off from RCAF Station Torbay to participate in the search mission. During the search, the RCAF Liberator itself ran into control difficulties and was forced to ditch in the Atlantic Ocean off Newfoundland. The pilot carried out a successful ditching which was practically impossible in a Liberator. Six of the seven crew were able to get out of the aircraft and into a dinghy, but unfortunately the pilot who was so successful in ditching the aircraft, perished. An RCAF Hudson of No. 1 (Composite) Squadron, located the missing crew of Liberator 595 X and dropped an air-sea rescue lifeboat. This marked the first successful operational dropping of an air-sea rescue lifeboat in Atlantic waters off North America. Subsequently, the six surviving crew members were picked up by an RAF Canso. Regrettably, no survivors were ever found from the missing Ferry Command Liberator."
Aboard Liberator JT982: CREW: Capt. G. P. Evans, Pilot, US, Capt. J. W. Ross, Second Pilot, US, C. P. J. 'Red' Meagher, radio operator, Canadian, F/O Roy Holden Marshall Patterson, Navigator, RCAF, G. R. Swaney, Flight Engineer, US, Acting Sgt. W. T. Keats, Flight Clerk, RAF.
Passengers: Sir William Malkin, Colonel Denis Cuthbert Capel-Dunn, Mr. R. T. Peel, Miss M. J. C. Scupham, Miss J. M. Cole-Hamilton, Miss D. Smith, Miss R. Hibbert, Miss P. M. S. Spurway, and Miss A. M. Collard.
Vivian remarried by October 1955. She received a letter informing her that since Roy did not have a known grave, his name would appear on the Ottawa Memorial. She passed away in 2000 in Montreal.
LINKS: