Roy Drouillard P4319
September 21, 1912 - July 24, 1943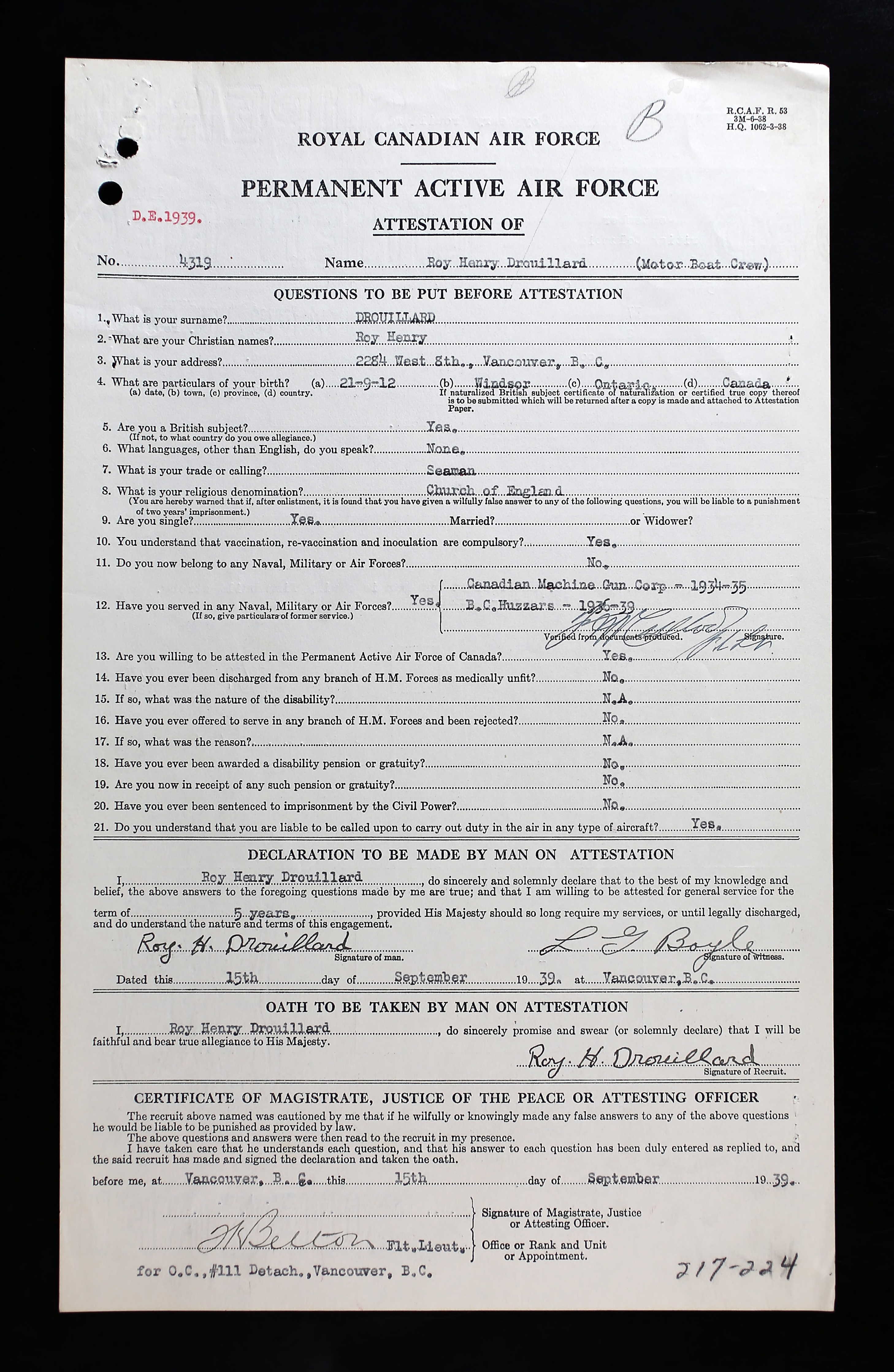 Competent tugboat master joins RCAF as motorboat crewman. BC Star sunk under mysterious circumstances.
Roy Henry Drouillard was born in Windsor, Ontario to Roy Henri Drouillard and Lilliam Ethel (nee Meloche) Drouillard. (Mr. Drouillard died in 1936 accidentally.) The family was Anglican.
Roy had two years high school. He was a member of the Island Boatmen of the Pacific. He was employed by Pacific Coyle Navigation Co., Vancouver as a master and mate, tug boating containers for eight years of the sixteen he lived in British Columbia.
He had previous military experience with the Canadian Machine Gun Corp from 1934-1935 and the BC Huzzars, 1936-1939.
He enlisted in September 1939 as a motorboat crewman "C", living in Vancouver, British Columbia. He was 26 years old, stood 5'9 ½" tall, weighing 133 ½ pounds. He had a tanned complexion, brown eyes and brown hair. His last vaccination was in 1923. He had a good physical development. "St. underweight, but man has a wiry firm build. Strong." He hoped to remain with the RCAF after the war.
"Evidently has good knowledge of BC coastline. Handles marine craft well. A willing and intelligent airman. Enjoys baseball. Will be a very good man, when he has more experience handling aircraft. Fair appearance. Willing worker. Inexperienced at maintenance work but has shown satisfactory progress."
In December 1939, he was attached to No. 6 BR Squadron. He had an $8,000 policy with Crown Life Insurance Co, with a war clause. Roy also had a $50 bond purchased through the RCAF.
In July 1941, he was on temporary duty to Bella Bella, BC. He was then at Patricia Bay, BC by January 1942. He was admitted to hospital on February 1, 1942. He was back at Bella Bella by April 1942, then Roy was stationed at No. 3 Repair Depot, Vancouver, by July 1942.
While in Vancouver, Roy married Gertrude Doris Mace on September 18, 1942. Gertrude resided on Galiano Island, BC. They had no children. Gertrude's brother, Allan Mace of Savary Island, BC, north of Powell River, was made the executor of Roy's will in June 1942.
Roy was then posted to No. 9 Construction and Maintenance Unit (CMU), Patricia Bay, then to Cape St. James, on the southernmost part of the Queen Charlotte Islands, now known as the Haida Gwaii, then to Coal Harbour by June 1943, then to No. 9 CMU, Telegraph, on Vancouver Island. By July 20, 1943, he was back at Cape St. James.
On July 24, 1943, the RCAF vessel, the BC Star sunk under mysterious circumstances, Roy aboard. The BC Star had departed Vancouver at 0100 hours that day. Life rafts were the only wreckage found. One unidentified body was recovered from Price Island, north of Bella Bella. For more information about the BC Star, please click on the links below.
In February 1944, Gertrude, still residing on Galiano Island, received a letter from the RCAF to inform her that Roy would be officially presumed dead.
By January 1956, Gertrude was Mrs. Atkinson. She received a letter to her Vancouver, BC address informing her that since Roy had no known grave, his name would appear on the Ottawa Memorial.
LINKS: