Robert Archie Wilkins J11648
January 2, 1922 - January 17, 1944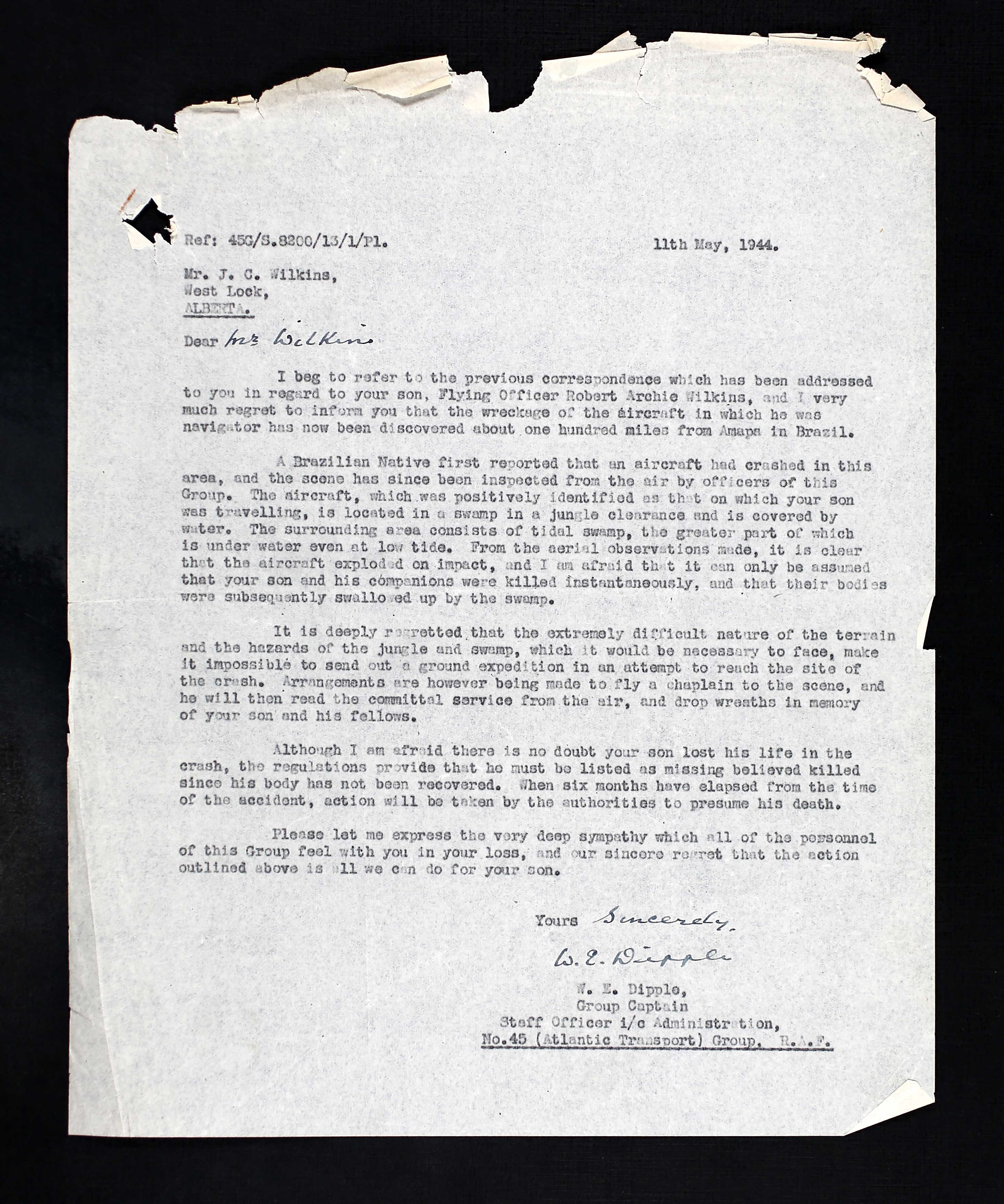 Baker from northern Alberta became navigator. Aboard Ventura JT801, he and two others were lost during a ferry flight over Brazil.
Robert Archie Wilkins, born in Edmonton, Alberta, was the son of Joseph Cecil Wilkins (1896-1978), carpenter, and Velma May (nee Marshall) Wilkins (1902-1977) of Westlock, Alberta. (They had come up from the USA in 1921). He had three brothers, Joseph Edward Wilkins (1927-2011) and Roy John Wilkins (1937 - 2019), plus Gordon Elmer Wilkins. He had three sisters, Evelyn Mary, Lorraine Pearl and Mildred Gladys. A fourth sister died at birth. They attended the United Church.
He was a baker's assistant prior to enlisting with the RCAF. He liked baseball and hockey but enjoyed hunting extensively. He did not smoke and drank alcohol a couple of times a year. He stood 5' 11 ½" tall, weighing 138 pounds. He had brown eyes and brown hair. When he was 11 years old, he had pneumonia for one month, and at age 6, had Scarlet Fever. Conjunctivitis was noted at his medical exam.
"Good educational qualifications for pilot. Tall, slender, eager to fly. Friendly and of good type. Recommended as pilot." Robert had a full Grade XII education from Westlock High School. He wanted to become an electrical engineer after the war.
Robert's journey through the BCATP had him starting out with pilot training, but then he remustered to become an observer. He was at No. 2 Manning Depot, Brandon, Manitoba by June 4, 1941, then to No. 2 ITS, Regina, Saskatchewan. "11th out of 214. 89%. Very ambitious and hard-working type of airman who takes his work seriously and applies himself well. Stood 11th in his class and with more experience might be considered suitable for a commission."
August 22, 1941: "Immature, boyish, fairly intelligent and composed. Good interest and effort. Thinks he is not getting enough sleep at ITS. Has quite marked conjunctivitis. Doubt his ability to complete training." A second medical examiner: "No photophobia. Conjunctival vessels engorged, sallow complexion. Some suggestion of pigmentation in sclera. Thickening of lower lid margin. Feel this man should be allowed to proceed with training."
He was at No. 15 EFTS. Regina, where he washed out of pilot training. "Pupil's progress is below average. Flying is dangerous. Unsafe Service Pilot. Is not consistent in anything. Attentive in classroom. Average student. Very low average pilot. No air sense whatsoever. The pupil does not possess the qualities to become a safe pilot. Good type so far as groundwork is concerned. Very ambitious and hard-working. Recommend for an observer.
Robert was at the station hospital August 29 to September 2, 1941.
He was sent to KTS, Trenton September 26, 1941 until he was taken on strength at No. 3 AOS, Regina November 21, 1941. "An average navigator. Has no trouble with work but seems content to drift along. Unsuitable as instructor. A good lad, but he doesn't work very hard. Appears to possess ability if he would work harder."
From there, he went to No. 2 B&G School, Mossbank, Saskatchewan March 1 to April 11, 1942. "Exceptional. 4th out of 27 in class. 80.6%. This student has excelled in his air work here."
Next: No. 1 ANS, Rivers, Manitoba, April 13 until May 26, 1942. "A very good air worker. 9th out of 24 in class. Is a capable navigator. Commission material."
He was posted to 31 O.T.U., Debert, Nova Scotia May 26, 1942 for about five weeks, then attached to Ferry Command July 1, 1942.
May 13, 1943, he was at the RAF Station Hospital, returning to duty August 5, 1943, on sick leave from August 6 - 26, 1943. Then he was again at the RAF Hospital in Nassau, Bahamas July 5, 1943.
On January 17, 1944, aboard Ventura JT 801, 113 North Atlantic Wing, during a delivery flight en route to Belem, Brazil, Robert and two others were lost sometime between 1246 and 1600 hours. Unsuccessful searches were carried out as of February 29, 1944. "Cause unknown."
Crew: • WO II George Andrew Flood, R142518, Grande Prairie, Alberta, WAG • Captain Preston Krumbhaar Herndon (1903-1944), New Orleans, Louisiana, Civilian pilot • F/O Robert Archie Wilkins, J11648, Westlock, Alberta, navigator
In May 1944, wreckage of the plane was discovered about 100 miles from Ampa, Brazil, located in a swamp in a jungle clearance, covered by water. From a newspaper article, Mrs. Flood was quoted as saying, "From the aerial observations made, it is clear that the aircraft exploded on impact and I am afraid that it can only be assumed that your son and his companions were killed instantaneously…Arrangements are however being made to fly a chaplain to the scene of the crash and he will the read the committal service from the air and drop wreaths in memory of your son and his fellows."
Mr. Wilkins wrote on the Estates Form: "There should be a sizable bank account at some bank in Montreal. We have no bank book or other evidence, except that he said on his last leave home there was such an account made out to his mother as beneficiary."
Mr. and Mrs. Wilkins received a letter in late October 1955 informing them that since their son's grave was inaccessible, his name would appear on the Ottawa Memorial.