Robert Paul Meehan R139262
July 22, 1922 - July 13, 1943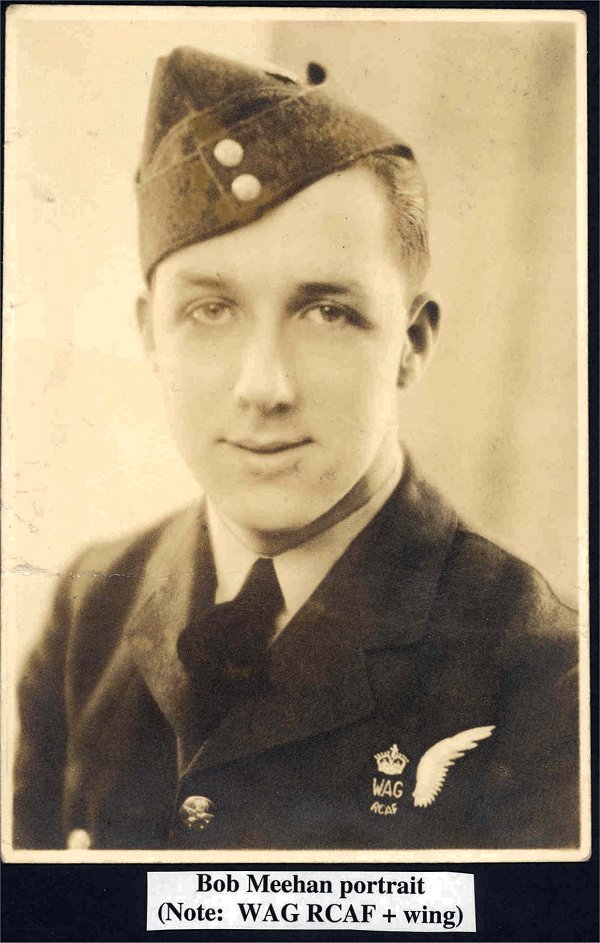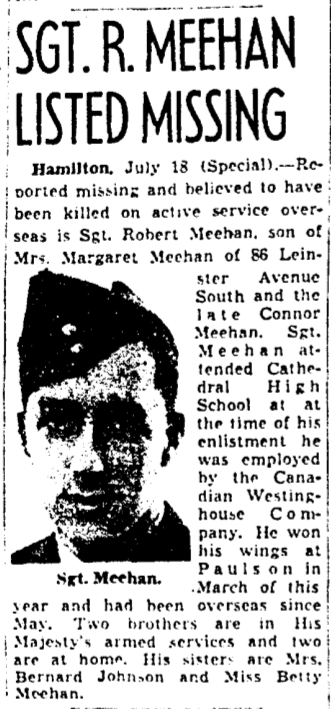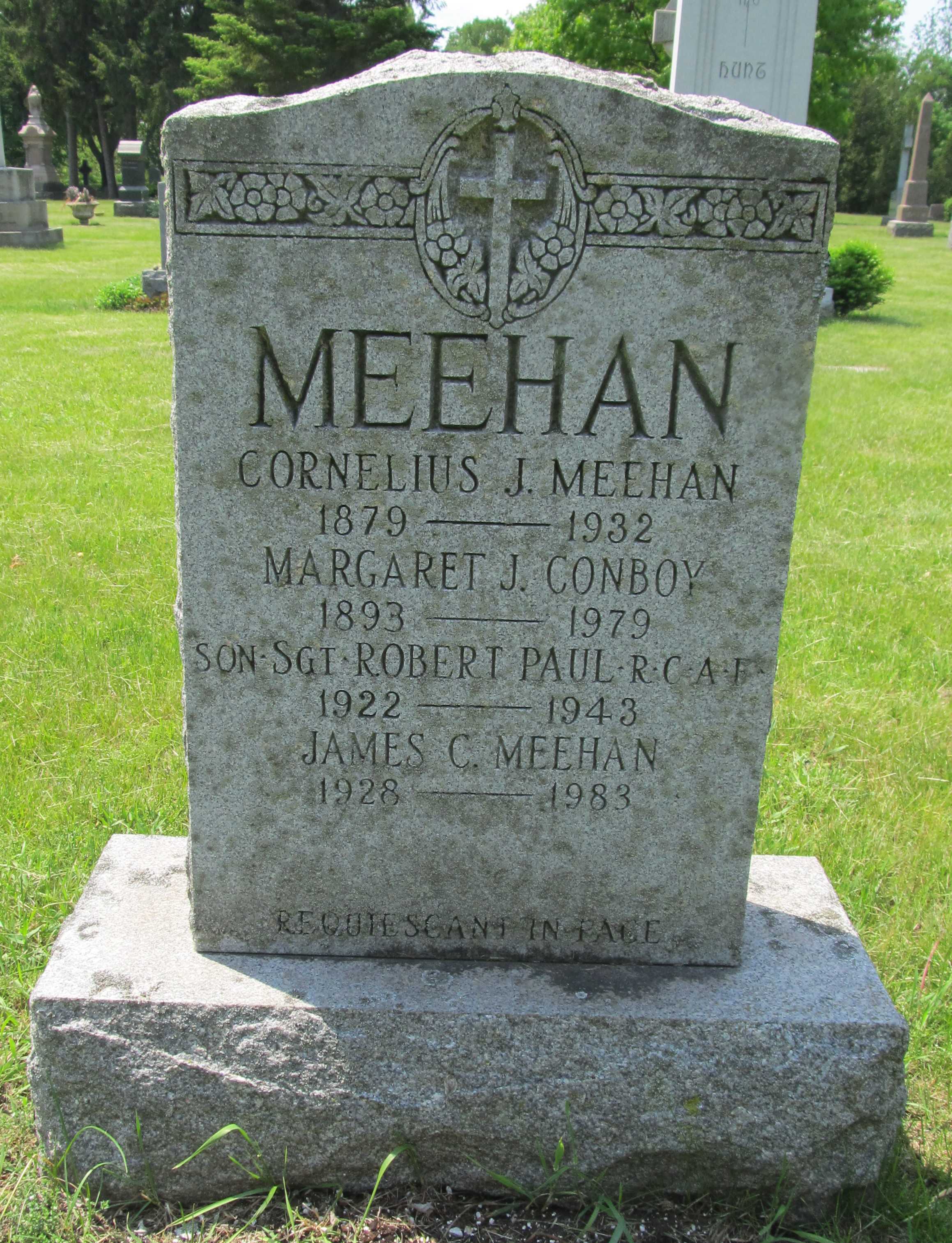 Clerk with Canadian Westinghouse became WOAG. Aboard Mitchell FR383, he and crew were lost during a five-hour navigation and patrol flight, shortly before his 21st birthday.
Robert 'Bob' Paul Meehan was the son of Cornelius James Meehan (1897-1932), salesman, and Margaret Josephine (nee Conboy) Meehan (1893-1979) of Hamilton, Ontario. He had four brothers, James C. Meehan (1928-1983), John F. Meehan, William Patrick Meehan, and Connor Joseph Meehan, and two sisters, Betty Meehan and Margaret Johnson. John was also in the RCAF, William and Connor were with the Canadian Army. The family was Roman Catholic.
Bob worked for Canadian Westinghouse Co. for one and a half years as an equipment assistant/clerk prior to his enlistment with the RCAF in November 1941 for general duties. (He had group insurance through this company of $1,000.) He had a Grade X education and enjoyed all sports. He was considered athletic, standing 5'9" tall and weighing 146 pounds. He had a scar on his right nostril as well as an appendectomy scar. "Rather high cardiovascular response. Fit for full flying duties. Right nostril narrowed. Probably would need pre-training classes for A1B."
Bob was at No. 2 Manning Depot, Brandon, Manitoba from November 17 to 29, 1941, then taken on strength at No. 4 SFTS Saskatoon until August 1, 1942. He was at the station hospital December 7 - 16, 1941.
On his interview sheet dated July 6, 1942: "CT score below par on WOAG but good CAT score and aptitude compensates slight deficiency. Enlisted as GD. 7 months service. Good record. Worked as clerk in civil life. 19 years of age, father was salesman. Irish parentage. Physical condition good for full aircrew. Alert, responsive, co-operative, cheerful disposition. Fairly aggressive. Wants only straight air gunnery. Very good type. Frank, pleasant, nice manner and confident, capable, dependable."
He was at No. 3 Wireless School, Winnipeg, from August 3, 1942 to February 19, 1943. Bob was 19th out of 64 in his class with 78.6%. He received his wireless badge on February 19, 1943. Bob was then sent to No. 7 B&GS, Paulson, Manitoba, from February 22 to March 22, 1943. "Very good student and good practice man. An asset to aircrew. Above average. Keen and competent." He was 5th out of 24 in his class.
Bob was then sent to Nassau, Bahamas by the end of April 1943. He was in hospital from May 21 - 27, 1943.
At 1200 hours on 13 July 1943, Mitchell FR383 took off from Nassau detailed to carry out a five-hour navigation and patrol flight. Wireless communication with the aircraft ceased at 1545 hours and the aircraft failed to return to base. Searching aircraft located an oil patch and wreckage in the sea five miles southwest of Clifton Point, but no survivors were found. A surface vessel recovered small pieces of wreckage only. All the crew members are lost at sea.
The crew members of FR 3983 were: *Sergeant Billy Daschuk (R/158314) (RCAF) *Sergeant Thomas David James (421302) (Observer) *Pilot Officer Wilfred Johnson (J/23528) (RCAF) *Sergeant John Barth Koepke (R/163792) (RCAF) *Pilot Officer James Brewer McArthur (J/21930) (RCAF) *Sergeant Robert Paul Meehan (R/139262) (RCAF)
Robert is remembered on the Ottawa Memorial as well as on his family's headstone in the Holy Sepulchre Catholic Cemetery, Burlington, Ontario.