Robert Flemming Lowther J41907
April 14, 1920 - November 8, 1943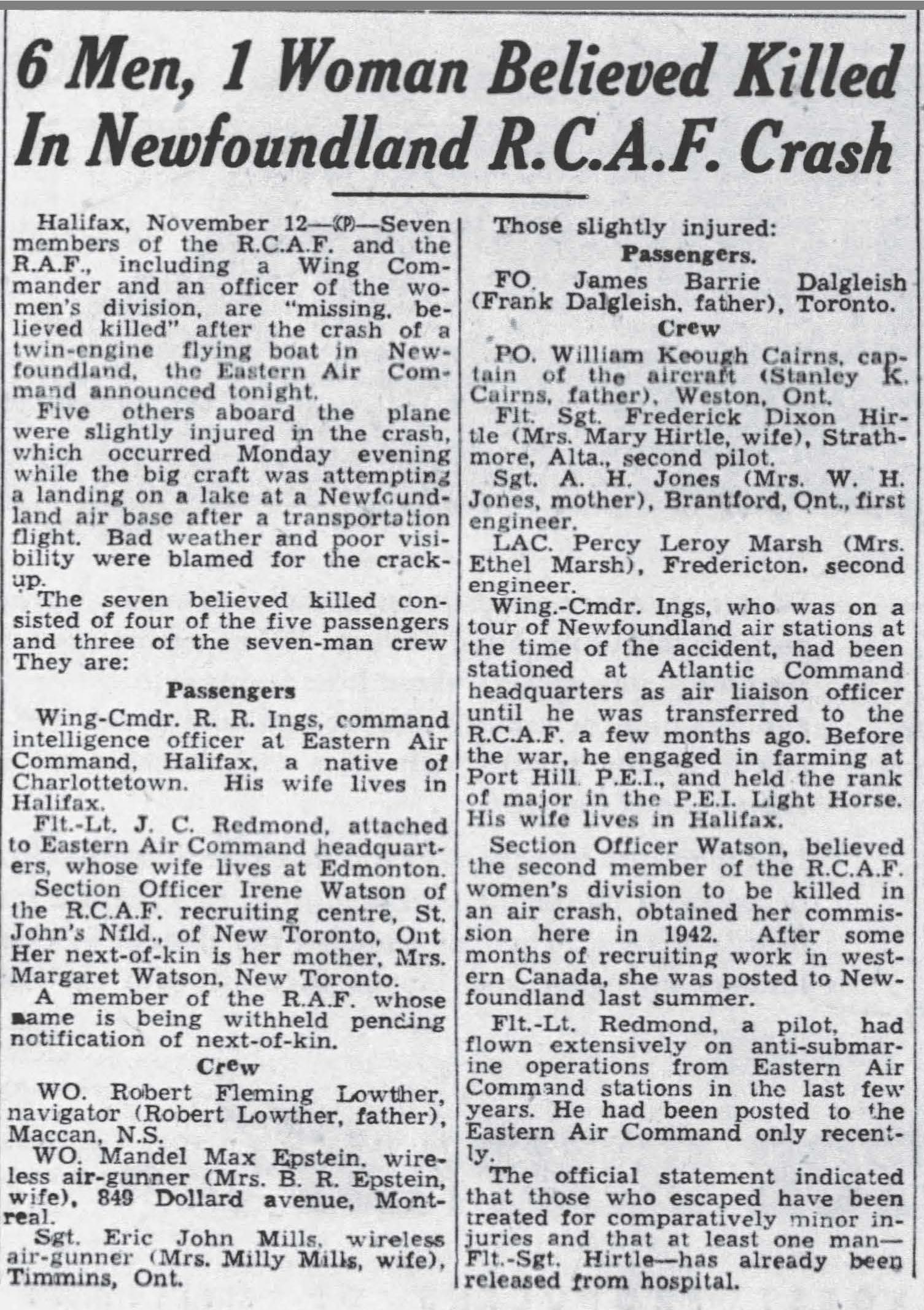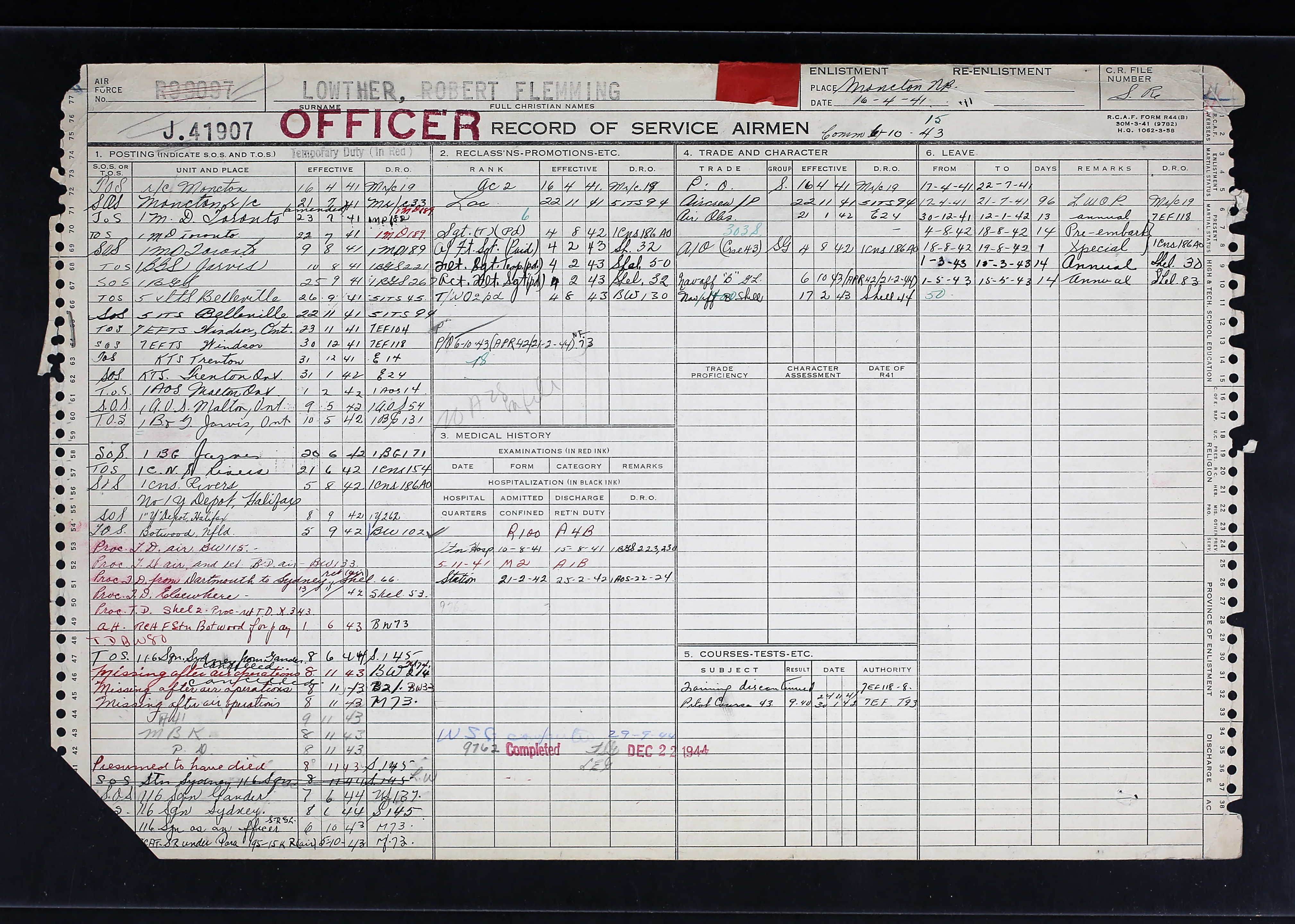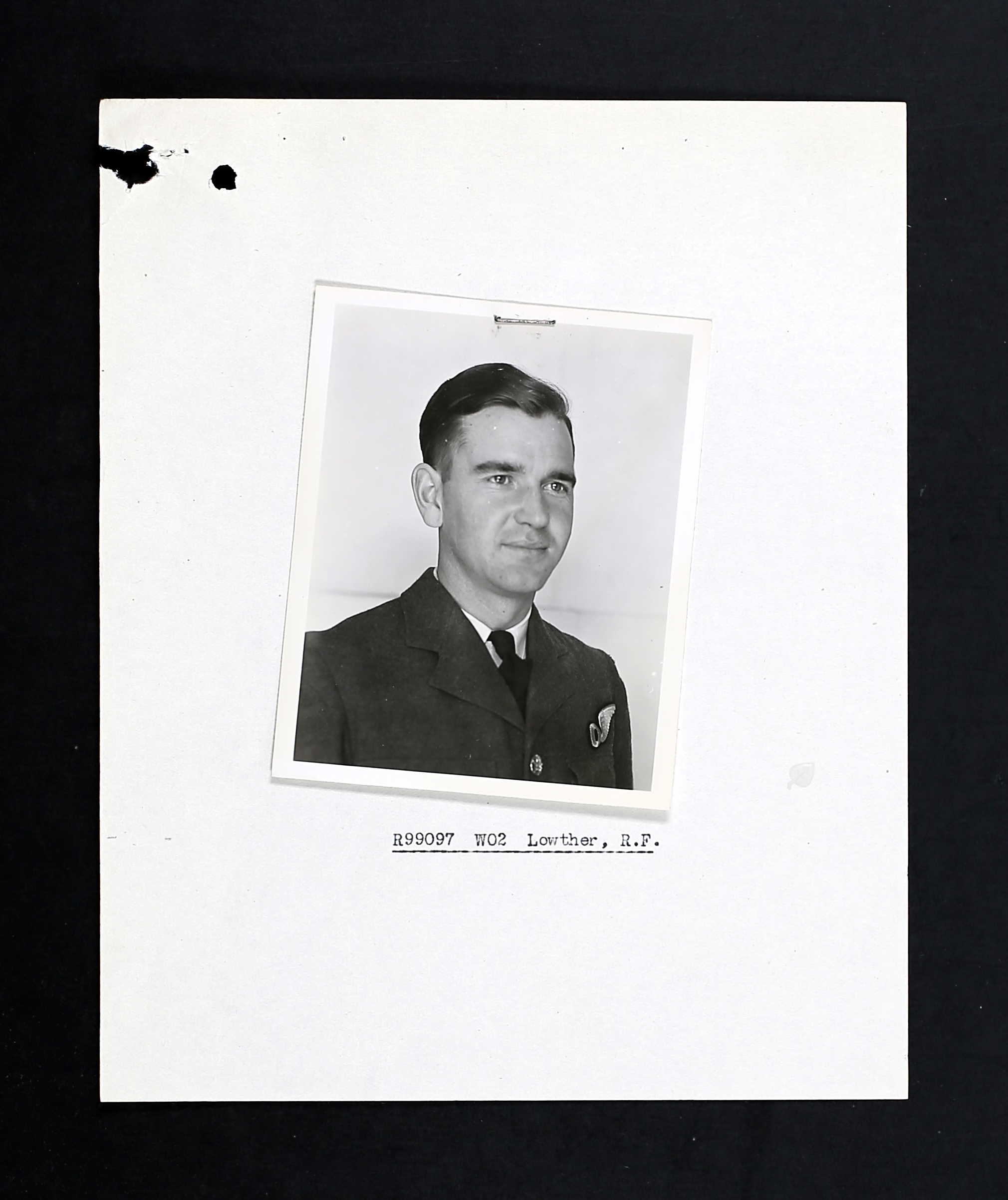 Steel worker became navigator with RCAF. Aboard Canso 9834, he and eleven others were involved in a flying accident during a transportation flight in Newfoundland. Five survived.
Robert Flemming Lowther was born in Chignecto, Cumberland County, Nova Scotia to Eldred F. Lowther (1883-1956), electrical engineer, and Eva May (nee Teed) Lowther (1898-1927). He had three brothers and six sisters. He was married to Marion Elizabeth Stewart, and they had a son, Robert William, born November 28, 1943. [She remarried and was Mrs. Cormier. She passed away in 1994.]
With two years farming experience, he was a steel worker for six months (Robb Engineering Works) prior to enlisting in the RCAF in Moncton, New Brunswick at the age of 21. He liked hockey and softball.
April 14, 1941: "Modest, intelligent, deliberate. Should make satisfactory progress in training." He was recommended for Pilot or Observer. He had Grade XI and was good in Mathematics. "Two years farming experience and six months in Robb Engineering Works." He liked to play hockey and softball. He stood 5' 9" tall, weighing 135 pounds. On November 14, 1941, at No. 5 ITS, Belleville: "Not very impressive, but may do well if he applies himself." He was 72 out of 150 and received an 83% average. He was sent to No. 7 EFTS, Windsor, Ontario from November 24, 1941 to January 16, 1942. "Ability as a Pilot: Poor. Fail. Very slow progress. Nervous while in air and very tense on the controls. Does not like to fly solo. Reactions to spinning very poor. He has requested to be remustered to Air Observer." His instructor concurred with Lowther's choice and also noted, "This trainee is definitely not of pilot material. He lacks self-confidence and does not enjoy flying." His groundwork though, progressed exceptionally well and his class conduct was good. He was sent to the Composite Training School in Trenton, Ontario at the end of December 1941. More evaluations in early May 1942 at No. 1 Air Observers School: "Both groundwork and air work satisfactory. A steady navigator and will improve with more practice. A very good all-round man, works hard and takes an interest in his work. Quiet type but works and studies hard and gets work done. Reliable in all respects." By June 20, 1942, he was at No. 1 Bomb and Gunnery School. "Avoids responsibility. Indifferent. Learns slowly. Gunnery: Poor. Could do more work. Slow to understand theory, but practical work better." On August 4, 1942, he was 152 out of 163 in his class at No. 1 CNS, where he was awarded his Air Observer's Badge. "Quiet type. Rather indifferent to work. Reliable and honest man. Very popular with class." He had a 64.4% overall average. At 116 Squadron, Botwood, Newfoundland, in August 1943, he was evaluated as "an experienced navigator, deserving of promotion." His name appears on the Ottawa Memorial.
For more information, please click on the link below. All personnel onboard Canso 9834 who died are listed, along with the Court of Inquiry's investigation.
LINKS:
THOSE ABOARD CANSO 'A' 9832
*P/O William Keough Cairns, J35956, survived *F/S Frederic Dixon Hirtle, R131516, survived *F/O James Barrie Dalgleish, J10579, survived * Sgt A. H. Jones, Brantford, Ontario, injured *LAC Percy Leroy Marsh, Fredericton, injured *WO2 Robert Flemming Lowther, J41907, killed *Wing Commander Ralph Royden Ings, C27599, killed. *F/L Joseph Coates Redmond, Edmonton, Alberta, J5072, killed *Major Kenneth Storey Morton, RAF, killed *Mandel Max Epstein, R104789, RCAF, killed *S/O Irene Watson, RCAF WD, killed *Sgt. Eric John Mills, R184018, RCAF, killed
Further information about the survivors:
• P/O William Keough Cairns (1921-1992), Weston, Ontario, J35956 -- survived. He married Rene Irene Fairbridge (1920-1984) in 1945. They had a daughter, Barbara (1946 - 2004) and a son, Douglas (1947-1947). In 1948, an article explained that a postman, named William Cairns, 28 years old, rescued a housewife in Toronto from her gas-filled home. He was celebrated and became a hero, winning the DOW Award for his act of outstanding bravery, earning a $100 Canada Savings Bond. He enjoyed genealogy, researching his family tree. William Cairns died in Toronto.
• F/S Frederick Dixon Hirtle, Strathmore, Alberta, R131516 -- survived. In February 1939, according the Calgary Herald, Fred Hirtle, along with the winners of an amateur radio contest held at his father's movie theatre in Strathmore, were part of a radio broadcast. Fred was a member of a music club, playing the cornet, trumpet, and organ. He continued to play music throughout his life. In December 1967, he became the new Chief Flying Instructor with the Chilliwack Flying Club. A newspaper article reported: "He was with the RCAF's coastal command flying Cansos in Newfoundland and Sunderlands overseas. He was discharged from the services in 1945. He took an instructor's course with Waneta Airways, Trail, BC in 1956 and has been an instructor at Trail and Castlegar since that time. He moved to the coast in September. Married, he has one daughter, Elaine, who is teaching school in the district." He was a member of the Rotary Club in Salmon Arm, BC in 1983. He passed away in 1997, buried in Sorrento, BC. He was married twice, his second wife passing away in 1999.
• F/O James Barrie Dalgleish, Toronto, Ontario, J10579 -- survived. He married Margaret Louise Patton in June 1944.
• Sgt A. H. Jones, Brantford, Ontario -- injured.
• LAC Percy Leroy Marsh, Fredericton, New Brunswick -- injured.
• Major Kenneth Storey Morton, RAF, Doddington, Northumberland, UK -- killed. He was the son of John and Hilda Susie Morton. He was serving on the HQ Staff of Coastal Command, RAF. He is commemorated in St. Aidan's Churchyard and on the Brookwood 1939-1945 Memorial, Brookwood, Surrey. In the church, there is a stained-glass window in his memory, depicting a Halifax bomber towing a glider. The inscription reads, "To the Glory of God and in loving memory of Kenneth Storey Morton, Major Royal Artillery (T.A.) of Hetton Law who gave his life on Active Service Overseas on 8th November 1943, aged 23. Erected by his parents." Some discrepancies in the information as he died in a Canso, and another source shows he was 28. His name appears on the Brookwood 1939-1945 Memorial in Surrey, England.