Robert Hearne Cochran R98168
April 16, 1916 - January 14, 1943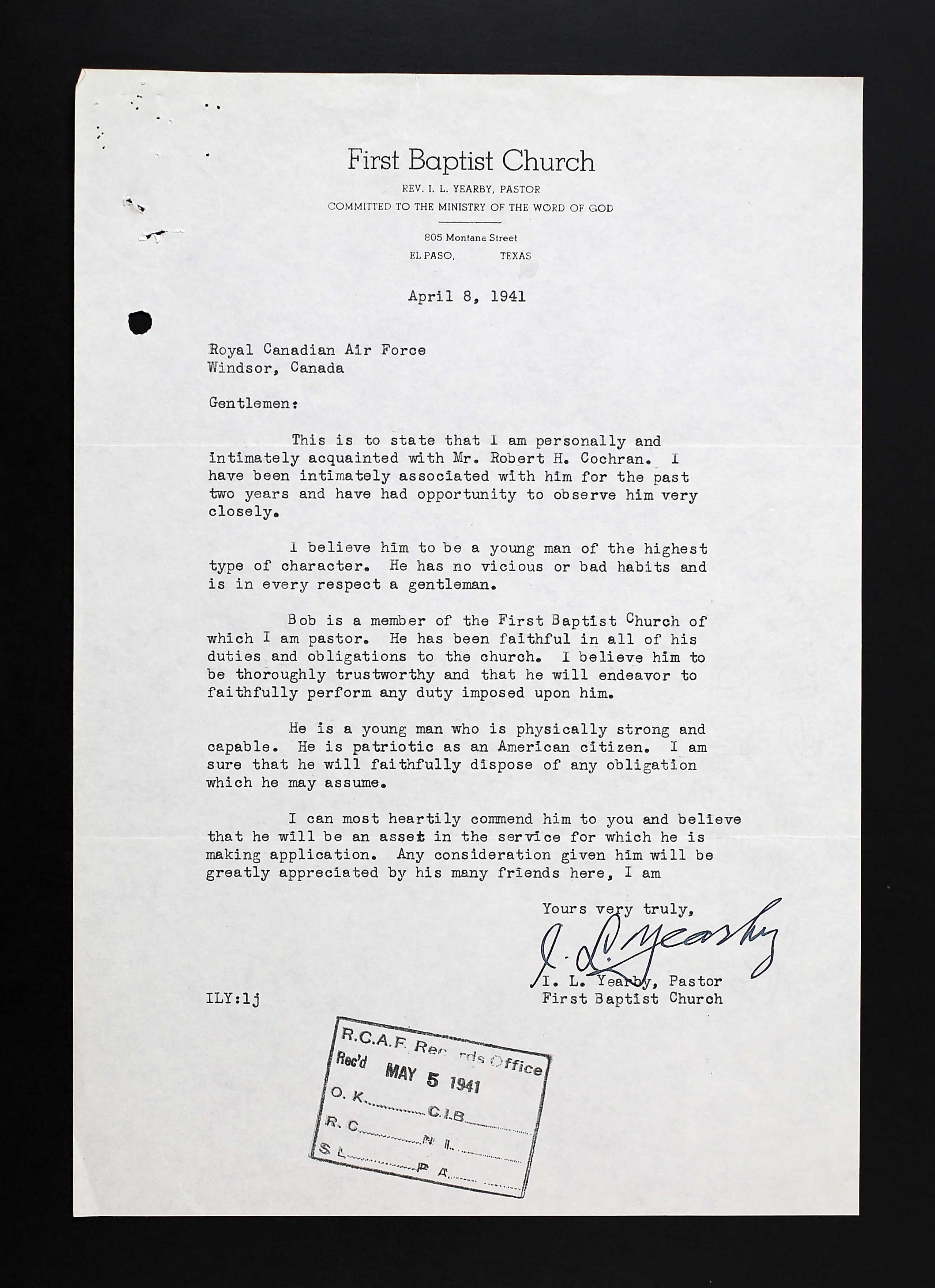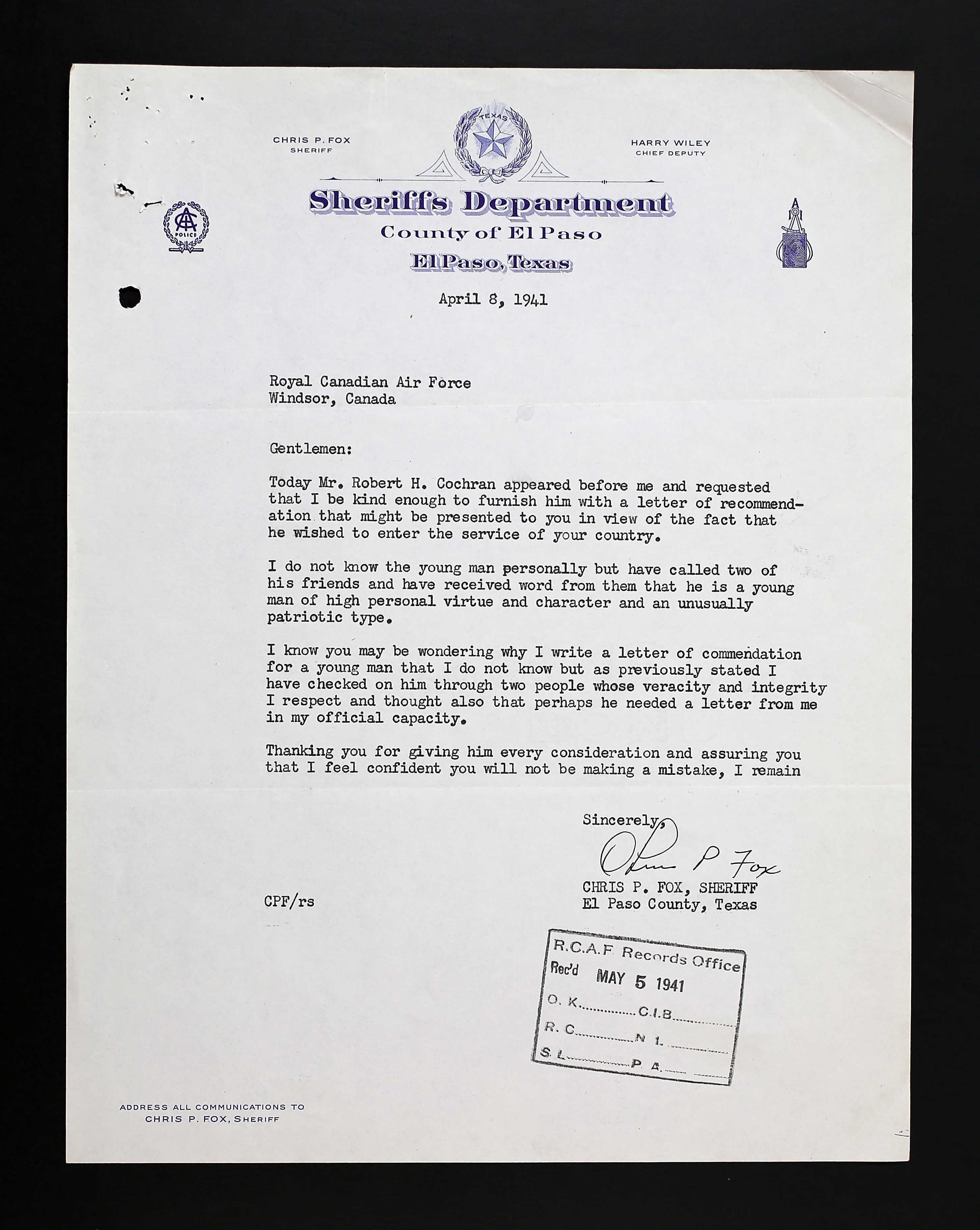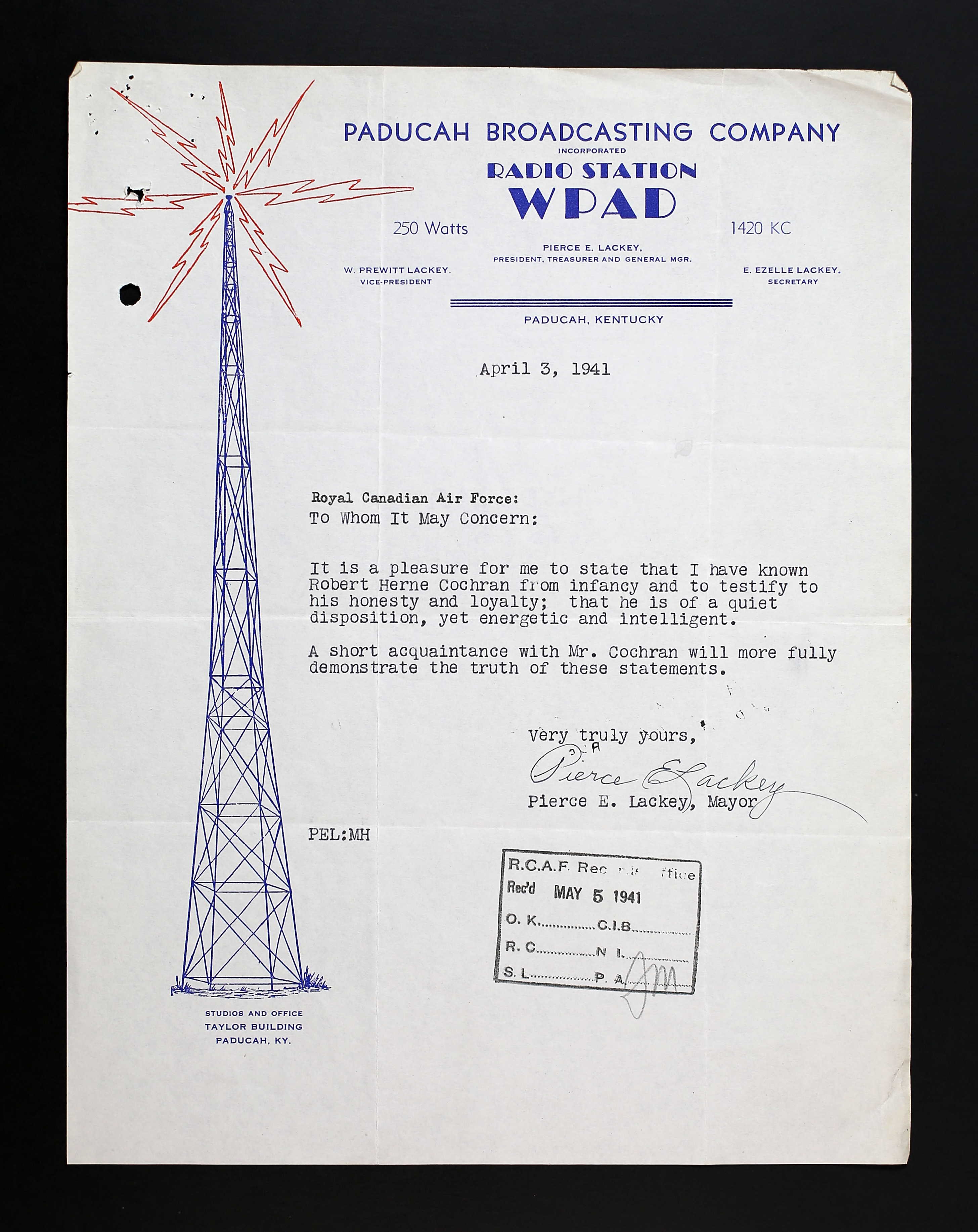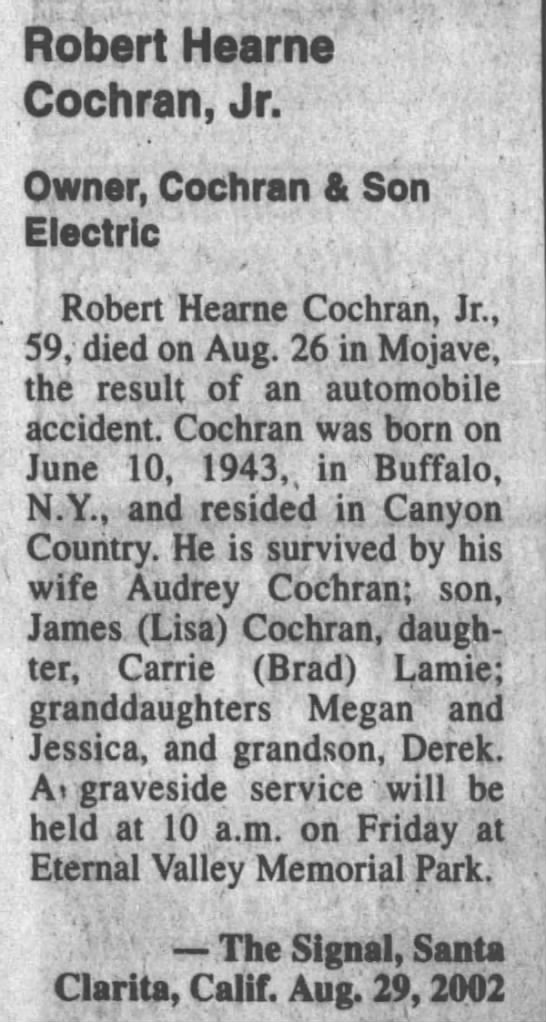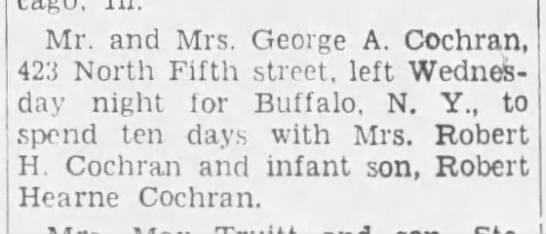 Kentuckian became pilot with RCAF, then a civil employee of Dominion Skyways Training Ltd, Malton, Ontario. On night flight over Lake Ontario, he was killed with three others aboard Anson 6739.
Robert Hearne Cochran was the son of George Augusta Cochran and Martha (nee Wilson) Cochran of Peducah, Kentucky. He was their only child. His mother died at the age of 21 of parturition (giving birth to Robert). They were Baptist. Mr. Cochran, by 1946, was living in Glendale, California.
Robert completed high school and attended Texas College for three months. He worked as a drug clerk for two years, a service station attendant for one year, did clerical work for five months, returning to being a service station attendant for another year. He smoked ten cigarettes per day and drank the occasional beer. On one form, his widow indicated Robert was an undertaker's assistant.
He married Helen Eloyce Harrison in Henderson, Kentucky on July 13, 1938. They were separated when he enlisted in Windsor, Ontario on April 21, 1941.
He indicated he spoke both English and Spanish. He liked football, swimming, tennis, and baseball. Robert stood 5'1" and weighed 157 pounds. His dental health was rated as fair. "Several teeth missing." He had a 1" vertical scar on his forehead. He wore glasses for reading only. "Good physique, intelligent, emotionally stable, persistent. Choice 1. Pilot. Probably best. 2. Observer." In August 1941: "Appears to be keen to be a pilot, second choice air gunner. History reveals he has had five different occupations in the past six years. Seems to be unsatisfied with any job for very long."
After his divorce, he married Dorothy Helen Reeves (b. 1914) in Toronto on March 14, 1942. They had a son, Robert Hearne Cochran, Jr., born in 1943. They planned to settle in Texas after the war. Dorothy was the beneficiary to his $1000 life insurance policy taken out in El Paso, Texas.
Robert began his journey through the BCATP at No. 1 Manning Depot, Toronto, Ontario on April 28, 1941. Then he was sent to the RCAF Detachment at the U of T May 24 until August 25, 1941. He returned to Manning Depot for one day in September 1941 before being taken on strength at No. 1 ITS, Toronto September 26 until November 22, 1941. "51st out of 51st in class. 70%. A cheerful, adventurous type of trainee with good spirit. Borderline case not up to average academically. Link trainer: 42%."
From there, he went to No. 3 EFTS, London, Ontario from November 24, 1941 to January 30, 1942. "Flying tests: 72%. Final test: 73%. Instrument flying: 66%. Average. Good average student, very keen and a good all-around pilot. Should make good service pilot." In Ground Training: "31st out of 25. 65.8%. Average pupil pilot. Inclined to be slow. Did not do so well in Ground School. Conduct satisfactory. Link trainer: 61%."
Again, he returned to Manning Depot from February 1 to February 28, 1942 until he was sent to No. 1 SFTS Camp Borden, Ontario on March 1 until July 5, 1942. On May 29th, 1942, he was absent from duty from 0900 hours until 1155 hours. He was confined to three days in barracks. "Link trainer: 75>. An average pilot who is inclined to be a little overconfident." In Ground Training: "44th out of 56 student. Failed to gain 60%. Re-wrote signals 107/150 and airmanship 117/300, obtaining 61.3% finally. Poor educational background appears to be his main trouble as his English and elementary mathematics are terrible. Conduct good." Part III: "Good average student. Quick to learn by inclined to be over-confident. Discipline is fair." He was back in Toronto on temporary duty May 18, 1942. He was granted his Pilot's Flying Badge on June 19, 1942.
Robert then was taken on strength at No. 1 AOS, Malton, Ontario. He was granted indefinite leave without pay July 13, 1942. He was assigned to Malton c/o Dominion Skyways Training Limited, employed as a civilian training instructor under the BCATP.
On January 14, 1943, he was missing after a routine navigation flight. He was the pilot of the aircraft. Three other crew members were aboard: LAC Kenneth Norman Miller, Second Navigator, LAC Gordon Charles Bricker, First Navigator and Sgt. J. R. Barnett, Wireless Air Gunner.
On February 25, 1943, a Court of Inquiry was struck to investigate the missing Anson I 6739. Three witnesses were called to the Court of Inquiry held to investigate.
The third witness, J. F. Copeland, Operations manager, Dominion Skyways, (Training) Limited, operating No. 1 AOS, Malton, Ontario stated that Anson aircraft 6739 was detailed to carry out a routine night navigation flight. The route was Malton to Brampton to Barrie to Newcastle to Tweed to Brampton and return to Malton. the recorded airborne time was 00: 30 on the 14th day of January 1943 and was last heard from wireless transmission at 01: 15 reporting over Barrie at 0100 hours at 3000 feet. at 05: 15 the aircraft was considered overdue and the RCAF was informed. A search was immediately started and carried out. The weather reported by other pilots on the flight indicated that there was broken cloud and good visibility but as they approached Lake Ontario where the overcast was solid and variable in height from 2000 to 3000 feet above the ground with intermittent snow showers with visibility decreasing in showers to one mile. Over the lake the clouds were more dense and the snow quite heavy which was due mostly to lake effect or instability over the lake. On the leg from Newcastle to Tweed, the conditions were variable with occasional showers decreasing in intensity away from the lake, visibility was only fair 3 to 8 miles. The leg from tweed to Brampton was variable with an increasing amount of snow as they neared Brampton with visibility going down to one mile at times and ceilings generally 2500 to 3000 above terrain. Other pilots reported as having completed this particular leg in 28 to 30 minutes. If the pilot had flown out his estimated time of arrival of 53 minutes and assuming that he made the 63 miles in 30 minutes, he would have flown for 23 minutes which would have put him 49 miles over water, over Lake Ontario in very bad weather conditions.
The pilot was assessed as low average on his day test and average on night test. As a result of this test he was considered not competent to act as first pilot on ants and aircraft by day or night on navigation flights. This information was not communicated to this company until January 21st 1943 by No. 1 Training Command. This witness personally flight checked him on or about the 22nd of August 1942 and at that time considered his instrument flying as low average. He was flight checked by a Squadron Leader on the 31st of August 1942 and it was assessed as low average and recommended to fly on exercises with a check pilot for one week and then undergo a further test at which time he assessed him as average.
Mr. Copeland recommended that a radio for the exclusive use of the pilot be installed in each aircraft so that the pilot may hear all weather reports of all other pilots especially those ahead of him, that if a more experienced and wiser pilot runs into trouble and turns back, the inexperienced persons will hear it and do likewise without delay, that the pilot may receive information from base quickly in an emergency, and the present wireless operated radio is unsatisfactory and the methods of use are too slow to be of benefit to a pilot should he require pertinent information in a hurry.
The cause of the accident was listed as obscure. No dinghy was carried aboard this aircraft.
On November 2, 1945, a letter was written about Sgt. Robert Cochran outlining the circumstances of loss of the aircraft and crew, most likely for insurance purposes. In February 1946, another letter was written. "While on a routine navigation flight on January 14, 1943, this airman failed to return and the ruling at that time was that any action to presume his death would have to be taken through civil courts."
Dorothy Cochran, residing in Buffalo, New York as of February 26, 1946 received a letter informing her that the RCAF under regulations of the King's Regulations for Air had to take the necessary action to officially presume his death.
By July 1946, Dorothy and Robert Jr. lived in El Paso, Texas.
Dorothy and her young son, Robert Jr. then moved to Burbank, California. There she received a letter informing her that since her husband had no known grave, his name would appear on the Ottawa Memorial.
His son died in car accident in 2002.