Robert Emerson Bruce R192653
September 27, 1923 - December 15, 1944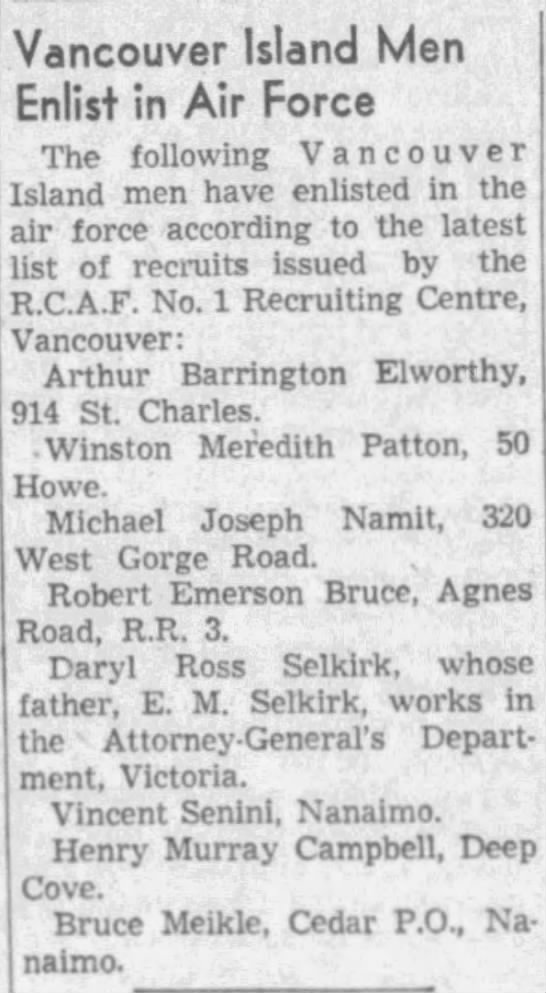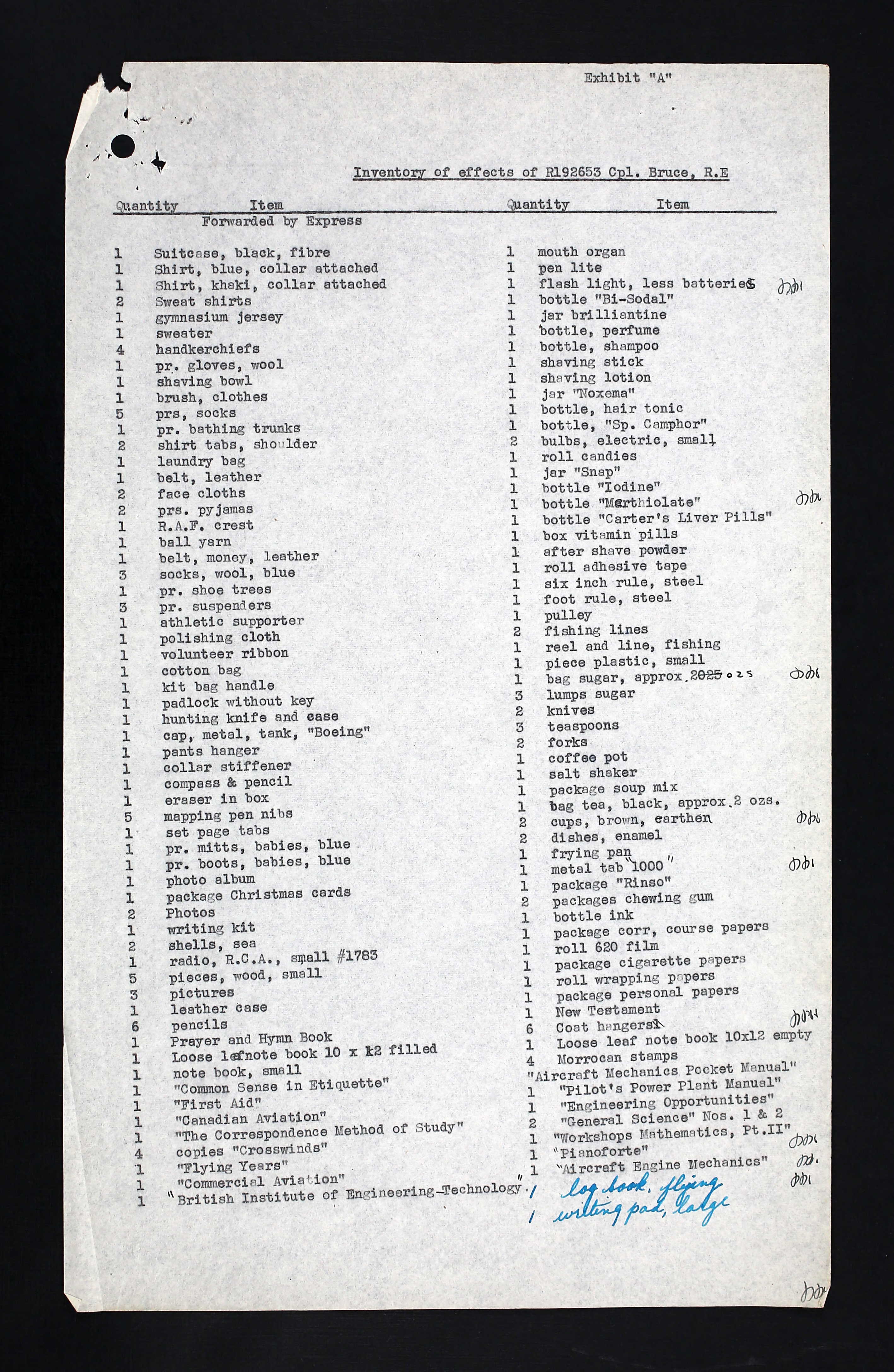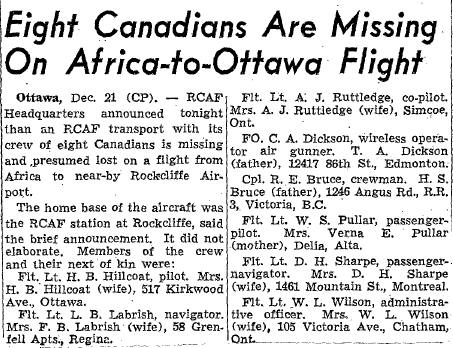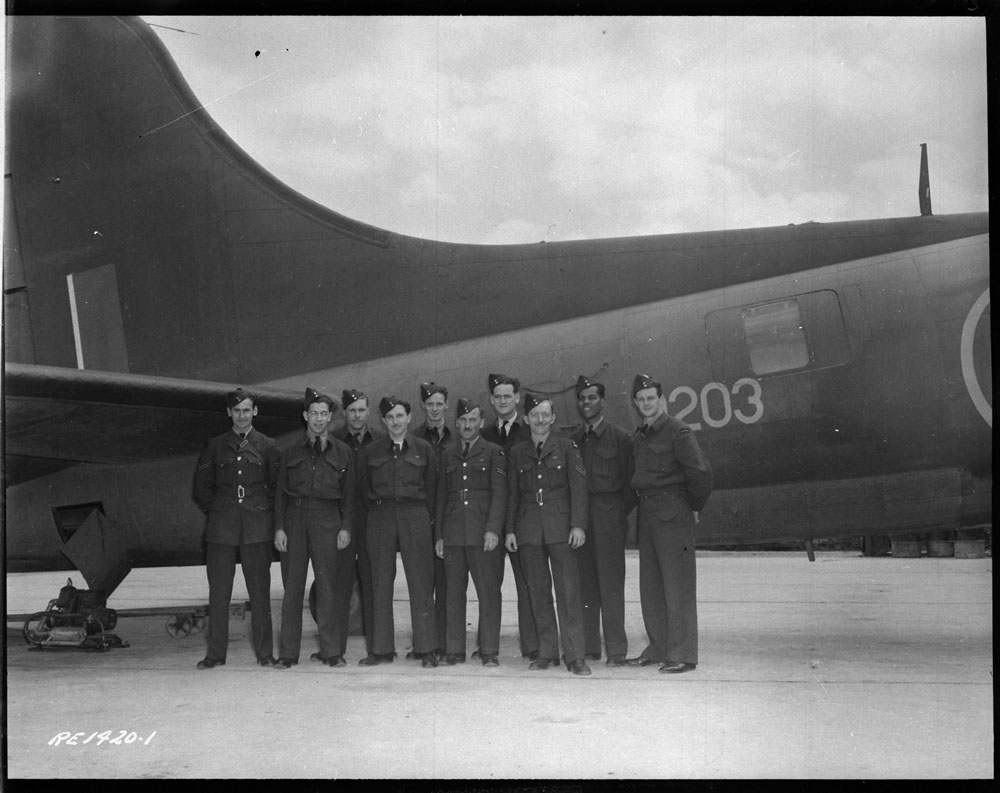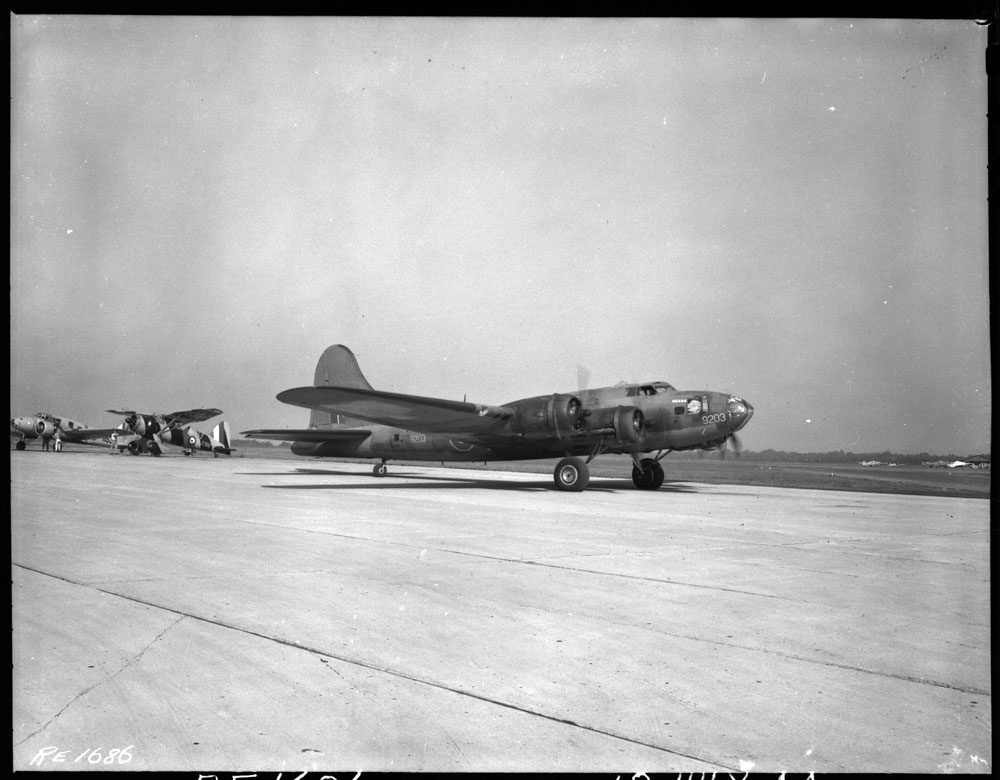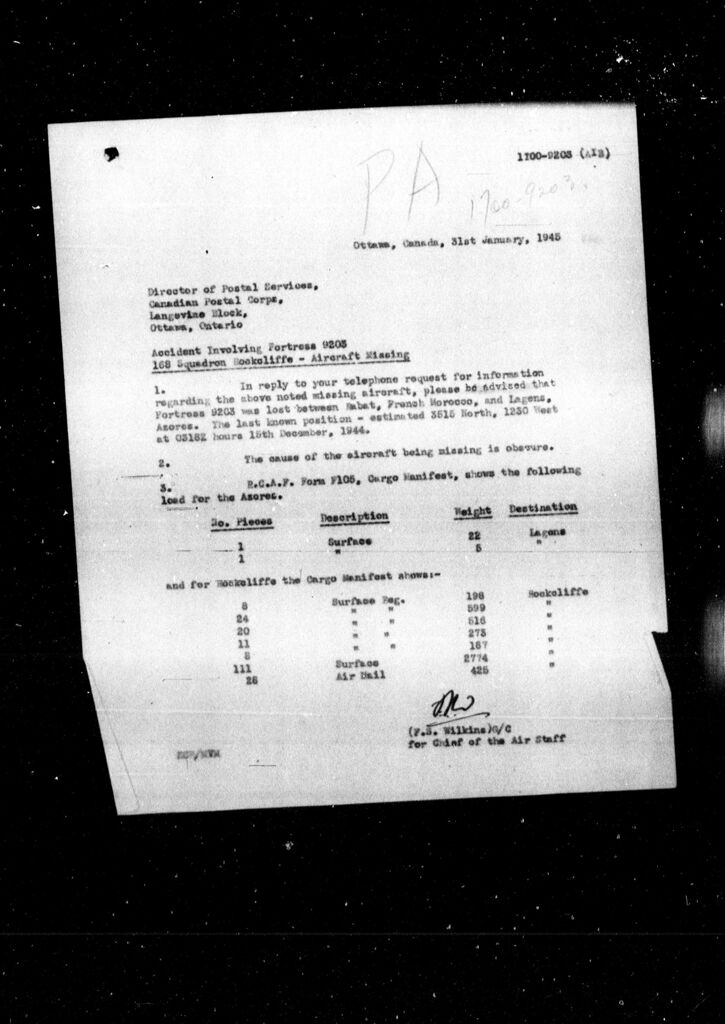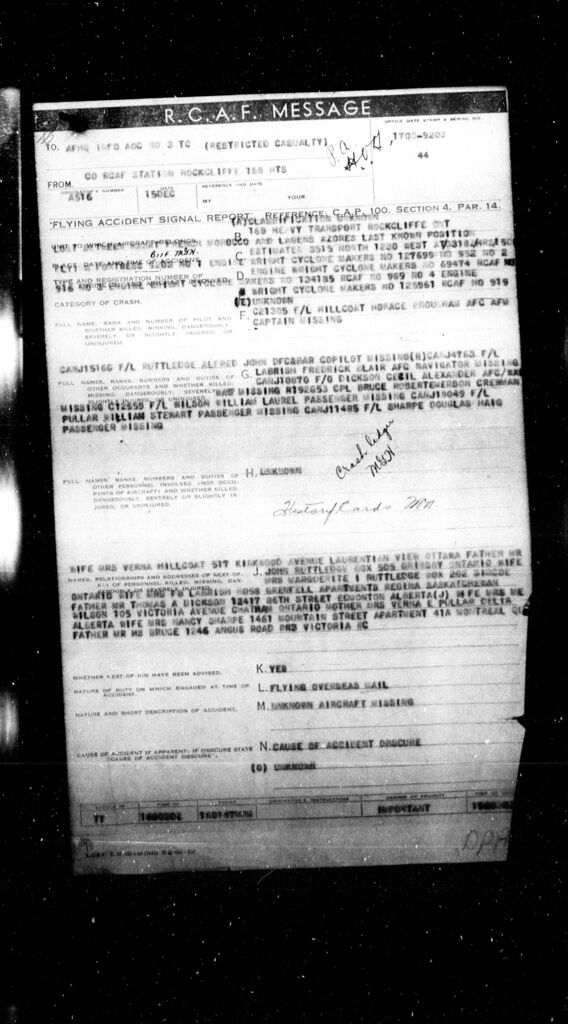 Unemployed student joined RCAF and was a crewman aboard Fortress 9203 which was lost over the Atlantic Ocean, ferrying mail.
Robert Emerson Bruce, born in Lloydminster, Saskatchewan, was the son of Henry Sutton Bruce (1884-1958), retired bank manager, and Nesta Anne Alberta (nee Pearce) Bruce of Victoria, then Kelowna, BC. (1891-1955) He had seven brothers, Donald, Charles, Henry, Douglas, Kenneth, Richard and David, plus one sister, Dorothy. The family was Anglican.
He was unemployed when he enlisted with the RCAF in Vancouver on September 23, 1942. After the war, he hoped to find a job in forestry, wanting to continue to reside in BC.
Robert stood 5'7 ½" tall and weighed 132 pounds. He had blue eyes and light brown hair. He enjoyed baseball. He decided to purchase $150 in Victory Loan Bonds, with $25 deducted from his pay each month.
He started his journey through the BCATP at No.1 Recruiting Centre, Vancouver, September 24, 1942 until January 15, 1943. He was then sent to No. 3 Repair Depot, Vancouver until March 24, 1943.
From there, he was sent to No. 5 Manning Depot, Lachine, Quebec until May 14, 1943 when he was sent to TTS, St. Thomas, Ontario until August 5, 1943. He returned to Lachine until he was sent to 168 Squadron Rockcliffe, Ontario November 14, 1943. Robert was at the station hospital from December 13 to 22, 1943.
He was sent to the United Kingdom in May 1944, with a short two-day stint in New Jersey in July 1944.
On December 15, 1944, the crew and passengers were on a transatlantic flight from French Morocco to Canada via the Azores when they were lost. A few mailbags were spotted floating on the surface during the search.
CREW: • F/L Horace Brougham 'Pat' Hillcoat, Pilot, Ottawa, Ontario • F/L Frederick Blair La Brish, Navigator, Regina, Saskatchewan • F/L Alfred John De Laune. Ruttledge, Co-pilot, Simcoe, Ontario • F/O Cecil Alexander. Dickson, WO, Edmonton, Alberta • Cpl. Robert Emerson Bruce, crewman, Victoria, BC • F/L William Stewart Pullar, passenger-Pilot, Delia, Alberta • F/L Douglas Haig Sharpe, passenger-Navigator, Montreal, Quebec, • F/L William Laurel Wilson, administrative officer, Chatham, Ontario
In July 1945: "The flight, which this aircraft was carrying out at the time of disappearance, was operating under RAFTC Control with the result that the investigation proceedings which followed its disappearance conformed with RAF Operational Policy….the above listed personnel did board and depart from Rabat Sale [Morocco], in Fortress 9203 on a flight to Lagens, Azores, at 104Z December 15, 1944." In another memo, dated April 15, 1945: "The last radio report received from the Captain of Fortress 9203 by RAFTC Flying Control consisted of a routine positions report transmitted and reeved…the aircraft failed to arrive at its planned destination…and" search operations were initiated. "Last position estimated 3515 North 1230 West."
(See Dave O'Malley's article. for additional information and photos.)
July 9, 1945: "The situation is that the RAF look upon this as an operational flight, concerning which they usually take no action beyond a circumstantial report. No. 9 Group can produce witnesses' statement showing that the personnel concerned were actually in the aircraft when it left Rabat, that no other call was made en route and that nothing further is known of the aircraft since its disappearance."
In late September 1945, Mr. Bruce received a letter informing him that his son was, for official purposes, presumed to have died on Active Service Overseas on December 15, 1944.
Robert had quite a list of personal belongings including sugar and a coffee pot.
In late October 1955, Mr. Bruce received a letter informing him that since Robert had no known grave, his name would appear on the Ottawa Memorial.
LINKS: