Raymond Chatson R165519
February 9, 1924 - October 14, 1942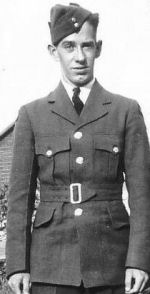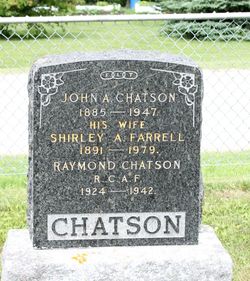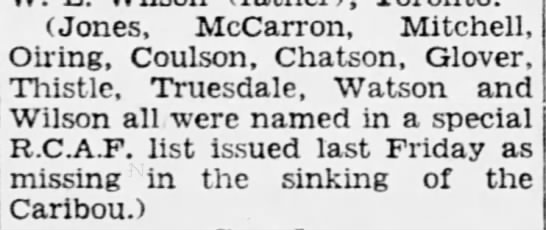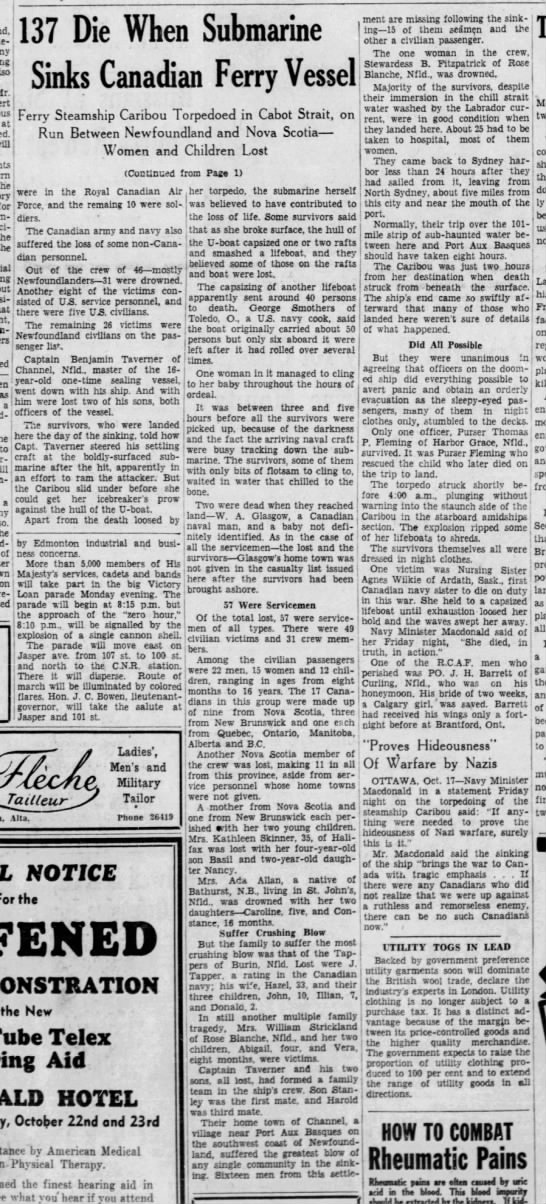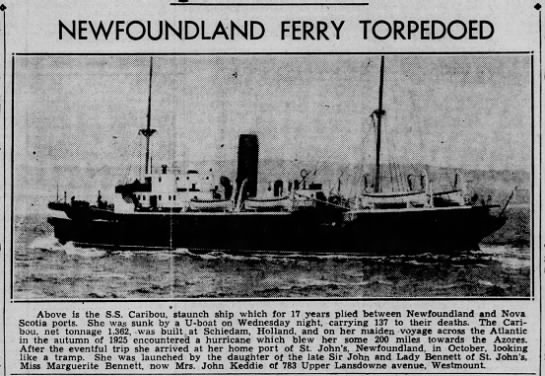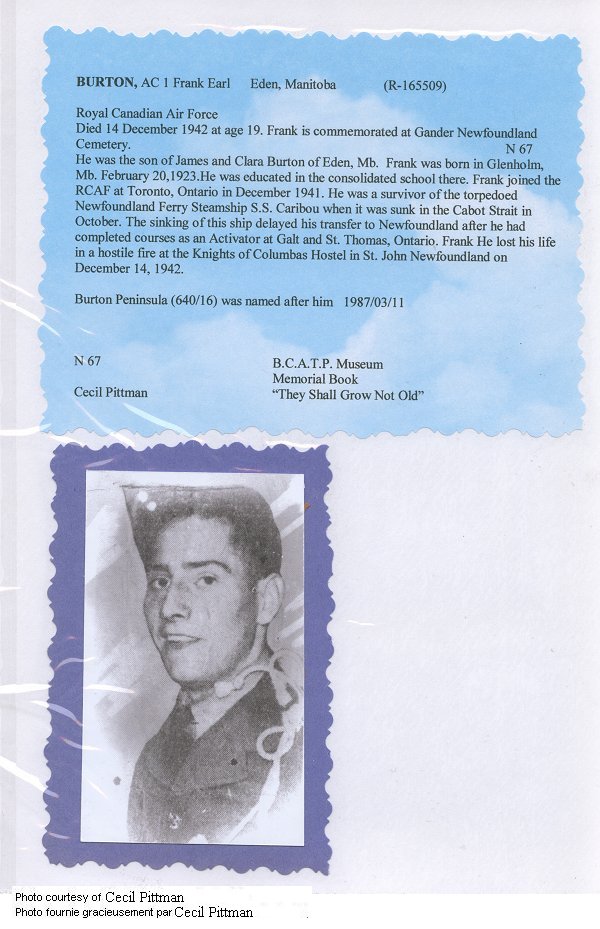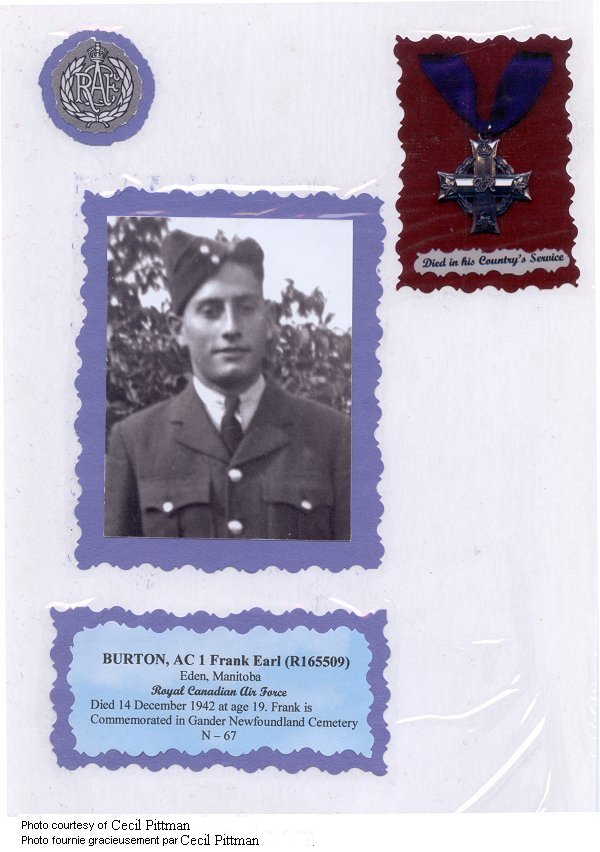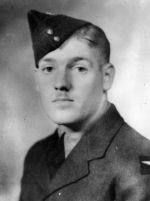 Filled out attestation papers at 17, became airframe mechanic at 18. Perished aboard the SS Caribou.
Raymond Chatson, born in Schumacher, Ontario, near Timmins, was the son of John A. Chatson (1885-1947) and Shirley (aka Dolly) Alfreta (nee Farrell) Chatson (1891-1979). He had one sister, Mrs. Jean Adamson. The family was Roman Catholic.
Raymond had been a student, working during his summer breaks at McIntyre Porcupine Mines, a gold mine, as an electrician 1940-1941. He had a Grade X education and had taken one year in a commercial course at Albert College, Belleville, Ontario.
He enjoyed swimming and playing hockey, and rugby. He had a Junior First Aid certificate, St. John Ambulance, May 1937.
Raymond filled out his attestation form in November 1941 in Galt, Ontario and was accepted into the RCAF on April 25, 1942. He had been a trainee at Galt Aircraft School, requesting ground duties. He was barely 18. He was sent to No. 1 Manning Depot, Toronto until June 12, 1942, then was to be sent to TTS St. Thomas, Ontario. He was then posted to RCAF Station, Botwood, Newfoundland. October 8, 1942, he had taken a course for air frame mechanics.
Raymond wore glasses since 1938, stood 5'6" tall, and weighed 115 pounds. He had green eyes and dark brown hair, with a medium complextion. He had a mole over the lateral end of his left patella (kneecap). He had had smallpox and a tonsillectomy (1934).
Mr. Chatson was the sole beneficiary of Raymond's estate.
The night of October 14, 1942 was very dark with no moon. Sixty kilometres off the coast of Newfoundland, the SS Caribou on her starboard side was torpedoed by German U-boat U-106. On board were 73 civilians (eleven children, 118 military personnel) and a crew of 46. The passengers were thrown from their bunks, several lifeboats and rafts were destroyed or could not be launched, as the ship sunk quickly, reports stating only three minutes. Many passengers were forced to jump overboard. Over 135 people perished. Fifteen of the crew survived, many of them local men from the Channel/Port aux Basque area.
In January 1948, a memorial was erected at Port-aux-Basques, Newfoundland, in memory of those who died in the torpedoing of the S. S. Caribou.
In February 1949, a note in Raymond's files states that his medals were returned undelivered and returned to stock. In 1951, Mrs. Chatson, widowed in 1947, had moved to Timmins.
A letter dated October 24, 1955 arrived at the post office in Timmins, Ontario for Mrs. Chatson, from W/C Gunn informing her that since Raymond had no known grave, his name would appear on the Ottawa Memorial.
For additional information, please click on the links below.
Two of the survivors who had suffered from shock and exposure due to the sinking of the SS Caribou, Aircraftmen Frank Earl Burton, 19, and Frederick Anthon Langley, 23, both airframe mechanics, perished in the fire at the Knights of Columbus hostel in St. John's, Newfoundland, December 12, 1942. Ninety-nine people were killed, with 80 of them military personnel. Critically wounded: 109. They had both trained with Raymond, but then were posted to Torbay, Newfoundland.
LINKS: