Ralph Roydon Ings C27599
September 3, 1900 - November 8, 1943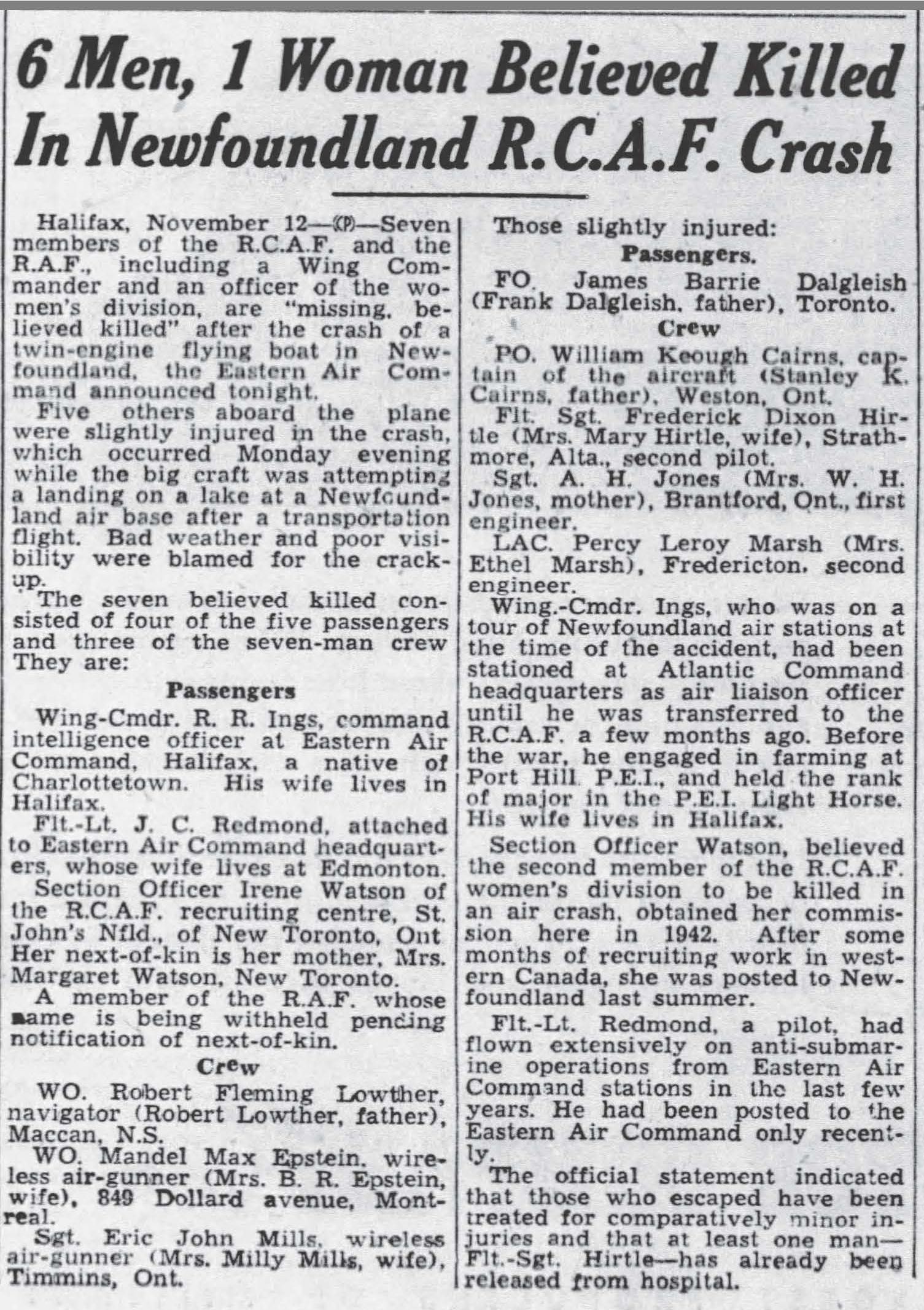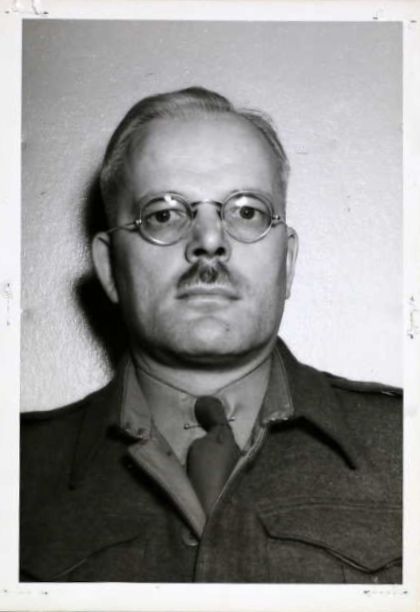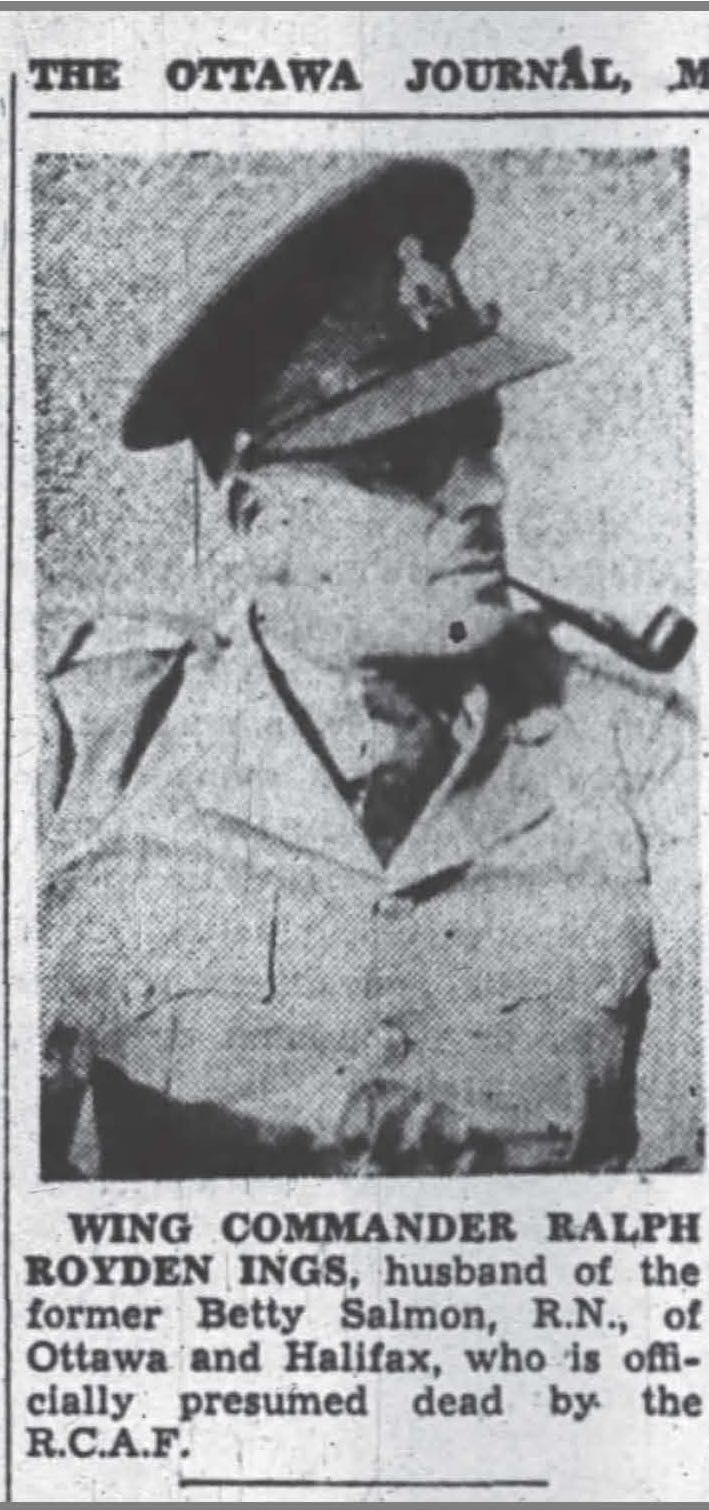 Educated in Switzerland, France and New Brunswick, then Guelph, a farmer joined the Canadian Army, then transferred to the RCAF as an Air Liaison Officer. While visited different RCAF stations aboard Canso 9834, he and six others were lost near Botwood, Newfoundland.
Ralph Royden Ings, from Prince Edward Island, was the son of Albert Ernest Ings (1866-1944) and Clara Stephanie Bertha Dodge (1865-1937). He had brothers: John Walter Ings (1897-1918) and Jasper Harold Ings (1902-1978).
He was born Charlottetown, PEI, educated in Lausanne, Switzerland (1910-1913), then at St. Nazaire, France (1913-1914), then at RCS, Rothesay, New Brunswick, a boarding school outside Saint John (1915-1918). He started at the Ontario Agricultural College, Guelph, Ontario (1918-1920), but did not complete his education due to illness. He was farming in PEI when the war broke out.
He had been an Army Officer until the spring of 1943 when he transferred to the RCAF. (In February 1942, Major Ings was Air Liaison Officer for the Canadian Army. Air Vice Marshall Anderson wrote, "As the scope of our operations is rapidly being increased, and in view of the proposed additional fighter squadrons, the introduction of RDF equipment and a possible unified control of fighter and A-A gun protection within the Fortress areas, many new problems will be introduced to our liaison with the Army Units." He suggested that Major Ings be sent to the UK for a tour to observe liaison arrangements between RAF Fighter Command and Coastal Command and the respective Army formations with which these cooperate, "and that on completion of this, be returned for duty" to Halifax. A letter, written by Major Ings on July 22, 1942 to Group Captain M. Costello, EAC, Halifax: "Returned to London last night from Edinburgh. Everywhere I've been, I've had the best reception from all concerned and all sorts of facilities given to me. I feel that I am learning a lot, but what is more important, I've watched these things carried out in a practical way. To be quite honest, everywhere I go, I try to pick up more information on what will be the most useful for us at EAC. I've finished at 19, 15, and 18 Groups and they all have different problems, then tomorrow, I leave for 16 Group. Afterwards, I get in touch with the Fighter people and observe some of their work in regard to Control of A.A. and search lights. Then finally, I will spend some time observing some of their CAC work. I should be pretty well cleaned up by September, so if there is a chance of my being flown back it will be most appreciated. I understand that some of the EAC pilots are coming over on Ferry flights. I intend to get in touch with RCAF HQ and find out who is coming. I wish I knew of the RAF starting up an operational HQ as I sure would like to be attached there. AWM Durston told me that Gordie Truscoth is coming over to take an RCAF Squadron. I've been on the station where he is going and it is very pleasant there. Please excuse this scrawl, with best regards to your family and yourself. PS I will cable you when I've finished at Coastal Command, will you please see that a signal of appreciation to them for their splendid co-operation." Major Ings sent an abbreviated, formal letter to Major General E. H. P. Elkins, G.O.C. in Atlantic Command the same day. In October 1942, there was another memo written by Air Vice Marshal N. R. Anderson.
He requested that Ings remain on full time liaison duties in Halifax; he had been performing these duties since the beginning of the war until he was sent to the UK for attachment to Coastal Command, RAF to obtain an up-to-date knowledge of Coastal Command organization, administration and operations, particularly in regard to the duties performed by Army Liaison officers. Anderson stated that the RCAF felt deprived of Ings's assistance and advice. The response he received was that there had been no indication prior that RCAF Liaison was required.) Ings had been employed for at least two years at Eastern Air Command as Liaison Officer from Headquarters Atlantic Command; despite the feeling of no need for this position from Colonel G. A. Ferguson, Director of Administration for National Defence and by Major General W. M. P. Elkins, GOC in Charge, Atlantic Command, Ings resigned from the Canadian Army and was appointed as the Command Intelligence Officer, with the RCAF, at the end of May 1943.
Major Ings wrote a letter on May 28, 1943. "I am applying for a commissioned rank in the RCAF. It is not because of any preference for any one Service, but rather as to where I can now be most usefully employed. Giving my past service, my work has enabled me to obtain a fair knowledge of the RCAF, particularly in the expansion of Eastern Coastal Command. With this in mind, I request that my application receive early and favourable consideration." He was evaluated. "A capable and well-trained officer who has been closely associated with combined operations. Has also had special tour in British Isles. Is known to be highly regarded by his superiors and well-liked by Junior officers. A highly desirable candidate, recommended for Intelligence Officer."He stood 5' 11", weighing 195 pounds. He had blue eyes and grey hair. "Overweight, but fit. Correction of visual acuity not quite sufficient without glasses, but can be improved. Character: exemplary." He was awarded the Canadian Efficiency Decoration on June 24, 1943. In August 1943: "Excellent background of Army experience. Conscientious, capable Intelligence Officer. Shows keen interest in his work. Possesses sound, mature judgment. Strongly recommended for rank of A/W/C." He was promoted to that rank effective October 1, 1943. By October 25, 1943, he was Wing Commander, living at 10 Elmwood Apartments in Halifax. He ordered one RCAF Officers Greatcoat, costing $65.00 from Colwell Brothers, Limited, Halifax. After his death, he was recommended to be 'mentioned in Despatches.' "Throughout his associatoin and service in EAC, W/C Ings displayed initiative, energy and devotion far beyond the normal course of duty. He made himself so valuable to EAC that his loss was a tragedy." In 1938, Ralph Royden Ings was married to Mary Elizabeth (Betty) (nee Salmon), a Registered Nurse. They did not have children. His name appears on the Ottawa Memorial.
For more information, please click on the link below. All personnel onboard Canso 9834 who died are listed, along with the Court of Inquiry's investigation.
LINKS:
THOSE ABOARD CANSO 'A' 9832
*P/O William Keough Cairns, J35956, survived *F/S Frederic Dixon Hirtle, R131516, survived *F/O James Barrie Dalgleish, J10579, survived * Sgt A. H. Jones, Brantford, Ontario, injured *LAC Percy Leroy Marsh, Fredericton, injured *WO2 Robert Flemming Lowther, J41907, killed *Wing Commander Ralph Royden Ings, C27599, killed. *F/L Joseph Coates Redmond, Edmonton, Alberta, J5072, killed *Major Kenneth Storey Morton, RAF, killed *Mandel Max Epstein, R104789, RCAF, killed *S/O Irene Watson, RCAF WD, killed *Sgt. Eric John Mills, R184018, RCAF, killed
Further information about the survivors:
• P/O William Keough Cairns (1921-1992), Weston, Ontario, J35956 -- survived. He married Rene Irene Fairbridge (1920-1984) in 1945. They had a daughter, Barbara (1946 - 2004) and a son, Douglas (1947-1947). In 1948, an article explained that a postman, named William Cairns, 28 years old, rescued a housewife in Toronto from her gas-filled home. He was celebrated and became a hero, winning the DOW Award for his act of outstanding bravery, earning a $100 Canada Savings Bond. He enjoyed genealogy, researching his family tree. William Cairns died in Toronto.
• F/S Frederick Dixon Hirtle, Strathmore, Alberta, R131516 -- survived. In February 1939, according the Calgary Herald, Fred Hirtle, along with the winners of an amateur radio contest held at his father's movie theatre in Strathmore, were part of a radio broadcast. Fred was a member of a music club, playing the cornet, trumpet, and organ. He continued to play music throughout his life. In December 1967, he became the new Chief Flying Instructor with the Chilliwack Flying Club. A newspaper article reported: "He was with the RCAF's coastal command flying Cansos in Newfoundland and Sunderlands overseas. He was discharged from the services in 1945. He took an instructor's course with Waneta Airways, Trail, BC in 1956 and has been an instructor at Trail and Castlegar since that time. He moved to the coast in September. Married, he has one daughter, Elaine, who is teaching school in the district." He was a member of the Rotary Club in Salmon Arm, BC in 1983. He passed away in 1997, buried in Sorrento, BC. He was married twice, his second wife passing away in 1999.
• F/O James Barrie Dalgleish, Toronto, Ontario, J10579 -- survived. He married Margaret Louise Patton in June 1944.
• Sgt A. H. Jones, Brantford, Ontario -- injured.
• LAC Percy Leroy Marsh, Fredericton, New Brunswick -- injured.
• Major Kenneth Storey Morton, RAF, Doddington, Northumberland, UK -- killed. He was the son of John and Hilda Susie Morton. He was serving on the HQ Staff of Coastal Command, RAF. He is commemorated in St. Aidan's Churchyard and on the Brookwood 1939-1945 Memorial, Brookwood, Surrey. In the church, there is a stained-glass window in his memory, depicting a Halifax bomber towing a glider. The inscription reads, "To the Glory of God and in loving memory of Kenneth Storey Morton, Major Royal Artillery (T.A.) of Hetton Law who gave his life on Active Service Overseas on 8th November 1943, aged 23. Erected by his parents." Some discrepancies in the information as he died in a Canso, and another source shows he was 28. His name appears on the Brookwood 1939-1945 Memorial in Surrey, England.