Ralph Howard Hilchie R76059
February 23, 1914 - November 23, 1942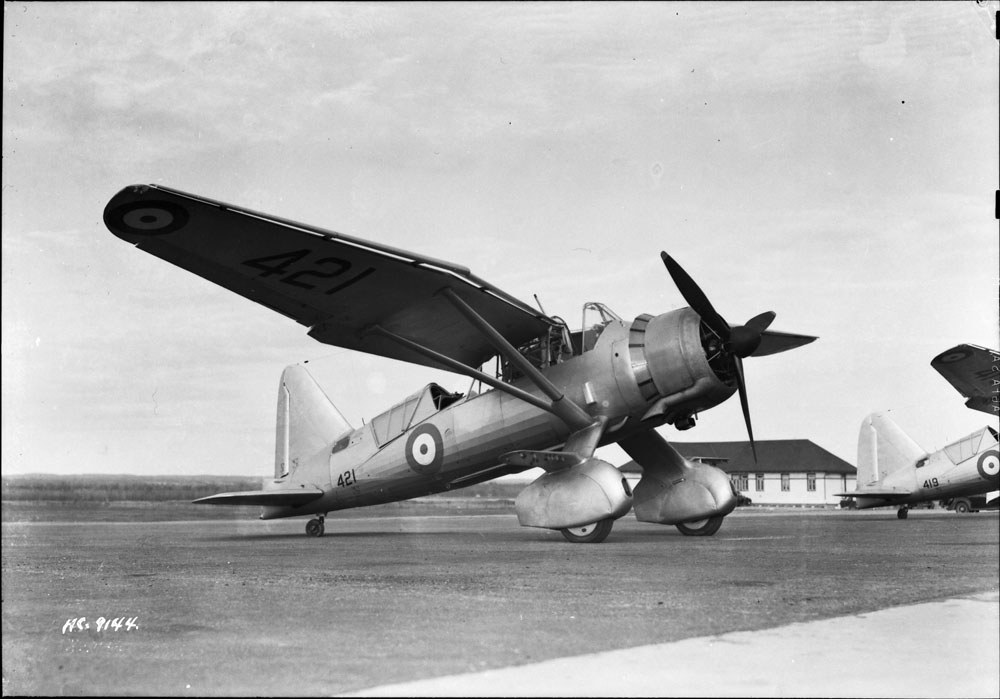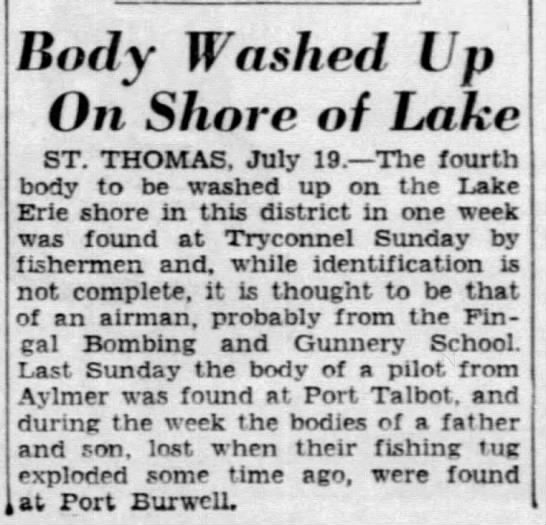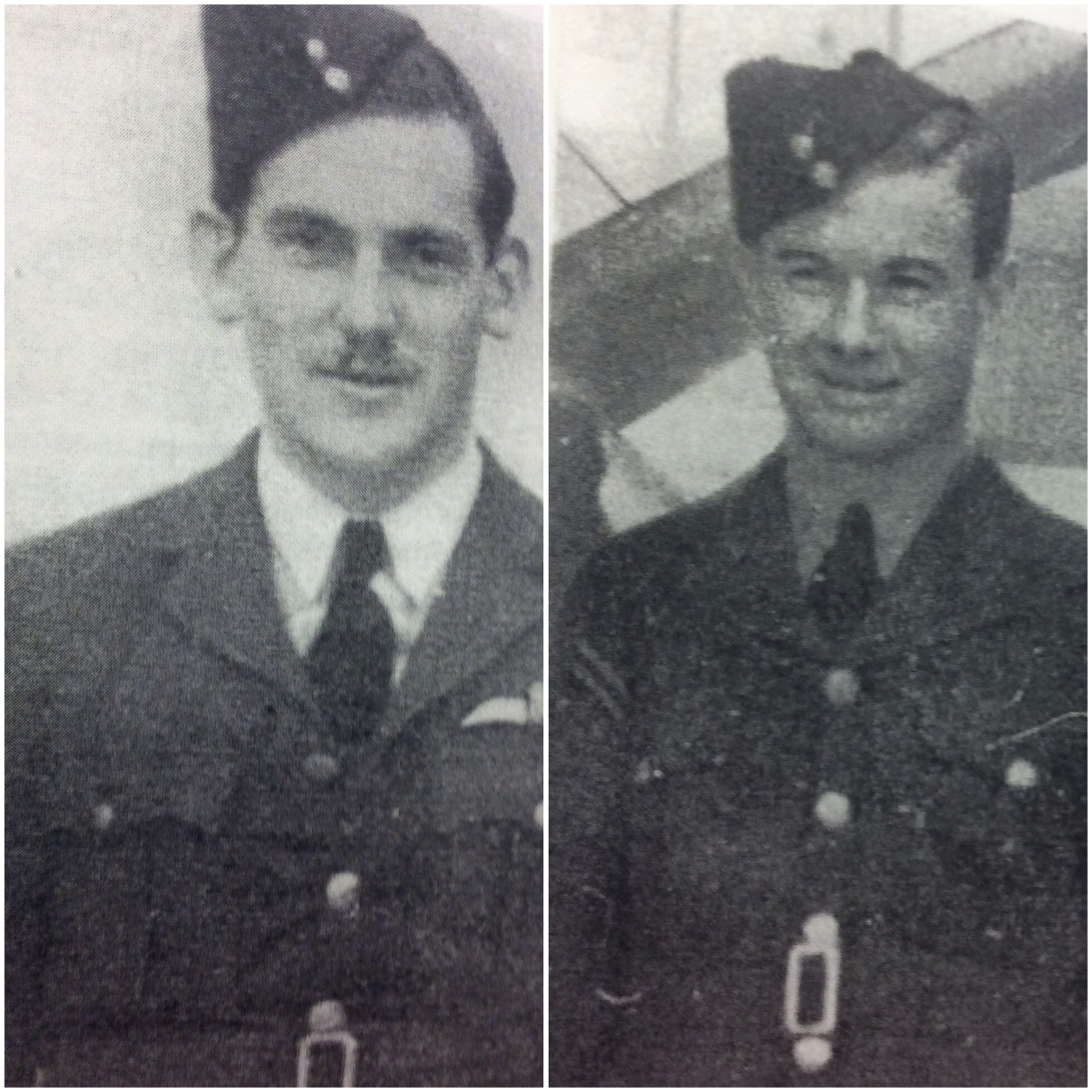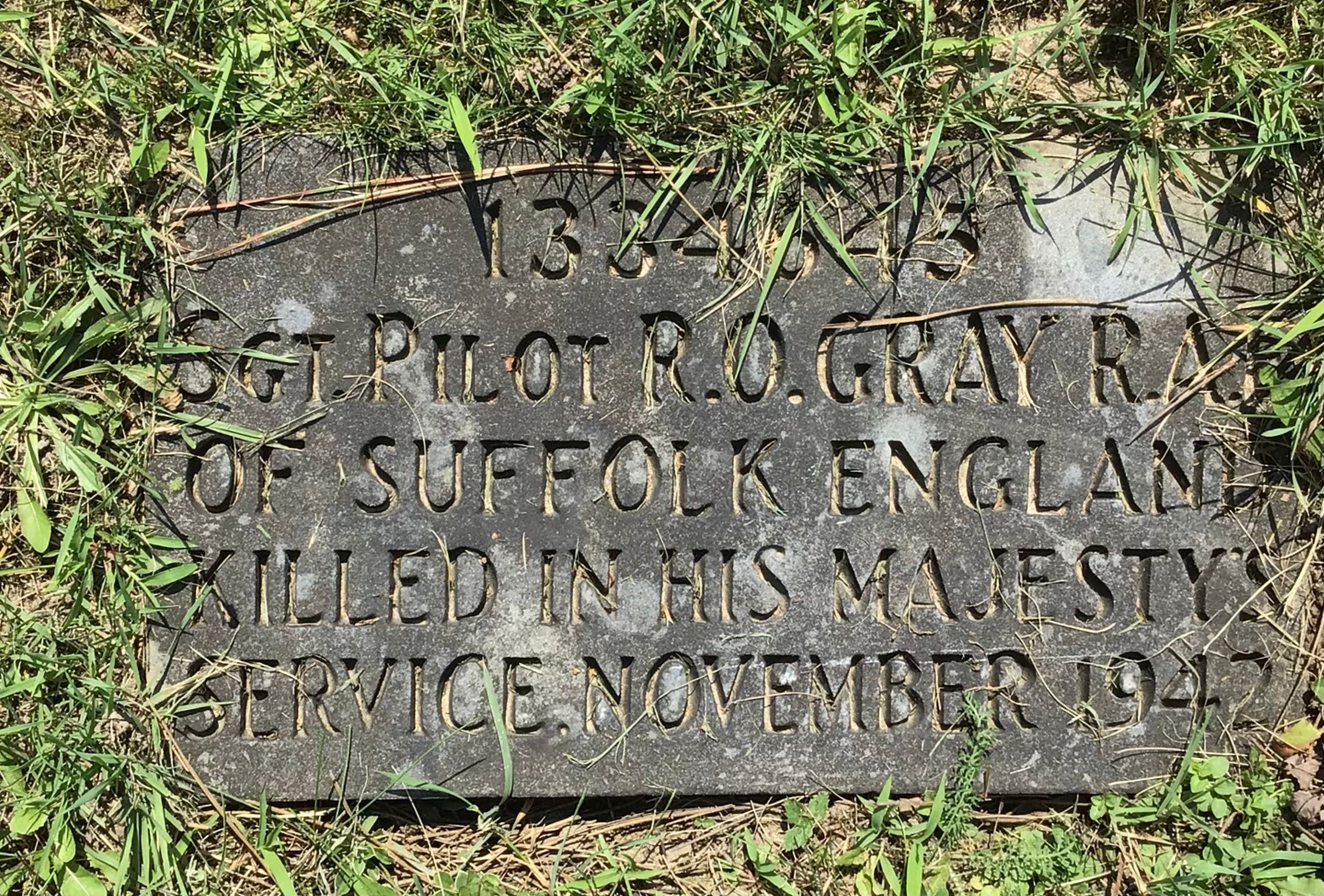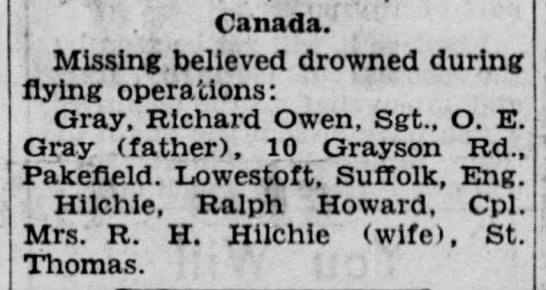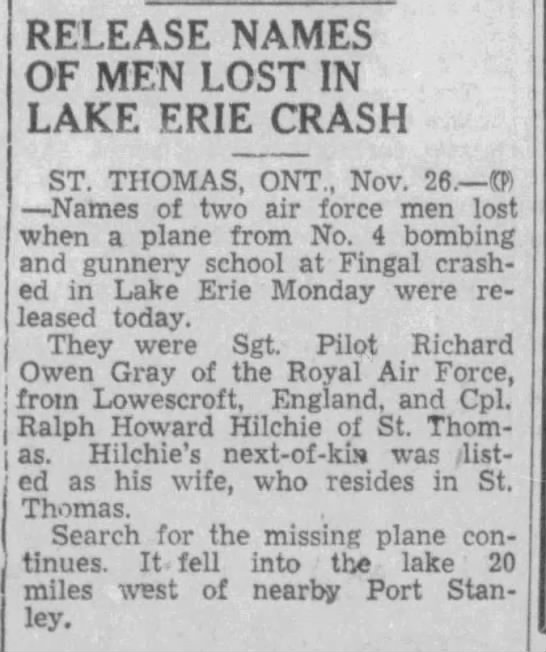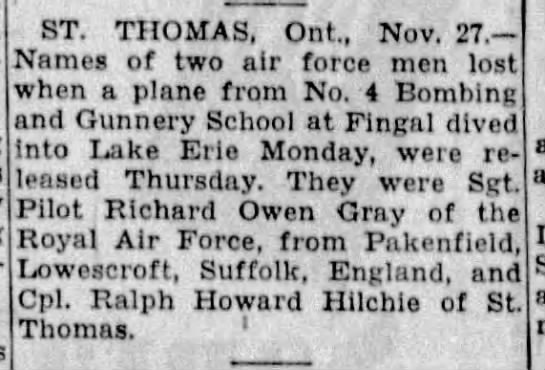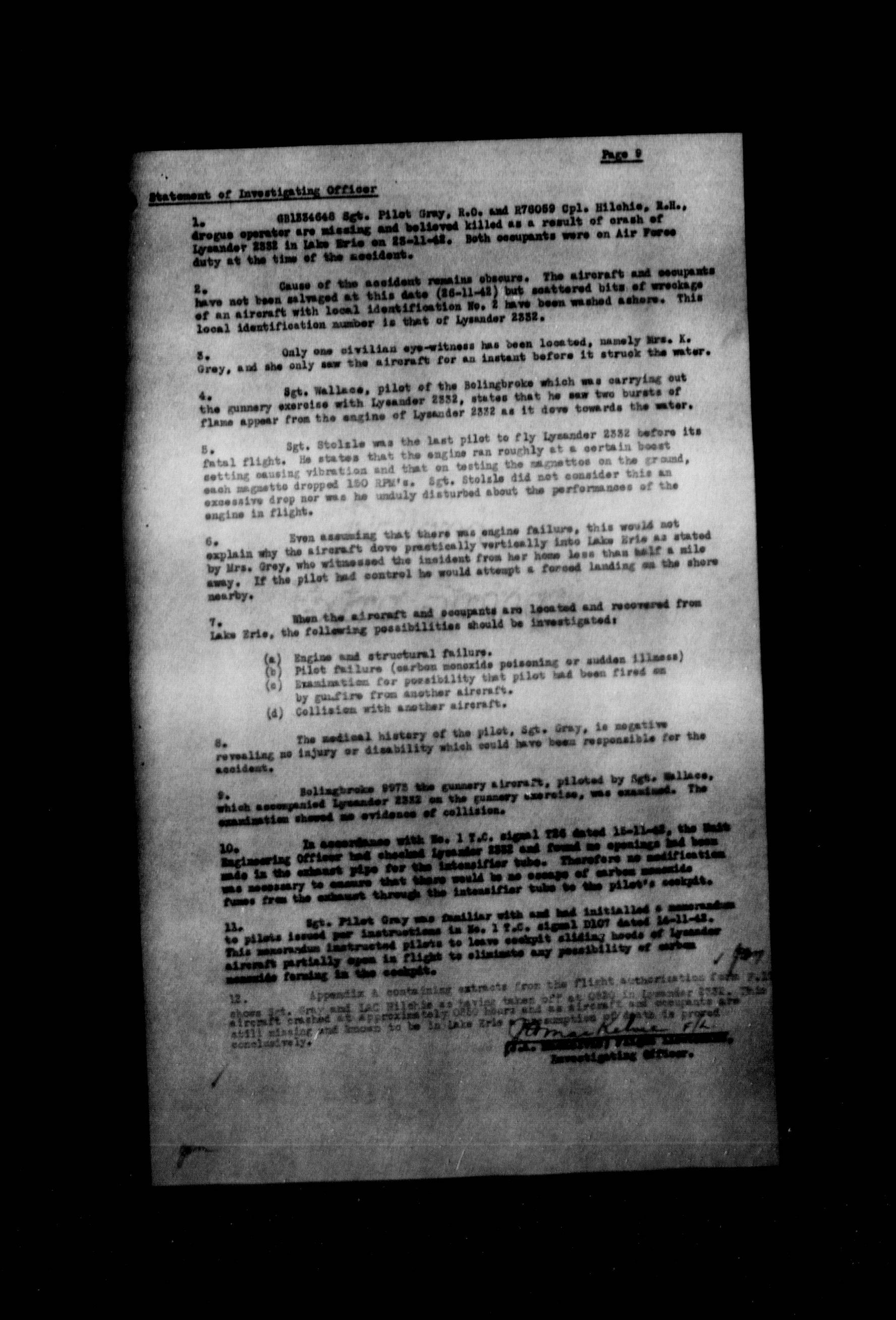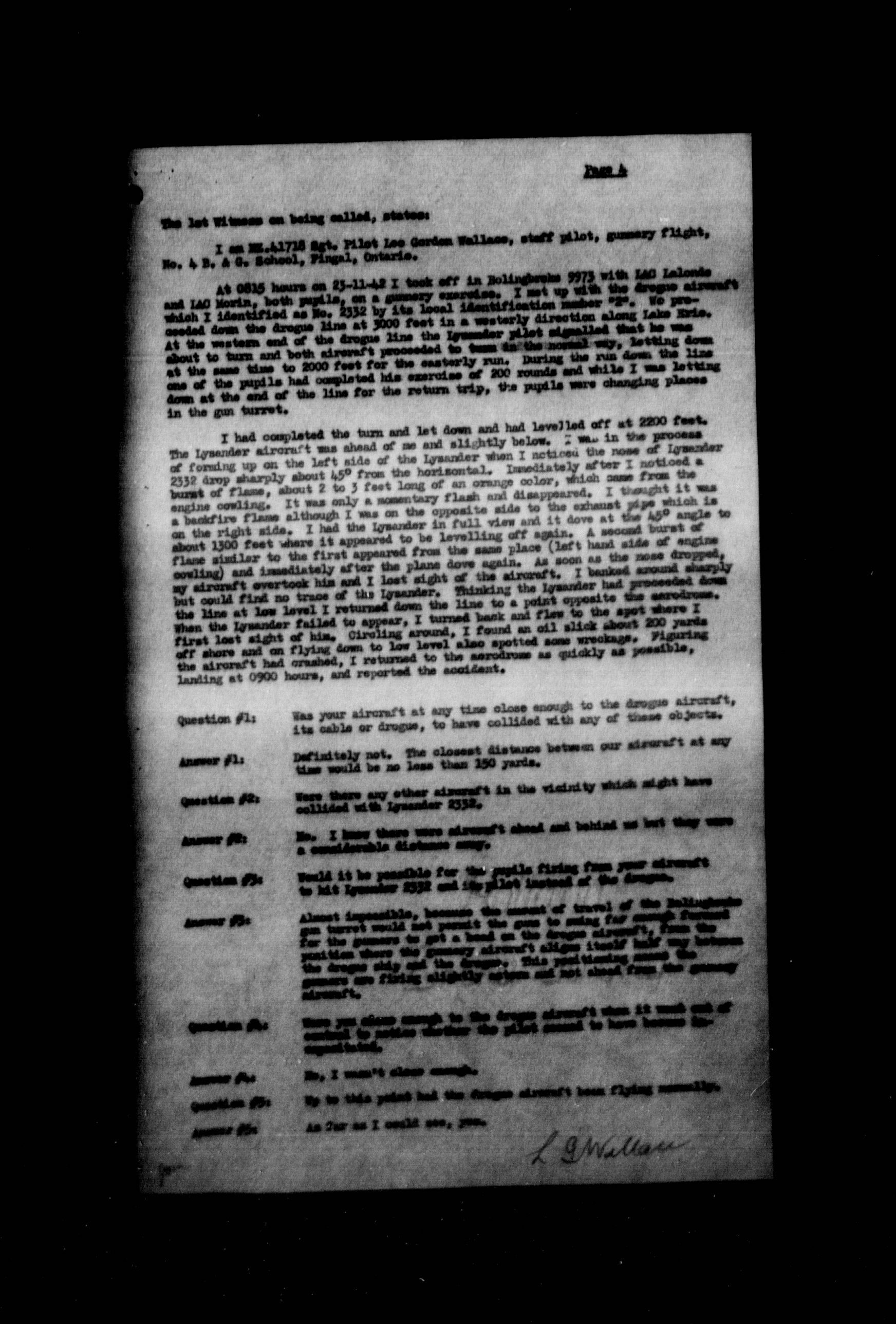 Labourer joined RCAF for General Duties and became a drogue operator. Aboard Lysander 2332 at Fingal, Ontario, plane crashed into Lake Erie.
Ralph Howard Hilchie, born at Tangier, Halifax County, Nova Scotia, was the son of Angus Howard Hilchie (1874-1958), fisherman, and Etta May (nee Gault) Hilchie (1881-1987) of Pope's Harbour, Halifax County, Nova Scotia. He had three brothers, James Murray Hilchie, John Edward Hilchie (1912-1989), and Avery Morton Hilchie (1915-1988), and five sisters, Mrs. Elvetta May Lopez (1908-1996), Tampa, Florida, Mrs. Elaine Savinia Ferrard, Gardner, Massachusetts, Mrs. Tina Melinda Homel, Templeton, Massachusetts, Mrs. Gladys Jenetta Mason, Chelmsford, Ontario, and Miss Jean Isabell Hilchie, Halifax, NS. When Ralph signed up, he indicated two of his sisters were 'in bed' in Halifax with tuberculosis. They attended the United Church.
Ralph had green eyes and dark hair, stood 5'6" tall and weighed 140 pounds. He was a labourer when he enlisted with the RCAF for general duties in August 1940. He liked swimming, fishing and dancing, moderately. He had hazel eyes and dark brown hair. A brown birthmark on the inner side of his left thigh was noted, 3" above his knee. Ralph smoked between 8-10 cigarettes a day and drank two quarts of beer a week.
The Justice of the Peace, farmer Sam H. Henley in the County of Halifax wrote, "This is to certify that I know Ralph H. Hilchey [sic] of Pope's Harbour. He is of good character and should qualify for the position he has applied for." August 3, 1940. Ralph's teacher in 1929, Mrs. Rae W. Hull (formerly Miss M. Fancy) wrote, "This is to certify that Ralph Hilchie was graded from Grade VIII to Grade XI at Pope's Harbour School in June 1929." Ralph indicated he had only a Grade VIII education from 1919-1929 at Pope's Harbour School. He finished one year high school and left school at 16, according to his attestation papers. Councillor District 20, P. S. Ferguson wrote on August 3, 1940: "This is to certify that I have known Ralph H, Hilchey [sic] of Pope's Harbour for a number of years. He is a young man of good character, sober and industrious and well qualified to fill the position which he was applied."
Ralph was accepted into the RCAF October 12, 1940. He found himself at No. 1 Manning Depot in Toronto, Ontario on October 14, 1940. Ralph was at No. 4 B&G School, Fingal by November 1940.
"Blood pressure too high for flying duties at start of examination. Suitable for drogue flying/towing." January 17, 1941.
He found himself at the station hospital four times: September 30 - October 9. 1941, May 27, 1942, June 18, 1942, and June 28 - July 3, 1942.
He married Jean Blanche Eaton on May 2, 1942 at Sheffield Mills Station, Nova Scotia. She provided a letter of reference, written by Reverend Freeman C. Fenerty, BA (Th) of the First Cornwallis United Baptist Church, Upper Canard, Nova Scotia. "This is to certify that I am personally acquainted with Miss Jean Eaton who is engaged to be married to Ralph Hilchey [sic], RCAF. I have known her for over three years (the time of my pastorate here) and recommend her most highly as a fine Christian girl."
23 Nov 1942, Lysander, 2332. No. 4 B&GS, crashed into Lake Erie one half mile from Eagle, Ontario. CREW: *RAF 116691 Sgt/Pilot Richard Owen Gray, Pilot,*RCAF R76059 CPL H.H. Hilchie, Drogue Operator. On Ralph's death certificate, "Aircraft did not return from flight over Lake Erie." On another document: "Occupants believed drowned."
The Court of Inquiry can be found starting at image 602 on microfiche T-12343.
Location of Occupants: "Sgt. Gray in pilot's cockpit. Cpl Hilchie in rear drogue operator's compartment." Quantity of Fuel in each tank: "One tank full on take-off (95 gallons). Aircraft flew approximately 25 minutes before crashing." Equipment carried: "Drogue gear, no bombs or guns." Circumstances: "Gunnery exercise with Lysander 2332 acting as drogue aircraft for Bolingbroke. No special instructions. Lysander 2332 had just completed its turn and let down at western end of drogue line and was seen by pilot of accompanying gunnery aircraft to go into dive, partially recover and then resume dive. Two short bursts of flame were observed emanating from the engine." Cause: "Obscure, pending location and salvage of aircraft with occupants. Aircraft went out of control and dove into Lake Erie."
"Dull day, but not raining. Cpl R. H. Hilchie General Duties, Drogue Operator, Lake Erie about 20 miles west of RCAF Station, Fingal, about 0900 hours, November 23, 1942. Towing drogue to gunnery exercise. Pilot: Richard Owen Gray in Lysander 2332. Fatal accident. Body not recovered. No further investigation is to be carried out, either by court of inquiry or investigating officer in order to establish blame, a notation to that effect should be recorded as the answer to this question."
The first witness, Sgt Pilot Lee Gordon Wallace, staff pilot stated that "at 0815 hours on 23-11-42, I took off in Bolingbroke 9573 with LAC Lalonde and LAC Morin, both pupils, on a gunnery exercise. I met up with the drogue aircraft which I identified as No. 2332 by its local identification number '2.' We proceeded down the drogue line at 3000 feet in a westerly direction along Lake Erie. At the western end of the drogue line the Lysander pilot signaled that he was about to turn and both aircraft proceeded down to the _____ way letting down at the same time to 2000 feet for the easterly run. During the run down the line one of the pupils had completed his exercise of 200 rounds while I was letting down at the end of the line for the return trip, the pupils were changing places in the gun turret. I had completed the turn and let down and had leveled off at 2200 feet. The Lysander aircraft was ahead of me and slightly below. I was in the process of forming up on the left side of Lysander when I noticed the nose of the Lysander dropped sharply about 45 degrees from the horizontal. Immediately after I noticed a burst of flame, about two to three feet long of an orange colour, which came from the engine cowling. It was only a momentary flash and disappeared. I thought it was a backfire flame although I was on the opposite side to the exhaust pipe which is on the right side. I had the Lysander in full view and it dove at a 45 degree angle at about 1300 feet where it appeared to be leveling off again. A second burst of flame similar to the first appeared from the same place, left hand side of engine cowling, and immediately after, the plane dove again. As soon as the nose dropped, my aircraft overtook him and I lost sight of the aircraft. I had banked around sharply but could find no trace of the Lysander. Thinking the Lysander had proceeded down the line at low level, I returned down the line to a point opposite the aerodrome. When the Lysander failed to appear, I turned back and flew to the spot where I first lost sight of him. Circling around, I found an oil slick about 200 yards offshore and on flying down to low level also spotted some wreckage. Figuring the aircraft had crashed, I returned to the aerodrome as quickly as possible, landed at 0900 hours and reported the accident. The aircraft did not collide with its cable or drogue. The closest distance between our aircraft at any time would be no less than 350 yards." He did not believe his pupils would have hit the Lysander.
Mrs. Kenneth Gray, of RR2, was the second witness. "At about 15 minutes past 8:00 o'clock in the morning of November 23rd 1942, I was standing outside our farmhouse. I think my attention was attracted by an unusual noise and I looked up to see the tail of an aeroplane with a drug target attached, diving at an almost vertical angle. I only saw the airplane for an instant and couldn't say whether it was on fire or not. It disappeared behind the Cliff by the Lake Erie. I couldn't see the airplane hit the water but immediately after I saw pieces fly up. The aeroplane was diving at an angle of 80 degrees when it disappeared beyond the cliff and trees so it must have hit the water… the weather was rather foggy, the wind was blowing hard and the lake was very rough. It was not raining but the sun wasn't shining. It was a dull day and rather foggy."
The third witness, F/O John W. Furrow, C7241, OC Drogue Flight stated, "Sgt. Gray had been a pilot in drogue flight since May 1942. Since that time, I have observed him closely. He appeared to be of above average ability. He was very reliable and cautious. He was somewhat reserved in his flying. He was thoroughly dependable in carrying out his duties. I recommended him for a Commission late in the summer. To my knowledge he had not been on sick parade during the period of time he served in drogue flight. He appeared to be in the best of health just before taking off on the fatal flight. He had not reported on sick parade or told me of any intentions to do so that morning."
The fourth witness, Sgt. Pilot Robert Thomas Stolzle, RCAF [who then flew with the US Army Air Corps earning the DFC] stated that he had flown Lysander 2332 on a drogue exercise between 1415 and 1515 hours on November 22, 1942. "This was the last flight before Sergeant grey crashed on November 23rd, 1942. The aircraft flew normally and flying controls worked freely and smoothly in the correct manner. However, the engine seemed to run a bit rough causing the aircraft to vibrate." He said that at 150 mph, the engine ran better. At other boost setting, the engine seemed to run properly. "The oil temperature and pressure were normal as was the cylinder head temperature. There were no signs of the engine overheating. On the ground before I took off, I checked the magnetos and found a drop of 150 rpms on each magneto when tested at 2000 rpms. A drop of 150 rpms is not considered excessive, but I would place an aircraft unserviceable with a 200 rpm drop."
The investigating officer stated, "Even assuming that there was engine failure, this would not explain why the aircraft dove practically vertically into Lake Erie as stated by Mrs. Gray, who witnessed the incident from her home less than a half a mile away. If the pilot had control, he would attempt a forced landing on the shore nearby. These possibilities should be investigated: 1. Engine and structural failure. 2 Pilot failure - carbon monoxide poisoning or sudden illness. 3. Examination for possibility that pilot had been fired on by gunfire from another aircraft. 4. Collision with another aircraft...Sgt. Pilot Gray was familiar with and had initialed a memorandum to pilots issued dated November 14th, 1942. This memorandum instructed pilots to leave the cockpit sliding hoods of Lysander aircraft partially open in flight to eliminate any possibility of carbon monoxide forming in the cockpit."
November 27, 1942: "This aircraft dove into the lake about ½ mile southeast off the short opposite the small hamlet of Eagle, approximately 15 miles west of this nit at the extreme western end of the gunnery danger area. The following action has been taken: (a) A patrol of security guards has been maintained by day and night along the adjacent short line to rescue the personnel or pick up additional wreckage. (b) On November 23, and 25th, this unit's range patrol boat, together with the Department of Public Works' tug 'Hercules' patrolled the area and swept the bottom for traces of wreckage, all without result. (c) Aerial patrols have failed to reveal any trace of the aircraft or occupants, because the water is rough and muddied. (d) Marking buoys have been placed. at the location where the aircraft is thought to have struck. Unless instructed to the contrary, I intend to abandon the search for the wreckage of this aircraft and the occupants for the following reasons: (a) The location is in an unprotected part of Lake Erie where sweeping operations can only be carried out in calm weather. (b) Air gunnery exercises must be curtailed during sweeping operations with a consequent interruption to that phase of training. (c) The distance from Port Stanley, where this unit's Marine Section is located, to the scene of the accident is 19 miles. As the range patrol boat cannot remain out overnight, a 35 mile daily trip is involved with consequent expense and misemployment of personnel."
December 4, 1942: "If and when the wreckage is washed ashore, the Command Investigating Officer will reopen the investigation with a view to determining the cause of the accident."
A letter dated June 1, 1943: "The following information would tend to indicate that the above-mentioned airmen were killed as a result of a flying accident at approximately 0850 hours November 23, 1942. The Investigating Officer's report submitted by No. 1 Training Command…dated 4th December 1942 established that the above-mentioned airmen were pilot and passenger in Lysander 2332, and that a panel bearing local identification No. 2 which was the local number assigned to Lysander 2332, was washed ashore at the point where the evidence of a civilian witness indicated that the plane plunged into the waters of Lake Erie. Patrols of that area of the lakeshore have been maintained by this Unit, and during the month of April various pieces of wreckage were picked up; none of which, unfortunately, contained the identification number of the aircraft in question. On 5 April 1943, some human remains, including a right hand, were washed ashore. Fingerprints were secured and forwarded for possible identification…dated 8th April 1943, definitely established that the fingerprints were not those of Cpl. Hilchie and pointed out that as there was no record of fingerprints for RAF personnel, it could not be established whether or not they were those of Sgt Gray. A periodic patrol has been maintained since that date with no further results."
On June 8, 1943, Jean wrote a letter indicating that she had not received any "further evidence or news concerning my husband. I presume that he was drowned last November 23rd."
On July 20, 1943, a letter was received by the Secretary, Dept of National Defence for Air in Ottawa from Fingal, Ontario. "On 18th July 1943, a badly decomposed body was found at Tryconnel, Ontario in the vicinity where the above-mentioned airmen crashed in Lysander 2332 on 23 November 1942. There was an RCAF issue sock and show on the right foot and although further identification was not possible, the Coroner, Dr. M. G. Graham, Dutton, turned the body over to this Unit for burial. Enclosed herewith are reports…which while stating that it is impossible to definitely identify the body, that there is reason to believe that it may be that of one of the above-mentioned airmen. Insofar as the Medical Officer does not feel that the evidence is conclusive enough to issue a Death Certificate, it is purposed, subject to your approval, to bury the body as that of an unidentified RCAF airman. It is requested that this Unit be advised by signal of your concurrence or otherwise, in order that funeral arrangements may be proceeded with." signed F/L J. H. Bales for CO No. 4 B&G School.
On July 22, 1943, Jean wrote another letter. "I answered the letter of the same week and as yet I have not heard any word from you. I understand after six months since my husband was drowned and after he is announced official [sic] dead that I will receive his personal belongings he had at the Bombing and Gunnery School at Fingal, Ontario. I would appreciate it very much if you would look into this matter for me and let me know anything concerning my husband." In late October 1943, she filled out the estates form. In early March 1945, she made application for the service gratuity on behalf of her deceased husband. She had moved several times since Ralph's death. Mrs. Hilchie, Ralph's mother, also applied for the service gratuity in late April 1945.
In late October 1955, Jean received a letter informing her that since her husband had no known grave, Ralph's name would appear on the Ottawa Memorial. Pilot Officer Gray's name is also on the Ottawa Memorial; his remains were interred at the Fairview Cemetery, Dutton, Ontario.
See the websites noted below for more information.
LINKS: