Robert Henry Brown J27207
May 7, 1922 - August 1, 1943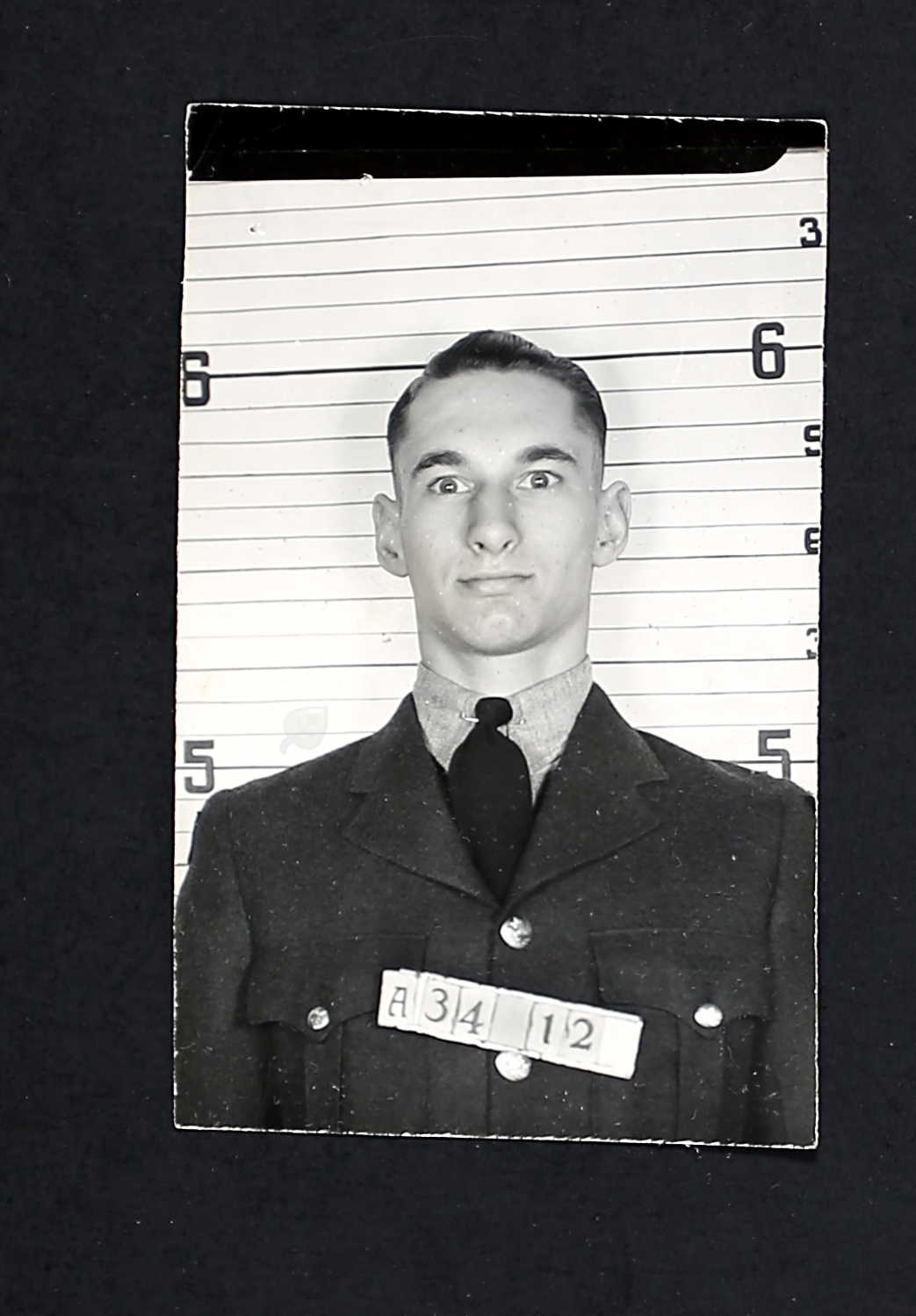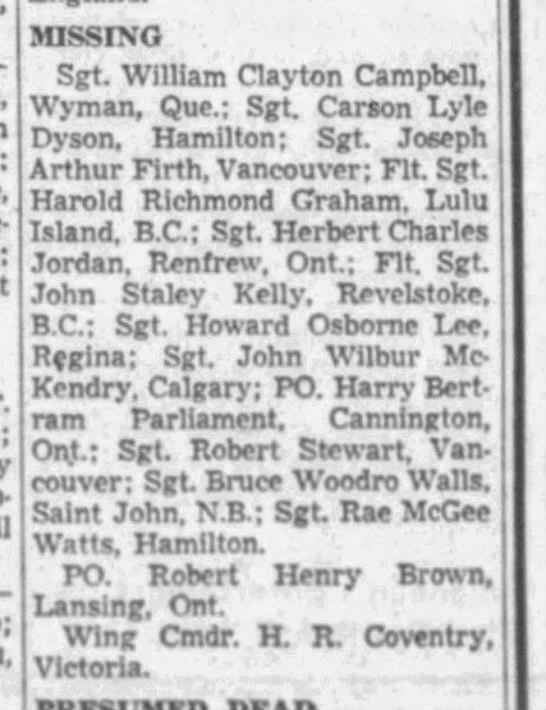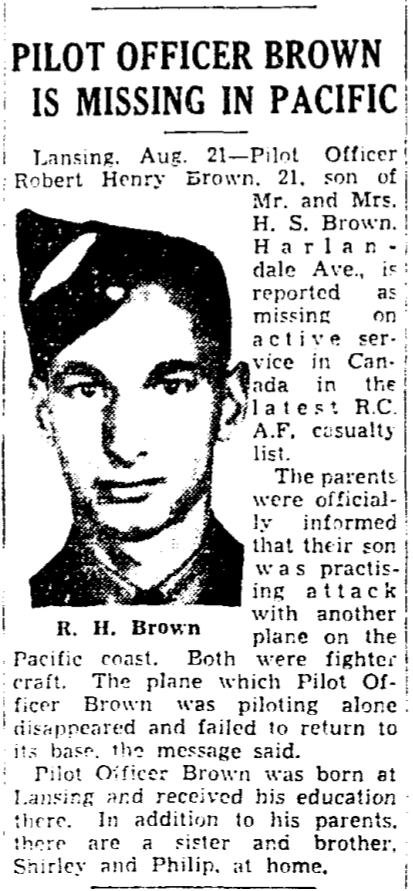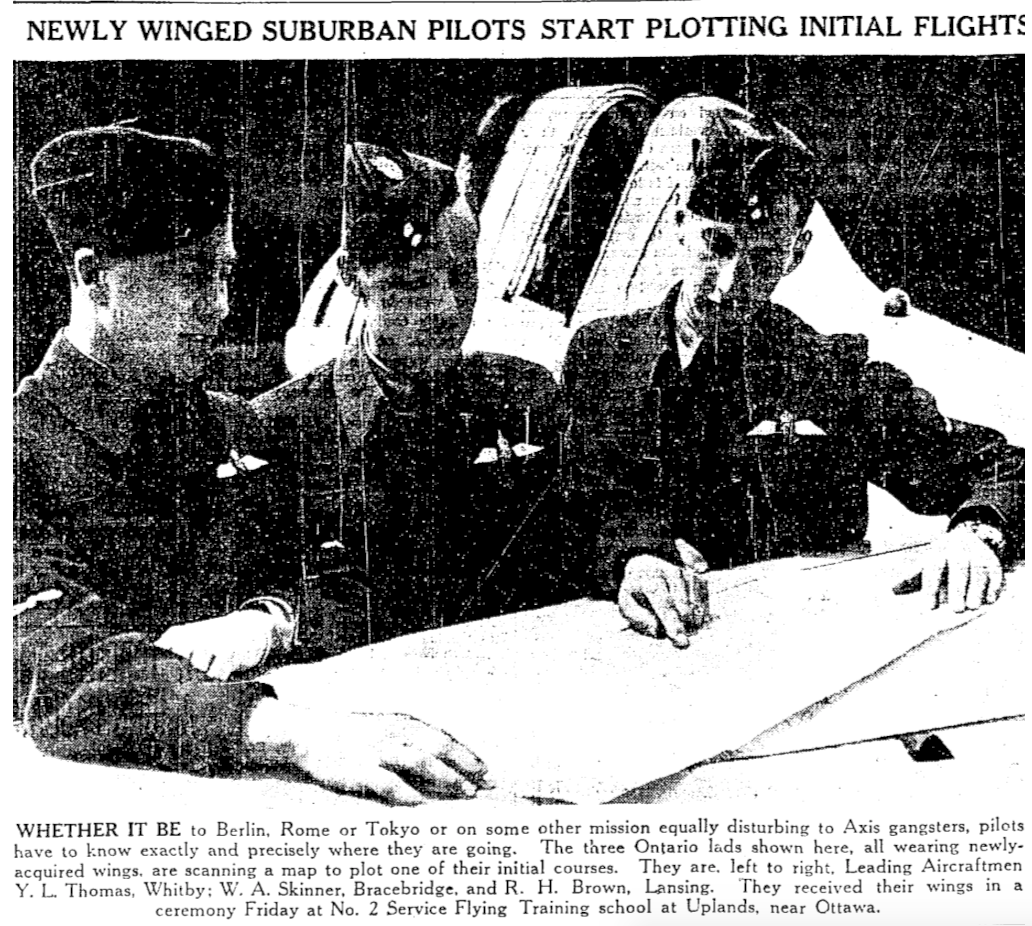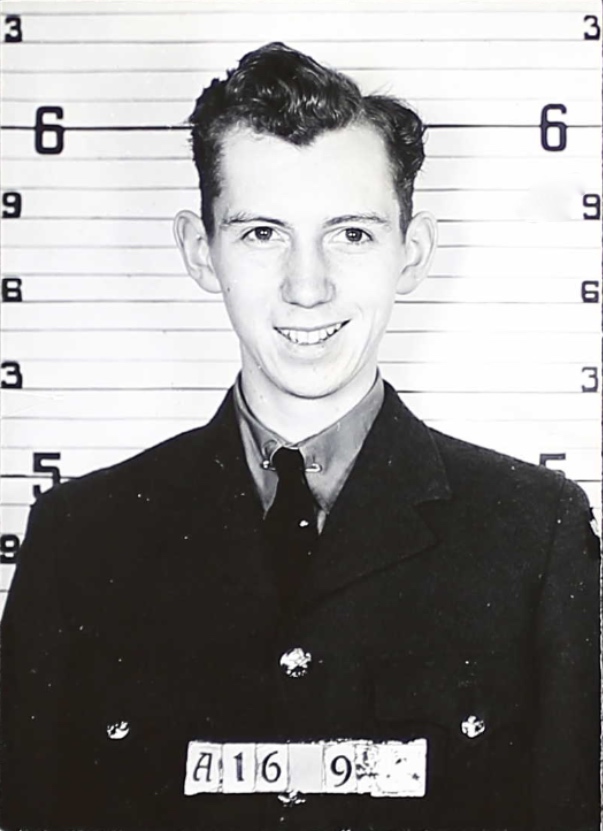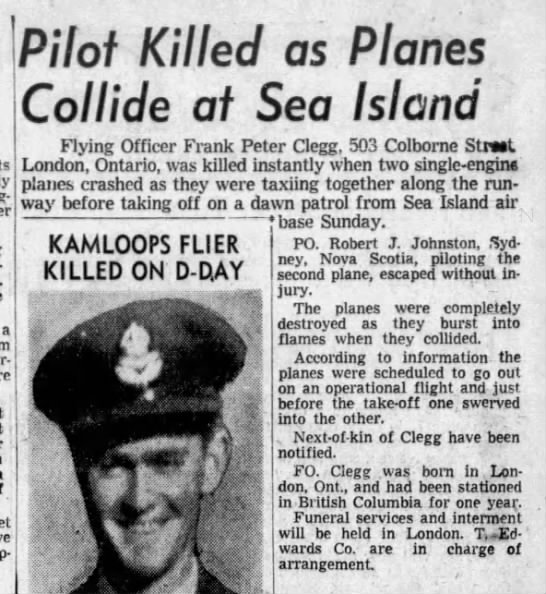 Young Hoover salesman became pilot with RCAF. Posted to the West Coast and Squadron 133, during a training exercise, was lost near Tofino in Hurricane 5381.
Robert Henry Brown was the son of Henry Speight Brown (1894-1992), electrical engineer, and Dorothy Ada (nee Verini) Brown (1896-1964) of Lansing, Ontario. He had one brother, Philip Michael and one sister, Shirley Anne. The family was Presbyterian.
Robert enlisted in Toronto on April 21, 1942. He had been working at Hoover Canada Ltd as an electric cleaner salesman for six months prior, earning $100/month. Before that, he worked in drafting with Cansfield Electrical Works Ltd, earning $60/month, spending most of this money building model airplanes. After the war, he thought he would like to be involved in aeronautical drafting.
His hobby included building and flying model aeroplanes and gasoline motors. He was not too involved in sports, except some gymnastics. Robert stood 5'10 ½" tall and weighed 137 pounds. He had hazel eyes and brown hair. "Wiry, good mentality." Other comments on his attestation form: "Choice: Bombardier, AG, but would rather be in radio work on ground than be an observer. Has always wanted to fly and has made model planes and gasoline engines [good] better than average mechanical interest. Average emotional stability. Sport: never taken any great interest in sports. Plays good game of ping pong, however. Skis a little. Keen. Eager. Physically fit." The interviewing officer's comments: "Mature appearance, pleasant, sincere, applied 29-9-41, but parents wished applicant to postpone enlistment until he reached his 20th birthday, obtained matriculation 1941. Very keen to fly, gas model aircraft an extensive hobby and mechanically inclined, moderately active in sport, especially gym work; good type, good aircrew material; recommended."
Robert began his journey through the BCATP at No. 1 Manning Depot, Toronto April 21, 1942. He was then sent to No. 1 ITS, Toronto, May 12 until June 12, 1942. "Alert, conscientious airman with pleasant manner who experienced difficulty during the course, due to lack of application. Deportment and service spirit good. Second aircrew recommendation: air bomber."
From there, he was sent to No. 7 EFTS, Windsor until February 20, 1943. He was at the station hospital from July 15-16, 1942 and again August 1-14, 1942. "A good average student who should make excellent Service material. Very disciplined and keen. Link 65%."
Then he was at No. 2 SFTS, Uplands, Ontario, until June 25, 1943. "A very determined type who has worked hard. An average pilot with no outstanding faults. General bearing and deportment above average. Recommended for appointment to Commission rank." Robert earned his wings on June 11, 1943.
Robert was sent west to Western Air Command, Vancouver June 26, 1943, attached to 133 Squadron at Boundary Bay, BC, transferred to Tofino.
On August 1, 1943, Robert went missing while flying Hurricane IIB 5381. In February 1944, Mr. Brown wrote a letter to Ottawa: "My son, the above-mentioned flyer, has now been missing for over six months. We thought that we might have received his belonging are this. We trust that you will forward them as soon as possible."
In the summary of the accident investigation, the plane went down in the sea near RCAF Station Tofino. "Quarter attack practice with P/O Frank Peter Clegg, J27302 in Hurricane 5384. P/O Brown was to be target for first half hour. Weather: visibility 7 to 10 miles, ceiling 1,000 feet, unlimited above 1500 feet. PILOT: P/O Brown's total flying time was 270 hours of which 24 hours was on type. His instrument flying time was 36 hours. Link time about 35 hours. He had been flying at the Unit since July 5th and his flying ability was considered good. DESCRIPTION OF FLIGHT: the two aircraft took off at 1430 hours and climbed to 5000 feet after reporting to sector. The exercise was carried out over the sea from Point Cox, northwest of the base, to Ucluelet. P/O Clegg in 5384 carried out four or five attacks on P/O Brown in 5381 during which time he had radio communication with F/O Brown. the latter made no mention of trouble and about 5 minutes before P/O Clegg lost him, inquired when he could change to the attack. Between breaking away from the last attack and returning for another, P/O Clegg lost sight of 5381. He held altitude while trying to find 5381 and, not locating it after 10 minutes, notified sector. P/O Clegg had then been flying about 10 minutes and continued to search for 10 more or 15 minutes more without results and returned to base. Search for 5381 was commenced immediately and continued daily until the 5th of August but could not be done officially due to unfavorable weather conditions. A total of 77 hours and 9 minutes was flown searching. A piece of aircraft fabric identified as part of a hurricane was found in the C3 miles from the shore and houfe between Tofino and Ucluelet. Records indicated the aircraft was serviceable for flight and it had flown satisfactorily on a 45-minute flight proceeding the subject one period the aircraft and Flying Officer Brown are still missing. FINDINGS OF INVESTIGATION: pilot error in judgment due to inexperience. Cause: Obscure.
Flying Officer Clegg's testimony: "I am employed as a fighter pilot in training flight at 133 Squadron RCAF, Tofino, British Columbia. On the 1st of August 1943, I was instructed by Flight Lieutenant J McColl to carry out practice quarter attacks with Pilot Officer R. H. Brown. I was detailed to fly Hurricane 5384 having the letter D marked on it, and Pilot Officer Brown was detailed to fly Hurricane 5381, having the letter T marked on it. Pilot officer brown and I took off 1430 hours and we're airborne at 1432 hours when we reported to sector. We climbed to 5000 feet. The visibility above 1500 feet was excellent. At 1500 feet there was a generaal overcast extending over the ocean and the land except for holes at tofino, ucluelet, and the airport. This overcast did not obscur the mountaintops. Pilot officer brown was acting as target and I was carrying quarter attacks upon him. I carried out either four or five attacks upon him and after breaking away from the last attack and returning for another attack, I lost Pilot Officer Brown's aircraft. In this type of attack, it is not uncommon to lose the target aircraft for a short period of time period accordingly, I did not become alarmed at this but continue to hold my altitude and look for the target aircraft for a matter of 10 minutes. I then called pilot officer brown on my radio. Being unable to contact him by radio, I then called sector. I would estimate that about 1/2 an hour had elapsed between the time we took off and the time I called sector. Pilot officer Brown's aircraft was yellow leader and ____ was yellow 2. I heard sektor trying to contact yellow leader. I continued to look around for P/O Brown's aircraft for a further 10-15 minutes without success….the only time I called him was after I lost him as mentioned."
[NOTE: Flying Officer Frank Peter Clegg died on June 25, 1944 as the result of an aircraft collision on the Pacific coast and is buried at the London (Woodland) Cemetery in Ontario, in the mausoleum. He was flying Kittyhawk III 836, with 133 Squadron when two fighter planes collided on the runway at Sea Island. The pilot of the other plane, P/O Robert John Johnston of Sydney, NS escaped injury.]
On August 1, three sections of Hurricanes were airborne immediately to search the area. Three Bolingbrokes. All returned due to weather. August 2, search late starting due to weather. Three Venturas and one Stranraer and Bolingbroke. Oil slick reported by Bolingbroke 8 miles 247 degrees T from Tofino Village. On August 2nd and 3rd, ground parties searched to island and the Tofino Peninsula, with no results. On August 4th, searched Wreck Bay with no results.
The second witness, FL John Brian McColl stated that Pilot Officer Brown was enthusiastic and had natural ability and was serious. "His indications were that he would become a good pilot."
When his father filled out the estates form, Mr. Brown wrote that Robert had $12.70 in a CBIC account in Lansing, Ontario with two life insurance policies, premiums of $37 paid. He had $32.05 in debt. Robert owned a Gladstone bag and its key was not returned with the remaining personal effects. "We will be very pleased if you will have this matter cleaned up without further delay."
In late October 1955, Mr. Brown received a letter from W/C W. R. Gunn informing him that since Robert had no known grave, his son's name would appear on the Ottawa Memorial.
On microfiche T-12349, starting on image 4589, the full court of inquiry can be found.