Philip Olsen R58625
May 23, 1920 - July 24, 1943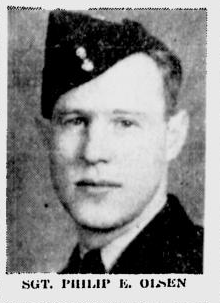 Seaman from Vancouver enlists with RCAF Marine Section
Philip Eric Olsen was the son of Mical Olsen, from Norway, and Elizabeth (Lily) (nee Olsen) Olsen (1880-1956), from England. They lived at 1920 Charles Street, Vancouver, BC. He had three brothers: Michal Joseph (1905-1994), James Olaf (1914-1988), and Hans Raymond. The family was Roman Catholic. (Mr. Olsen passed away on November 16, 1939 at the age of 76 due to cancer of the stomach. One sister died in infancy at the age of 2.)
Philip attended school in Vancouver from 1927 to 1937, graduating from Vancouver Technical High. He was employed as a deckhand for a variety of shipping and towboat companies from 1937 to 1940. He rose from deckhand to able seaman and assistant mate.
Philip had applied to the RCAF initially in August 1939 but was turned down due to lack of education for tradesman, but then he was accepted a year later as part of a motorboat crew. He felt that he was familiar with small and large boats, plus the ability to splice rope and wire rope were skills useful to the RCAF. He added: "A knowledge of navigation and chart work, familiar with the BC Coast." He admitted that occasionally, he suffered from sea sickness, but only in rough seas. "Good physical specimen," stated the consultant who assessed Philip medically. "Excellent physical condition."
He played English rugby moderately, as well as hiked and skied, plus enjoyed gymnastics and swimming. Philip stood 6'1" tall, weighing 186 pounds. He had blue eyes and fair hair, with a fair complexion. He smoked 15 cigarettes a day and drank the occasional alcoholic beverage.
Philip was sent to Toronto to No. 1 Manning Depot September 9, 1940 then sent to RCAF Trenton one week later to take a course of instruction in Seamanship & Navigation at Motorboat Crewman's School, where he received an 86.8%, assessed above average. "Good on seamanship." At the end of October, he was back in Vancouver. He was then sent to Prince Rupert, BC, back to Vancouver, then to Victoria attached to the W. A. C. Then to the W.M.C.
Philip gave his mother $37 a month for partial support. "Three married brothers sometimes help a little."
While at RCAF Station, Vancouver, May 7, 1941, Philip was confined to barracks for three days because he was found to have a civilian suitcase in his locker which was contrary to regulations.
In December 1941, he was assessed at Prince Rupert, BC, receiving an 89%.
He was assigned duty aboard the "SS Albertolite," the "Midnight Sun," the "Snow Prince," and the "BC Star." He was also at No. 3 Repair Depot.
In February 1943, at Alliford Bay, BC, he was assessed AA on dress, personal appearance, and deportment on and off duty. He earned an 83% on his tests.
His character was deemed very good by June 1943 and his trade assessment was superior.
On July 24, 1943, the BC Star sunk. Life rafts were the only wreckage found. Theories as to the cause of the sinking of the BC Star included the ship was overloaded, it was torpedoed by a Japanese submarine, or it hit a mine. Please see links below for more information.
Philip had $35 in savings at the Royal Bank, plus a $100 Victory Bond, and $1000 and $250 in life insurance, his mother the sole beneficiary.
Mrs. Olsen received a letter dated March 8, 1944 from Air Marshal Robert Leckie, offering his sincere and heartfelt sympathy on the loss of Philip. Eleven and a half years later, she received another letter, this time from W/C Gunn, informing her that since Philip had no known grave, his name would appear on the Ottawa Memorial. Mrs. Olsen died on April 13, 1956.
LINKS: