Peter Charles Zoephel F11212
September 8, 1921 - January 17, 1943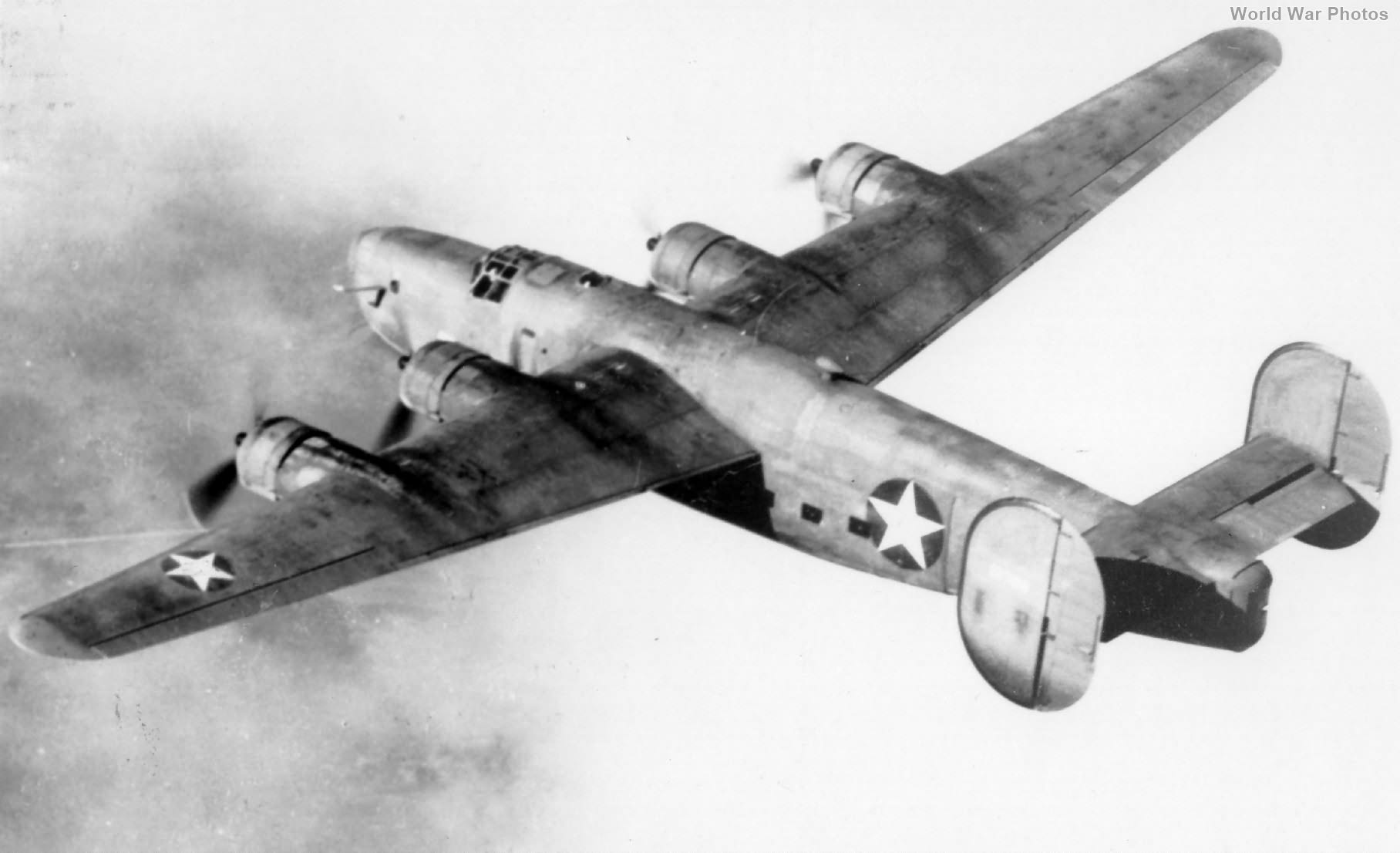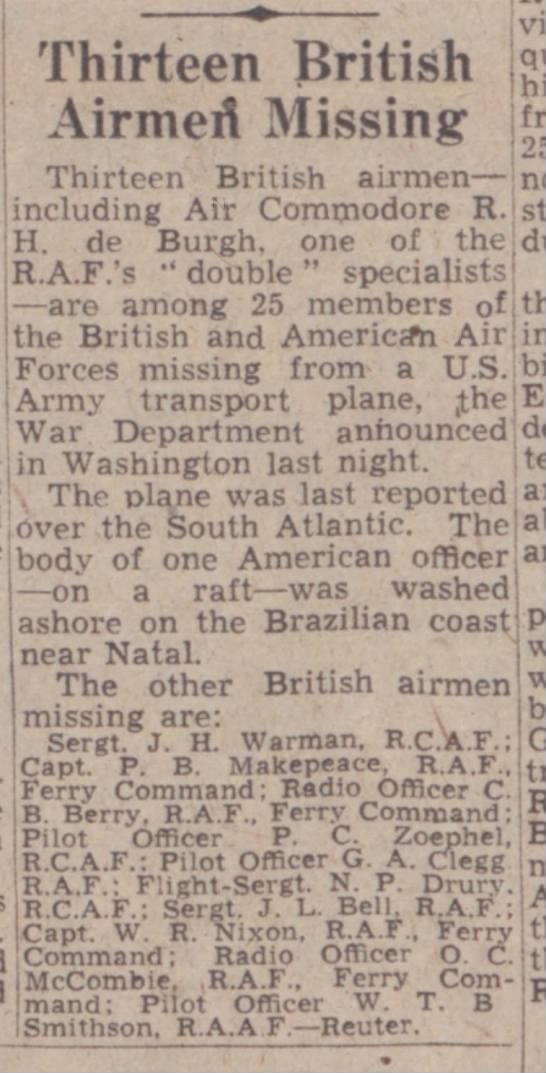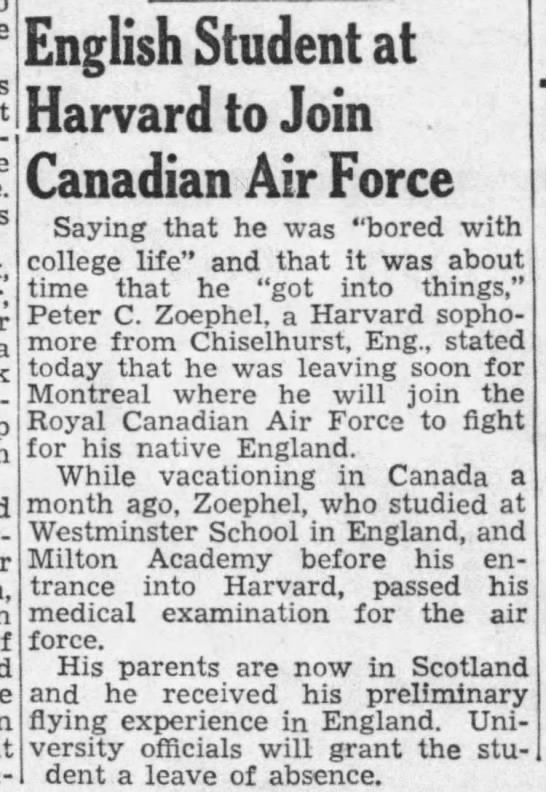 Harvard student from Britain joined RCAF becoming observer. Aboard Liberator 41-11708, he and twenty-five other men were lost off the coast of Brazil.
Peter Charles Zoephel, born in Blackheath, Kent, England, was the son of Ernest Charles Zoephel, owner and manager of British Domolac (paint), and Dorothy Frances Gertrude (nee Romeril) Zoephel, Chislehurst, Kent, England. He had younger two brothers, Michael Charles Zoephel and Christopher Charles Zoephel, and two sisters, Patricia Dorothy Watson [with RCAF No. 4 Group, Prince Rupert, BC] and Meryl Zoephel. They attended the Church of England.
Peter spoke English fluently, some French and Spanish, a little German and Swedish. He was a student of languages and economics at Harvard when he decided to enlist with the RCAF in early 1941. Prior, he had been at Milton Academy in Milton, Massachusetts. He lived in a hotel in Montreal until he was accepted. He had been a cadet with Westminster School, OTC from 1935-1939 in London, England until he left the school.
"Very fine type of young man; keen, intelligent, good athlete; very good linguist and very good appearance. Should make very good air crew material." Other comments: "Very good type. Passed through all the tests very easily with the best responses. English boy with good motives. Mature for age. Above average pilot material."
Peter had 5 ¼ hours in flying experience (dual) and 5 hours as a passenger. He had some knowledge of internal combustion engines (construction, repair, maintenance_ and of aviation and aeroplanes. He liked to row, fence, play tennis, squash and ski. He also liked to ride, shoot, sail. He played some rugby, soccer and cricket. Peter stood 5' 10 3/8" tall and weighed 152 pounds. A scar on the bac of his neck was noted. He had hazel eyes and brown hair. He smoked moderately and drank alcohol rarely.
Peter started his journey through the BCATP at No. 1 Manning Depot in Toronto on February 8, 1941. He was then sent to No.4 B&G School, Fingal, Ontario March 22 to May 28, 1941. From there he returned to Toronto and No. 1 ITS from May 29 to August 20, 1941. "Splendid type. Well-educated, polished, serious, and will make excellent pilot material. Recommended for commission. Mature. Second recommendation: Air Observer." He was 77 out of 182 in his class with 86%.
He was then sent to No. 10 EFTS at Mount Hope, Ontario, near Hamilton. Peter discontinued flying training at his own request (very nervous and progressing slowly). "This student is temperamentally unsuited to flying. His flying progress was average to start with but has since deteriorated. Appears nervous and tense and is a voluntary washout. Recommended for Air Observer which was his original choice. Standing well above average. 82%. Air Frame 60%, theory of flight 80%, engines 80%, armament 95% , signals 85%. Attentive. Good pupil."
Peter was sent to KTS in Trenton until he remustered to navigator at No. 10 AOS, Chatham, NB October 27, 1941 until January 30, 1942. "Air work exceptionally neat and accurate. Excellent observer and officer material. Should be good material for Coastal Reconnaissance. 3rd in class of 22. 87.4%."
He was at the Christie Street Hospital in Toronto From June 26 to July 12, 1941. He was also at the station hospital from December 12 - 20, 1941.
From Chatham, he was sent to No 1 B&G School, Jarvis, January 31 until March 14, 1942, where he earned his Air Observer's Badge. "Above average in bombing. Average in gunnery. A very able man most conscientious and reliable, able and willing to take the initiative." He was first in his class with 78%.
He was then sent to No. 2 ANS, Pennfield Ridge, NB March 15 until April 12, 1942. He earned his commission here. "Neat and accurate worker who has plenty of confidence and more than his share of ability. Thoroughly conversant with all aspects of ground work. Bombing: 87%." He was 4th in his class of 132. "Commendable character. Conscientious and sincere. Valuable addition to commissioned ranks."
He was then in Charlottetown (31 GRS) ["Above average. This pupil has worked very well during the course and should make a very competent navigator. Above average in ground training. This pupil is intelligent but erratic. His results of examinations [76%] were very disappointing. This Officer will benefit from practical experience. Supervision may be needed in view of his tendency to be erratic." 18th out of 27 in class] He was then sent to Moncton, NB before being sent to Debert and then was taken on strength with the RAF Ferry Command, Dorval, Quebec by July 24, 1942.
Peter had war bonds in the Bank of England and 50 Pounds Saskatchewan stock in London, as well as two bank accounts: First National Bank of Boston and Bank of Montreal. He had an extensive list of personal effects including two dress suits and an officer's fur hat wrapped in newspaper.
From RAAFA Aviation Heritage Museum: "On January 17, 1943, Liberator 41-11708 went missing on an operational flight. The aircraft departed from Accra, Ghana, at 2330 hours on a flight to Natal, Brazil, but failed to reach its destination. The aircraft was crewed by personnel from US Transport Command and carried RCAF, RAAF and civilian passengers, a total of 26 men. One body may have been found on a life raft in the vicinity of Natal, but no trace of the other passengers or crew was found. In 1948 it was recorded that the missing personnel had lost their lives at sea."
Another account: The night of Jan 18th the Consolidated C-87 Liberator 41-11708, with a crew of six and 20 passengers left Acrra-Kotoka Airport in Ghana for Natal Airport in Brazil. It crashed into the sea. On Feb 5th one of the passengers, Major Mills, washed ashore in a raft at Natal, Brazil. Major Mills had died two days prior. Six dog tags and a notebook belonging to 1Lt. Byler were found with Major Mills' body.
The links below provide further information within the men's Find a Grave pages.
CREW: 1. Capt. Orval Eknes, Scanlon Minn. pilot of the transport. 2. Capt. Felton B. Lancaster, Mexia, Tex. co-pilot. 3. Second Lt. Joseph F. Peoples, Jersey City, N.J. navigator. 4. Master Sgt. Alvin A. Young, Bossier City, La. radio operator. 5. Sgt. James N. Clauss, Washington, Ind. crew member. 6. Master Sgt. Charles W. McKain, Franklin, Pa. crew chief.
PASSENGERS: ATC PERSONNEL: 7. First Lt. John A Byler, navigator 8. First Lt. Hugh P. Minor, Co-Pilot 9. Major Arthur Mills, 1st Pilot (These men were returning from having delivered a B-17 to Africa from Miami.) 10. Corporal Joseph P. Braniff 11. Corporal Grover K. Trees (Board at St. Erval, United Kingdom) 12. Lt. Col. Russell Reed Brunner 13. Col. Douglas C. MacKeachie RAF and RCAF: 14. F/L Herbert James Martin, RCAF 15. RO Sergeant H.V. Lamb (ferry command for 8 months) 16. Navigator John Henry Warman, RCAF 17. Captain Paul Bleecker Makepeace 18. RO Clinton Berry 19. Navigator P.C. Zoephel 20. Captain G.A. Clegg 21. RO Norman Patrick Drury, RCAF 22. Navigator Pilot-Officer W.T.B. Smithson 23. Sergeant John Lowery Bell (107899) (RAFVR) 24. Mr. William Richard Nixon (Pilot) Canadian Civilian 25. Air Commodore Desmond Herlouin De Burgh (RAF) -- on the Alamein Memorial, Egypt 26. RO Otway Cecil McCombie -- also remembered on his family's headstone in New Westminster, BC.
From Bureau of Aircraft Accidents Archives: While overflying the Atlantic Ocean by night, on the leg from Georgetown (Ascension Island) to Natal, the aircraft disappeared into the ocean around 2300LT. SAR operations were conducted for several days but eventually suspended as no trace of the aircraft nor the crew was found. Two life vests were discovered on a Brazilian beach few days later. Probable cause: US military authorities reported that at the time of the accident, whose causes remain unknown, weather conditions prevailing above the center of the Atlantic Ocean were marginal due to the presence of thick clouds and heavy rain falls. It is also reported that lifeboats were found on seas nearly 100 km east of Recife on February 4, 1943, with dead bodies on board. This means that some passengers escaped the accident and managed to take refuge in dinghies. Analyses carried out on the bodies determined that the last survivor died of fatigue, hunger and thirst on February 3, 1943, two weeks after the accident. Without concrete elements, no part of the aircraft having been found, investigators were unable to determine the exact cause of the accident.
In late October 1955, Mr, and Mrs. Zoephel received a letter informing them that since Peter had no known grave, his name would appear on the Ottawa Memorial.
Used with permission photo credit: Peter Charles Zoephel. HUD 343.04 (Page 162). Harvard University Archives.
For more information, please see the links below.
LINKS: