Norman Alexander Allen J11491
June 25, 1920 - November 28, 1942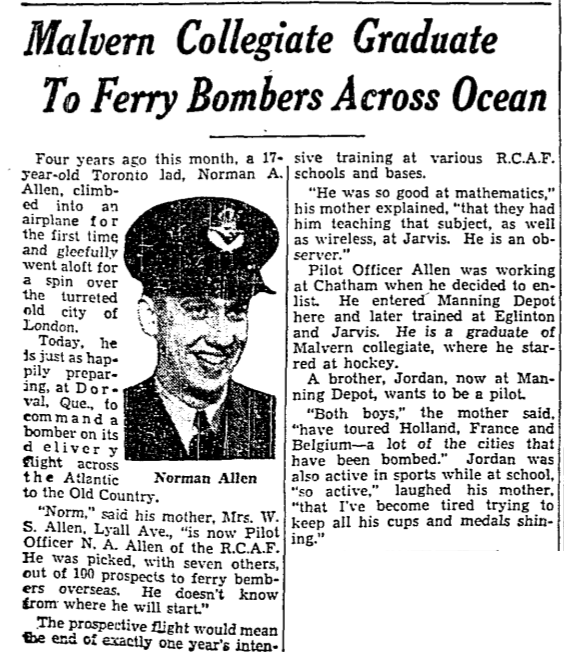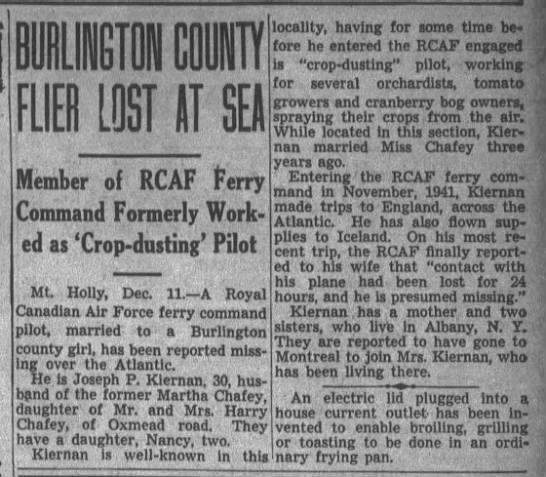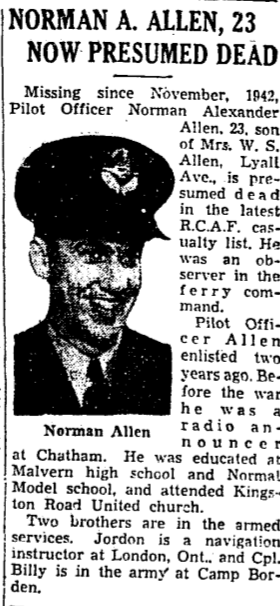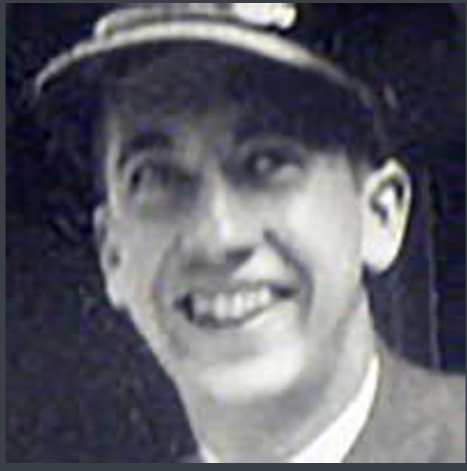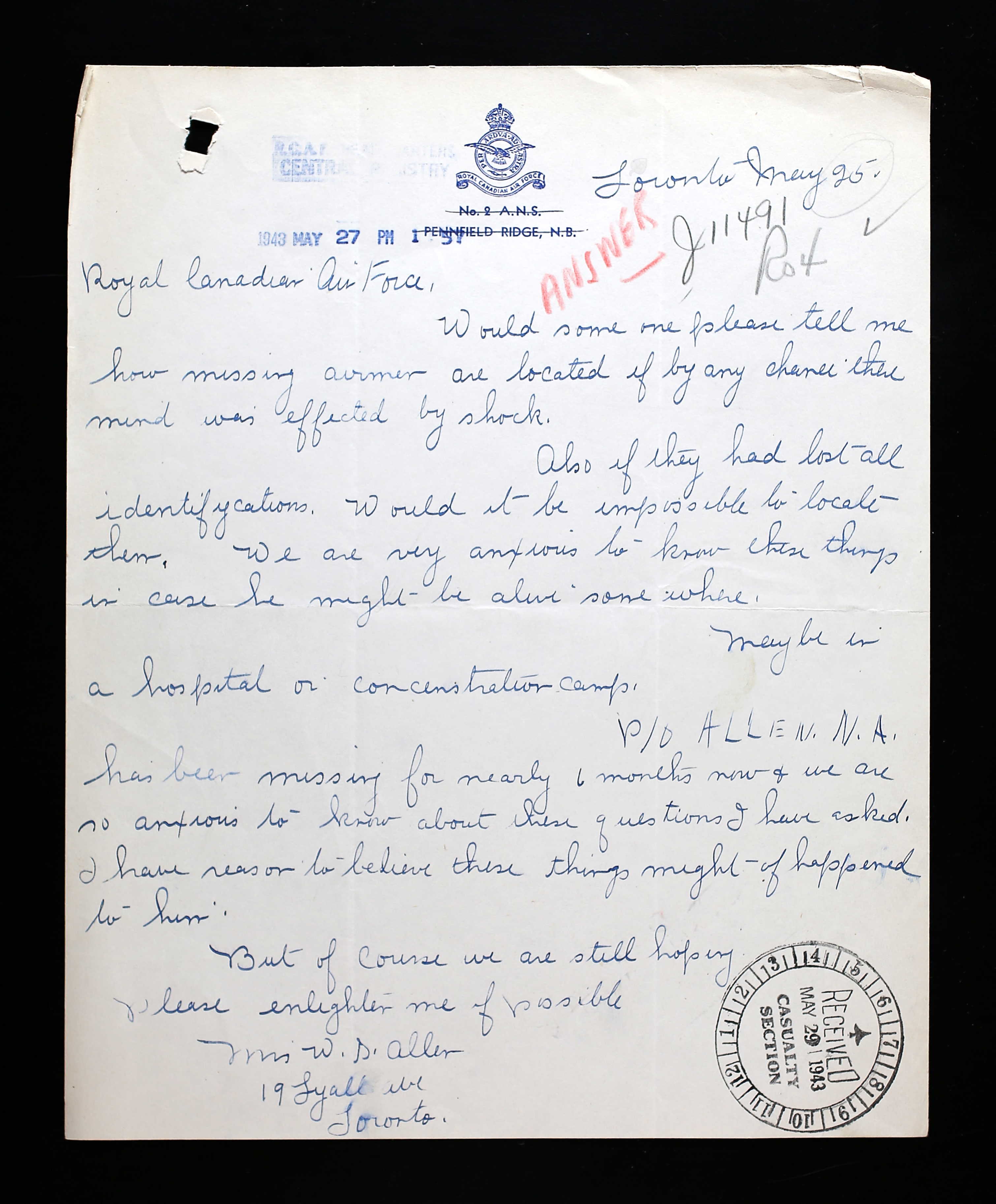 Radio announcer became navigator with RCAF; RAF Ferry Command, missing over the Atlantic Ocean.
Norman Alexander Allen, born in Toronto, Ontario, was the son of William Solomon Allen (1881-1947), dental technician, and Elizabeth Ann (known as Annie) (nee Jordan) Allen (1885-1959). He had two brothers, William and Albert, both in the service. One sister was stillborn. The family attended the United Church.
Norman's education included one year of wireless elementary radio and part one of a psychology (voice culture and style) course at the U of T.
Norman was an usher at the Palace Theatre in Toronto and then a radio announcer and script writer at CFCO, Chatham, Ontario, prior to his enlistment in Windsor, Ontario at the beginning of June 1941. He liked collecting pennants, playing hockey, softball, lacrosse, tennis, plus participated in track and field and swam. He stood 5'6 ½" tall and weighed 127 pounds. He had blue eyes and brown hair with a medium complexion. He wanted to return to radio work after the war.
Norman started his journey through the BCATP on June 28, 1941, at Manning Depot No. 1 Toronto. He was there until sent to No. 1 Bomb and Gunnery School, Jarvis, Ontario August 3, 1941. He remained there until he was sent back to Toronto and No. 1 ITS September 14, 1941. From there he went to No. 4 AOS, London, Ontario November 9, 1941. "3rd in class of 23. Accurate and capable. Excellent logs and charts. Excellent in all branches of the work." He was rated as above average with an 81%.
He was sent for Armament Training at Jarvis, Ontario, February 16 to March 28, 1942. 67.9%. Here he received his Air Observer's Badge.
His next stop was at No. 2 ANS Pennfield Ridge, NB, for an advanced AO course, 7th in his class with an 81.6%. Then he was sent to No. 31 OTU, Debert, NS. He was commissioned April 27, 1942.
He was attached to RAF Ferry Command July 1, 1942 with a few return trips over the Atlantic. He and his crew went missing November 28, 1942 after leaving Gander, NFLD aboard Hudson VI FK593.
Crew: • Flying Officer Albert Moore Carey, J10622, Captain Pilot • Flying Officer Irwin Edward Stillwell Robinson, J19872, Radio Operator • Sergeant Eric Hanway Swanston, 572926 (RAF) • Pilot Officer Norman Alexander Allen, J11491, Air Observer/Navigator • Joseph P. Kiernan, First Officer Captain – employed by RAFFC – American from NJ (On Runnymede Memorial, Surrey, England)
Aircraft: • Hudson VI FK693 • RAF Ferry Command out of Dorval, Quebec; after departing Gander, missing • Purpose: Delivery trip to UK; aircraft missing at sea; cause of accident unknown • Crash location: Atlantic Ocean
In a letter written by Mrs. W. S. Allen, Toronto, dated May 25, 1943 to the RCAF: "Would some one please tell me how missing airmen are located if by any chance there mind was effected by shock. Also if they had lost all identifications. Would it be impossible to locate them. We are very anxious to know there things in case he might be alive somewhere. Maybe in hospital or concentration camp. P/O Allen NA has been missing for nearly 6 months now and we are so anxious to know about these questions I have asked. I have reason to believe these things might have happened to him. But of course, we are still hoping. Please enlighten me if possible."
Norman's mother lived at a different address than his father by July 1942. (They were buried together.) His mother was his executrix as well as the sole beneficiary to his estate. Norman had $10 in War Savings Certificates and $600 in Victory Loan Bonds, plus two life insurance policies worth $1251 and $209. He also had forty shares in a gold mine company worth $63.00. His father owned the life insurance policies and Mrs. Allen felt that they would presumably be payable to Norman's estate.
In August 1945, Mrs. Allen wrote to the RCAF Casualties Officer requesting the addresses of those who were aboard the same plane as her son. "This crew, I believe, left Gander Bay on the night of November 28, 1942 and was one of three crews which were ferrying three bomber planes across the Atlantic to Greenock, Scotland. On November 30, 1942, I received word that my son, Norman was missing. And after considerable correspondence with Ottawa, he was presumed dead on December 24, 1943. I believe there were three others on the plane besides himself and I would greatly appreciate having their names and the names and addresses of their next of kin as soon as possible."
Norman's medals were returned undelivered and returned to stock.
LINKS: