Morris Nathan Oiring R144937
January 21, 1921 - October 14, 1942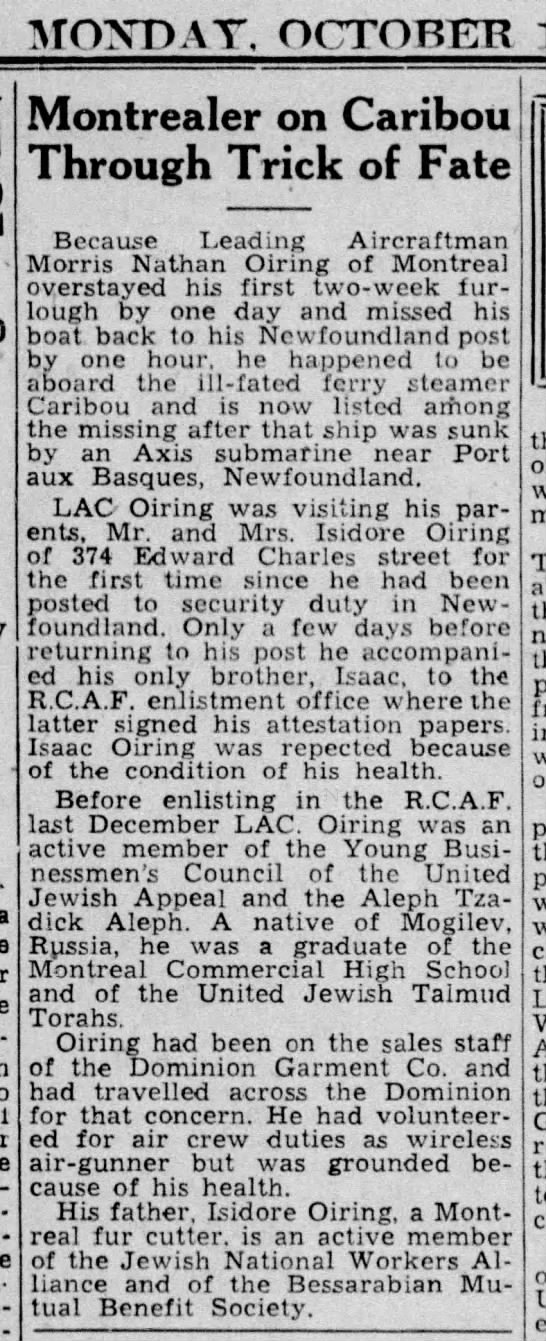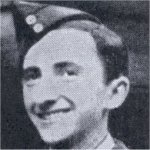 Salesman/stockkeeper joined RCAF, becoming security guard. Returning to posting in Newfoundland, drowned as a passenger aboard the SS Caribou.
Morris Nathan Oiring, born in Mocuzlow, Podolia region, west Ukraine, was the son of Isidore, fur cutter, and Sonea (nee Bloss) Oiring, of Montreal, Quebec. He had one brother, Issie (b. 1923). The family was Jewish.
He spoke English, Hebrew, and French (fair). He enjoyed skiing (winning an award), baseball, swimming, tennis, bowling, fishing, basketball and volleyball.
Morris had completed his second year of at Commercial High School by 1936, then was a stockkeeper and salesman with Dominion Garment Manufacturing Co., prior to enlistment with the RCAF December 15, 1941 in Montreal. He received an honourable mention in mathematics throughout his schooling.
Morris stood 5'10" tall, weighing 187 pounds. He had brown eyes and auburn hair, with a medium complexion. He had pneumonia in 1938. It was noted he had one cavity in a molar. He was fit for ground duties.
He was sent to No. 1 Manning Depot, Toronto, Ontario until January 24, 1942. From there he went to KTS, Trenton until he was posted to RCAF Stn. Dartmouth February 15, 1942. He was then posted to Debert, Nova Scotia, No. 16 X Depot until June 9, 1942 when he was sent to No. 1 Group HQ, St. John's, Newfoundland. It was at Debert, on April 29, 1942, he was AWL and forfeited pay.
He was a security guard as of January 1, 1942.
Mrs. Oiring was the sole beneficiary of Morris's estate. He had $8.00 in his CIBC account in St. John's, Newfoundland. Mortuary benefits by Dominion Commercial Travellers' Association were also noted.
Morris was en route from Halifax back to Newfoundland, aboard the SS Caribou.
The night of October 14, 1942 was very dark with no moon. Sixty kilometres off the coast of Newfoundland, the SS Caribou on her starboard side was torpedoed by German U-boat U-106. On board were 73 civilians including eleven children, 118 military personnel, and a crew of 46. The passengers were thrown from their bunks, several lifeboats and rafts were destroyed or could not be launched, as the ship sunk quickly, reports stating three minutes. Many passengers were forced to jump overboard. Over 135 people perished. Fifteen of the crew survived, many of them local men from the Channel/Port aux Basque area.
Two of the survivors who had suffered from shock and exposure due to the sinking of the SS Caribou, Aircraftmen Frank Earl Burton, 19, and Frederick Anthon Langley, 23, both airframe mechanics posted to Botwood, Newfoundland, perished in the fire at the Knights of Columbus hostel in St. John's, Newfoundland, December 12, 1942. Ninety-nine people were killed, with 80 of them military personnel. Critically wounded: 109.
Mr. and Mrs. Oiring were asked not to share the information from the telegram they received until an official announcement was made through the press.
A letter dated May 8, 1944, written by Mr. Oiring requested more information about Morris's personal effects and particulars of his pay account.
In January 1948, a memorial was erected at Port-aux-Basques, Newfoundland, in memory of those who died in the torpedoing of the S. S. Caribou.
In October 1948, Mrs. Oiring wrote to the Pension Commission of the RCAF wondering why she had not received a pension as the result of her son's death. She was in need, according to her solicitor, Philip S. Garonce.
Mrs. Oiring received a letter dated October 24, 1955 from W/C Gunn informing her that Morris's name would appear on the Ottawa Memorial as he has no known grave.
For additional information, please click on the links below.
LINKS: