Michael Joseph Bates R183305
August 8, 1923 - January 29, 1944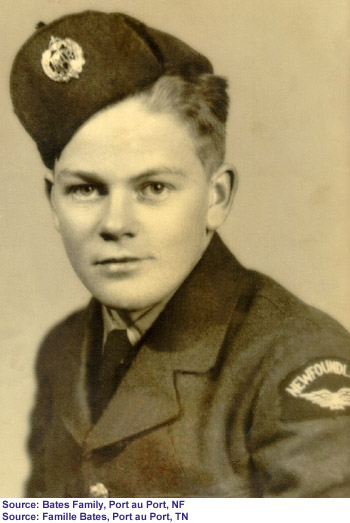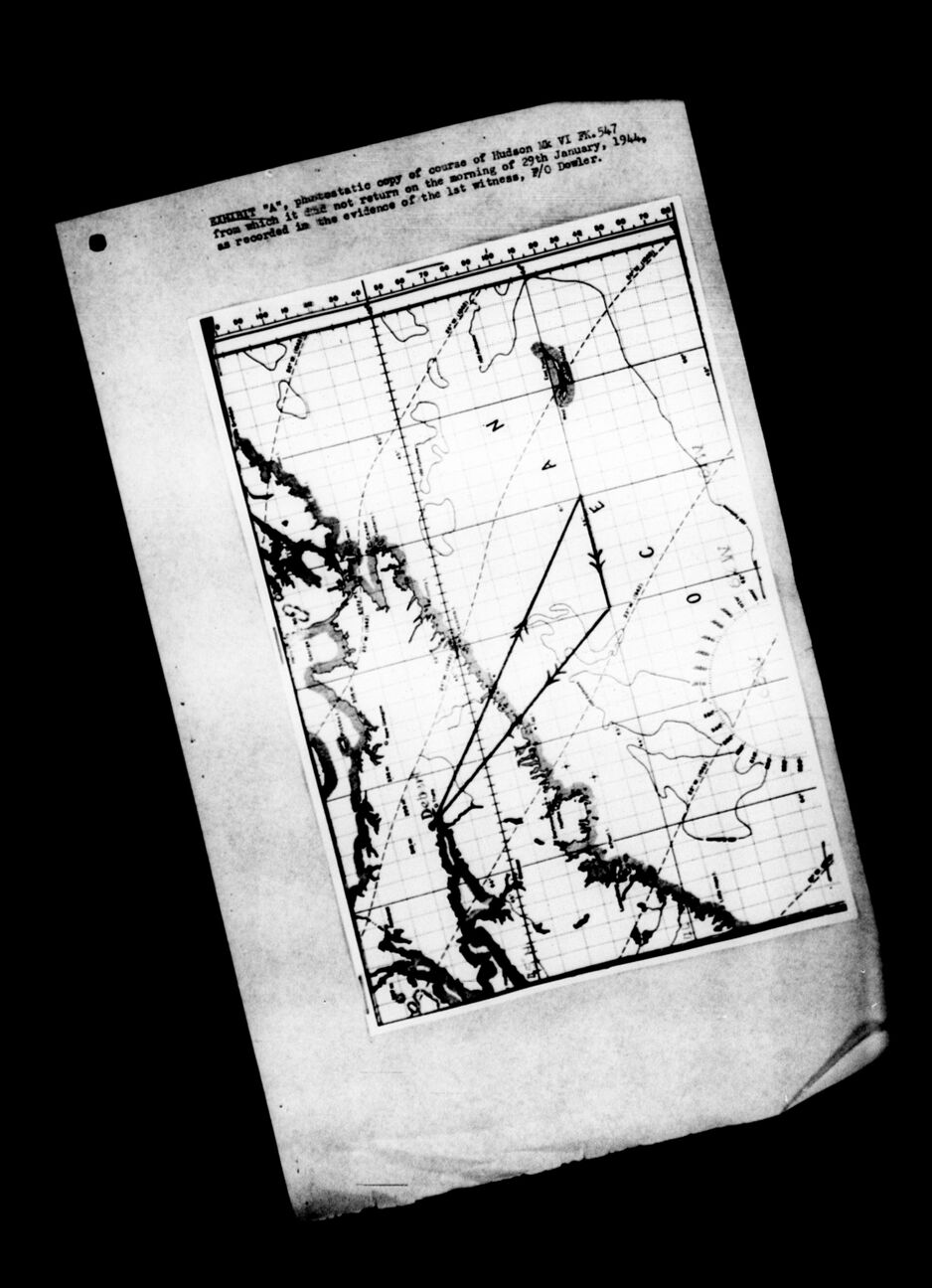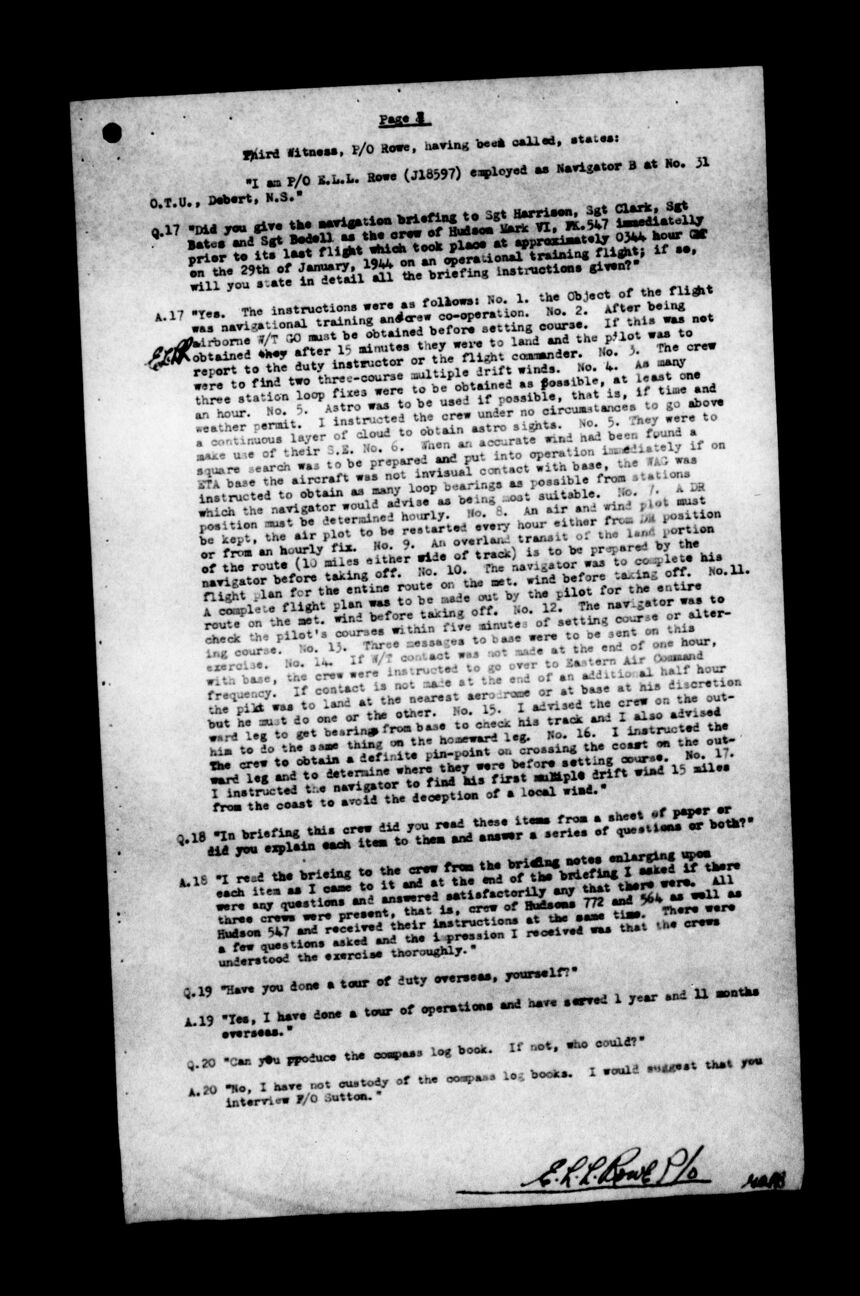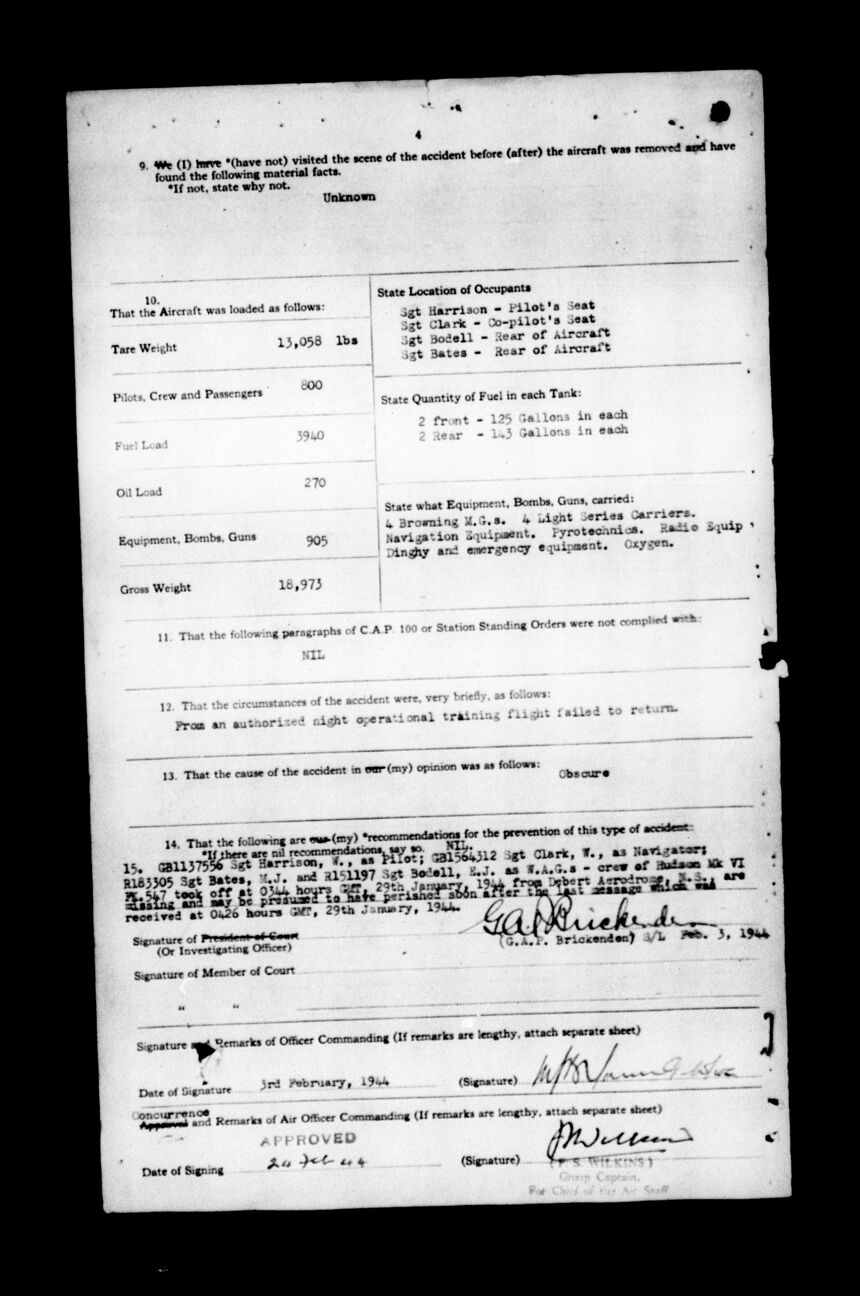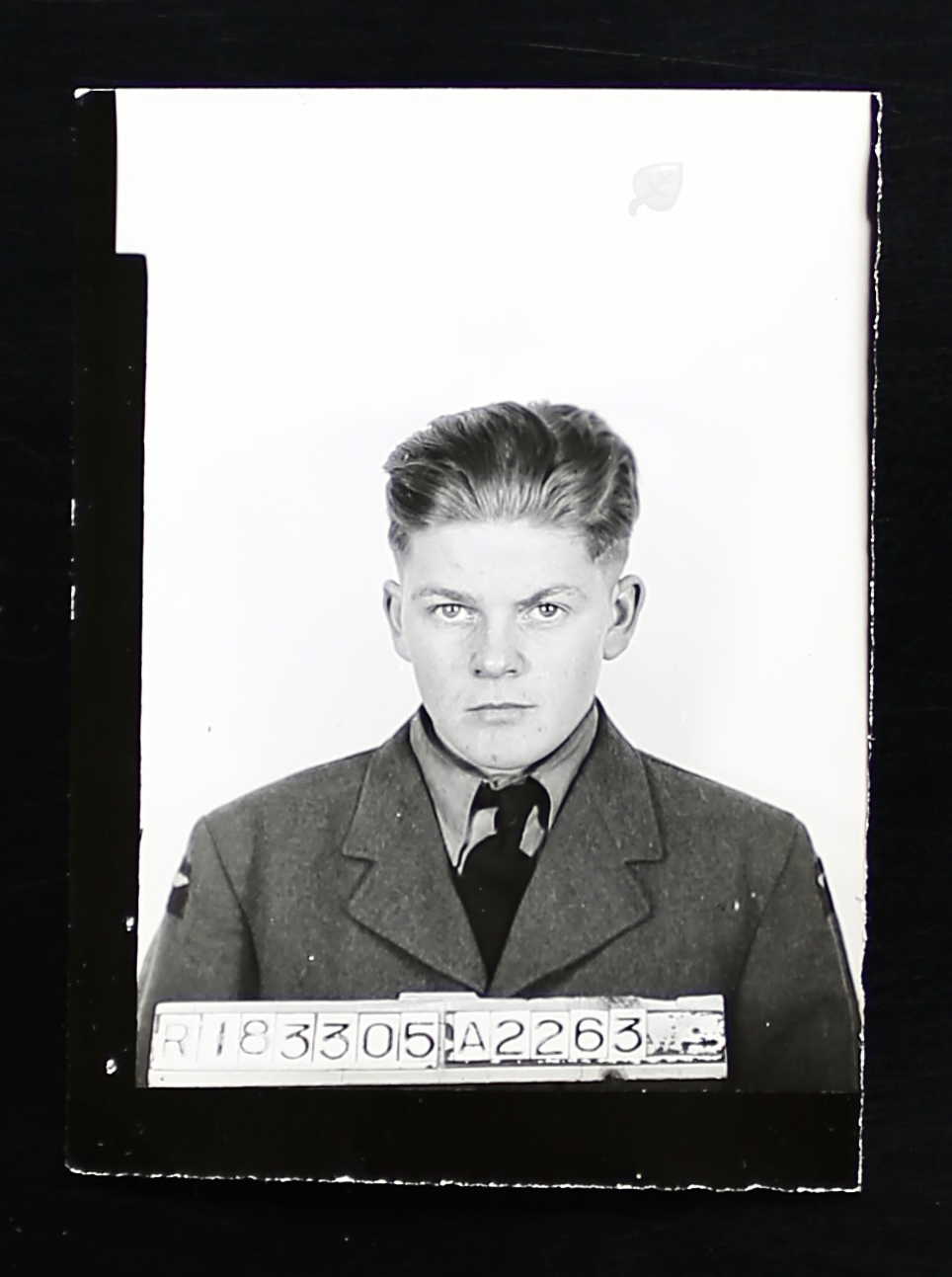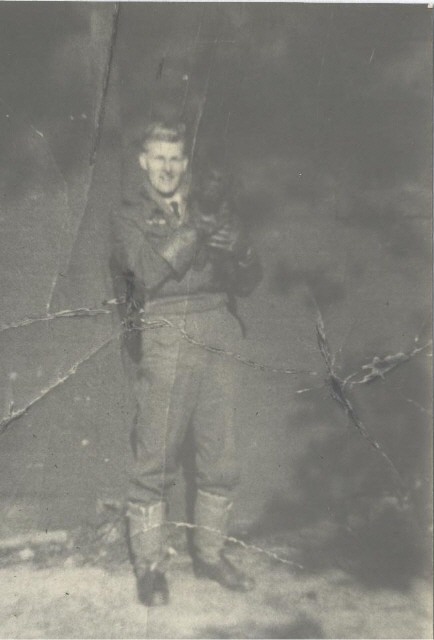 Student from Newfoundland became a WAG, posted to No. 31 O.T.U. On routine night navigational flight, towards Sable Island aboard ill-fated Hudson FK 547.
Michael Joseph Bates, born in Aguathuna, Newfoundland, was the son of Benjamin J. Bates, bookkeeper (1881-1931) and Esther Edith (nee Haynes) Bates (1893-1925) of Port au Port, Newfoundland. His father died when Michael was eight and his mother died in childbirth when Michael was two. His foster father was his uncle, Martin Joseph Hynes. Michael had three brothers, Mark, William David, and Leo. (Mark was in the RCAF, as was William and Leo. William, a pilot, was killed in England flying Oxford I HN 177, while on a non-operational searchlight co-operation course near Croydon, Surrey, April 20, 1943. Leo was a POW in Germany.) His five sisters were Eileen MacGillivray, a nurse, Lilian, Isobel, Mary, and Margaret. The family was Roman Catholic.
Michael had a Grade XI education and was a student at the time he enlisted, attending St. Bonaventure's College in St. John's. He enjoyed collecting stamps and model boat building, plus played baseball, basketball, and football moderately. He smoked 5-6 cigarettes per day and indicated he did not drink alcohol. He was employed by T. Pike, Harmon Field, Newfoundland, as a checker from July to November 1942 until he joined the RCAF.
On his medical examination from November 1942, a pigmented birth mark on his left upper arm (with hair) was noted as was a scar 3 ¾" long on the back of his right leg, just above his knee where an abscess had been opened in 1931. Michael stood 5'4" tall and weighed 112 pounds. (By March 1943, Michael weighed 120 pounds and grew one inch.). "Well motivated. Aggressive candidate. Temperamentally stable. Fit a/c material. Borderline height and leg length for pilot. Young immature."
Uncle Martin wrote that he had two war certificates worth $2.50 each. "The deceased told me when at home on leave in October 1943 that he had purchased some certificates or bonds in Canada and said that he would look them up…or he would bring them home the next time or next leave in February 1944, but he was lost January 29, 1944."
Michael began his journey through the BCATP on November 16, 1942 when he was sent to No. 5 Manning Depot, Lachine, Quebec until January 17, 1943. From there, he was sent to Kingston, Ontario, then to Rockcliffe, Ontario.
He travelled west to No. 2 Wireless School, Calgary, March 6 until September 18, 1943. "73% in leadership and character. 86.8% in ground training. 74/7% in air training." He was 71st out of 152 in his class.
On his General Conduct Sheet, on January 12, 1943, at Lachine, Michael absented himself from a fatigue detail in the Station Heating Plant without permission and was confined to barracks for three days. In Calgary, two offences were listed. March 21 and June 3. He was absent from place of parade and made away with equipment issued to them for their use. Three days then seven days confined to barracks were the punishments awarded Michael.
From there, he went to No. 1 B&G School, Jarvis, Ontario until November 15, 1943. "Not suitable at all for instructor. Poor power of expression. Short tempered." He earned 80.3% on his groundwork and 74% in his air work.
Michael was a WAG, earning his badge on November 1, 1943.
He was then sent to No. 1 Y Depot, Halifax, then to No. 31 O.T.U., Debert, Nova Scotia November 17, 1943.
On January 29, 1944, he was aboard Hudson FK547 along with fellow WAG Edwin John Christoper Bodell, RCAF, the pilot Sgt. William Harrison, of Kirklivington, Yorkshire, England and the navigator Sgt. William Clark, from Duchal, Renfrewshire, Scotland. They did not return from a routine night navigational flight.
January 29, 1944: "The aircraft had taken off shortly after midnight Friday for night training flight towards Sable Island and not hear of since."
Eighteen witnesses were called during the Court of Inquiry held between January 31 and February 3, 1944, at No. 31 O.T.U., Debert, Nova Scotia; a photostatic copy of the chart showing the course of the aircraft and of the search plan were included as well as a list of equipment aboard Hudson FK547.
The first witness, F/O D. R. Dowler, C20513, Flying Control Officer stated that Hudson FK547 "took off at approximately 0344 hours GMT on January 29, 1944 on operational training flight, route 3, a triangular 2 ½ hour trip. The ETA of the aircraft was 0622 hours, last message from the aircraft was received at 0426 hours. At 0620, operations room informed me that aircraft F K547 was evidently overdue." Attempts were made to contact the aircraft and then arrangements were made for search aircraft to be airborne at first light. he could not see the occupants but consider that a cough normal in all respects. The aircraft had asked permission to take off and permission was given from the tower on the radio transmitter, but his radio reception was poor that night this permission was supplied by a green on the traffic gun [signal lamp]. Dowler stated that the weather was good with scattered snow showers over the route.
The second witness, F/L C. C. Underhill, J5112, Squadron Commander flight tested the aircraft and felt it was one of the best on the station "as it was a new Mark VI." He cautioned the pilot, Sgt. William Harrison, "I advised the captain to exercise his own discretion if he found that the weather should be worse than we expected and if he did not like the weather he could turn back." Underhill felt that the ability of the pilot was average. he explained what was done by the way of search for the missing aircraft including extra aerodrome facilities of lighting and a Searchlight. He notified the training wing and he asked him to carry on with the organization of the search. Staff pilots and navigators were called in to fly. "A thorough search was laid on in the area which the machine was operating. At first light three aircraft took cough and preceded to the area of the course. Immediately after three aircraft from #2 squadron took off for a search of the area also. Aircraft from other stations participated as well. there were 19 aircraft in all. The search was carried on throughout the whole of the first day. The area was covered very thoroughly as shown by the fact that a small wooden raft in the area was located and reported by different crews. Bad weather prevented the search from being carried on during the second day. On the third day our aircraft operated in the area again and during all this time one of our aircraft was standing by fully equipped with the Lindholme rescue equipment aboard ready to go at a moment's notice." SEE LINK BELOW FOR FILM.
The equipment aboard the Hudson included a dinghy, dinghy radio, rations, first aid kit, signal cartridges, etc. Underhill regretted to say that he did not think there was any possibility of finding the crew. He was asked to explain why in the last 17 months, four aircraft have disappeared during that period on similar exercises under similar conditions. He replied, "It remains a complete mystery to me. None of the previous crews or aircraft have ever been heard from again although I have only been with this Squadron since last September, that this is the information I have been given." He said that the other two crews who did the same exercise had no difficulties and returned safely.
The third witness, P/O E. L. L. Rowe, J18597, Navigator, who had completed a tour of almost two years overseas, told the court that he gave the navigational briefing to the crew. (See document above.). The crew seemed to understand as they asked no questions.
The fourth witness, S/L Headly, J83662, Medcal Officer stated, "There is no evidence that any of the occupants of the aircraft…being in such a state of health as to have contributed to the accident."
The eighth witness, P/O M. M. Botham, J28998, student pilot flew with Sgt Harrison. "He was a very dependable, efficient pilot and clean living as he neither drank nor smoked and was very popular on the staff. The navigator, Sergeant Clark, in ground school was highly regarded as having very good knowledge of navigation and all-round flying work. I did not know either Sergeant Bates or Sergeant Bodell."
The 12th witness, P/O J. W. Marr, J28029, student pilot stated that the weather was rough over the water, "but I was using 'George.' It was a very dark night and after leaving the coast, it was entirely an instrument flight…there was no rime icing and as soon as I ran into snow flurries, I put on carburetor heat. I have flown with Sergeant Harrison at night and I considered him a very steady pilot."
Memorandum dated February 16, 1944: "I think much was expected of this pilot considering his experience. He had only made one previous night flight of three hours duration, all other night flying having being circuits and bumps. He had not flown at night at all for 20 days and then was sent off in very indifferent weather conditions. I attached the file of a very similar accident which occured in April last in which you will see the action taken by AMT and yourself." G/C F. S. Wilkins.
LINKS: