Maurice Daniel Onuski R220368
April 8, 1925 - July 24, 1943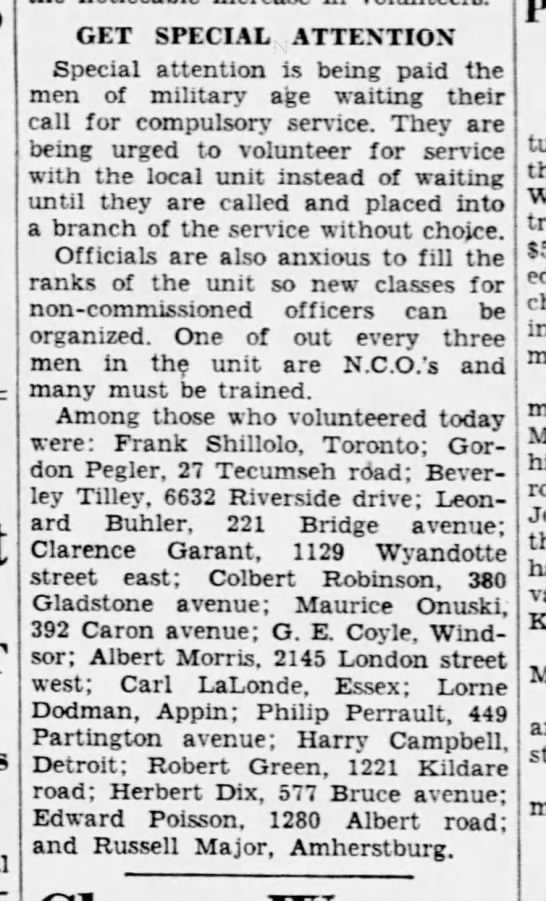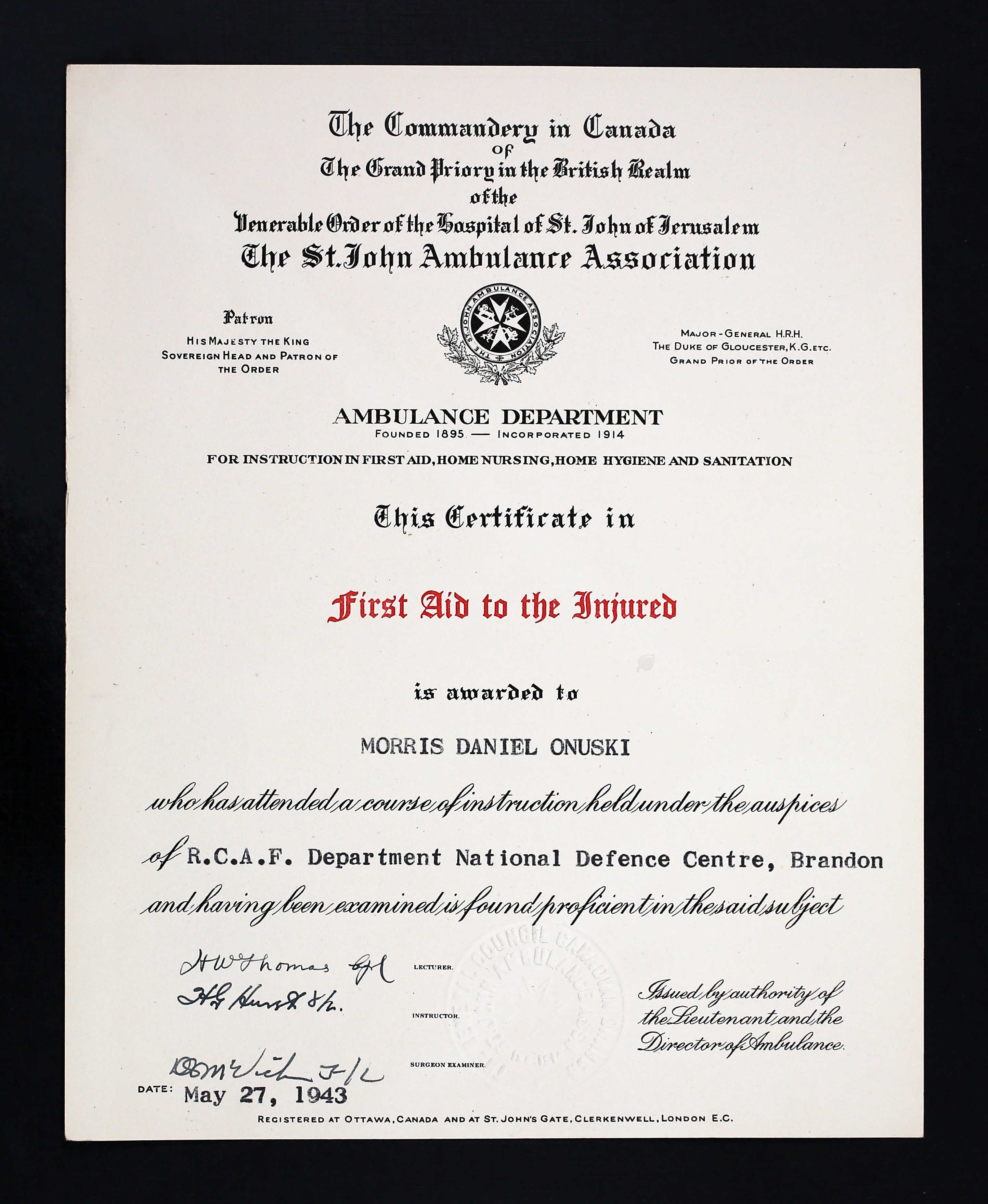 Eighteen year old enlists with RCAF, posted to BC Star. Less than two weeks later, BC Star sunk.
Maurice Daniel Onuski was the son of Dmytro (Dan) Onuski (1890-1953), skimmer in Coniston, Ontario, and Wasylena (Lena) (nee Humen) Onuski. (Mr. and Mrs. Onuski divorced in 1940.) He had three sisters: Helen Velasquez, Elizabeth Bortolotti, and Mary Brown. He also had one brother: William, who had enlisted with the RCAF in Toronto. The family was Roman Catholic.
He had a Grade X education at St. Joseph's College, Yorkton, Saskatchewan, finishing in 1941. He had been at school in Kingston from 1930 to 1936, then two years at Marmora, Ontario, then high school at North Bay, Ontario.
On a reference letter from St. Joseph's College dated September 9, 1942, Morris, as he was also known, Brother Aloysius, Director: "I understand that Morris Onuski has applied for the Navy. I think that you will find him intelligent and industrious."
Maurice worked at Fine Foods, Tecumseh, Ontario, as a tank cooler in the summer of 1942, Ford Cleaners, Windsor, Ontario, presser for five months, and then with International Nickel Co., Copper Cliff, Ontario, as a miner and fettler, a person who worked with casts, from January 1943 until his enlistment with the RCAF May 10, 1943 in North Bay, Ontario, hoping to become an aero engine mechanic. He hoped to return to factory work after the war.
He listed hockey, rugby, tennis, football, table tennis, softball, baseball, basketball, volleyball and handball as sports he had participated in. He had some previous military experience from April to September 1942 with the Essex Scottish Reserve in Windsor, Ontario, then moved back to Sudbury.
"18 years old, two years high school. Parents born in Europe [father: Galacia and mother: Roumania]. Both naturalized. Health record good. Unfit for aircrew. Has considerable experience as a presser of clothes operating a Hoffman press. Now feeding furnaces at Int'l Nickel Co. Anxious to serve. Might possibly be used as an assistant in tailor shop." Maurice was recommended for a presser of clothes, but was found suitable for Standard General Duties. He stood 5'8 ½" tall, weighing 130 pounds. He had brown hair and brown eyes.
Maurice was sent to No. 2 Manning Depot, Brandon, Manitoba May 10, 1943 where he took the St. John Ambulance First Aid to the Injured course and passed, May 27, 1943.
He was then sent to No. 3 Repair Depot, Vancouver, BC, by July 4, 1943. He was assigned to the BC Star on July 15, 1943.
On July 24, 1943, the BC Star sunk. Theories as to the cause of the sinking of the BC Star included the ship was overloaded, it was torpedoed by a Japanese submarine, or it hit a mine. Please see links below for more information.
Circumstances of death: Missing aboard the RCAF Supply and Salvage Ship M427 B.C. Star that went missing on way to Cape St. James off Kunghit Island on the southern tip of the Queen Charlotte Islands.
Maurice's mother, Mrs. Lena Dobransky, living in Windsor, received a letter in February 1944 informing her that Maurice was for official purposes presumed dead.
On April 3, 1944, Mr. Onuski wrote to the Administrator of Estates in Ottawa, referencing his ex-wife. "I strongly feel that she is not entitled to share in any assets left by the deceased, as she left home in 1930 when the boy was only five years old and I was obliged to raise the family myself." He indicated that Maurice's assets only included a watch worth about $10 on which Mr. Onuski paid $7.25 in repairs.
In 1951, Mr. Onuski wrote to the Estates Section of the RCAF, as Maurice's estate had not yet been settled. He provided the names and addresses of his three daughters. Helen was living in Tampa, Florida, Elizabeth was in Timmins, Ontario, and Mary was in Detroit, Michigan.
In October 1955, Mrs. Lena Dobransky, Maurice's mother, living in Windsor, Ontario, received a letter from W/C Gunn informing her that since Maurice had no known grave, his name would appear on the Ottawa Memorial.
LINKS: