Martin Willard Finn R117269
April 3, 1920 - October 10, 1942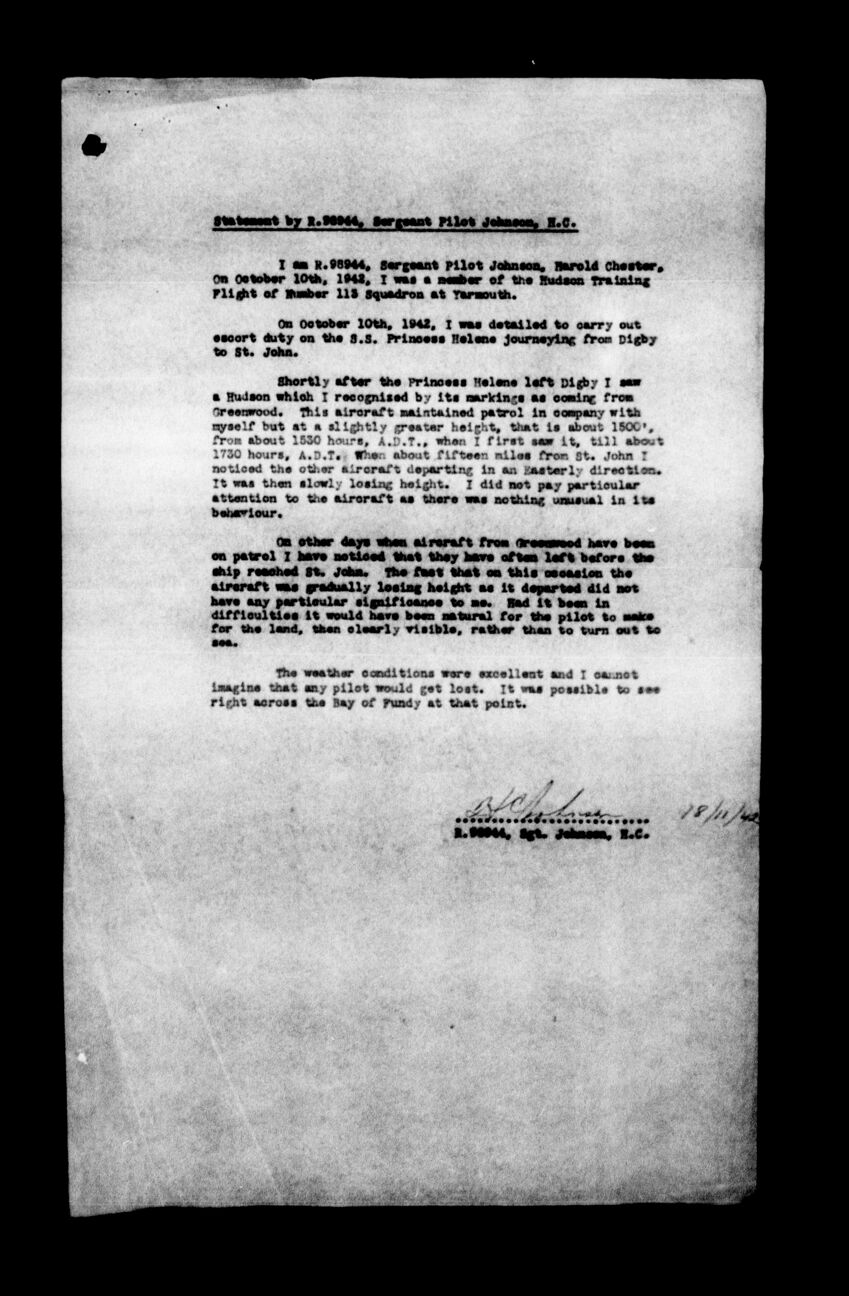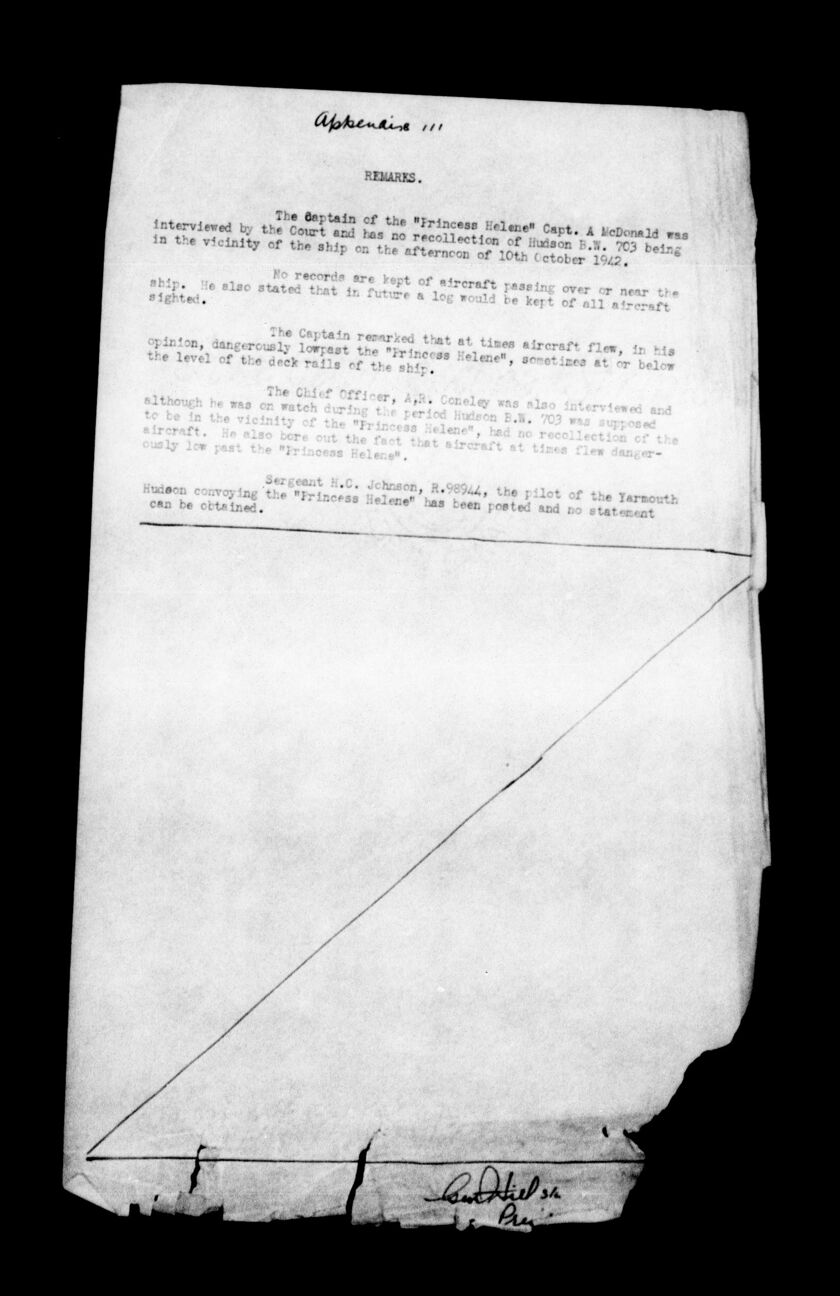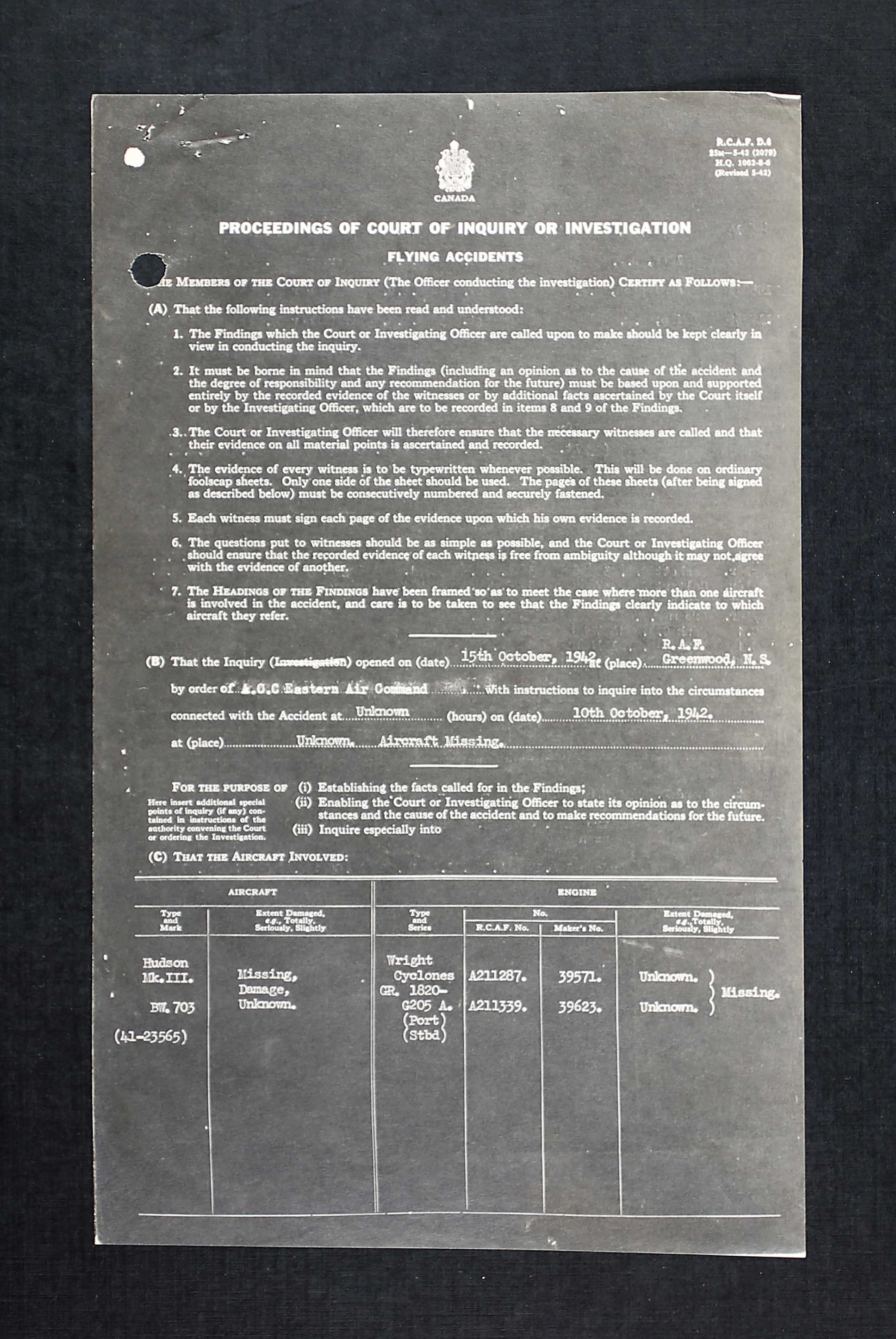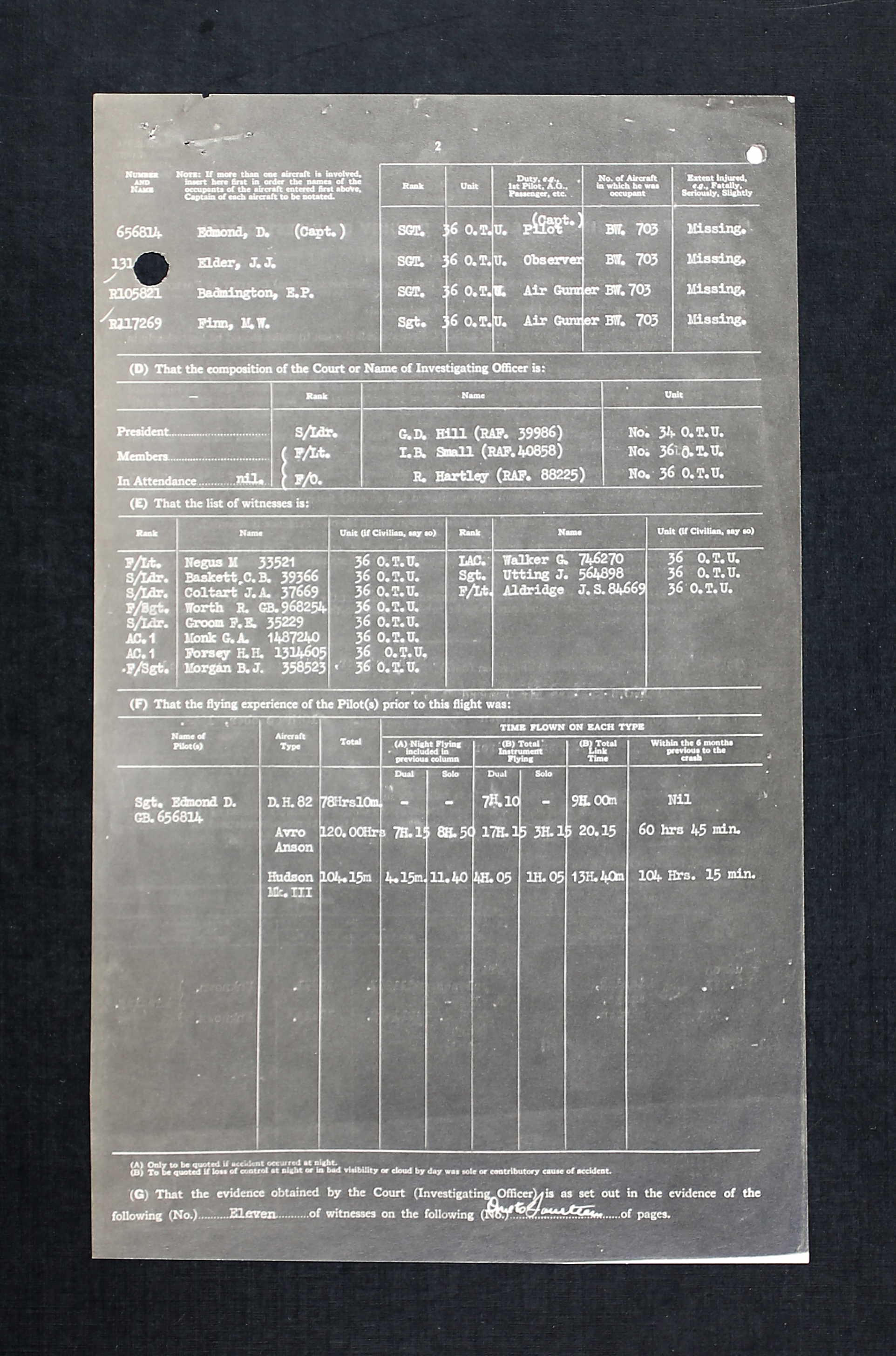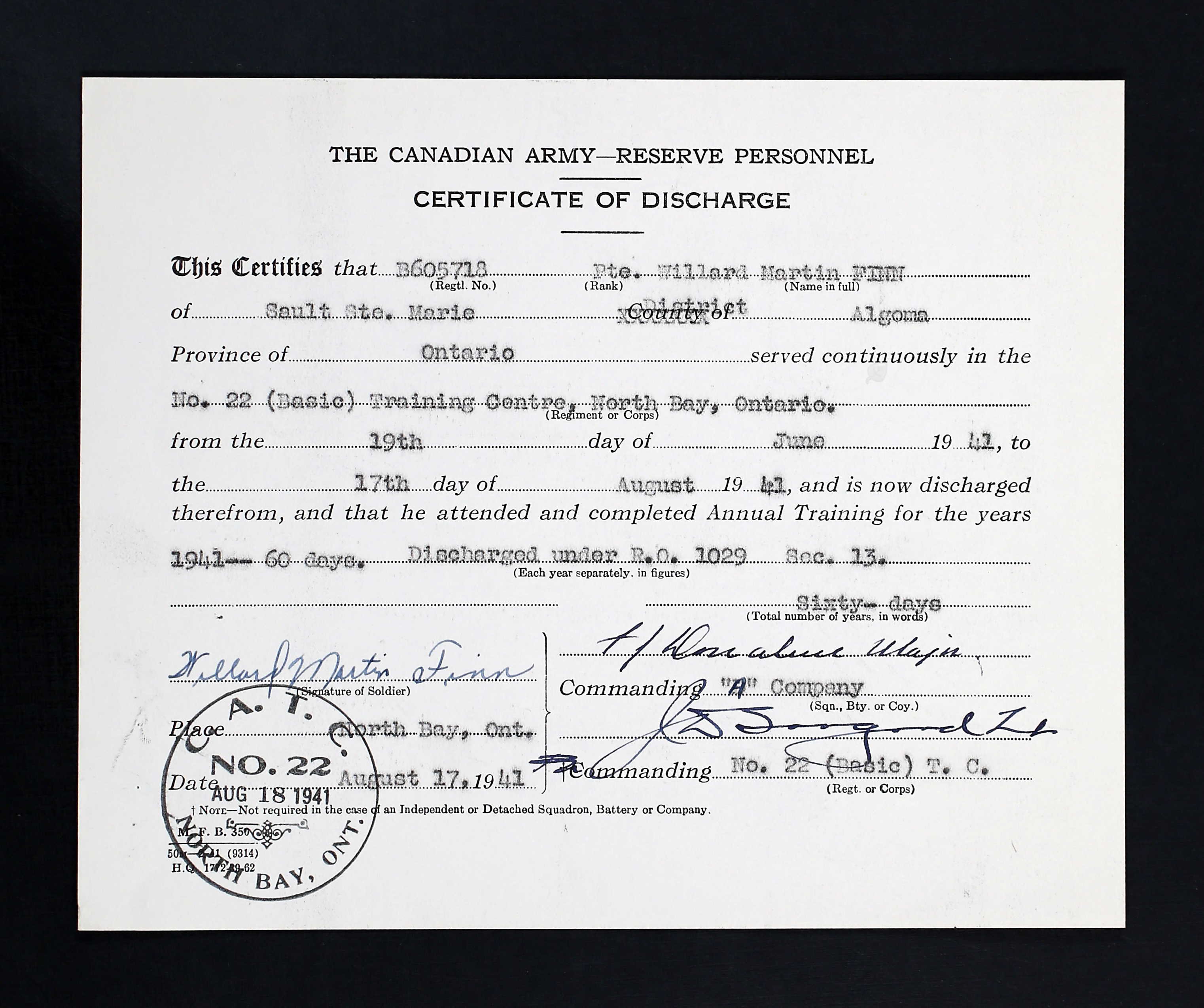 Machinist at Algoma first enlisted with the Canadian Army, then the RCAF and became a WAG. He was aboard Hudson BW703 when it was lost in October 1942.
Martin Willard Finn was the son of John L. Finn (1878-1956), fireman in boiler house at Abitibi Pulp and Paper Mill, and Winifred (aka Winnie) (nee Mayotte) Finn (1883-1965) of Sault Ste. Marie, Ontario. He had three older brothers, Maxwell, who lived in Flint, Michigan, working as a traffic superintendent of Unit One, Fisher Body, John, a salesman for a fruit wholesaler, and Timothy, an electrician at Algoma Steel Corp., plus a fourth brother who died in infancy. The family was Roman Catholic.
Known as Willard, his education included two years high school and one year technical school, specializing in drafting and machine shop. He enjoyed softball, hockey, swimming and golf. He said he smoked between 10-12 cigarettes per day and drank two beers a week. His physique was considered slender and his mentality: average. He had a mole on the medial side of his left arm. He weighed 152 pounds and stood 5' 11" tall, had blue eyes and brown hair. He had diphtheria at the age of 2 and had many dental fillings.
Willard initially enlisted in the Canadian Army and completed 60 days basic training by June 19, 1941 at Basic T. C. No. 22, North Bay, Ontario.
Then Willard enlisted with the RCAF in North Bay, Ontario in August 1941. "I joined the Air Force because it appealed to me more than any other branch of the Service. More adventurous. I'd like to be a fighter pilot because I think I'd like it better." He had been working as a scale car operator for Algoma Steel Co. (He had worked for the Sault Star for two years as an apprentice, then for Eaton's Grocery as a clerk prior.) He indicated he would like to become a radio technician after the war. "Quiet, steady, eager to fly. Pilot, Observer material. Best fitted for Wireless Operator Air Gunner."
Willard took out a $1000 life insurance policy, his mother the beneficiary. He held $10 in War Savings Certificates.
He was sent to No. 2 Manning Depot, Brandon, Manitoba August 18, 1941 then to No. 12 SFTS, also in Brandon until November 23, 1941.
At No. 3 Wireless School, Winnipeg, Manitoba, from November 24 to June 6, 1942, Willard was enrolled in Course No. 33. He was 14th out of 69 in his class and attained an 81.1%. He earned his Air Gunner's Badge on June 6, 1942.
At No. 3 BGS, MacDonald, Manitoba, June 7 – July 31, 1942: 12th out of 34 in class. "Slightly above average appearance. Irresponsible and lacks persistence. Works under a self-imposed tension. Below average in turret manipulation and air firing." He was considered unsuitable for a commission.
He was then sent to No. 36 O. T. U., Greenwood, Nova Scotia, taken on strength August 1, 1942.
On October 10, 1942, Hudson 703 went missing. Aboard were Sgt. David Edmond, 656814, Pilot, Sgt. John Jardine Elder, 1315473, Observer, Sgt. M. W. Finn, R117269 Air Gunner, and Sgt. Edward Price Badmington, Air Gunner, R105821. Finn and Badmington were in the rear of the plane, as Edmond and Elder were in the front. Elder was a member of the RAF and was 30 years old. He was the son of Andrew and Margaret Elder, husband of Agnes Porteous Elder, Basingstoke, Hampshire, England. Edmond was a member of the RAF. He was the son of William Allan Edmond and Eliza Jane Edmond, the husband of Marion Edmond of Musselburgh, Midlothian, Scotland.
A Court of Inquiry was struck on October 15, 1942 looking into a cause of the accident aboard Hudson Mk III BW703 that went missing on October 10, 1942 from RAF Greenwood, Nova Scotia. Eleven witnesses were called.
Description of Flight: at approximately 1500 hours, Sergeant Edmond and crew took off on navigation exercise No. 5. This exercise should have last approximately 3 hours. The aircraft did not return to the base. Overdue action was taken but no trace of aircraft could be found. From the evidence it appears this aircraft had been air taxied just prior in the flight in question by Flight Lieutenant Negus, RAF 33574, staff pilot. Both aircraft and W/T equipment were found to be in order. The evidence of the fitters and rigors of the ground crew is to the effect aircraft was quite serviceable. It appears that Sergeant Johnson 113 Squadron Yarmouth was engaged on a similar duty as Sergeant Edmond. At 1530 hours he saw an aircraft which he recognized from its markings as coming from Greenwood. This aircraft stayed with the SS Princess Helene until approximately 1730 hours. When about 15 miles from Saint John, New Brunswick, it turned, headed east, slowly losing height. Sergeant Johnson noticed nothing unusual in behavior of aircraft. This pilot states it was possible to see across the Bay of Fundy at this point. Wireless contact was maintained with this aircraft until approximately 1747 hours. From this time on wireless contact was not re-established despite continuing calls from ground station. It further appears from the evidence that the entire crew were satisfactory students. A search was organized for dawn of October 11th, 1942 by 3 Ansons.
Findings: That the aircraft Hudson BW703 is missing through causes unknown and that the crew are missing, presumed dead.
Squadron Leader John Arthur Coltart, RAF 37669 stated, "My instructions to Sergeant Edmond and crew were that they were to take off at 1850 hours and to proceed to Digby, Nova Scotia and wait until the SS Princess Helene left harbor. They were then to convoy the vessel until it reached Saint John, New Brunswick. In the event of the sailing being delayed, they were to stay with the vessel until such time as would assure them being back at the base by 2130 hours. They were told to keep within sight of the vessel and to fly at an altitude of 1000 feet, messages were to be sent to base every half our giving their position."
F/Sgt Reginald Worth, RAF 968254 commented, "I have flown with Sergeant Edmond on navigational exercises once on October 8th 1942. Yes we did some low flying carrying out an air to sea firing practice. I had no complaints apart to the objection to flying so low over the water whilst carrying out steep turns and firing from the turret at the same time. I never reported the pilot as being dangerous. My opinion of Sergeant Elder, navigator, is to be of average plus."
Another witness, F/L Aldridge, stated that Sergeant Edmund was proficient in single engine flying. He was quite good in his ability on instrument flying. And his assessment would be average. When asked if he was inclined to take undo risks, Aldridge said, "No, rather the reverse."
The Captain of the Princess Helene commented that he had no recollection of Hudson BW703 being in its vicinity. The Chief Officer was also interviewed and he, too, had no recollection of the aircraft, but pointed out that aircraft at times flew dangerously low past the ship.
MEMO: October 12, 1942: The crew were fully briefed before take-off and were given definite instructions that, whatever the position of the Princess Helene, they were to land at base no later than 1830 hours. Aircraft overdue procedure was take and a continuous search of a large area including the Bay of Fundy and an area SW of the Bay was kept up from first light to last light on October 11, 1942,,but nothing was seen. It is thus presumed that the aircraft must have crashed somewhere on sea or land leaving no traces that have yet been discovered.
In October 1955, Mrs. Finn received a letter informing her that since Willard had no known grave, his name would appear on the Ottawa Memorial.