Mandel Max Epstein R104789
August 10, 1916 - November 8, 1943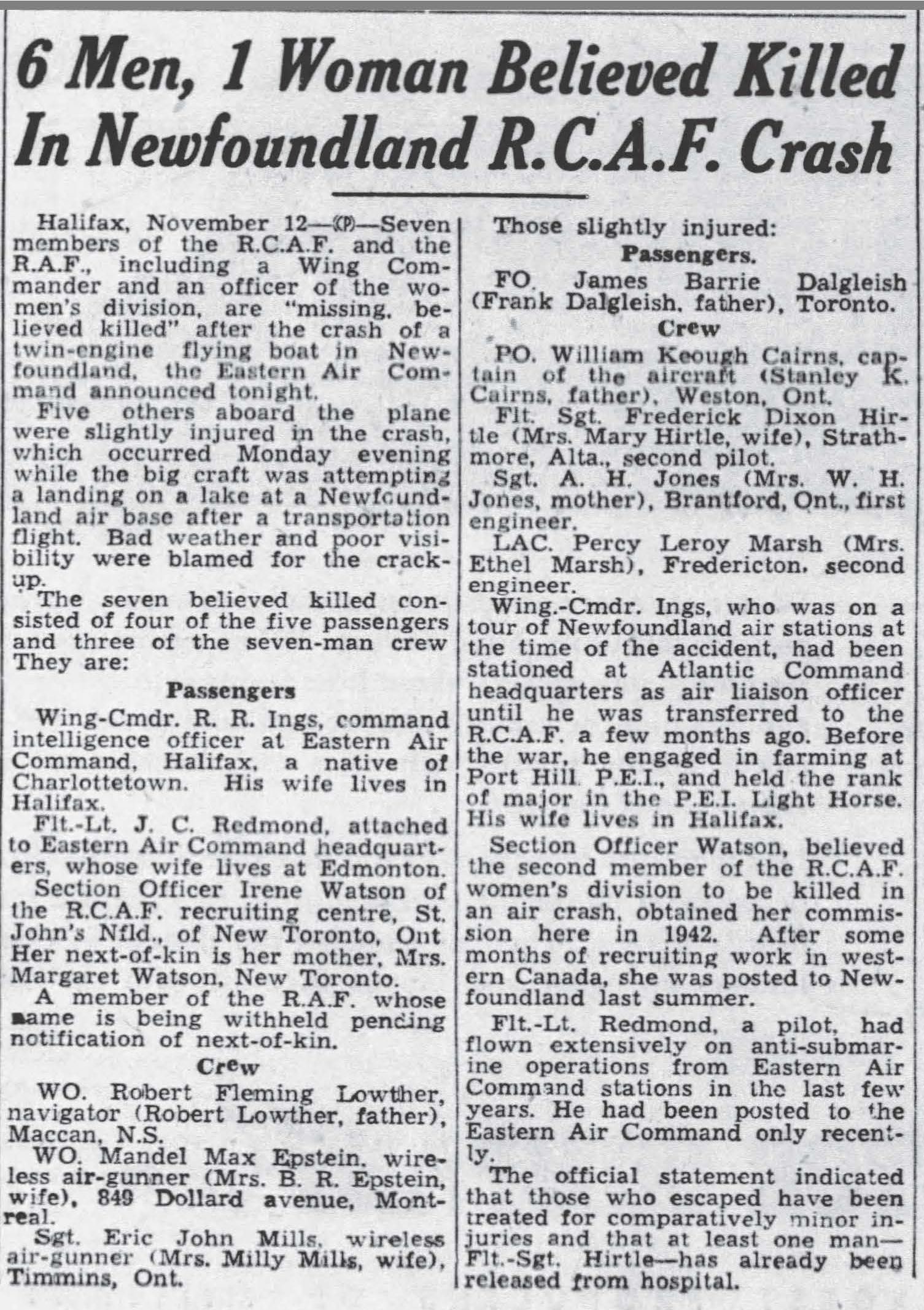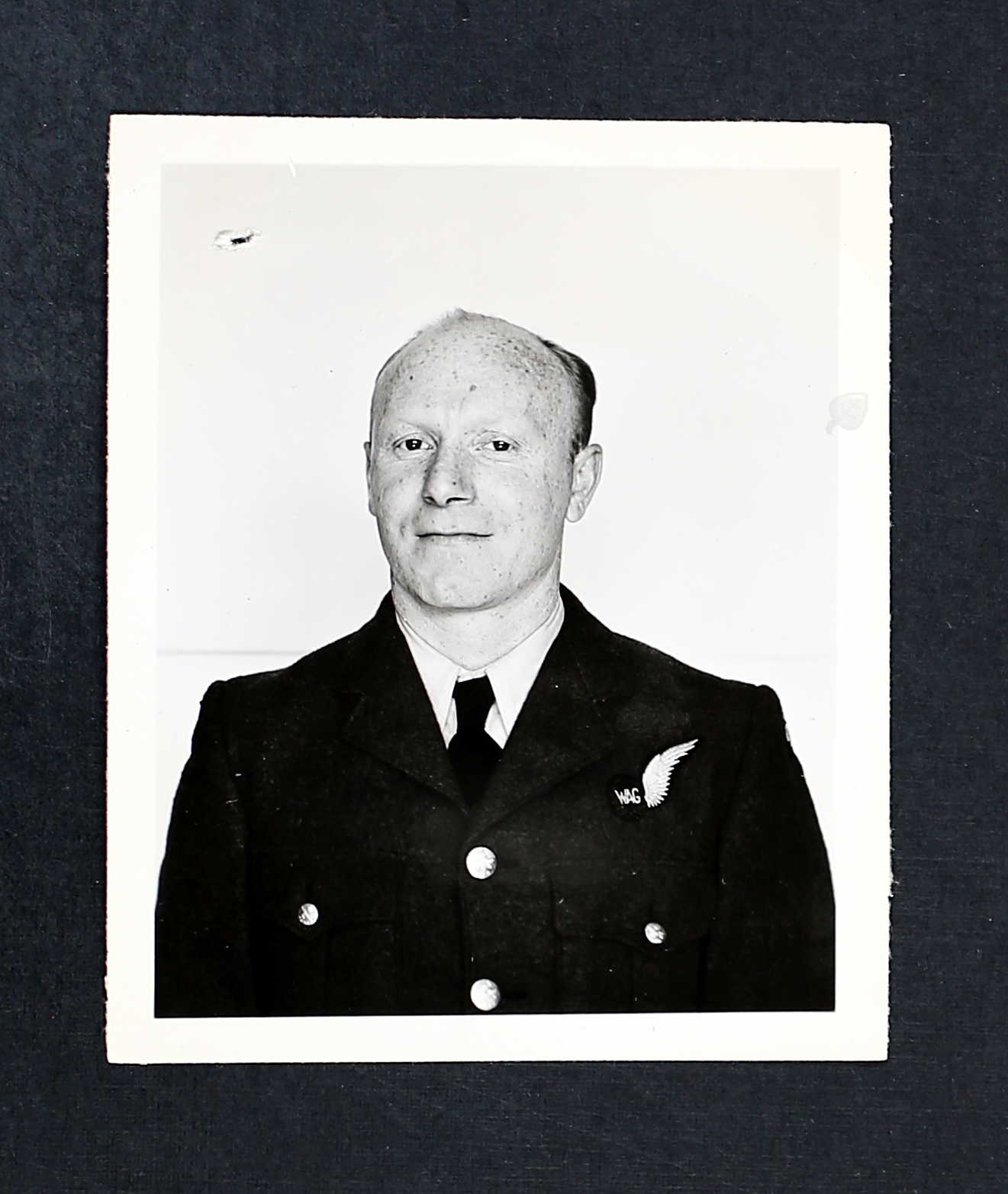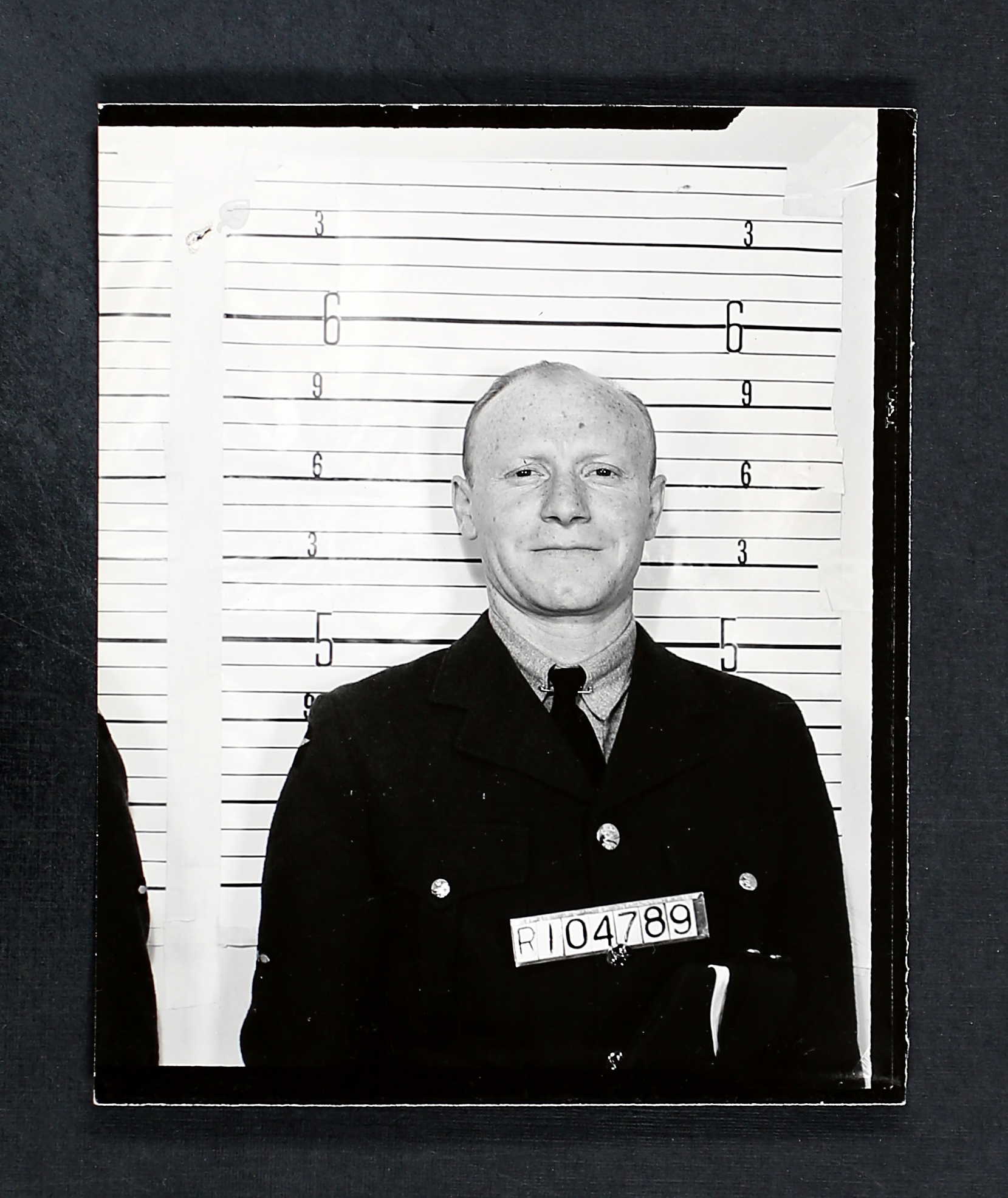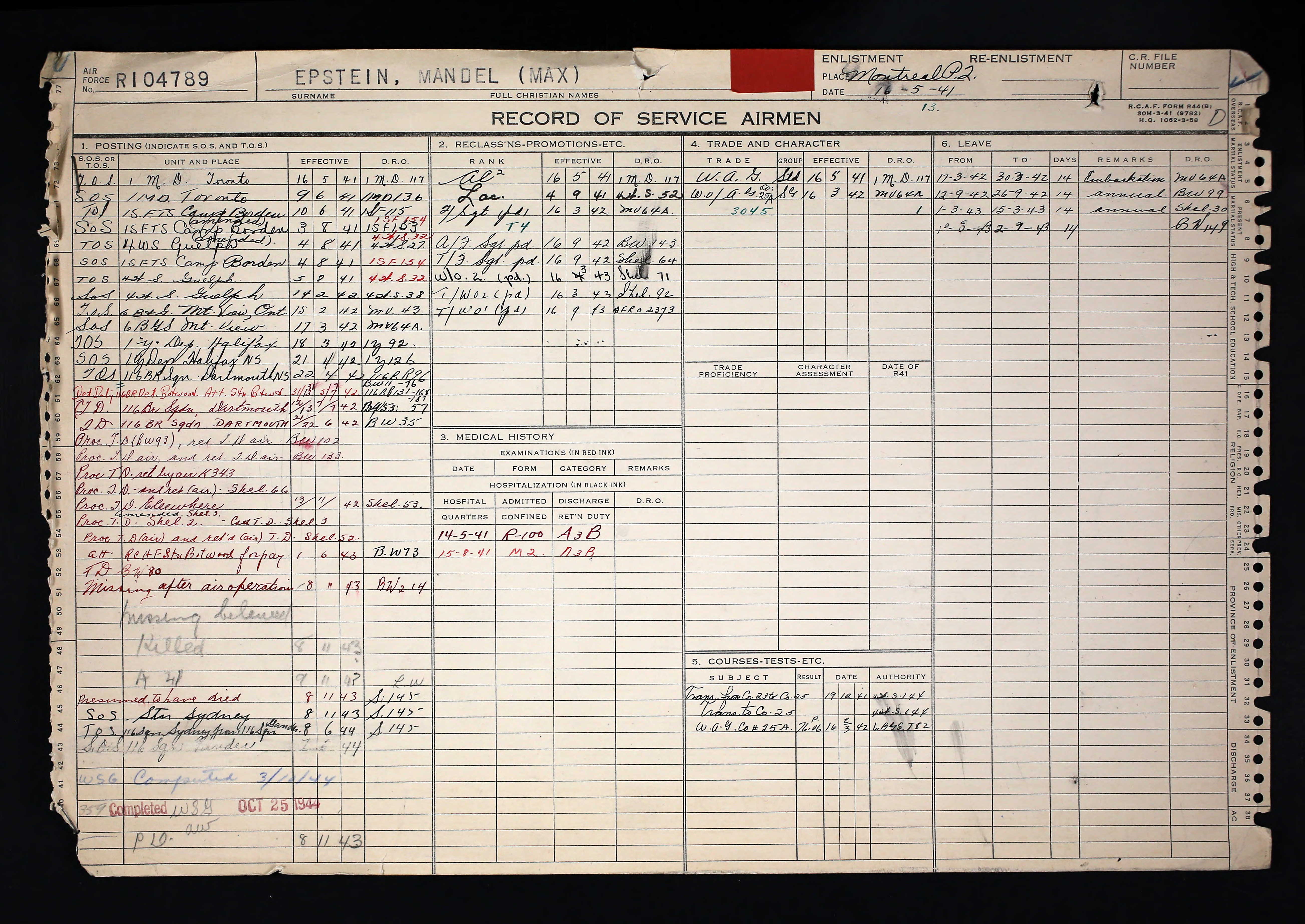 Accounting clerk joined RCAF as Air Gunner. Aboard Canso 9834, he was lost in the bay outside Botwood, Newfoundland on a transportation flight. Twelve were onboard, seven died, six of them commemorated on the Ottawa Memorial.
WO1 Mandel (Max) Epstein, Montreal, Quebec, R104789 -- killed. Born in Winnipeg, Manitoba, he was the son of Morris Baron Epstein and Maria Marion (nee Segal) Epstein of Montreal, Quebec. He had three brothers: Ben, Gordon, and LAC Stanley Epstein, also in the RCAF. He had one sister, Fanny. The family was Hebrew.
Max attended St. John's High School in 1932-1933 and later had one year of accounting at McGill University. He had been on the football team at his high school. Max was an accounting clerk for five years at the Canadian General Transit Company Limited in Montreal (Canadian Car & Foundry Company) in December 1940 prior to enlisting with the RCAF in 1941 where he became a Wireless Air Gunner. He stood 68 ¼" tall and weighed 149 pounds, had hazel eyes and red hair. "Athletic, alert." Scars on his chin and an appendectomy scar were noted. He liked music, fishing, and hunting.
He was very good at Morse Code, getting 100% on his exam. He was 71 out of 146 in his class, getting his Wireless Operator's Badge on February 13, 1942, with a mark of 81.7%. In March 1942, "his air firing results are considered satisfactory, and he should be a keen and reliable Air Gunner." He was 29th out of 37 in this class. In another class, at No. 6 Bombing and Gunnery School, he was 16th out of 30. "His work in class was above average and he appears to be reliable and conscientious." In September 1942: "This man has just recovered from enteritis at Labrador. He is fatigued generally and has had nearly 400 flying hours and seven months since his last leave. Please arrange for two weeks' leave. To be grounded until leave arranged."
At No. 116 Squadron, Dartmouth, Nova Scotia, on September 16, 1942: "This NCO is a very conscientious worker."
Max was married; his widow, Belle Ruth, remarried, becoming Mrs. E. J. Cosman on December 25, 1945. She had been notified that Max received a promotion effective September 16, 1943, to WO1. Mr. Epstein wrote in November 1948 that he and his wife had been under medical care ever since the accident. They were hoping to learn of the 'exact' burial place of their son. They were sent a reply telling them that their son had no known grave and at some time in the future, a memorial would be erected to the memory of the 'great numbers of RCAF personnel who do not have "known" graves.' Max's name appears on the Ottawa Memorial.
Casualty details: "Missing believed killed 8 Nov 43 as a result of a flying accident on bay about 400 yards south east of Botwood, Newfoundland, transportation flight." For more information, please click on the link below. All personnel onboard Canso 9834 who died are listed, along with the Court of Inquiry's investigation.
LINKS:
THOSE ABOARD CANSO 'A' 9832
*P/O William Keough Cairns, J35956, survived *F/S Frederic Dixon Hirtle, R131516, survived *F/O James Barrie Dalgleish, J10579, survived * Sgt A. H. Jones, Brantford, Ontario, injured *LAC Percy Leroy Marsh, Fredericton, injured *WO2 Robert Flemming Lowther, J41907, killed *Wing Commander Ralph Royden Ings, C27599, killed. *F/L Joseph Coates Redmond, Edmonton, Alberta, J5072, killed *Major Kenneth Storey Morton, RAF, killed *Mandel Max Epstein, R104789, RCAF, killed *S/O Irene Watson, RCAF WD, killed *Sgt. Eric John Mills, R184018, RCAF, killed
Further information about the survivors:
• P/O William Keough Cairns (1921-1992), Weston, Ontario, J35956 -- survived. He married Rene Irene Fairbridge (1920-1984) in 1945. They had a daughter, Barbara (1946 - 2004) and a son, Douglas (1947-1947). In 1948, an article explained that a postman, named William Cairns, 28 years old, rescued a housewife in Toronto from her gas-filled home. He was celebrated and became a hero, winning the DOW Award for his act of outstanding bravery, earning a $100 Canada Savings Bond. He enjoyed genealogy, researching his family tree. William Cairns died in Toronto.
• F/S Frederick Dixon Hirtle, Strathmore, Alberta, R131516 -- survived. In February 1939, according the Calgary Herald, Fred Hirtle, along with the winners of an amateur radio contest held at his father's movie theatre in Strathmore, were part of a radio broadcast. Fred was a member of a music club, playing the cornet, trumpet, and organ. He continued to play music throughout his life. In December 1967, he became the new Chief Flying Instructor with the Chilliwack Flying Club. A newspaper article reported: "He was with the RCAF's coastal command flying Cansos in Newfoundland and Sunderlands overseas. He was discharged from the services in 1945. He took an instructor's course with Waneta Airways, Trail, BC in 1956 and has been an instructor at Trail and Castlegar since that time. He moved to the coast in September. Married, he has one daughter, Elaine, who is teaching school in the district." He was a member of the Rotary Club in Salmon Arm, BC in 1983. He passed away in 1997, buried in Sorrento, BC. He was married twice, his second wife passing away in 1999.
• F/O James Barrie Dalgleish, Toronto, Ontario, J10579 -- survived. He married Margaret Louise Patton in June 1944.
• Sgt A. H. Jones, Brantford, Ontario -- injured.
• LAC Percy Leroy Marsh, Fredericton, New Brunswick -- injured.
• Major Kenneth Storey Morton, RAF, Doddington, Northumberland, UK -- killed. He was the son of John and Hilda Susie Morton. He was serving on the HQ Staff of Coastal Command, RAF. He is commemorated in St. Aidan's Churchyard and on the Brookwood 1939-1945 Memorial, Brookwood, Surrey. In the church, there is a stained-glass window in his memory, depicting a Halifax bomber towing a glider. The inscription reads, "To the Glory of God and in loving memory of Kenneth Storey Morthon, Major Royal Artillery (T.A.) of Hetton Law who gave his life on Active Service Overseas on 8th November 1943, aged 23. Erected by his parents." Some discrepancies in the information as he died in a Canso, and another source shows he was 28. His name appears on the Brookwood 1939-1945 Memorial in Surrey, England.