Lloyd Latimer Bradley J24703
November 8, 1920 - April 22, 1943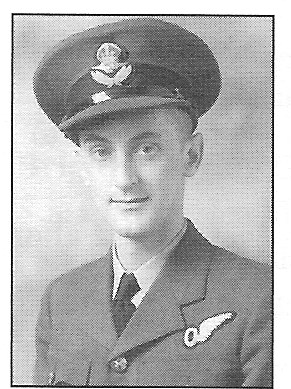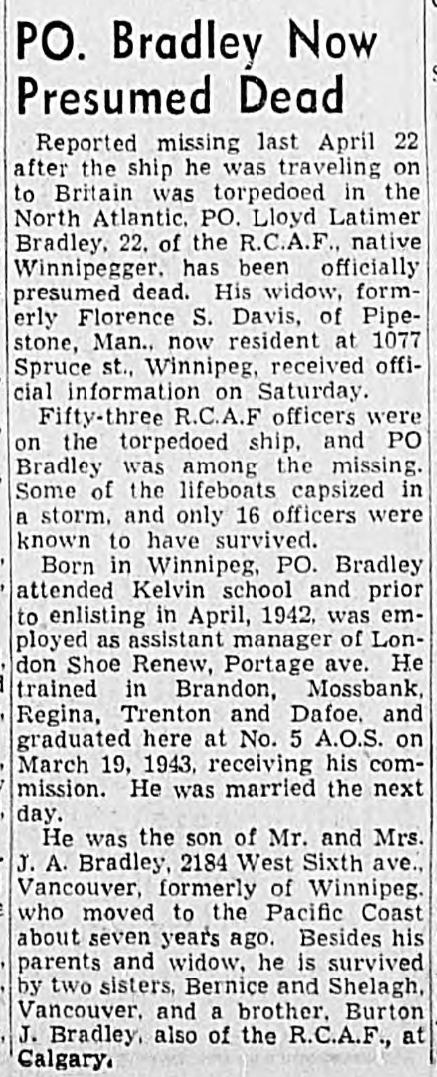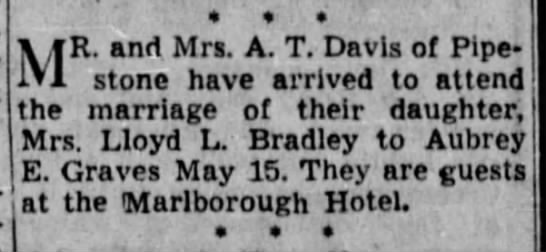 Shoe clerk becomes bomb aimer who was lost aboard the Amerika.
Lloyd Latimer Bradley was born in Winnipeg, Manitoba to Joseph Alexander Bradley and his wife, Annie Josephine (nee Liddy) Bradley. He had one brother, Burton Joseph,20, who lived in Calgary, and two sisters, Bernice, 16, and Shelagh, 13, who lived in Vancouver with their parents as the family was living on the west coast by 1938. The family was Protestant. Medically, he had sunstroke as a child, wore glasses for a year when he was ten, and was injured playing football at 11 years of age (ear haemorrhage after blow). Lloyd had an appendectomy in 1941, plus his tonsils were removed. In July 1940, he had a complete dental extraction in July 1940.
He had a Grade X matriculation education, all schools in Winnipeg. He worked at Eaton's as a shoe clerk, and then moved to Vancouver, working at Woods Ltd. as a shoe clerk. Returning to Winnipeg, he worked at London Shoe Renew Co. on Portage Avenue, prior to enlistment, doing shoe repairing for four years. He was the assistant manager. He had hoped to get into aerial photography after the war.
Lloyd had lived in Vancouver from 1937-1940. He was at No. 111 (CAC) Squadron, RCAF Non-Permanent, Vancouver, BC from February 15, 1938 to October 5, 1938. The RCAF felt Lloyd was only suitable for the band. In February 1938, he was a standard mess man and then remustered to station apprentice as an armourer, then discharged October 1938.
He returned to Winnipeg. He had applied to the RCAF in April 1940 but was medically unfit. On his attestation papers in February 1938, he said he was born one year earlier, in 1919.
In September 1941, he tried to enlist again. April 1942, he was accepted. In July 1942, medically it noted he was "thin and underweight by 26 pounds.. Has always been so. Slightly physiological systolic murmur precordial, heard in upright position accentuated when recumbent. Does not quite disappear with full inspiration in latter position. Considered union post ant reflex. Complete dental plates." Identification mark: mole below left nipple.
He stood 5' 8 ¼" tall, weighed 112 pounds, had blue eyes and fair hair, with a medium complexion.
Additional information: "Average education. Was in reserved RCAF as bandsman 1938 for 6 months, was in shoe trade as clerk and advanced to assistant manager of a Winnipeg store in two years. Physique -- always below average weight, lanky, healthy. Motivation: wants to fly and better education. Temperament: clean-cut character. Enthusiastic -- matured outlook on some things -- thinks fighter is his 'meat'. I this, I think he maybe incorrect. Not enough push and aggressiveness. Emotional stability: good. Choice: pilot." F/L D. Murnaghan
He started out in Brandon at No. 2 Manning Depot, April 8, 1942, then was sent to No.2 Bomb and Gunnery School, Mossbank, Saskatchewan May 23, 1942 before heading to No. 1 ITS, Regina, July 18, 1942. He was then sent to No. 15 EFTS, then to No. 1 RC Trenton, October 1942, then to No. 5 B& G School, Dafoe, Saskatchewan, then to No. 5 AOS, then to Halifax in early April 1943.
At No. 2 ITS: "He is a sincere young airman who appears high strung and tense. He is reliable, conscientious, and has and has made steady effort on the course. He needs to gain more confidence in himself but will improve with training. He is ambitious and should be come average aircrew material."
At No. 15 EFTS: This airman lacks both initiative and desire to fly. Too willing to give up. Has had approximately five hours. He requests to become a bombardier."
On the Progress and Discontinuance Report: "This student tries hard but is very nervous; is afraid of the aircraft; coordination is very poor. His flying and ability to fly is very much below average. Will never go solo in 20 hours. This airman could not even taxi. Take-off poor. Airmanship very poor, and is very timid about flying."
He was at No. 5 B&G School, Dafoe, Saskatchewan. While there, he was AWL from 0615 hours December 29, 1942 to 2000 hours December 12, 1942, absent thirteen hours, 45 minutes and was admonished and forfeited one day's pay. "Average in air work, above average in ground subjects. Above average in all gunnery work. 42nd out of 48 in class. 76.8% Alert and confident. Displays initiative. Needs more practical experience. Passed a supplementary signals examination."
At No. 5 AOS School, February 8, 1943 to March 19, 1943: "Has shown good results at practical Navigation and with further experience should be very reliable. Aircraft recognition good. Fair bomb aimer. Pleasant manner and appearances. Very cooperative and willing in all types of duties." Lloyd earned his Air Bomber's Badge on March 19, 1943.
The next day, Lloyd married Florence Simone Davis on March 20, 1943 and she resided in Winnipeg. They had no children. A month later, Lloyd was in Halifax readying to head overseas.
On April 22, 1943, Lloyd Bradley was aboard the Amerika, British Motor merchant ship. It was on its way from Halifax, Nova Scotia to Liverpool. It was torpedoed as the ship was heading to Britain. It was a straggler in convoy HX-234. Thirty-seven men, all officers in the RCAF, were presumed missing as a result of enemy action at sea; sixteen were landed at a British port after their ship was sunk by U-306, south of Cape Farewell, off Greenland. Forty-two crew members and seven gunners were also amongst those who were lost. The master, Christian Nielsen, 29 crewmembers, eight gunners, and sixteen passengers were picked up by the HMS Asphodel, and landed at Greenock. General cargo, including metal, flour, meat and 200 bags of mail were also lost.
After Lloyd's death, Florence remarried and became Mrs. A. E. Graves. She had moved to Medicine Hat, Alberta when she received the letter from W/C Gunn informing her that Lloyd's name would appear on the Ottawa Memorial.
Mr. and Mrs. Bradley, living back in Winnipeg, by 1955, thanked the Department of National Defence, Ottawa for their letter informing them of the Ottawa Memorial and wondered if there would be any provision made regarding transportation expenses when the dedication would take place.