Lionel Edgar Legge J14659
December 15, 1919 - October 14, 1942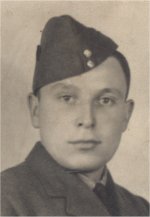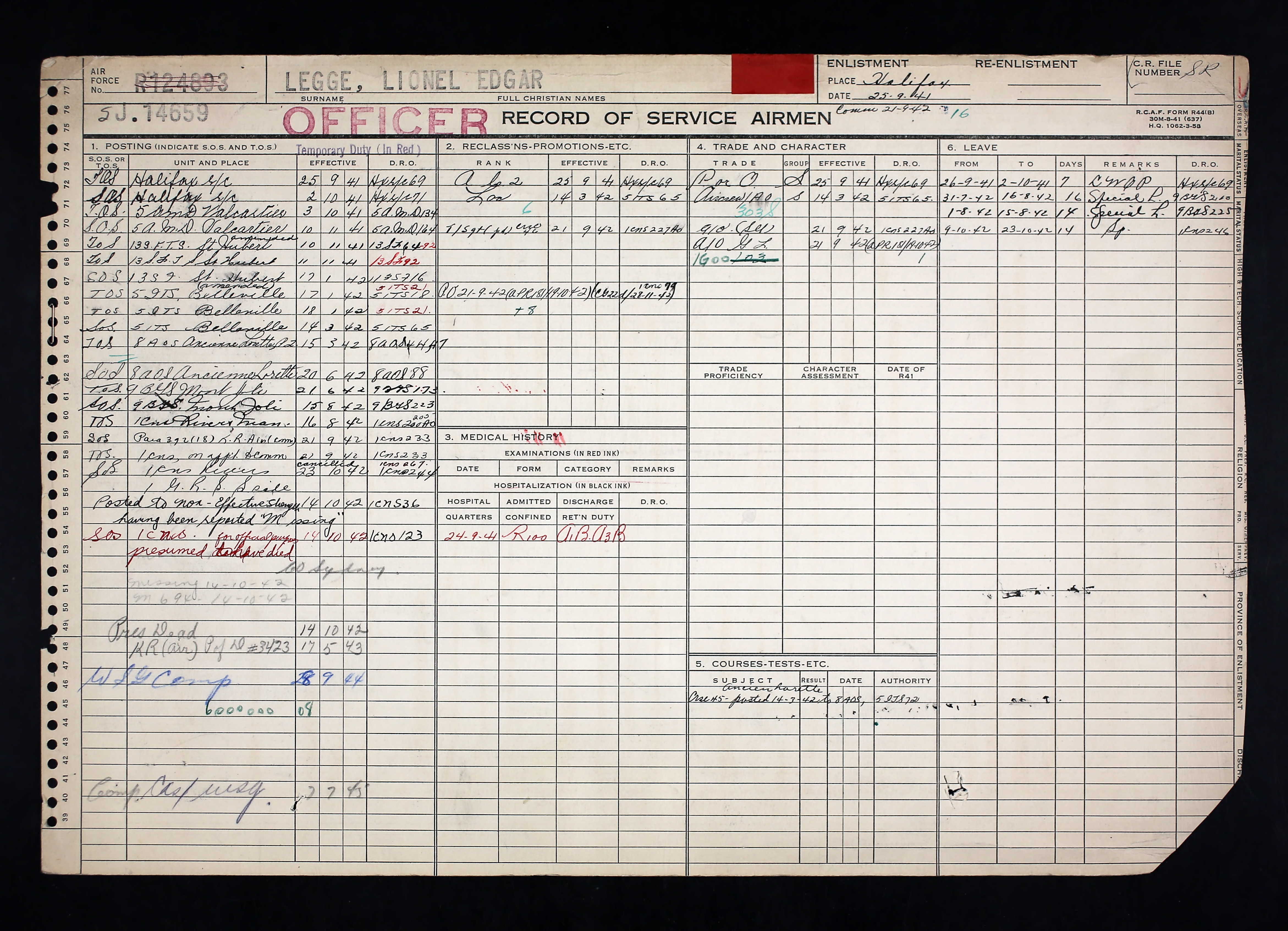 Teacher from Newfoundland wanted pilot; became air observer. Victim from torpedoing of SS Caribou.
Lionel Edgar Legge, born in Cartyville, Newfoundland, was the son of William Tobias Legge (1891-1970), farmer, and Lizzie Belle (nee Ryan) Legge (1895-1953), Robinsons, Newfoundland. He had one sister, Jessie Vera. The family was Anglican.
Attending Bishopfield College for one year and taking one year at Memorial University College (1938/39), Lionel was a teacher for two years in Robinsons, Newfoundland, prior to enlistment in Halifax, Nova Scotia with the RCAF in September 1941. He liked soccer, skated, fished and read. He stood 5'11 ½" tall and weighed 166 pounds. Lionel had brown eyes and black hair with a dark complexion. His condition of mouth and teeth were rated excellent. He had never been in the hospital, nor involved in any "bad accidents." He had a 1" mole/birth mark on one of his legs.
He wanted to be a pilot. "Appears to be a good type of young man – somewhat reserved in manner and rather slow of speech."
He was sent to No. 5 Manning Depot, Valcartier, Quebec on October 2, 1941, then to No. 13 SFTS, St. Hubert, Quebec from November 10 until January 17, 1941. He then was sent to No. 5 ITS at Belleville, Ontario, where he remained until March 13, 1942. "One of the best airmen in the class. Quiet, reserved, intelligent, conscientious lad. Good all-round air crew." He was 8th in his class of 117 and scored an 87%.
From there, he was sent to No. 8 Air Observers School, Ancienne Lorette, Quebec until June 20, 1942. "12th in air work. I have found this man very hard to judge. One is never sure of him. He is not impressive and as a navigator was not careful enough in his checking." Armament: "Good in theory but generally weak on practical grouping especially and also vectoring." General: "I believe that he gets by with as little work as possible but I also think that he will become a good navigator." He was 6th out of 16 in his class and scored 77.4%.
Lionel was sent to No. 9 Bomb and Gunnery School at Mont Joli, Quebec until August 15, 1942. S/L E. A. Nanton wrote, "With more experience should develop into a first-rate bomber aimer. Had trouble trying to attain the required standard (gunnery). A quiet and serious type of lad. Minds his own business and inclined to follow rather than lead." He was 18th out of 21 in his class with 69.4%. He earned his Air Observers Badge.
He took the train to Rivers, Manitoba to No. 1 ANS for a course in advanced air observer's training. He was there from August 17, 1942 until September 21, 1942, when he received his commission. "Air: Not too industrious. Made a poor start, then picked up. Later slacking off again. Ground: Didn't seem to work as hard as some of the class but made satisfactory showing in the finals." He was 4th out of 16 in his class with 78.4%. He was rated above average as an air navigator but was not recommended as an instructor. His final assessment: "Somewhat self-conscious and shy. Good worker and a sound practical man."
Lionel had a life insurance policy valued at $1020 with Confederation Life and payments were to be made from his RCAF pay. His mother was the beneficiary.
The night of October 14, 1942 was very dark with no moon. Sixty kilometres off the coast of Newfoundland, the SS Caribou on her starboard side was torpedoed by German U-boat U-106. On board were 73 civilians including eleven children, 118 military personnel, and a crew of 46. The passengers were thrown from their bunks, several lifeboats and rafts were destroyed or could not be launched, as the ship sunk quickly, reports stating three minutes. Many passengers were forced to jump overboard. Over 135 people perished. Fifteen of the crew survived, many of them local men from the Channel/Port aux Basque area.
It is unknown why Lionel was aboard the SS Caribou. Was he visiting his family before he was to be posted or was he being posted to Newfoundland, doubling up with a visit to his family?
On October 23, 1942, an RCAF message stated: "Air Ministry were signalled October fifteenth reporting RAF 124893 Pilot Officer L E Legge as missing and RAF 124697 Pilot Officer G H Bastow RAF 124698 Pilot Officer N R Butt RAF 124972 Pilot Officer L M Etchle as survivors and requesting they inform next kin. Reply states Air Ministry unable to trace any record for any of them and request full Christian names and any other details likely to assist. Advise here any information available."
Lionel's commissioned service number was J14659. Prior, his service number was R124893.
Pilot Officer Gerald H Bastow (1922-1980) and Pilot Officer L. M. Etchleguy were survivors, as was Pilot Officer Walter Robert Butt. Bastow, had recently completed a Fighter Operational training course and shared his cabin with Butt. He earned the DFC with the RAF. His service number was 124697. (Bastow gave a talk in 1964 to the St. John's Rotary on the 22nd anniversary of the sinking of the SS Caribou.)
Butt, known as Bob, was with the RAF, service number 124696. He, along with Bastow, had completed the same Fighter operational course. He was going home on leave and was later killed in action with No. 2 Squadron on July 5, 1943 and is buried at Brookwood Military Cemetery, UK.
Two of the survivors who had suffered from shock and exposure due to the sinking of the SS Caribou, Aircraftmen Frank Earl Burton, 19, and Frederick Anthon Langley, 23, both airframe mechanics posted to Botwood, Newfoundland, perished in the fire at the Knights of Columbus hostel in St. John's, Newfoundland, December 12, 1942. Ninety-nine people were killed, with 80 of them military personnel. Critically wounded: 109.
June 1, 1943, Mr. and Mrs. Legge received a telegram informing them that Lionel would be, for official purposes presumed dead.
In January 1948, a memorial was erected at Port-aux-Basques, Newfoundland, in memory of those who died in the torpedoing of the S. S. Caribou.
Lionel's name appears on the Ottawa Memorial as he has no known grave.
For additional information, please click on the links below.
LINKS: