Lewis Gerald Robinson R86901
August 9, 1922 - November 1, 1942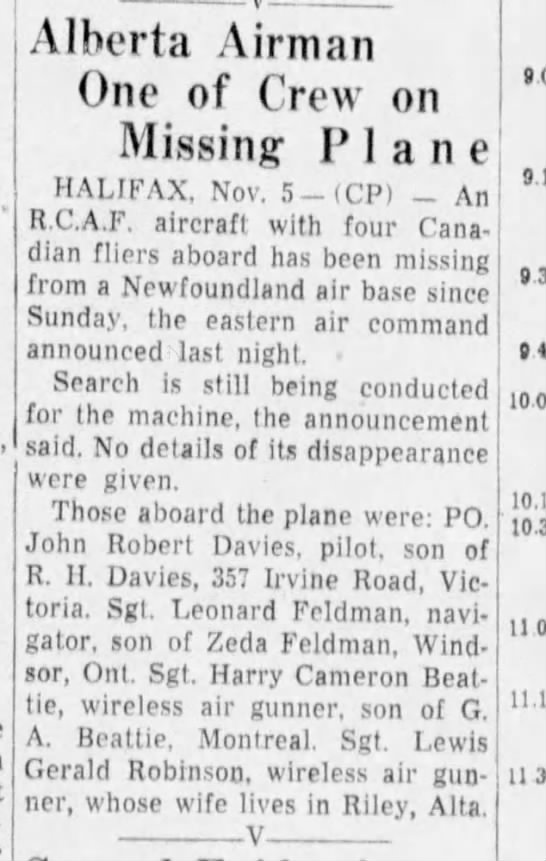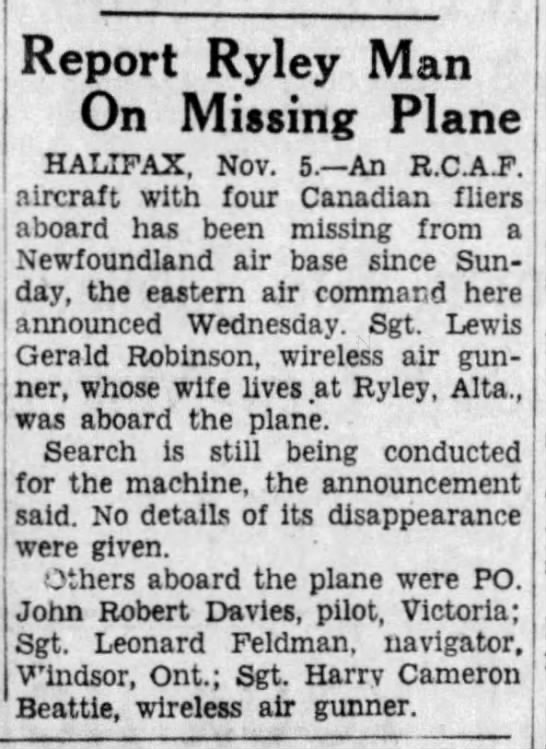 Messenger with CPR became WAG. He was aboard Hudson BW449 when it went missing between Torbay and St. John's, Newfoundland in November 1942.
Lewis Gerald Robinson, born in Vermillion, Alberta, was the son of Percival Clarridge Robinson and Ida (nee Bowman) Robinson. He had one brother, Percival James Wellington Robinson, who had epilepsy, three brothers died in infancy and one sister, May Robinson. His parents separated and the whereabouts of his father was unknown. The family attended the United Church. On Lewis's interview sheet, he stood 5'5" tall and weighed 135 pounds. He had completed Grade X and was three subjects short of receiving his Grade XI. He applied with the RCAF as an Air Gunner in Edmonton on August 27, 1940. He played the guitar, liked to read, played badminton, tennis and golf, with baseball occasionally. "Poorly dressed but clean and neat. While appears rather young, should be satisfactory for Air Crew." Lewis was 18, had brown eyes and light brown hair.
Lewis had been a helper for milk delivery, then a telegraph boy for the CPR, prior to his enlistment. He smoked between 5-7 cigarettes per day and indicated he did not drink alcohol. "Sturdy, muscular." A 3" scar on his left shin was noted. "Owe about twenty dollars to United Cycle Shop for a bicycle."
Lewis started his journey through the BCATP at No. 2 Manning Depot, February 9 until March 29, 1941. He was then sent to No. 2 Bomb and Gunnery School, Mossbank, Saskatchewan, for about three weeks.
Between May 26 and November 9, 1941, Lewis took Air and Ground Training at No. 2 Wireless School, Calgary, Alberta. He was 68 out of 178 in his class. He was authorized to wear a Wireless Operator's Badge on November 9, 1941.
He was sent to No. 5 Bomb and Gunnery School, Dafoe, Saskatchewan until December 8, 1941. He was 9th out of 29 in his class and was authorized to wear an Air Gunner's Badge. "A student of average ability."
He was sent to Western Air Command December 1941, and 115 (F) Squadron, Patricia Bay,, BC, until December 20, 1941. He was then sent across the country to Halifax, before the end of the year, then sent to 11 BR, Dartmouth, NS, January 3, 1942. By May 1942, he was with 145 BR Squadron, Torbay, Newfoundland.
Lewis sent $40 home per month to support his mother and brother.
Lewis married Nanna 'Nan' Winther Munkedal (1920-1985) in Ryley, Alberta on May 19, 1942.
Hudson BW449 145 Squadron Hudson Mk. III, BW449 departed R.C.A.F. Station Torbay at 16:35 hours GMT on an anti-submarine patrol and convoy escort duty. The aircraft failed to return. The pilot was inexperienced and should have had more time as a Second Pilot before becoming First Pilot on patrol duties. It is felt that the pilot let down through the fog and crashed into the sea. All occupants were considered dead after the Accident Investigation Board findings.
CREW: *Sergeant Harry Cameron Beattie, R108299, WAG *Pilot Officer John Robert Davies, J10249, Second Pilot *F/S Leonard Feldman, R109627, Navigator *F/S Lewis Gerald Robinson, R86901, WAG
The Court of Inquiry called thirteen witnesses on November 4, 1942, held at Torbay. The place of the accident that took place on November 1, 1942, was unknown by possibly between Torbay and St. John's. The pilot was to have carried out a square search. The cause of the accident was "Pilot due to eagerness tried to let down through the fog to investigate a probably 'blip' on his RDF and crashed into the sea." Recommendations: "Inexperienced pilots should have more time as second pilots before becoming first pilot on patrol duties." The Chief of the Air Staff signed the document with the remarks, "Approved, but finding is pure conjecture. Cause: unknown."
After Lewis's death, Nan filled out the estates form in January 1944. "Sorry to have not returned this form sooner. I would like to ask you again about F/Sgt Robinson's personal belongings which as yet I have not received. Perhaps it has been due to your not having this form. I have filled in this form to the best of my ability without the aid of his personal belongings."
Lewis's widow, Nan, married Charles Francis Kallal and resided in Tofield by 1950 and Edmonton by 1956. She received a letter informing her in January 1956 that since Lewis had no known grave, his name would appear on the Ottawa Memorial.