Leslie Edward Triplett J11774
July 5, 1915 - February 23, 1943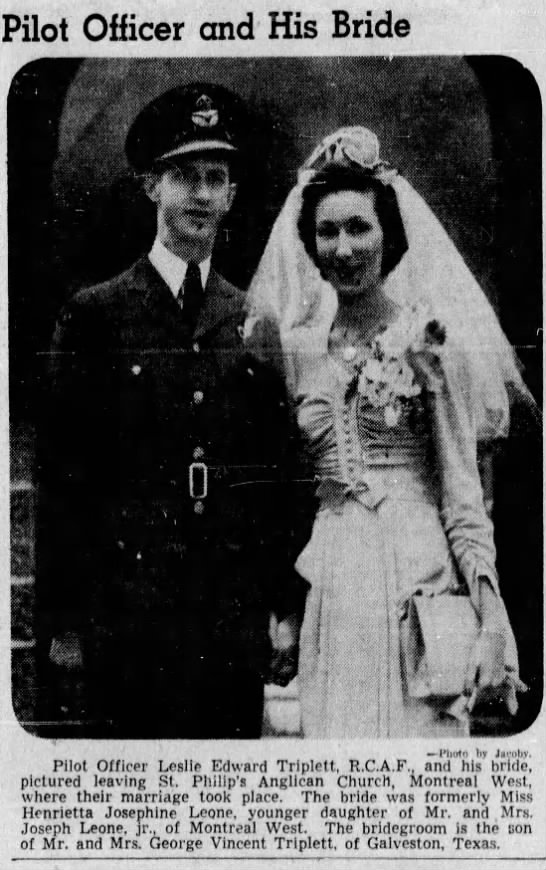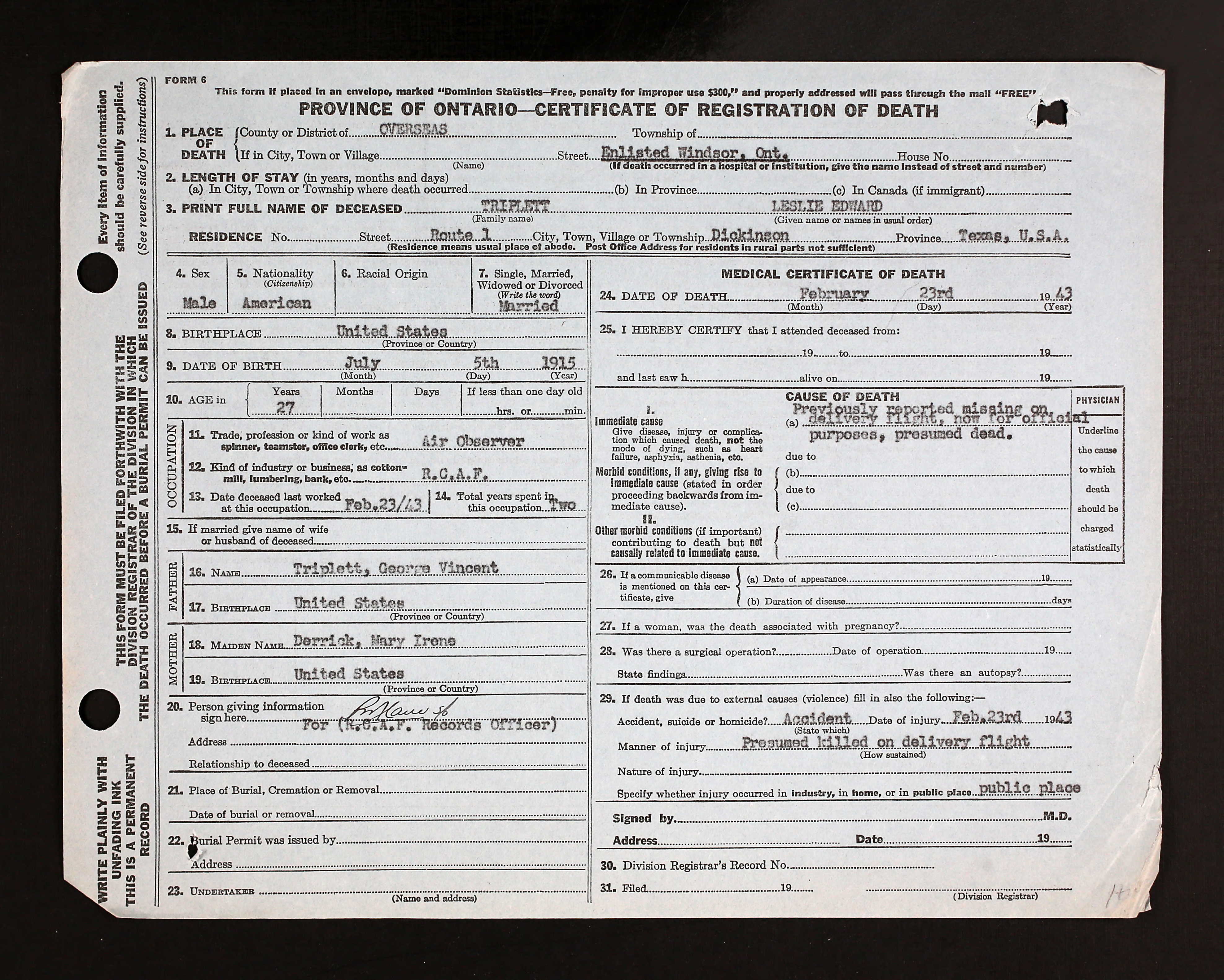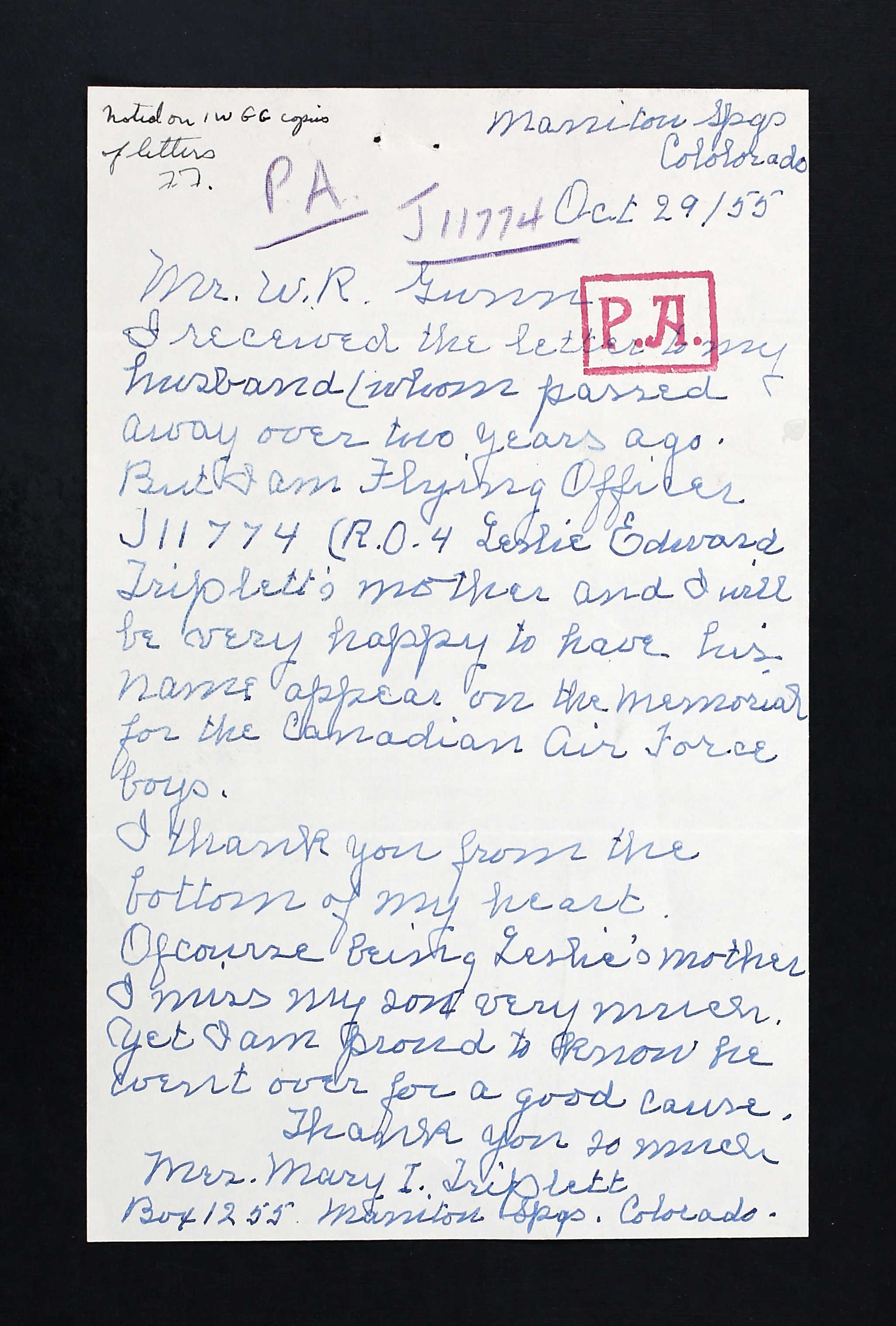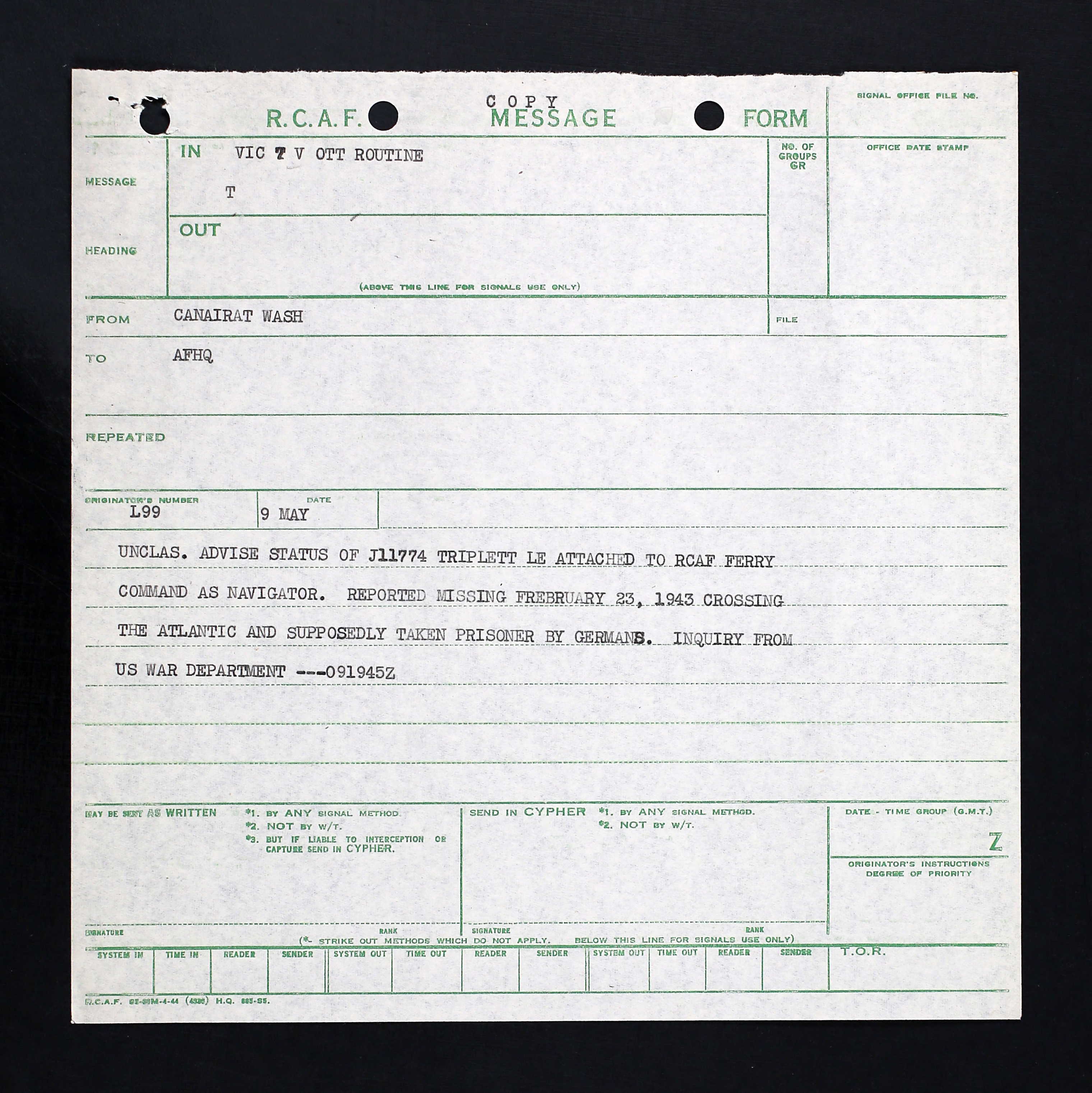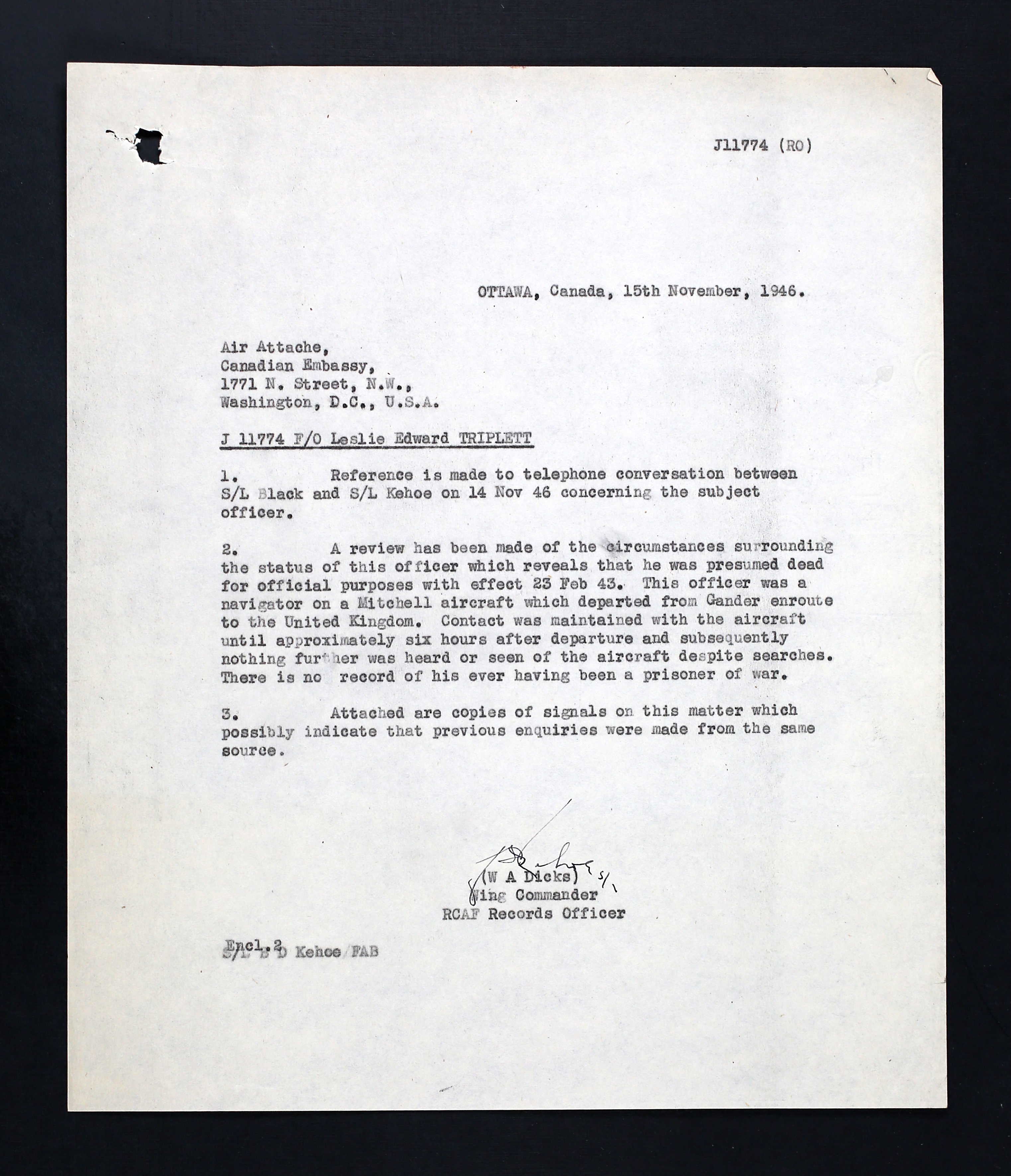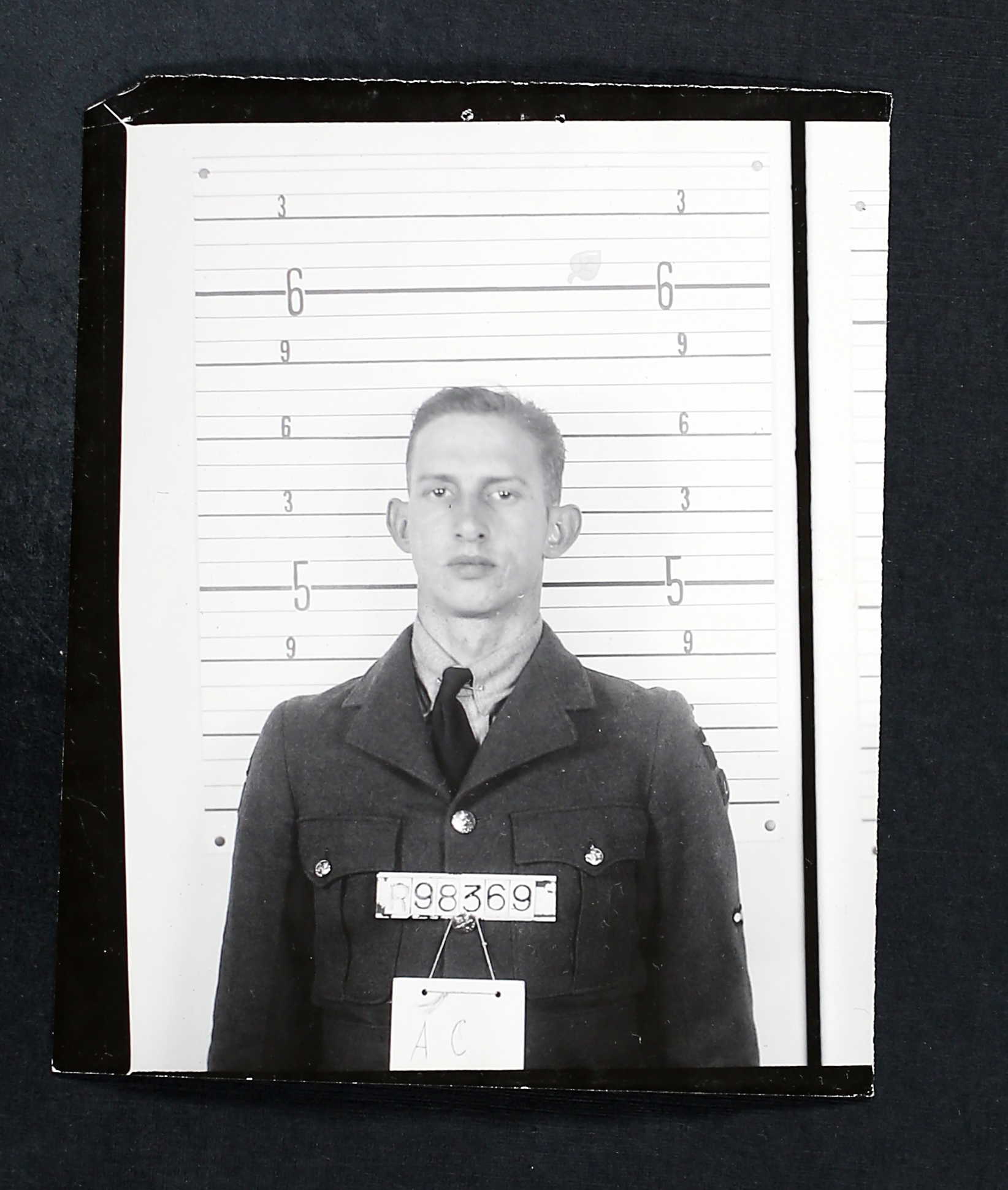 Texan joined RCAF, tried for pilot, became navigator. Aboard Mitchell FR148, he and two others were lost between Gander, Newfoundland and the UK in February 1943.
Leslie Edward Triplett, born in Bayview, Texas, was the son of George Vincent Triplett, general contractor, of Dickinson, Texas, and Mary Irene (nee Derrick) Triplett of Colorado Springs, Colorado. He had many brothers and sisters: Donovan A. Triplett, Edward V. Triplett, George M. Triplett, Mildred Sutcliffe, Mrs. Lilian G. Christian, Mrs. Dollie Bassette, and Mrs. Mabel Pomeleo. The family was Methodist. Leslie only noted one brother and sister on his enlistment papers; they would be his full siblings: Donovan and Mildred.
Leslie had a high school education ('above average'), worked as a machinist's helper, a pipe fitter helper, and a bottler/labeller. He liked baseball, football, tennis, and radio mechanics, plus sketching with pencil. He smoked between 5-10 cigarettes a day and drank the occasional beer... He signed with the RCAF in Windsor, Ontario in May 1941, noting he was an electrician. "Very average, courteous, straightforward. Seems intelligent but employment since school not impressive. Older than usual. Appears keen and with training should be satisfactory." He stood 5' 7 ¼" tall and weighed 126 pounds. He had brown eyes and brown hair. "Just average physically and from personality stand point." On his medical form: "Chicken pos, with scarring face moderate. Fair in athletics. 15 lbs underweight, but wiry. Good pulse responses and 4o mm test. A fair appearing candidate, fairly alert. Anxious to fly and sincere. Fair aircrew material."
He started his journey through the BCATP at No. 1 Manning Depot, Toronto, May 26, 1941 and then was taken on strength at No. 6 SFTS, Dunnville until August 8, 1941. Leslie was in the Station hospital from July 24 – 29, 1941, then at the Hamilton General Hospital from July 29 to August 2, 1941. He was then sent to No. 5 ITS, Belleville, August 8 until September 27, 1941. "Excellent character, good appearance. Likeable personality. Should make a good pilot. Good all-round sport. No car accidents. Wants to go overseas. Possible observer as he has good temperament for it. Might make WAG as very good shot. MIGHT MAKE COMMISSION. Like this boy, should be given a chance. Wants both RCAF and flying as career. Wanted to be radio or electrical technician in civil life." From there, he was at No. 22 EFTS until October 22, 1941.
He was then sent to KTS, Trenton, as he washed out of pilot training. He was then sent to No. 10 AOS Chatham November 22, 1941 until February 27, 1942. "Navigation: Very good in everything he does. Keen and steady. Could be trusted with responsibilities. Armament: Good knowledge of theory. General: A very likeable American." Leslie was 3rd out of 24 in his class with 85.7%.
Mountain View, Ontario and No. 6 B&G School was his next stop from February 28 until April 11, 1942. "Bombing: Fair bomb aimer. Good in ground subjects. Gunnery: Average air gunner. General: Serious hard worker. A bit slow. Not very aggressive." He was 6th out of 35 in his class, earning his AO Badge on April 11, 1942. He was sent to No. 2 ANS, Pennfield Ridge, NB April 12 until May 25, 1942, where he received his commission. "Ground: very good student. Achieved good results without difficulty. Air: worked very hard. Fair results at first but toward the end turned in some excellent work." He was tied for 5th in his class of 141. "Outstanding personality head and shoulders above his fellows. A born leader. Definitely commission material." He was then sent to No. 31 O.T.U. at Debert, NS. From there, he was sent to Lachine, Quebec and then attached to RAF Ferry Command July 1, 1942.
Leslie married Henrietta 'Anne' Josephine Leone July 29, 1942, in the chapel of St. Philip's Anglican Church in Montreal West. They had a son, Leslie Edward Triplett, born July 18, 1943.
Mitchell FR148 crew attached to RAF Ferry Command: Pilot Donald Lee Annibal, RAF, Radio Officer Clifford Donald Saugstad, RAF, and Navigator Flying Officer Leslie Edward Triplett, RCAF. Saugstad was the son of Ellen Elizabeth Saugstad of Vancouver. BC. They were lost during a flight between Canada and the UK.
There had been a rumour that Leslie had been supposedly taken prisoner by Germans. "Inquiry from US War Department." A reply: "No record of ever being prisoner of war."
In a letter dated November 15, 1946: "A review has been made of the circumstances surrounding the status of this officer which reveals that he was presumed dead for official purposes with effect 23 Feb 43. This officer was a navigator on a Mitchell aircraft which departed from Gander enroute to the United Kingdom. Contact was maintained until approximately six hours after departure and subsequently nothing further was heard or seen of the aircraft despite searches. There is no record of his ever having been a prisoner of war. Attached are copies of signals on this matter which possibly indicate that previous enquiries were made from the same source."
Henrietta remarried at the end of April 1948, the bride of Mr. William Joseph Carragher, of Montreal.
In a letter dated October 29, 1955, written by Mrs. Triplett: "I received the letter to my husband (whom passed away over two years ago). But I am Flying Officer J11774 Leslie Edward Triplett's mother, and I will be very happy to have his name appear on the memorial for the Canadian Air Force boys. I thank you from the bottom of my heart. Of course, being Leslie's mother, I miss my son very much, yet I am proud to know he went over for a good cause. Thank you so much."
Leslie is remembered on the Ottawa Memorial. The names of his crewmates, Annibal and Saugstad are on the Runnymede Memorial in the UK.