Leslie Oldford P4629
April 6, 1915 - August 23, 1942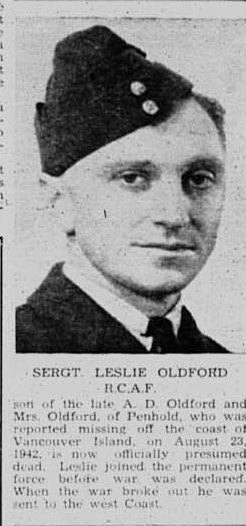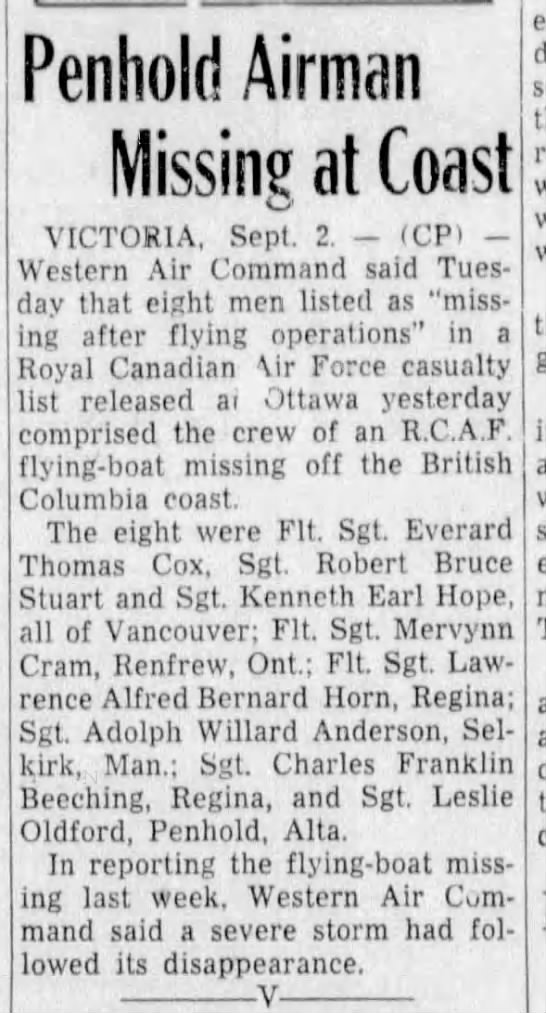 Unemployed maintenance helper became aero engine mechanic and perished aboard Stranraer 951 90 miles west of Vancouver Island.
Leslie Oldford was the son of Ella Victoria Oldford (1878-1954) and her husband, Arthur Daniel Oldfold (1872-1933), farmer, of Penhold, Alberta. He had four brothers, Clarence John (1905-1986), Robert 'Bruce' (1907-1986), William James (1913-1983), and Albert. Albert was with the RCAF and William was with the Canadian Army. He also had five sisters: Mrs. Marion Molineaux, Mrs. Laura Blue, Mrs. Nina Packer (1910-1989), Mrs. Edna Pye (1903-1992), and Mrs. Irene Edgar. The family attended the United Church.
In Calgary, Leslie enlisted with the RCAF on September 16, 1939, two weeks after WWII began. He had been unemployed. "Not particularly neat in appearance. Deportment satisfactory. Willing but needs experience." He had been working as a maintenance helper with Tiger & Pegasus and North West Motors in Red Deer, Alberta.
Leslie was sent to Vancouver then to Patricia Bay, BC. He became an aero engine mechanic with No. 6 BR Squadron. He had 2-$100 Victory Loan bonds and $1000 in life insurance, his mother beneficiary.
He stood 5'8 ¾" tall, weighing 130 pounds. He had grey eyes, dark brown hair and a dark complexion. A linear scar on his right nostril was noted.
He also had 150 hours of practical shop training on diesel engines through a correspondence course out of Chicago, Illinois in early 1938. In September 1939, Leslie had been in a special course in Calgary for seven weeks training with the RCAF.
In 1940 and 1941: "Keen and reliable tradesman. Worthy of promotion. Steady worker."
On January 31, 1941, Leslie was up for promotion from LAC to Corporal at No. 120 BR Squadron, Patricia Bay, BC. He was average on dress, personal appearance, and deportment on and off duty. On March 1, 1942, he was promoted to Sergeant. "A satisfactory type of NCO."
From Aviation Safety Network: "At 1750 on August 23, 1942, Supermarine Stranraer 951 of 120 (BR) Squadron RCAF, with a crew of eight was on a routine combat patrol out of Coal Harbour, Vancouver Naval Air Station Base when it suffered engine failure and was forced to ditch. An SOS was received at 18.18 hours to say that it was sinking. A search located the aircraft but due to high sea conditions, rescue was impossible. Later searches failed to locate the aircraft or crew and they were lost without further trace."
Crew: • F/S Everard Thomas Cox (Captain) Vancouver, BC • F/S Lawrence Alfred Bernard Horn, (2nd Pilot) Regina, Sask. • Sgt Robert Bruce Stuart, (Observer) Vancouver, BC • F/S Mervyn Cram, (WAG) Renfrew, Ont. • Sgt Adolph Willard Anderson, (WAG) Selkirk, Man (under training) • Sgt Kenneth Earl Hope, (AFM) Vancouver, BC • Sgt Leslie Oldford, (AEM) Penhold, Alta • Sgt Charles Franklin Beeching, (AEM) Regina, Sask.
From the Court of Inquiry: "One man in excess of the normal crew of seven was carried. This airman was a WAG under instruction…the aircraft was not overloaded…equipped with one dinghy which would accommodate five men. One spare dinghy was available at the Station which could have been drawn by the captain of the aircraft but was not. Two rescue boats…attempted to reach the aircraft…but due to high seas and failure of radio returned to base. One reached the reported position before daylight the morning following the crash but could not locate the aircraft. The captain of the sighting aircraft carried only one dingy and was having trouble with both engines during the time he circled above the aircraft hence he did not drop his dinghy."
In February 1943, Mrs. Oldford received a letter informing her that Leslie was no longer considered missing and it was proposed to take action to presume his death, for official purposes.
On March 12, 1943, Mrs. Oldford wrote to the Department of National Defence for Air. "In reply to your letter of February 26th regarding my son, I have received no further news of him. The last telegram from Coal Harbour British Columbia where the accident occurred, gave me no hope, whatever, for the safety of my dear boy period since that time I have heard no more news from him. Hoping that this will be satisfactory to you."
A letter arrived for Mrs. Oldford in late October 1955 informing her that since Leslie had no known grave, his name would appear on the Ottawa Memorial. She had passed away the year before. Leslie's name is also engraved on the same headstone as his parents at the Horn Hill Cemetery, Penhold, Alberta.
LINKS: