Leslie Earl Heal R166554
April 9, 1919 - November 6, 1944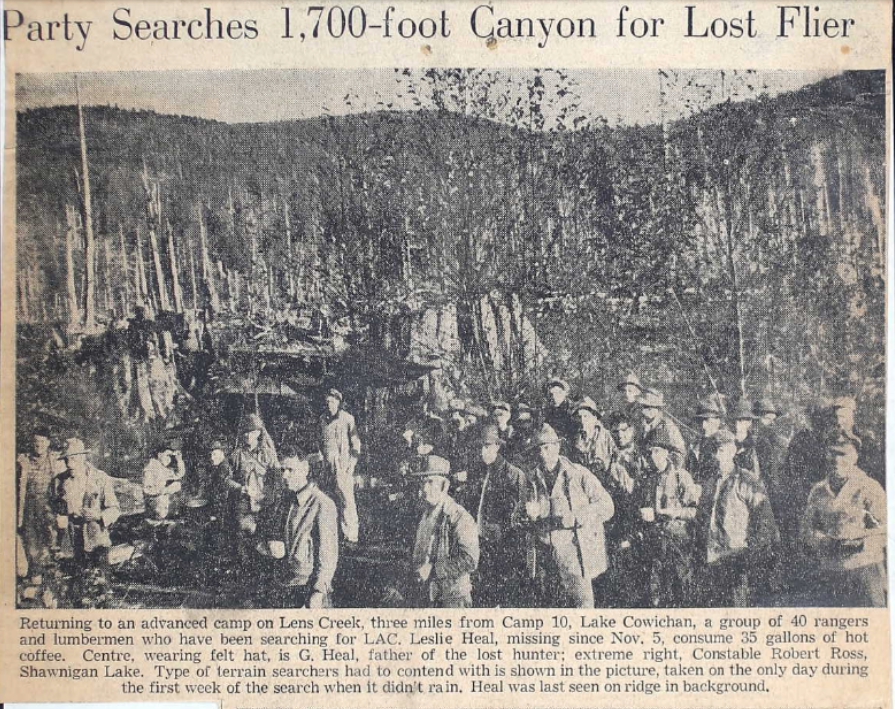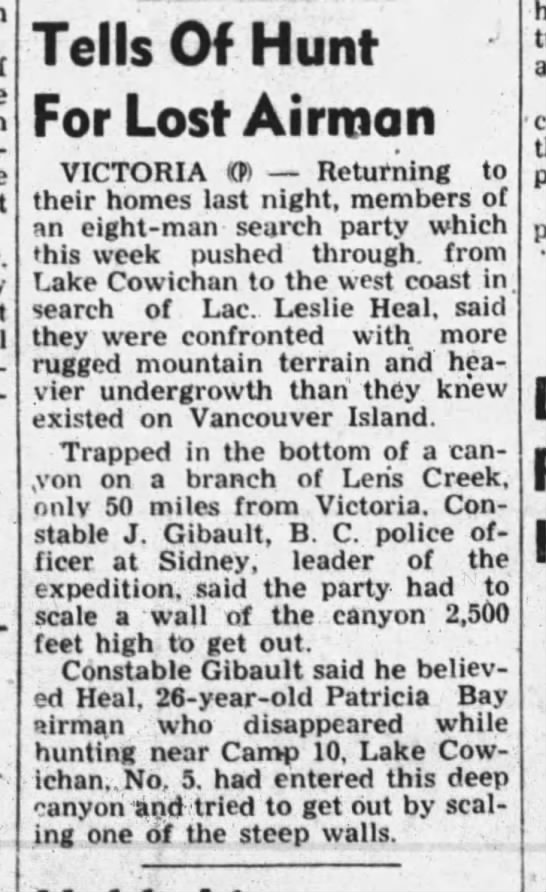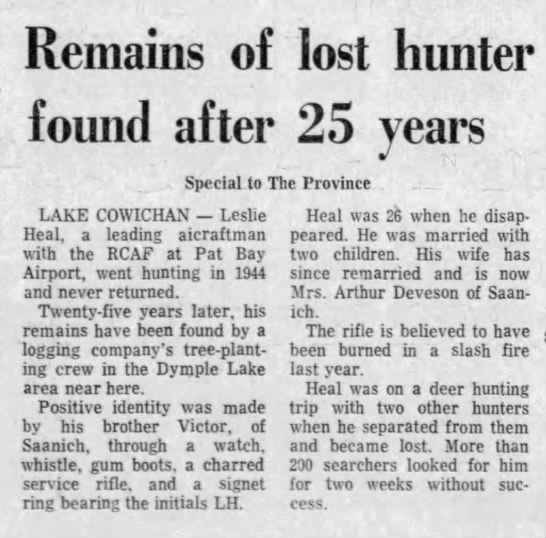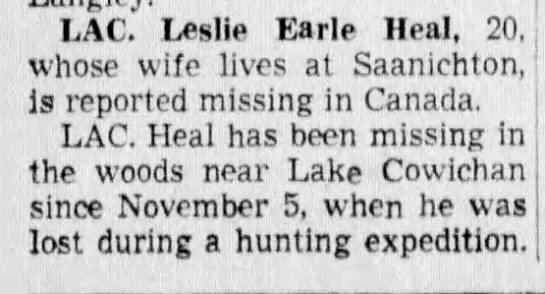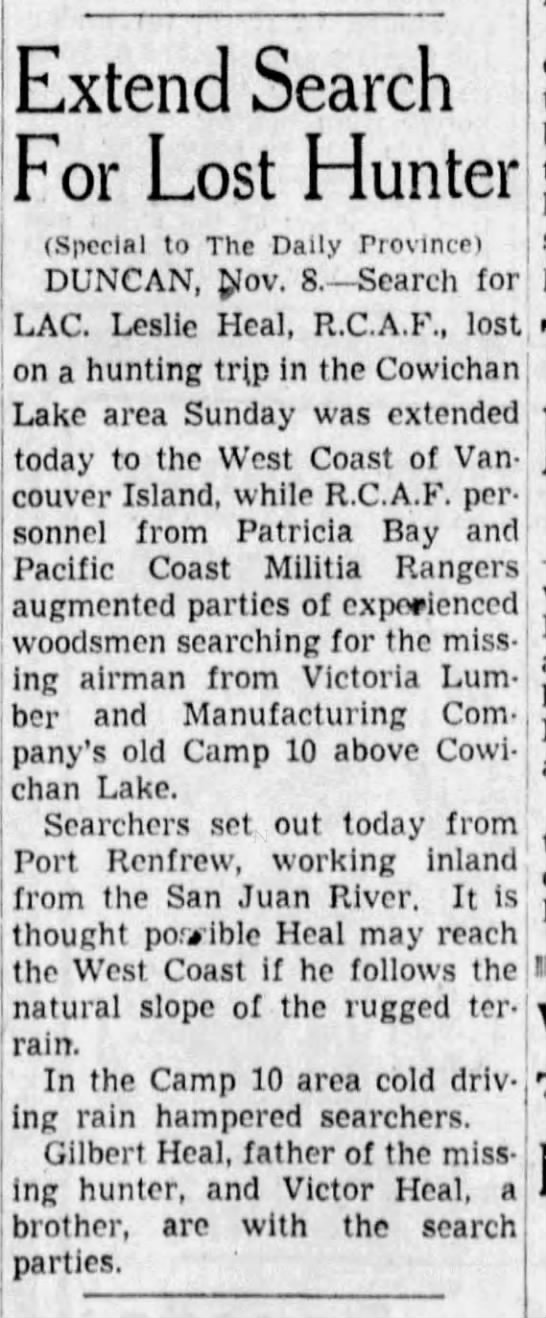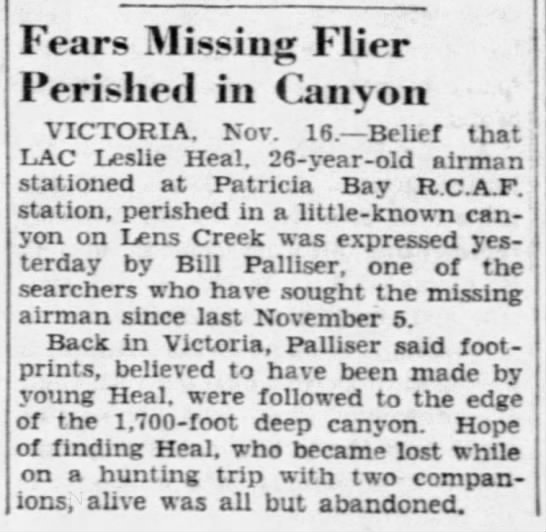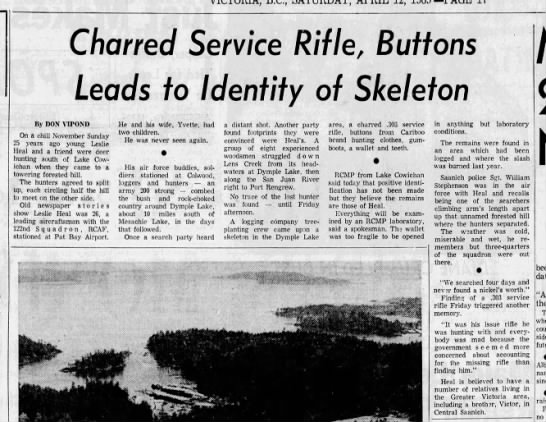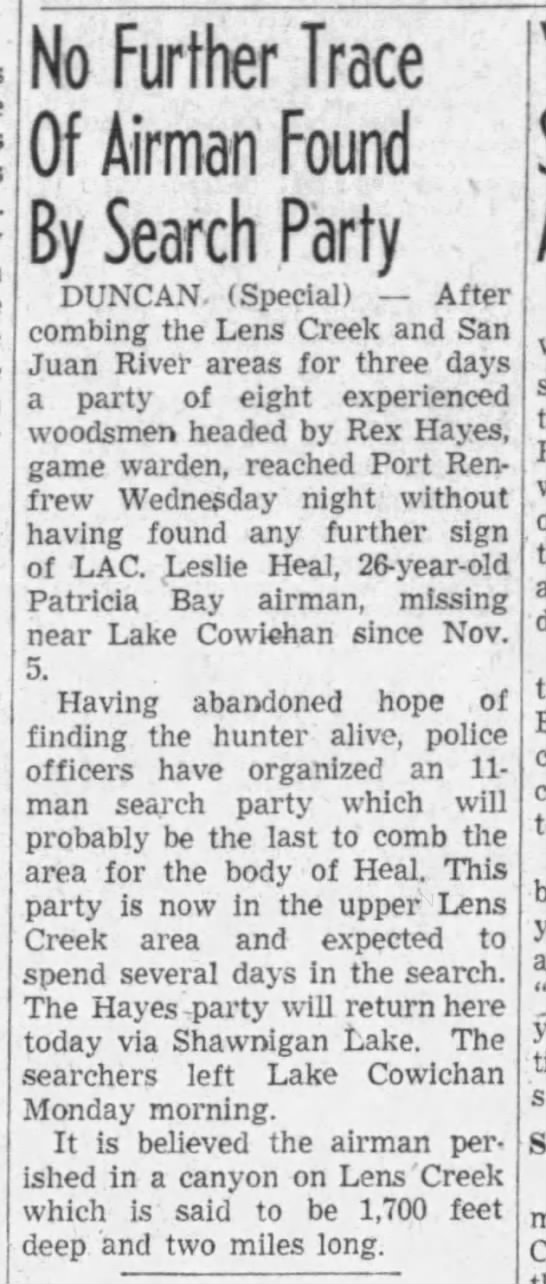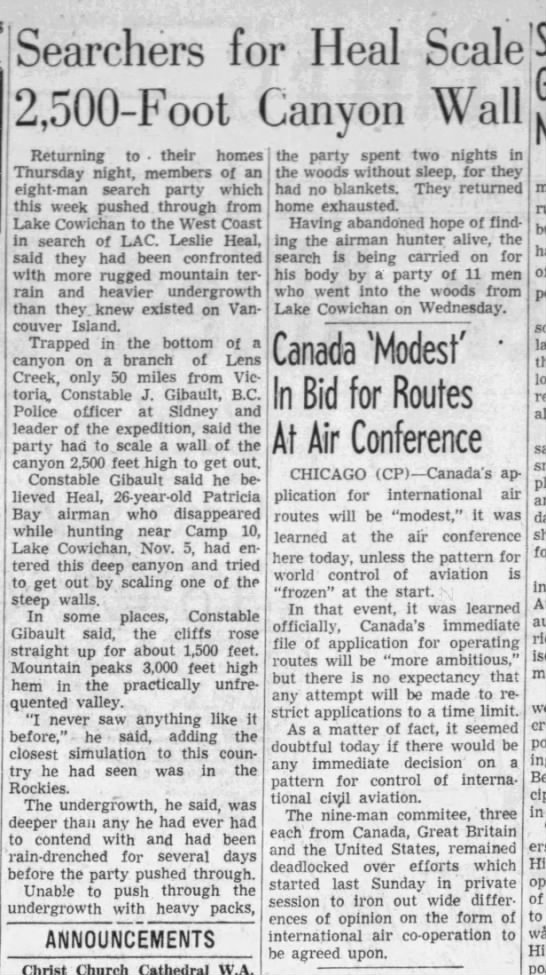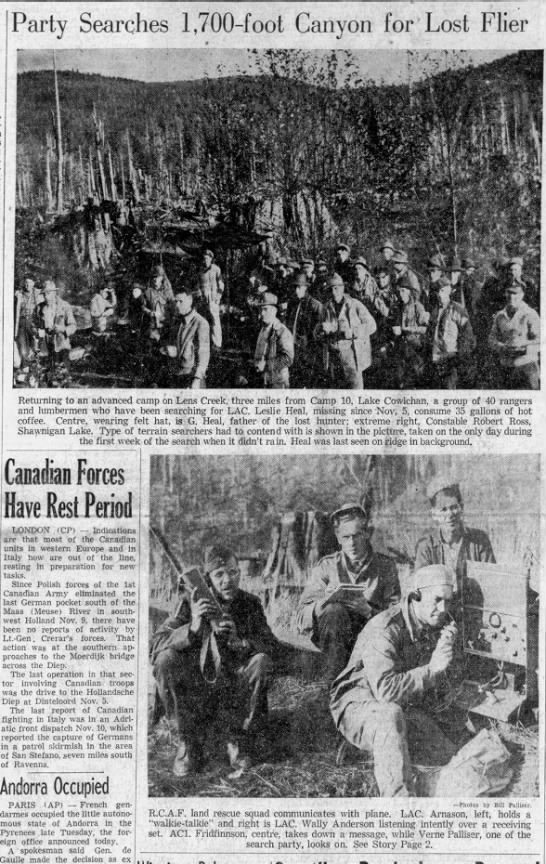 The Lost Hunter
Leslie Earle Heal, born in Royal Oak, British Columbia, was the son of Gilbert Edward Heal (1893-1958) and his wife, Annie Elizabeth (nee Sherritt) Heal (1885-1966) of Saanichton, BC. He had one brother, Victor, and two sisters, Phyllis (1927-2010) and Vera. Another brother, Gordon, died in 1922 at the age of 18 months in 1922. The family was Anglican.
Leslie finished school at Grade 8. He liked to play softball and football.
Leslie married Yvette Jeanne Bachand on July 15, 1940 in Victoria, BC. Together they had two sons: Michael Earle, born June 28, 1941, and Kenneth Edward, born in August 4, 1943.
Leslie was a carpenter for three years with Bennett & White Construction, Marwell Construction, and Wheaton Construction in Vancouver, BC.
In 1940, he joined the Canadian Army. He stood 5'10" tall, weighed 175 pounds and had a ¼" scar under his right eye. He was accepted for service effective August 5, 1940. He went to Nanaimo for training.
From January to May 1942, Leslie took the W.E.T.P. course to become an aero engine mechanic as he decided to join the RCAF. He was sent to No. 3 Manning Depot, Edmonton, then to St. Thomas, Ontario. In August 1942, he was at the station hospital in St. Thomas for two and a half weeks. He was sent to Vancouver to No. 3 Repair Depot in October 1942, then to Patricia Bay, BC, joining 122 Squadron, two months later.
He participated in Ground Warfare Training at Patricia Bay, BC late June 1943. "Gas: 80. Range: 73. Written Exam: 95. Practical: Excellent. Very good knowledge on all weapons and a good marksman."
On Sunday, November 5, 1944, Leslie went on a hunting trip near Lake Cowichan, BC, with two other men: James McBeth and Dennis Titford. Leslie Heal wore a red hat, low rubber boots, carried an Army 303 rifle and had about 11 or 12 shells, along with other appropriate clothing for the trip.
Leslie went missing and a Court of Inquiry was struck.
The first witness, James McBeth, employed by Bazan Bay Brick Company, Sidney, BC stated:
"On Friday afternoon, November 3, 1944, LAC Heal, Dennis Titford and my self left Saanichton in LAC Heal's Car to drive to Cowichan. [105 km] That night we stayed at Cowichan Lake in some cabins... We hunted all day Saturday and returned to Cowichan Lake Saturday night. On Sunday morning, we left Cowichan Lake about 6 AM to drive to the vicinity of Camp #10. we started out to hunt about 8 AM. We started in a westerly direction up the side of a small mountain, which had been partly logged. During this time we hunted together. And then hit a wooded area and turned into this in a northerly direction. At about 11:30 AM, we stopped and had our lunch. After lunch we started out again near the top of the Ridge. This time we split up with Heal going toward the top of the Ridge. After a few minutes, I came across three bears in a tree. The old bear started down, so I shot it and then shot the other two bears. I called to the other two jobs and they came down to where I was. Between them, they shot seven more shots into one of the Bears which was still alive. We started out again in the same positions. About half an hour later, I heard a shot and listened for any shouts. I did not hear any shelves so I started on again and traveled for about half an hour. Then I heard Titford shout my name. I did not know what she wanted so went up to where he was. I asked him where Heal was and Titford said he did not know. We decided to retrace our steps to where we heard the shot to see if we could find Heal. when we got close to where we thought we heard the shot, we fired two single shots and then three shots, which was supposed to signal Heal that we wanted him. We stayed in that area for a good half hour or longer and he did not show up. We then decided that he must have gone down to the car. We started to go back to the car and arrive there about 4 PM. It was raining hard all the time we were hunting.
"When we got back to the car, we shot off our guns about every 15 minutes to attract Heal's attention. When it got dark, we lived a big fire beside the car and kept going all night. In the morning we took the spare set of keys which were in the car and drove to Hillcrest Lumber Mill and phoned Constable Grant at Cowichan. He came up to the camp and we told him the story. Titford and I then went back and searched the same area again but could find no signs of him. We came back out again at 6 PM Monday evening and met Constable Grant and Rex Hayes, the game warden. they told us to be out there again first thing in the morning to take a party up to the place where we last saw him.
I searched with the searching parties for the next two weeks, but we found no trace of him. It was on Sunday that we lost Heal.
"The last time I saw Heal, he was going up a small deli with Titford and neither saw or heard him again except for that single shot. When I heard that single shot I did not shout for either of the other men. I blew my whistle on the way back to search for him and shouted then.
"LAC Heal had his service rifle with him when he disappeared. He actually had two rifles with him on that trip, but he was only carrying one on Sunday. LAC Heal was well-dressed for hunting, but did not have a compass."
Leading Aircraftman Dennis Herbert Titford was the second witness. He stated similar information as McBeth, including:
"I am an aero engine mechanic of No. 122 Squadron, Patricia Bay, BC. At daybreak we started to hunt along the valley. About 11 o'clocko'clock, we started up the side of the mountain side and at 11:30 AM eleven thirty a.m. we stopped to have lunch. And we spread out and started to work north along the side of the mountain. The woods were quite thick at this spot and we were climbing all the time.
"At about 12 o'clock, McBeth shouted for Heal and I to go over to where he was. before we got there, he started shooting at some bears. We arrive for he was calm and finished off one of the Bears that was still alive. We talk for 20 minutes and then spread out again and started on. He kept going until about 1:30 PM p.m. and then I heard Heal fire a shot and then shout, but I could not understand what he shouted. I stood still for a few minutes to see if he had been chasing a deer and then I started on. I started to work my way northeast and met McBeth. I told him I hadn't heard from Heal for about half an hour and then we decided we had better go back and see if we could contact him. When we got back to the vicinity, we her the shot, I fired a single shot first and then three shots. We waited for about five minutes and then fired another shot.
"We had planned that if one of us shot a deer, and could packet out without help he would do so. We thought Heal had done that, so we started back for the car. Heal was not around the car so we fired off a few shots to attract him. We fired often up to about 9 o'clock. Rebuilding a big fire when it got dark and kept going all night. The next morning we drove down to the logging company and call Constable Grant. When he arrived we told him what happened.
"McBeth and I went back in the afternoon to search for Heal. we came out about 4:30 PM and met the game warden, Rex Hayes. Constable Grant and several Rangers. we went back to Cowichan Lake and stayed there that night.
"After that I searched for nine days with the searching parties with no results. It was very deceiving in the bush but I would say about 200 yards away from me Heal fired a shot and then shouted. I never heard anymore shouts from him after the first one. When he first shouted he said four or five words, and I thought he chased a deer.
"I suppose we should've tried to have contacted Heal by firing shots when he first discovered he was missing. I think McBeth blew his whistle then. I did not show or try to contact Heal from the time I heard he shows until the time I met up with McBeth. Yes, Heal no I don't believe he had any other Air Force equipment with him. If he wasn't injured, he could survive several weeks providing he had shelves for his gun left. He had 16 shelves when we started out that morning. He shot for the bear and one in the bush which would've left him with 11 shells.
"My opinion of what happen to Heal is that he got confused as to directions and wandered off in the northwesterly direction. The Bush was sick and there was a heavy fog. McBeth had the only compass."
The third witness, F/O Wilmer Cox, Adjutant of No. 122 Squadron, Patricia Bay confirmed that the three men failed to return from a hunting trip, and that Heal was reported missing to the BC Police. Titford remained to assist in the search. Both airmen were on a 48-hour pass which expired at 1700 hours on November 6, 1944.
"On November 9, 20 airman under myself for sent out by bus to search the area. 60 army personnel from Nanaimo assisted in the search that day. On the afternoon of that day, a rifle shot was heard by one of the search parties in the area west of the base camp. The immediate area of the place in which the air man was last seen has been thoroughly cold by the large search parties and it was decided that since there were approximately 25 civilians heating in the search, it would not be necessary for the army to continue the search.
"On the morning of 10 November, the search party was broken up into small groups and sent out into the area from which the rifle shot was believed to have come from the day before. On both ninth and 10th November, we had an aircraft from No. 122 Squadron cooperating in the search. Radio contact was maintained between the ground and the aircraft. At about 1500 hrs., November 10th, one of our small parties made contact with the party which is been sent out from Port Renfrew, under the leadership of Cpl. Henery of the BC police at Duncan. They reported finding footprints leading down the branch of Lens Creek to war the San Juan River.
"A rifle shot also heard by one of our parties and was believed to come from the area in which the footprints were found. Cpl. Henery and his party started the return trip for Port Renfrew following the foot print which they have found near Lens Creek. A party of civilians under Mr. Johnston of Cowichan Lake were sent out on the morning of 10th November to search the area behind the mountain on which LAC Heal was last seen. They return on the evening of 11th November after having spent two days with no results in that area.
"I returned to Patricia Bay on the evening of 10th November. I conducted another search party of 15 airmen the following week for four days. I searched myself a total of 12 days with no definite signs of the missing airman."
"It was felt by relatives of LAC Heal that he was injured in the area where he was last seen. This area was thoroughly searched again with no results. The search is 33 days since he disappeared. In my opinion there is no possible chance of him being found in the area in which he was last seen or heard. I feel that he must become lost and wandered further into the bush."
The fourth witness, Sgt. Wallace William Buchanan, a rigger of No. 122 Squadron, Patricia Bay volunteered to go with the search party on November 7th. They left at 10 am and started searching near Cowichan at 8 am the next day. The RCAF search party was conducted by F/L Hogg.
"I saw the place where the bears were shot. Within a radius of a days travel from that spot, we searched the area as thoroughly as it could be researched as we were about 10 feet apart for covering the area. We searched the area for five days but found no signs whatever of LAC Heal.
"After that search, I went on a search which was in charge of Constable Gibault. This party left Cowichan Lake on November 13 and searched Lens Creek to Harris Creek and then through to Port Renfrew where we arrived the evening of November 15th. During this search we fired guns to attract Heal's attention, if he was in the area. Altogether, I searched eleven days and never saw any signs of LAC Heal."
The fifth witness, Constable Joseph Gibault of the BC Provincial Police confirmed what Buchanan had said. He added that Victor Heal, brother of the missing man, joined the men on the search. They looked along Dimple Lake, Lens Creek, and into the creek's canyon. They found footprints which were examined.
"We noted a number of footprints. These footprints were examined and it was noted that they were made by someone wearing caulk shoes. therefore we decided that they could not have been the footprints of the missing hunter as he was wearing rubber shoes.we then continued into the canyon as far as it was possible to go, then climb to the west bank of the canyon to an elevation of approximately 2500 feet, as this was impossible to continue at the low elevation. We then continued along the mountain past a canyon down the mountain to 1000 feet."
No trace of LAC Heal was found. They returned to Duncan. On November 18th, another search was struck, with Mr. George Silburn of the Forestry Department. This was continued until the evening of November 21.
On 30th November, I again proceeded to Lake Cowichan. There with George Silburn, F/O Cox, and fifteen airmen, continued the search in the same locality until the evening of December 2, terminating our search for the missing hunter.
"As the area covered during the entire search was plotted on a map, I am of the opinion that a further search would be useless, as the missing man probably wandered into the vast dense timbered area of Harris or Lens Creek and will probably never be found. In my opinion, he could not survive more than three or four days owing to weather conditions."
The sixth witness, Corporal J. A. Henery, BC Provincial Police stated that he participated in the search. "We found footprints proceeding up and down the stream on the east bank. These prints were a few days' olds, and we're quite distinct and were made by shoes that had no nails in them. We could reasonably assume that they were Heal's footprints..... The weather was cloudy and foggy on Friday with rain but very little rain on Saturday. Take into consideration the country, such as the mountains and heavy underbrush and second growth and salal brush and the time of year, coupled with the low visibility and the lack of equipment this man had, it is very likely he was so exhausted within three or four days to be actually helpless."
The seventh witness, F/L R. J. A. Hogg, Medical Officer, RCAF Station Patricia Bay, BC said, "I searched with the party three full days with no results. I was satisfied when I left Friday evening that LAC Heal had either wandered out of the district or had perished."
The Court of Inquiry, led by F/L A. E. Harley, 135 Squadron, was joined by F/O R. F. Gainforth and P/O G. W. Dodds felt that after being lost in the bush, LAC Leslie Heal died of exposure or injury. His death was attributed to a hunting accident. The RCAF Service Rifle #4 Mk. 1 28L6813 was noted as missing. "It is recommended by the court that this rifle be written off and charged to the public."
A reduced search was continued as of November 20, 1944. "Mr. Heal, Sr., the father of the missing man, has great faith in the work of Constable Gibault" who was returned to Lake Cowichan to continue with the search, according to R. Owens, Inspector, BC Provincial Police.
The search made Vancouver and Victoria newspapers, as well as a mention in the Windsor Star through late 1944.
Yvette Heal wrote in to the RCAF to find out if she could start to be able to take care of her husband's personal affairs since Leslie had been officially listed as dead as of June 1945.
In March 1946, Yvette Heal wrote to the Director of Estates in Ottawa. "Dear Sir, I have not had any reply from my last letter written February 11 or the previous one. As my pension has been stopped, I am in desperate need and I would appreciate if you would send me my late husband's back assigned pay, also the money that the Estates Branch has withdrawn from the Bank of Montreal in Victoria, BC. I would appreciate an early reply."
Letters had crossed in the mail. A letter dated February 21, 1946 from the Estates Branch indicated that Yvette would be receiving $136.33.
By 1954, Yvette had remarried. She became Mrs. Arthur Deveson, residing on Vancouver Island, near Sidney, BC. In 1955, she received a letter from W/C Gun, RCAF Casualties Officer for Chief of the Air Staff informing her that since Leslie had no known grave, his name would appear on the Ottawa Memorial.
In April 1969, a tree-planting crew from the Pacific Logging Co. found human remains working in the Dymple Lake area, south of Lake Cowichan. According to newspaper reports, bones, a watch, a whistle, buttons from clothing, the remains of a wallet and a service type .303 calibre rifle were discovered. A signet ring bearing the initials LH was also found. The rifle was believed to have been burned in a slash fire in 1968. RCMP said that a positive identification had not been made yet, but they felt that the remains were that of LAC Leslie Heal.
A private family funeral was planned, according to Victor, Leslie's brother. Location of his gravesite is unknown.