Leonard Francis Schell J43902
February 21, 1921 - May 29, 1944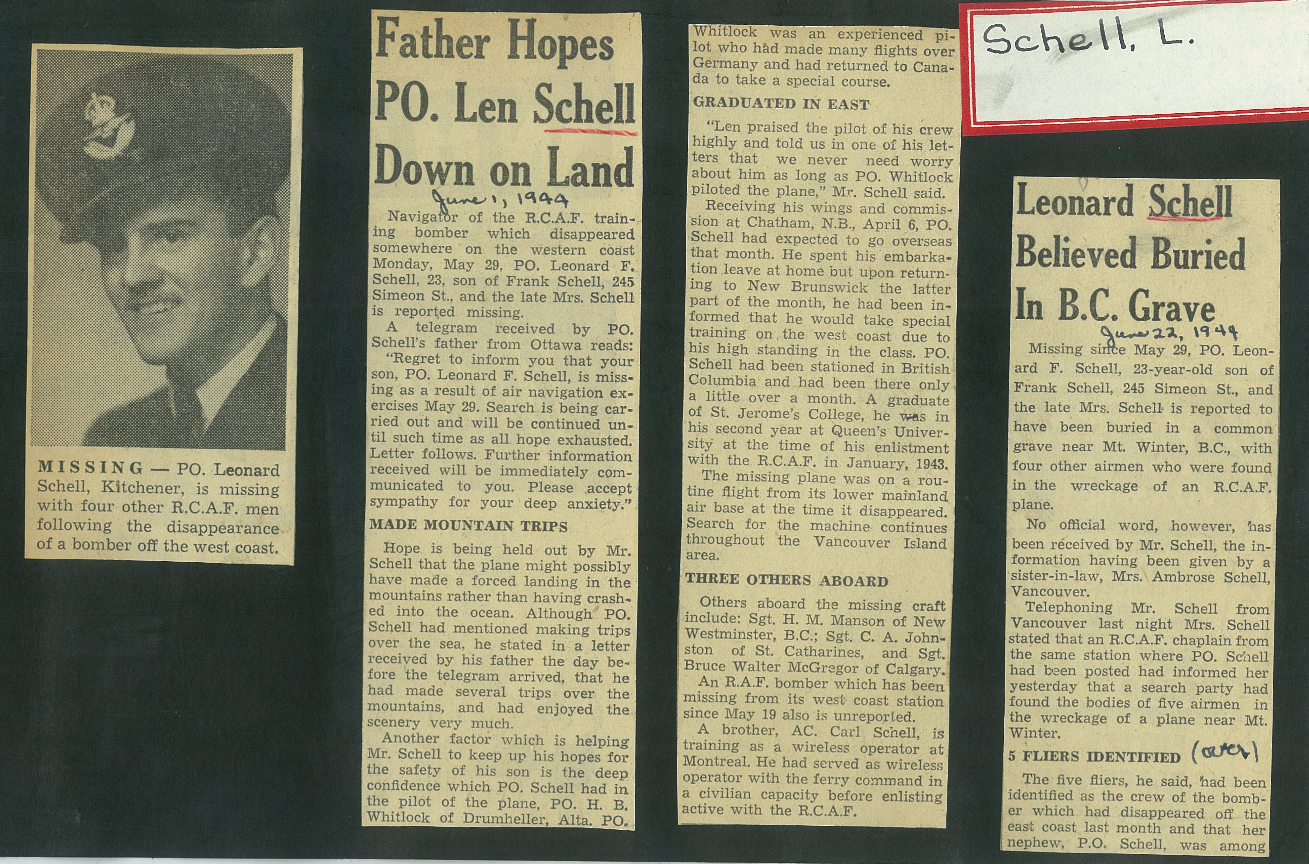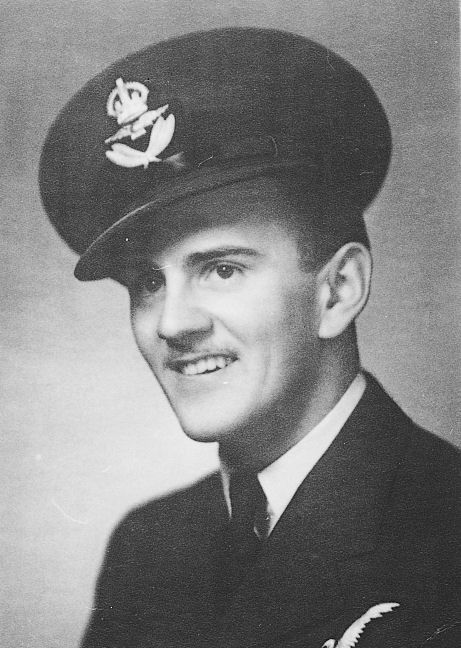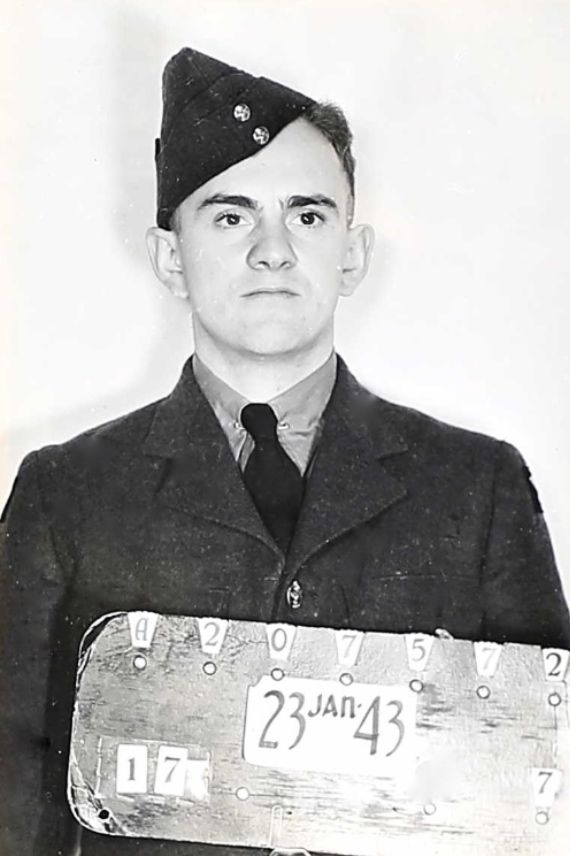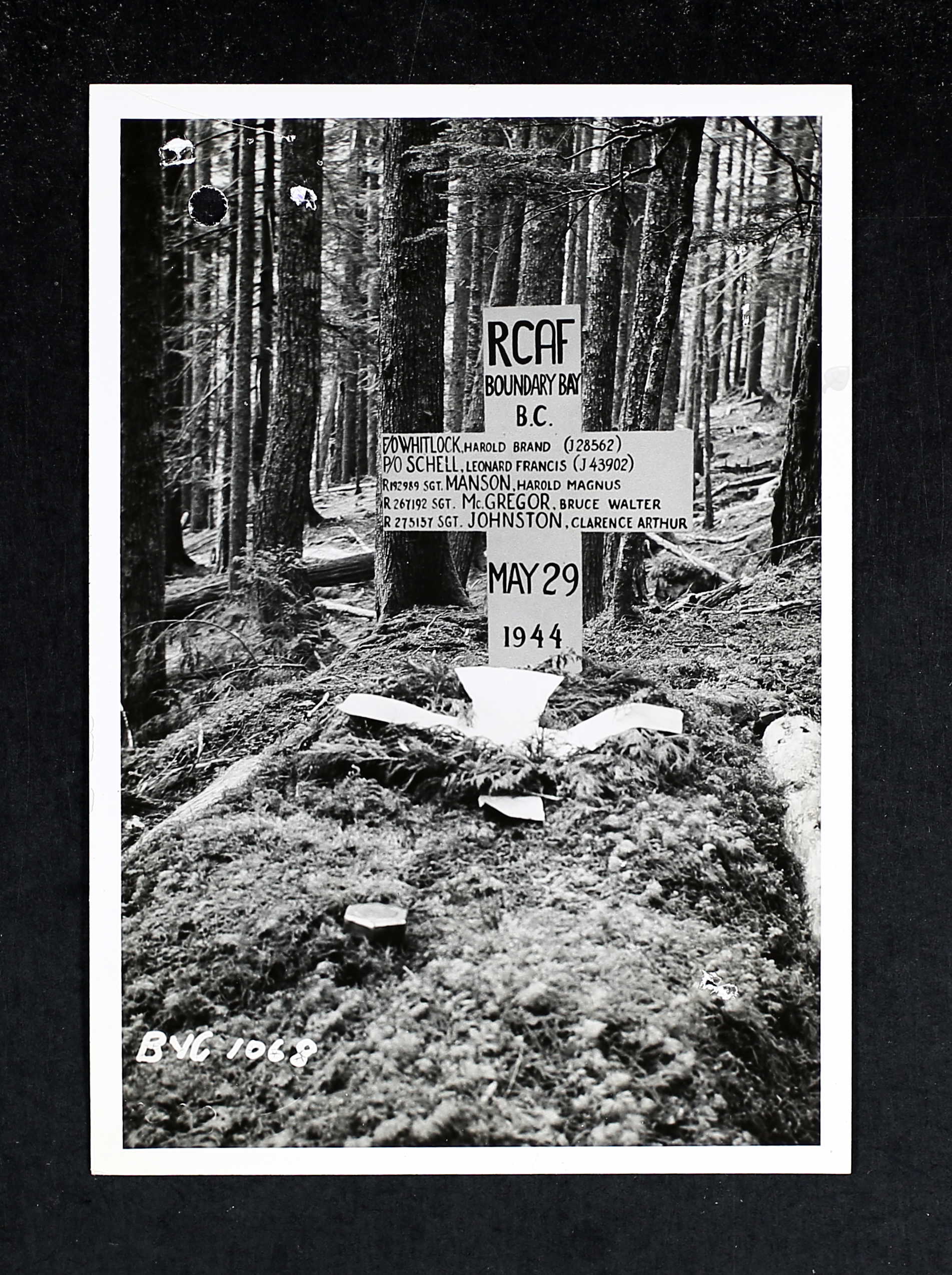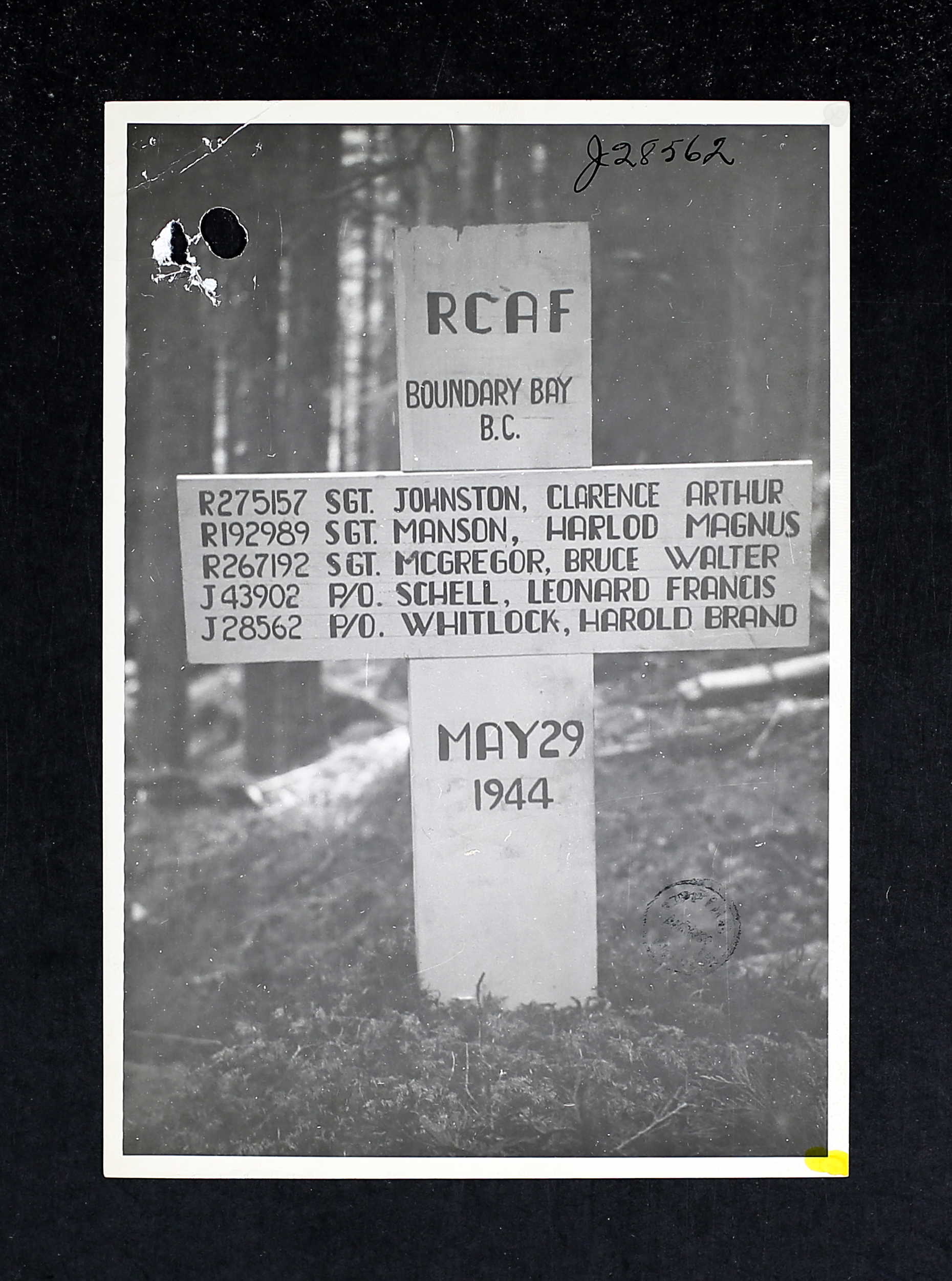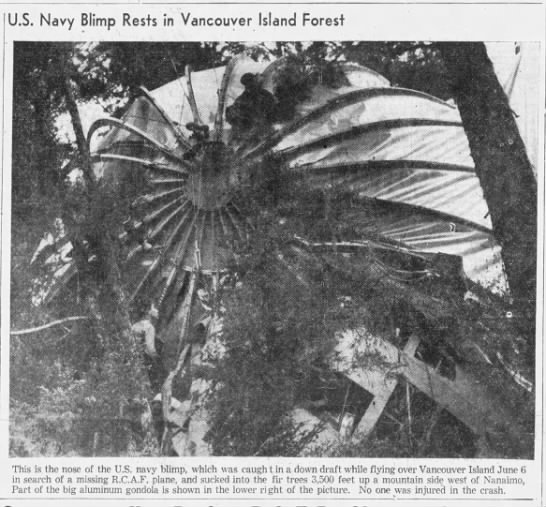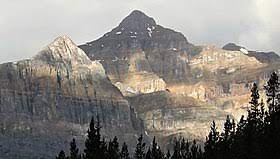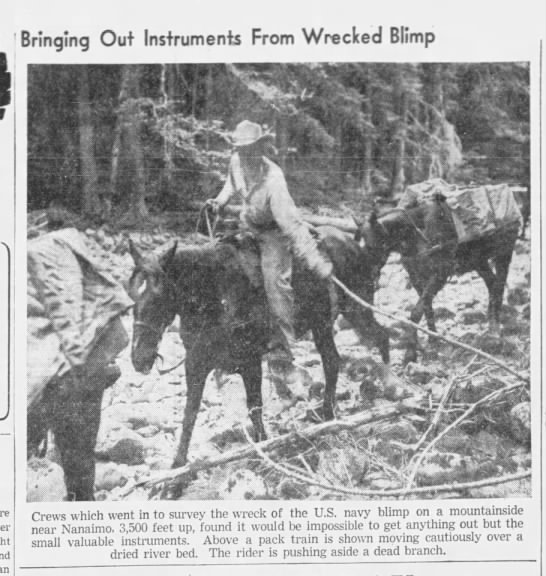 University student became navigator. Aboard Mitchell HD345, he with four other crew, on a navigational exercise, hit a mountain on Vancouver Island, the plane exploding. A US Navy blimp participated in the search, crashing. The remains of the crew of Mitchell HD345 were buried on site. Two years later, a psychic claimed three men survived, dismissed by RCAF.
Leonard Francis Schell was the son of Frank Xavier Schell (1884-1946), grocer, and Josephine (nee Schwartz) Schell (1889-1923) of Kitchener, Ontario. He had a sister, Mary Anne (1913-1937), who died of a goitre. He also had one brother, Carl Joseph (1918-2006), also with the RCAF. The family was Roman Catholic.
Leonard was attending Queen's University prior to enlisting with the RCAF in January 1943. He had failed a year in 1941 and repeated, without success. After the war, he wanted to return to school to finish his chemical engineering degree. He liked to play rugby and basketball. He smoked eight cigarettes a day and drank one quart of beer a week. Leonard stood 5'9" tall and weighed 140 pounds. He had brown eyes and brown hair. "Fairly alert, aggressive, rather tense, very moderate flying interest, motivation and attitude good." Leonard had prior military experience with COTC, Kingston, as a cadet in September to November 1942. He collected stamps as a hobby. During the summer, he worked for Tri-Pure Ice Co. and then as a driver for H. Stump.
Leonard was taken on strength at No. 4 Queen's University Squadron, Kingston Deceember 9, 1942 until January 19, 1943. He was then at No. 1 Manning Depot, Toronto January 20 until February 21, 1943. Then he was at No. 23 PAE, U of T from February 22 to May 1, 1943.
At No. 1 ITS, Toronto, May 3 to July 9, 1943: "A keen ambitious airman who is a good worker with plenty on the ball. He absorbs knowledge readily and has lots of spirit." He earned 83.5% and was third out of five in his class.
Mountain View Station was his next destination July 25 to September 18, 1943.
Leonard was sent to No. 10 AOS, Chatham, Ontario, Course 89, November 13, 1943, to April 6, 1944. He was at the station hospital on December 3, 1943. Groundwork: 79.2%. Air work: 77.1%. He was seen as moderately suitable to be an instructor. "An above average navigator and average student. Position in class: 5/24. Recommended for immediate commission. Good character and manners. Willing to help others and should do well."
He was then sent west to Boundary Bay, BC and No. 5 O.T.U. April 22, 1944.
Mitchell HD345 [Court of Inquiry: C-5938 Image 206]. CREW: F/O Harold Brand Whitlock, J28562, P/O Leonard Francis Schell, J43902, Sgt. Harald Magnus Manson, R192989, Sgt. Bruce Walter McGregor, R267192, and Sgt. Clarence Arthur Johnston, R275157. On May 29, 1944, they had been involved in a cross-country exercise. All five men were buried at the crash site "in a heavily wooded area" on a mountainside near Mount Whymper in the Cowichan Valley, on Vancouver Island.
A US Navy blimp was involved in the search. It crashed. The balance outstanding for accounts rendered but unpaid amounted to $1,004,804.61 according to a letter sent to the Canadian Government from the US Navy.
Leonard had a bank account at the Waterloo Trust and Savings Co. with over $1000. He also had $2300 worth of War Savings Certificates and $5000 Victory Loan Bonds. A $5000 life insurance policy was also listed. His father listed other assets worth over $15,000. Carl was the beneficiary to his brother's estate.
September 16, 1944 letter written by S/L G. A. Badger, Boundary Bay, BC: "A request has been received from the RCAF Records Officer requesting the Certificate of Registration of Death in the case of the above referenced officer. With regard to this officer, the following information is passed: 'He was a crew member of an aircraft that crashed on May 29, 1944 at latitude 48 degrees 57 minutes north, longitude 124 degrees 12 minutes west, which is about 8-10 miles north of Youbou, which is located on the north shore of Cowichan Lake on Vancouver Island. A burial service of June 5 near the site of the accident was carried out. A Grave Ledger Sheet was made out for the above reference officer and also for the remaining members of the crew: Sgt. C. A. Johnston, Sgt. H. N. Manson, Sgt. B. W. McGregor, and P/O H. B. Whitlock." Details of all the crew were provided, including names, ages, trade, and next of kin.
A letter from W/C W. R. Gunn, RCAF Casualties Officer, wrote a letter to Mr. Schell, dated September 11, 1946, in regard to a letter that Mrs. Cornelia Johnston, mother of another crew member aboard Mitchell HD 345, Clarence Arthur Johnston, wrote. "Recently you were contacted by Mrs. Cordelia Johnston, mother of Sergeant Clarence Arthur Johnston who was a member of your boy's crew when their aircraft most unfortunately crashed in a mountainous section of Vancouver Island on May 29th 1944. Mrs. Johnston informed you that a psychic reader had advised her that her son and two others abandon the aircraft by parachute prior to the crash and were still living in an isolated spot on Vancouver Island and she was desirous of obtaining your support to have a further search made. this service would be derelict in its obligation to next of kin if it were to overlook or ignore any scientific aid to investigation and as Mrs. Johnston gave no other information than that she had consulted a psychic reader, the writer of this letter was instructed to visit her, and I would like to convey to you the result of my interview with Mrs. Johnston. I found that she was a most kindly person who, on a visit to Toronto a few months ago, had been persuaded by a friend to visit a person who was supposed to be able to see into the past and prophecy coming events, and this person had informed her that her son was alive and with two of his crew and in an isolated position on Vancouver Island. Mrs. Johnston also informed me that the method employed by this psychic reader to arrive at these opinions was to consult an ordinary deck of playing cards. I am sure that you will agree that this is reasonable proof that this psychic reader could only be described as guessing, which I believe to be the usual practice of such people. I sincerely appreciate your natural anxiety an realize also the equally natural hope which was occasioned by the suggestion that some members of your boys crew survived, and I regret indeed that you have been caused additional anxiety and heartache through the medium of a person who professes to have supernatural powers, but information which is based solely on the turn of a card cannot be considered to constitute scientific or reliable information, and as you are aware, personnel skilled in air and ground search who had no assurance that they, themselves, would not be the searched for at some later date) conducted a full investigation which included aerial photographs taken from low altitude and covering the area for many miles surrounding the site of the crash, and it was their considered opinion that the entire crew were in the aircraft in all lost their lives when, on impact, it exploded with violence so great that half inch armor plates were found over a wide area broken into small pieces. I fully realize that there is no comfort or solace for you in this letter, but felt that you should be aware of the source of Mrs. Johnston's information and the method employed by this psychic person in arriving at her opinions. May I express to you and the members of your family my deepest sympathy in their irreparable loss of your gallant son."
Leonard is remembered on the Ottawa Memorial as well as on his family's marker at the Woodland Cemetery in Kitchener, Ontario.
For more information, documents, links, and photos, please visit the other crew members' pages.