Leonard Harold Feldman R109627
May 27, 1923 - November 1, 1942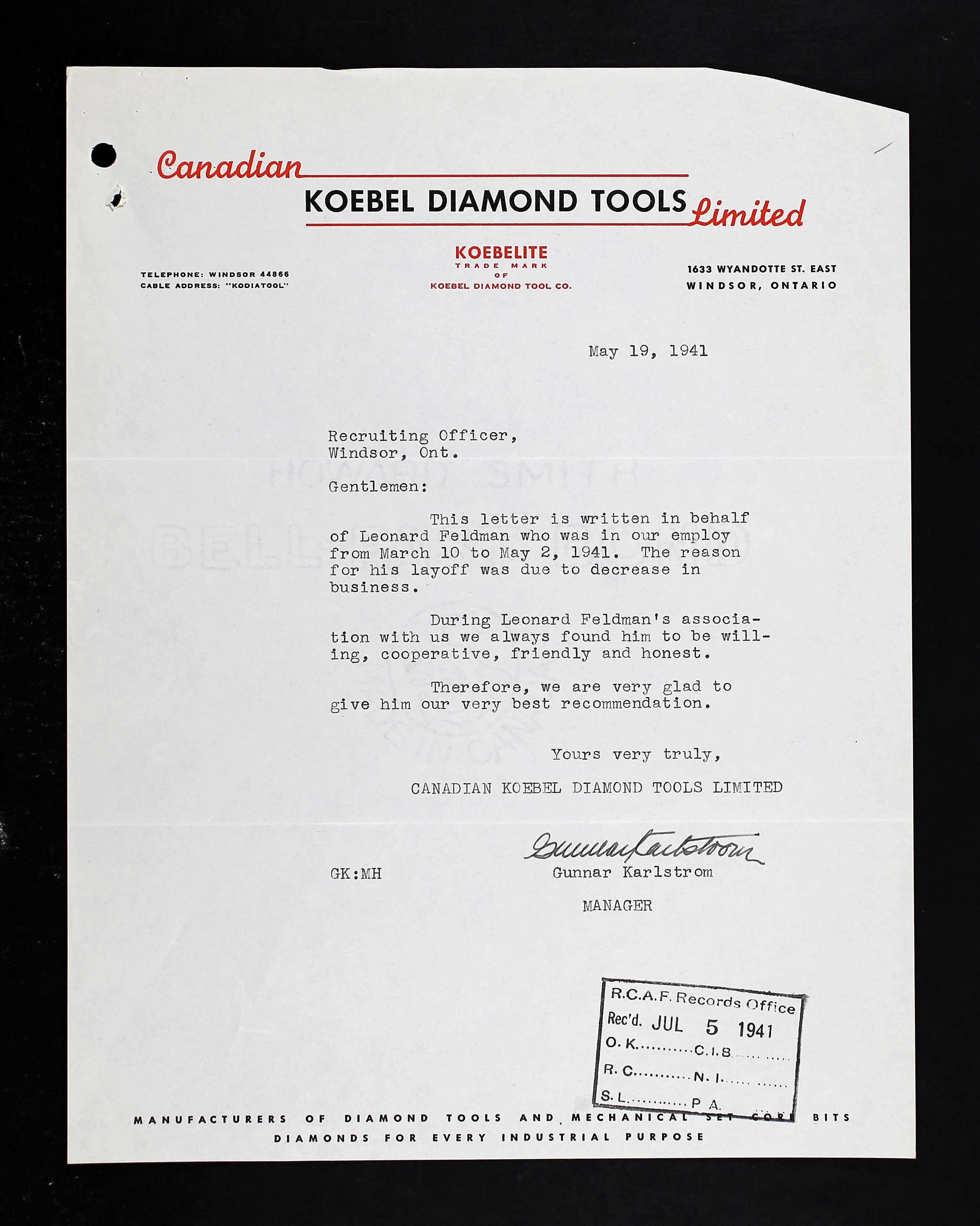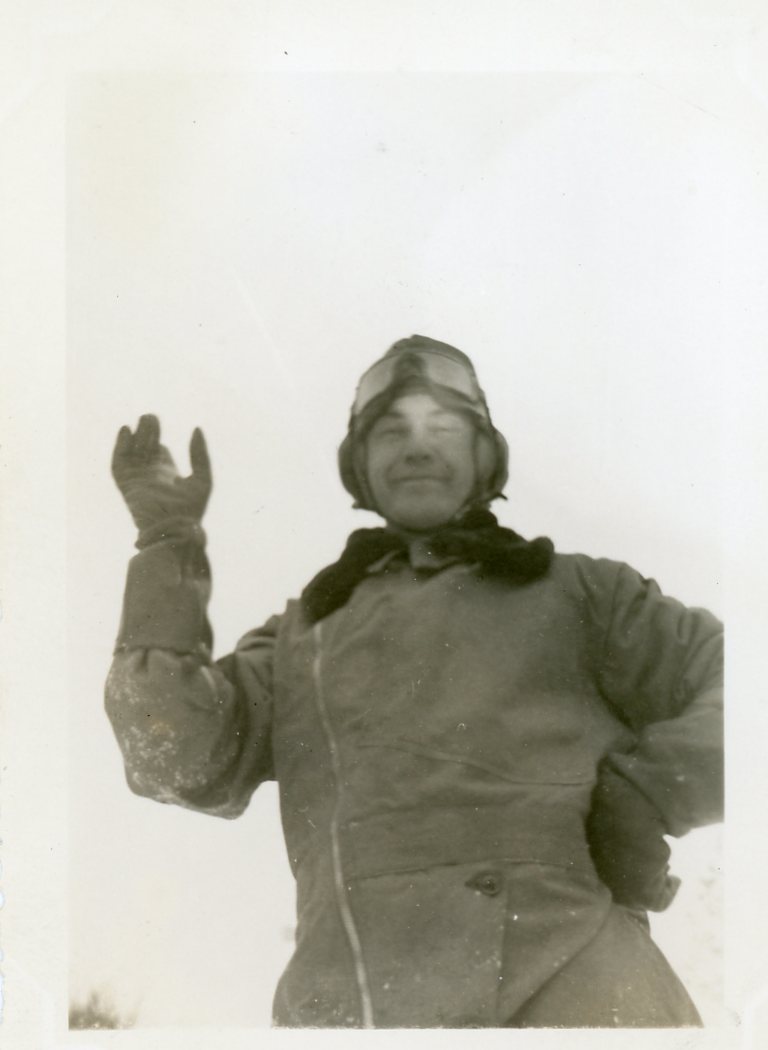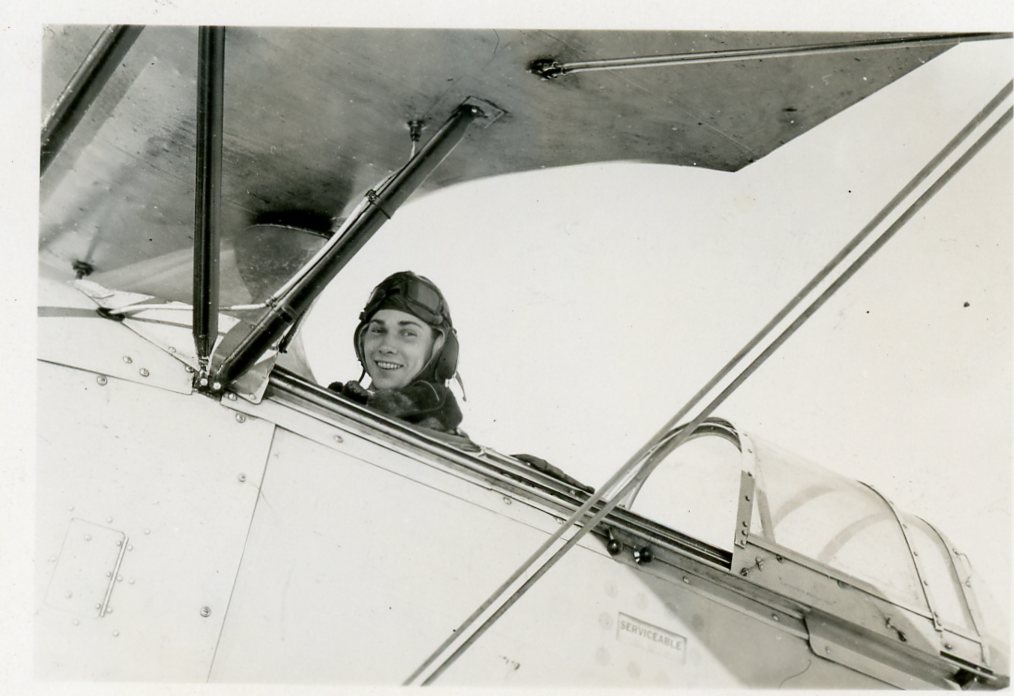 Toolmaker from Windsor, Ontario wanted pilot; remustered to air observer. He was aboard Hudson BW449 and was lost somewhere between Torbay and St. John's.
Leonard Harold Feldman was the son of Zeda (Henry) Feldman (1877-1947) retired junk dealer, and Veta (nee Cohen) Feldman (1888-1987) of Windsor, Ontario. (They were born in Kremenitz, Russia.) He had one younger brother, Gordon, and four sisters, Lillian Levin, Mollye, and Janet. Gordon won a $900 scholarship in March 1951, a graduate of Patterson Collegiate. He earned a degree in philosophy by 1954. The family was Jewish.
Leonard had black hair, brown eyes and a dark complexion. He stood 5' 6 ½" and weighed 130 pounds. He had a mole on his left cheek. "Slight deformity, nose. Wiry physique."
In May 1941, when he applied to the RCAF: " No serious illnesses. Has been active in sports. States he wants to get overseas and do his bit. Medium, well developed, sturdy build. General physical condition is good. Response to tests good. Glasses worn for past 1 ½ years. Fractured nose in September 1940. Believe he is sincere."
He enlisted in Windsor on July 28, 1941. "Wants pilot, 2nd choice observer. Good average intelligence and coordination. rather tense." He was a clerk, then salesman at a clothing shop, then a tool maker at Canadian Koebel Diamond Tools Limited in Windsor for four months prior. He spoke English and Hebrew. He said he had been assured a job as an usher at a Famous Players theatre after the war and wanted to keep on with tool making.
Leonard enjoyed baseball and tennis. He smoked 10 cigarettes a day and abstained from alcohol.
Leonard had $100 in Victory Load bonds and a $1000 life insurance policy, payable to his father.
Leonard started his journey through the BCATP at No. 1 Manning Depot, Toronto, June 28, 1941 until August 8, 1941.
At No. 1 ITS, Toronto, Ontario, from August 9 to September 12, 1941: "61st out of 125. 83%. A bright purposeful airman, energetic and applied himself diligently to course. Link Trainer: 54%. Should make good material. Second recommendation: Air Observer."
At No. 9 EFTS, St. Catherines, Ontario, from September 13 to October 1941: "The above-mentioned student has been questionable in his ability to become a pilot ever since the start of his instruction. Apparently lacked air sense and general aptitude towards flying. His department at the hangar was of the highest." GROUND TRAINING: "This trainee is a quiet type and is very keen to continue in aircrew as an Air Observer. Since only one ground school test has been tried here on which he was average, he is recommended to be remustered to Air Observer from this ITS recommendation. Conduct and deportment quite satisfactory."
REPORT ON REASONS FOR CESSATION OF TRAINING: LAC Feldman had considerable difficulty in retaining his sequence of instruction. He was very rough on controls, and seems to lack air sense. His judgment of height and distance on landing is very poor…this student was tested at 10:05 hours. He did not appear nervous, but was lacking in air-sense and showed no promise of judging height and distance. He is a quiet type and is very keen to continue as Air Observer…conduct and deportment quite satisfactory."
Leonard was sent to Trenton, Ontario until he was ready to start his alternative training.
At No. 4 AOS, London, Ontario from November 23, 1941, to March 2, 1942: "19th in class of 24. NAVIGATION: Logs average. Performance below average. Charts poor. ARMAMENT: Completed two grouping exercises only. GENERAL: Untidy worker, slow to learn, extra practice in plotting. Constant supervision to keep him up to standard." Leonard was confined to barracks for five days in February 1941. "Absent without leave from 2230 hours until 0815 hours. Absent 9 hours, 45 minutes."
At No. 4 B&G, Fingal, Ontario, from March 2 to April 11, 1942: "BOMBING: below average. GUNNERY: Average. GENERAL: Lacks aggressiveness. Does only what he is told. Depends a good deal on other people. 29th out of 30 in class."
At No. 2 Air Navigation School, Pennfield Ridge, from April 13 to May 11, 1942: "95th out of 141 in class. 66.4%. Works slowly in the air and as a result, never got enough done to achieve good marks. Does a fair job and if his speed improves, will be a good man. GROUND: worked hard and achieved fair ground results. Bombing 92%."
By May 13, 1942, Leonard was at No. 1 Y Depot, Halifax and posted to 145 BR Squadron, Torbay, Newfoundland by June 2, 1942. On August 28, 1942, he was at Lester's Field Military Hospital, St. John's, Newfoundland.
Hudson BW449 145 Squadron Hudson Mk. III, s/n BW449 departed R.C.A.F. Station Torbay at 16:35 hours GMT on an anti-submarine patrol and convoy escort duty. The aircraft failed to return. The pilot was inexperienced and should have had more time as a Second Pilot before becoming First Pilot on patrol duties. It is felt that the pilot let down through the fog and crashed into the sea. All occupants were considered dead after the Accident Investigation Board findings.
CREW: *Sergeant Harry Cameron Beattie, R108299, WAG *Pilot Officer John Robert Davies, J10249, Second Pilot *F/S Leonard Feldman, R109627, Navigator *F/S Lewis Gerald Robinson, R86901, WAG
Mrs. Feldman received a letter in late October 1955 that since Leonard had no known grave, his name would appear on the Ottawa Memorial.