Laurence George Martin R134391
December 20, 1918 - May 19, 1944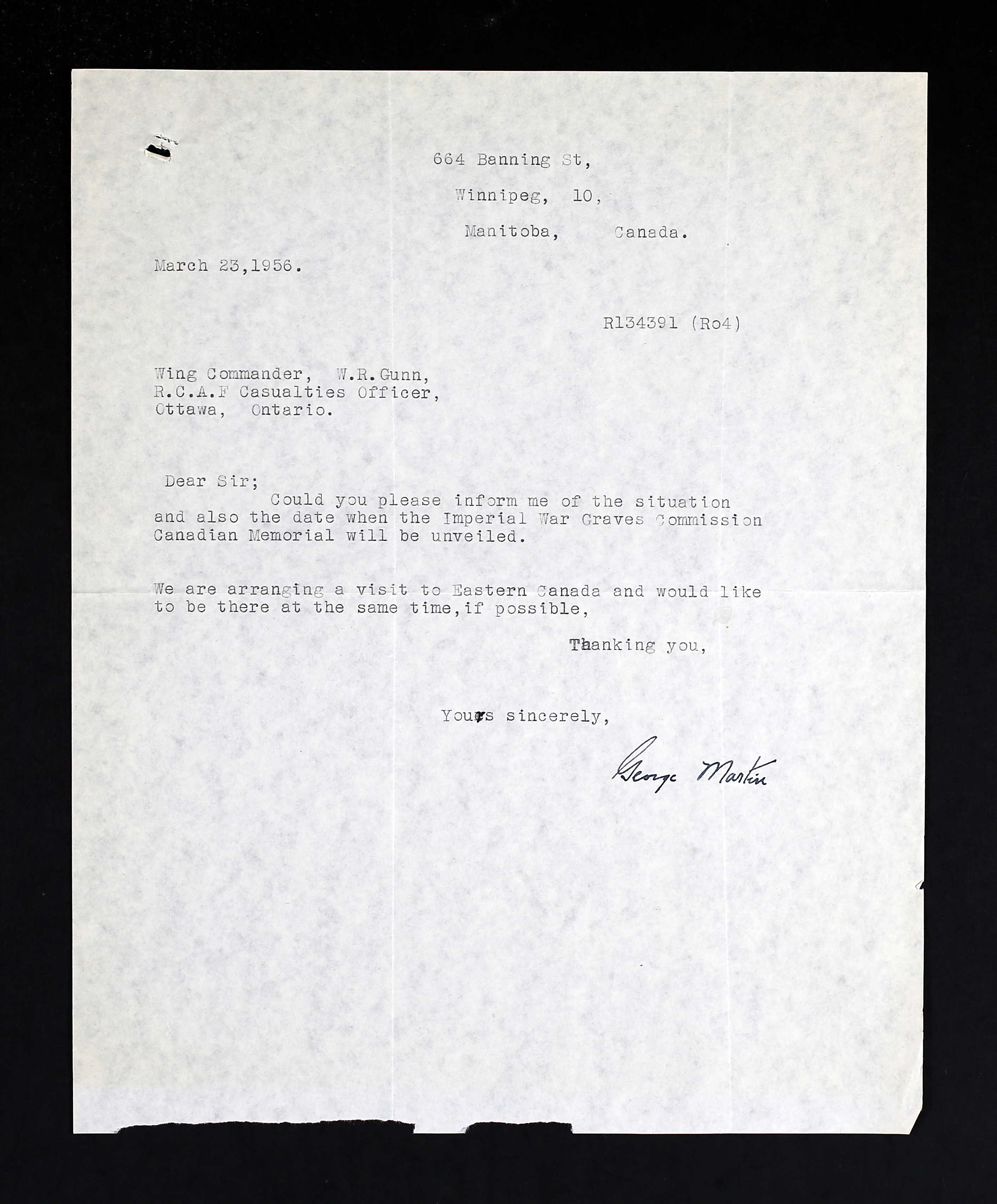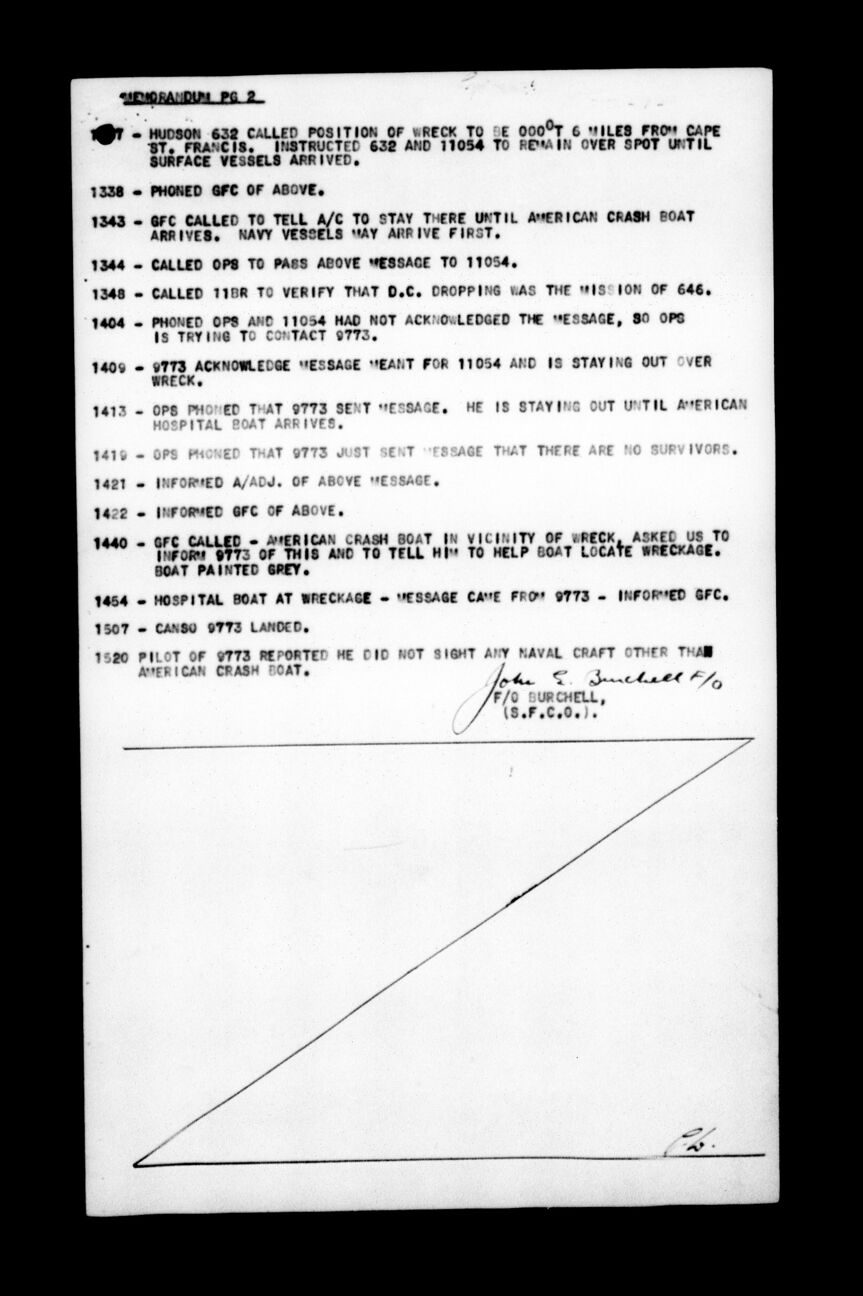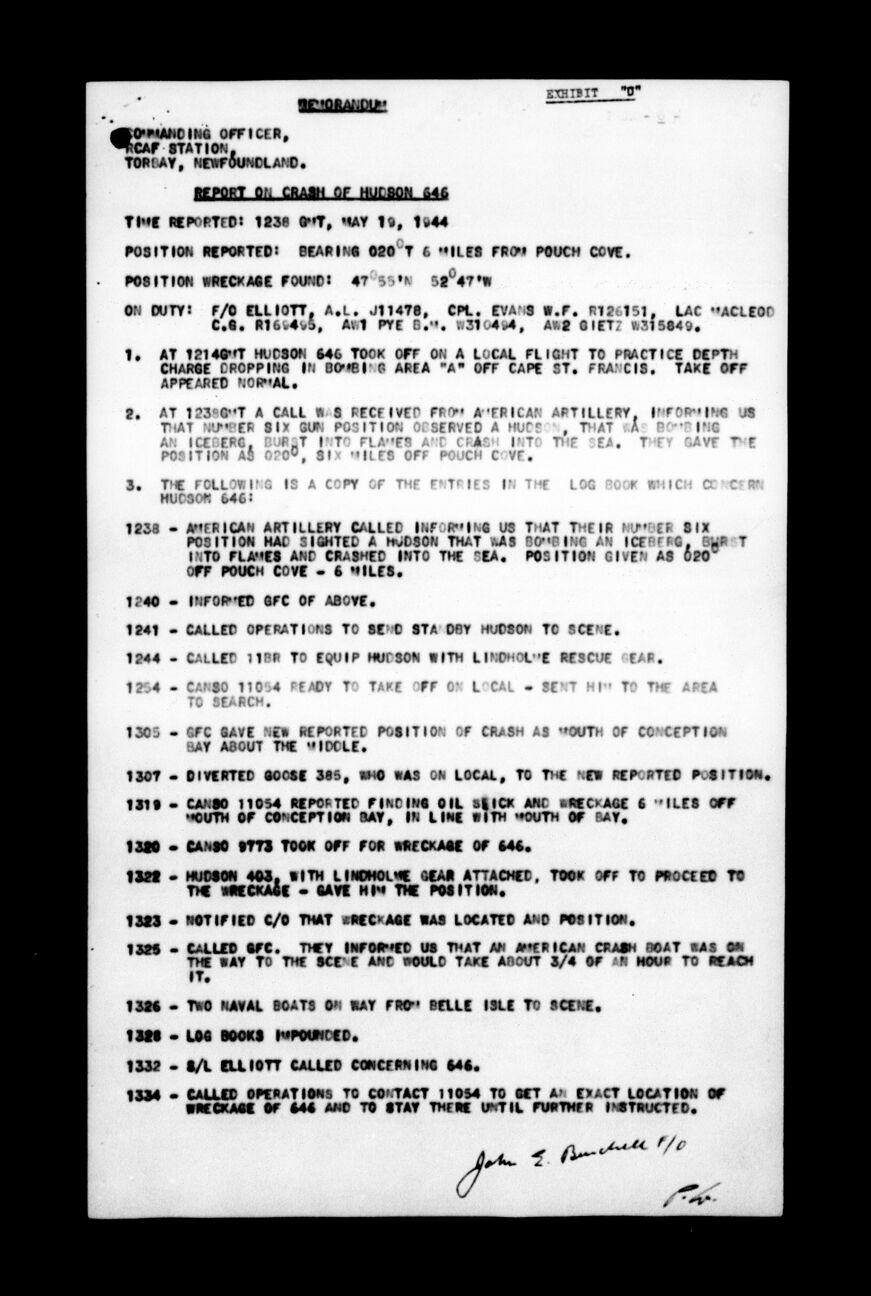 Stockkeeper became navigator with RCAF. During a depth charge exercise over an iceberg, Hudson BW646 caught fire, exploded and dove into the water. All three crew members perished.
Laurence George Martin, born in Bexhill, Sussex, England, was the only son of George Martin, credit manager, City of Winnipeg Hydro, and Constance (nee Witham) Martin of Winnipeg, Manitoba. He had one sister, Constance Pearl Martin. The family was Anglican.
He had a Grade XI education. He was a stockkeeper with the Hudson Paper Co. Ltd. prior to his enlistment in the RCAF in October 1941. He collected show cards and liked to write. He liked to swim extensively and play football and volleyball. He smoked one or two pipes per day and drank beer socially. Laurence stood 6' 1" tall and weighed 155 pounds. He had hazel eyes and black hair. A ½" scar on the side of his left index finger was noted. He was athletic and his mentality: alert. "Slight slurring of speech occasionally." His sister was noted as having a stammer. "Very bright, alert and sensible. Pleasant and well-adjusted. Likes service, feels he is too tense and unmechanical to be 1st class pilot but is very keen to be AO. Should be good."
Laurence had 30 x $4.00 War Savings Certificates and three $200 Victory Loan Bonds in his parents' safety deposit box, plus a life insurance policy.
Laurence was a member of the Royal Canadian Volunteer Reserve from August to December 1940, wireless trade.
Laurence started his journey through the BCATP at No. 2 Manning Depot, Brandon, Manitoba, December 11, 1941 and then headed to Paulson, Manitoba, No. 7 BGS from February 1-13, 1942. He then went to No. 3 BGS, Macdonald, February 14 until March 28, 1942. He was then sent to No. 7 ITS, Saskatoon, SK March 29 until May 23, 1942. Laurence was then at No. 6 AOS, Prince Albert, SK May 25 to September 12, 1942. No. 1 CNS, Rivers, Manitoba was his next stop on September 13 until September 29, 1942. He was in Regina at No. 1 ITS, November 24, 1942 until January 8, 1943 before being sent to No. 1 GRS, Summerside, PEI, January 9, 1943, then to No. 36 O.T.U. Greenwood February 6, 1943 before being sent to Halifax and Y Depot, May 16, 1943. He was taken on strength with No. 162 Squadron, Yarmouth, NS May 20, 1943, then posted to No. 11 Squadron, Torbay by December 11, 1943. He was a navigator.
SUMMARY: Aboard Hudson BW646, 11 BR Squadron, Torbay, Newfoundland, were WIRELESS AIRGUNNER WO1 John Henry Cowan, R95716, PILOT F/L Douglas Jackson Jones, J5664, and NAVIGATOR WO1 Laurence George Martin, R134391. The aircraft was taken on strength February 5, 1942, by Eastern Air Command for Home War Establishment, one of 55 Hudson's released off a British Lend Lease contract. Hudson BW646 failed to return from patrol on May 19, 1944, after a depth charge dropping practice. Position: 47 degrees 55 minutes north, 52 degrees 47 minutes west.
COURT OF INQUIRY: May 20 - 23, 1944. FIRST WITNESS: Private Theodore George DeMores (1919-2004), US Army serving at Fort Pepperrell, Newfoundland: "On the morning of May 19, 1944, I was on duty as observer near Pouch Cove and at approximately 0930 hours, I observed a Hudson bomber flying in a northerly direction to a point above Baccalieu Island [largest seabird island in Newfoundland, highest elevation 137 m, 449 feet, area 5 square km/1.9 sq. miles] which he circled at approximately a thousand feet. From Baccalieu Island, he proceeded down the northwestern side of Conception Bay to Western Bay. The aircraft circled counter-clockwise and commenced to descend flying low over a flat cake of ice. He turned counter-clockwise and repeated the procedure. As the plane passed over the iceberg the second time, a black puff of smoke appeared under the fuselage. It was only a matter of seconds until the front end of the plane burst into flames. Then the aircraft veered to the left, hit the water, exploded and sank immediately. A large column of black smoke rose from the spot." SECOND WITNESS: Captain William Broderick, Master of fishing Schooner, Lady Bungay, of Grates Cove, Newfoundland, civilian stated: "I was sailing my schooner, Landy Bungay, down from Grates Cover to St. John's on 19-May-1944 and at approximately 0955 hours, I saw an aeroplane circle low over an iceberg at about 150-200 feet. I saw one column of water rise from a point close to the iceberg. A short time after this, a red glow appeared at the front of the aircraft and the aircraft continued its descent into the water and blew up on impact with the water and a large column of black smoke arose from the spot. We felt the explosion when the aircraft hit the water and there was a large column of water arose with black smoke following." FOURTH WITNESS: Cpl. William Mullen Mitchell, R117980, Armourer Bombs, No. 11 Squadron, RCAF Torbay, Newfoundland. He stated that "at approximately 1100 hours May 18, 1944, I supervised the bombing up of Hudson 646 with four Mark VIIII amatol filled depth charges and eight 11 ½ pound practice bombs. Prior to bombing up, normal checks on the bomb circuit were carried out and the circuits were all satisfactory. The aircraft did not take off that day as scheduled but took off the following day at approximately 0945 hours. The installation of the pistols on the depth charges are done by the HQ's Armament Section. It is my opinion that a depth charge cannot explode while it is still on the carrier. There were no unauthorized explosives on board in Hudson 646."
Operations was called to send a stand-by Hudson to the scene with Lindholme rescue gear. Canso 11054 was sent to the are to search for survivors. Canso 11054 reported finding an oil slick and wreckage six miles off mouth of Conception Bay in line with the mouth of the bay. Two other airplanes were involved in the search. An American crash boat was on its way to the scene, along with two naval boats form Belle Isle. A hospital boat was also sent. Hudson 632 called the position of the wreck six miles from Cape St. Francis. Canso 11054 and Hudson 632 were told to remain over the spot until the surface vessels arrived. Canso 9773 was also contacted, and they stayed out over the site of the wreck. [Canso 9773 was lost disposing of old dynamite May 20, 1944.]. Canso 9773 reported that there were no survivors, its pilot reporting he did not see any naval craft other than the American crash boat at the scene. [The first pilot aboard Canso 9773 was F/O Leo James Murray; the second pilot was F/L Alan Gordon Byers. Both their names are on the Ottawa Memorial, along with their crew. They were disposing of old dynamite over icebergs.] The wreckage picked up included a tire and wheel, one smoke bomb, one broken ammunition box (calibre 50) and one broken piece of floorboard. The President of the Court flew to the scene of the accident in Hudson BW403 with Lindholme gear and all that was seen was an oil slick and small bits of floating wreckage. The aircraft had sunk.
FINDINGS OF THE INVESTIGATION: CAUSE: One depth charge exploded on impact with water or ice causing aircraft gasoline tanks to fracture. Exhaust flame ignited gasoline. Fire enveloped most of the front portion of the aircraft causing pilot to lose control. Aircraft disintegrated on impact with water. Remaining depth charges exploded. Recommendations: as a safety measure, icebergs are not to be used as targets for depth charge practice attacks. Conclusions of Accident Investigation Branch: The cause is actually obscure. There is not sufficient evidence to support the court's finding but nevertheless it is probably what happened.
MEMO: June 28, 1944: FIRE IN AIR IN HUDSON AIRCRAFT -- G/C F. S. Wilkins, CI Accidents 1. In view of the fact that we have had three accidents due to fire in air in Hudson aircraft and in each case the aircraft dived into the sea and no examination could be made, I detailed one of the staff to examine any Hudson's within easy reach of Ottawa in an attempt to find where such fires could originate. Such an examination would, of course, not be conclusive but might give us something to work on. Flight Lieutenant pula examined a number of such aircraft at Rockcliffe. You will see by his attached report that the washers being used in gasoline filters are, in most cases, non-standard. One aircraft he examined showed definite signs of a gasoline leak from the filter having impinged on the inside of the Cowling. In addition to these failures, I attach two pieces of flexible hose from the same area of the engine installation which are unsatisfactory. The long piece is bent into a 'U' an dshows signs of failure from the fabric; The short piece has definite indications of cutting in by the clips. Any of these defects could come in the right set of circumstances, caused fire in the air. Two period when the defects concerning the washers were found, the unit could not obtain any standard washers and sent to Montreal for supplies. I spoke to D. R. M. About this shortage of washers. I have now been informed that all carburetor spares are concentrated in No. 1 E. D. Toronto. Toronto, as far as I know, has never had any number of Hudson aircraft station in the vicinity and I am very much of the opinion that the units equipped with Hudson's are making up their own washers because they do not know where to obtain the proper ones.
Laurence's parents received a letter in late October 1955, informing them that since Laurence had no known grave, his name would appear on the Ottawa Memorial. In March 1956, Mr. Martin wrote to W/C Gunn asking him, "Could you please inform me of the situation and also the date when the Imperial War Graves Commission Canadian Memorial will be unveiled. We are arranging a visit to Eastern Canada and would like to be there at the same time, if possible."
LINKS: