Kenneth George Schaefer J6267
November 1, 1919 - December 29, 1941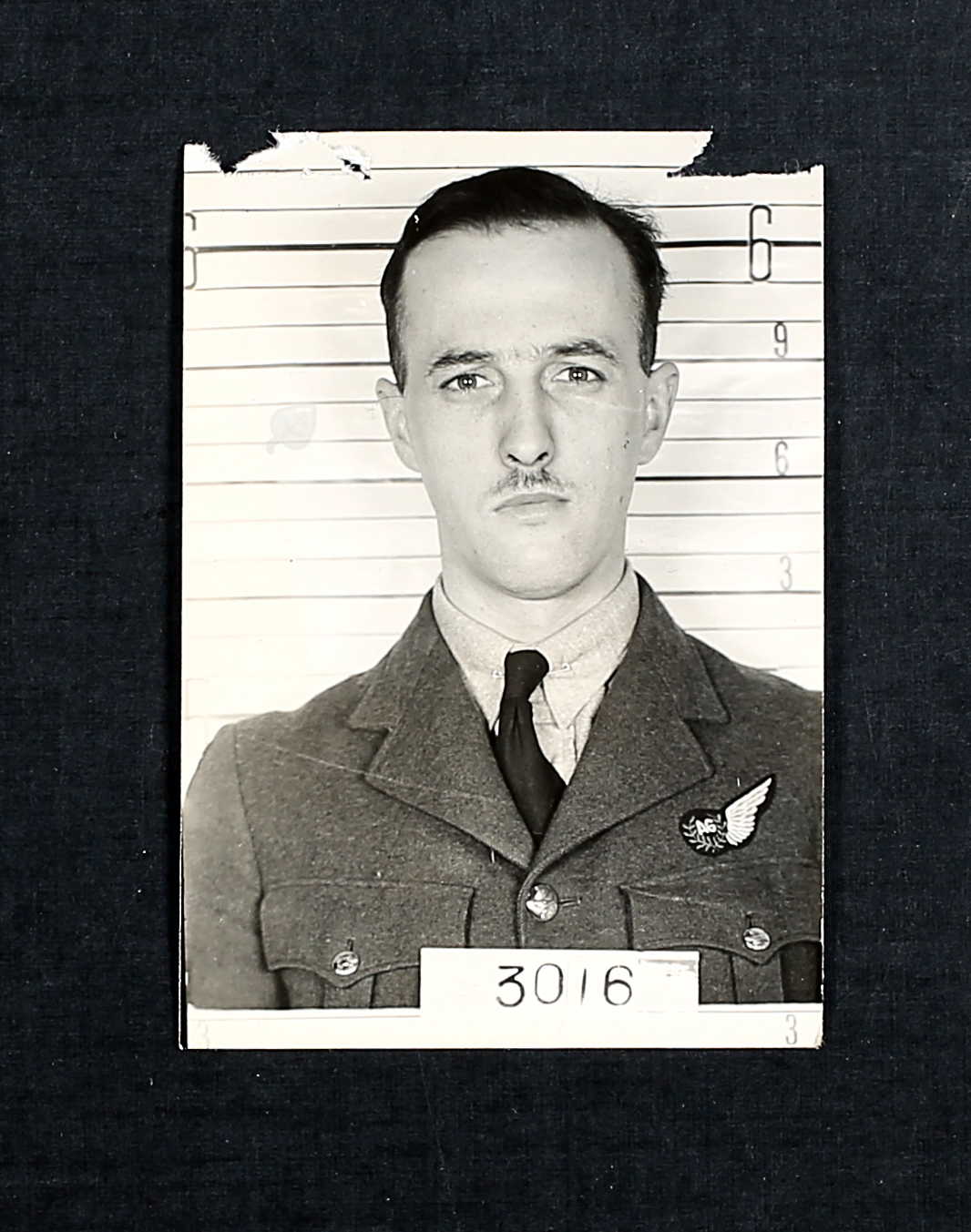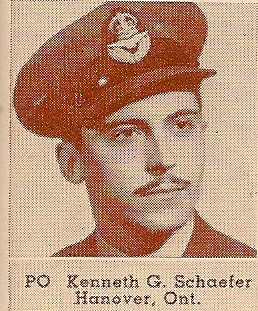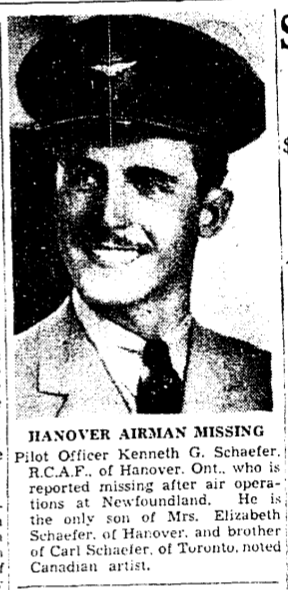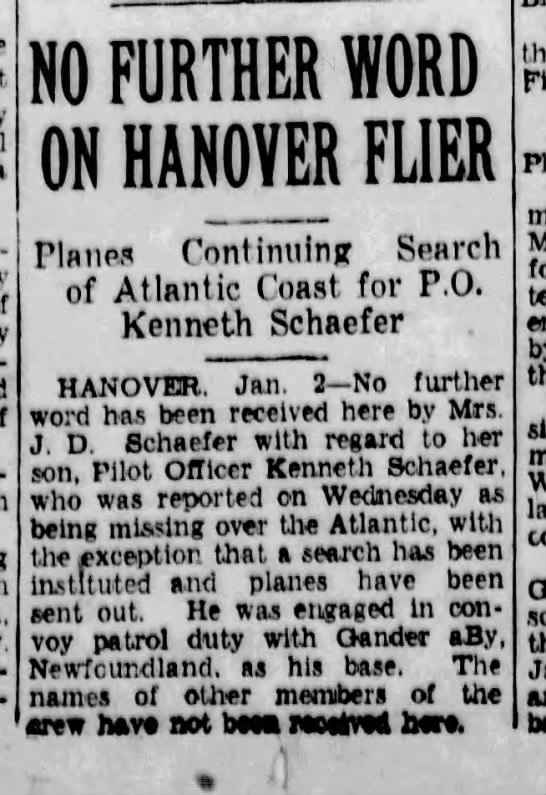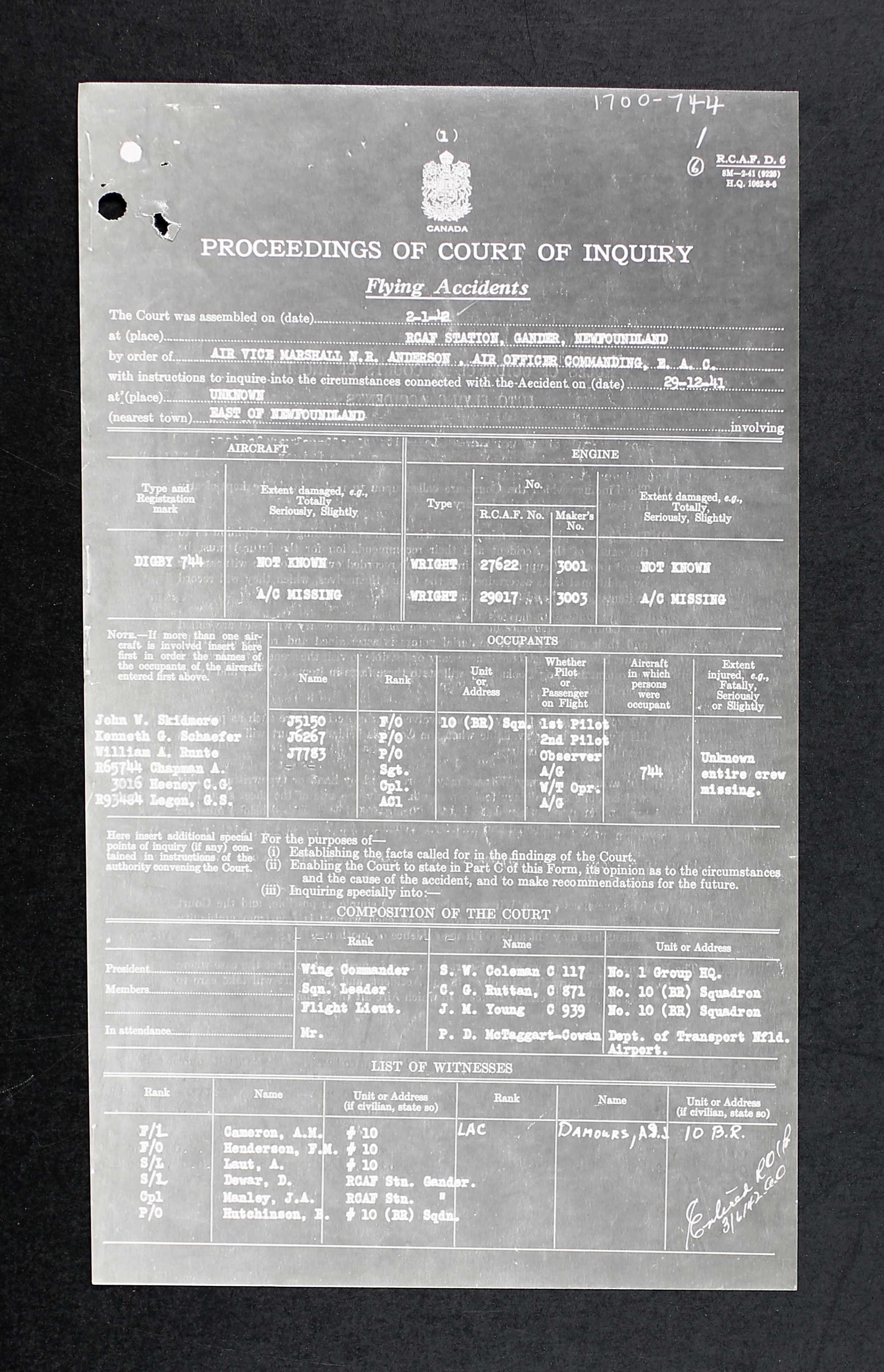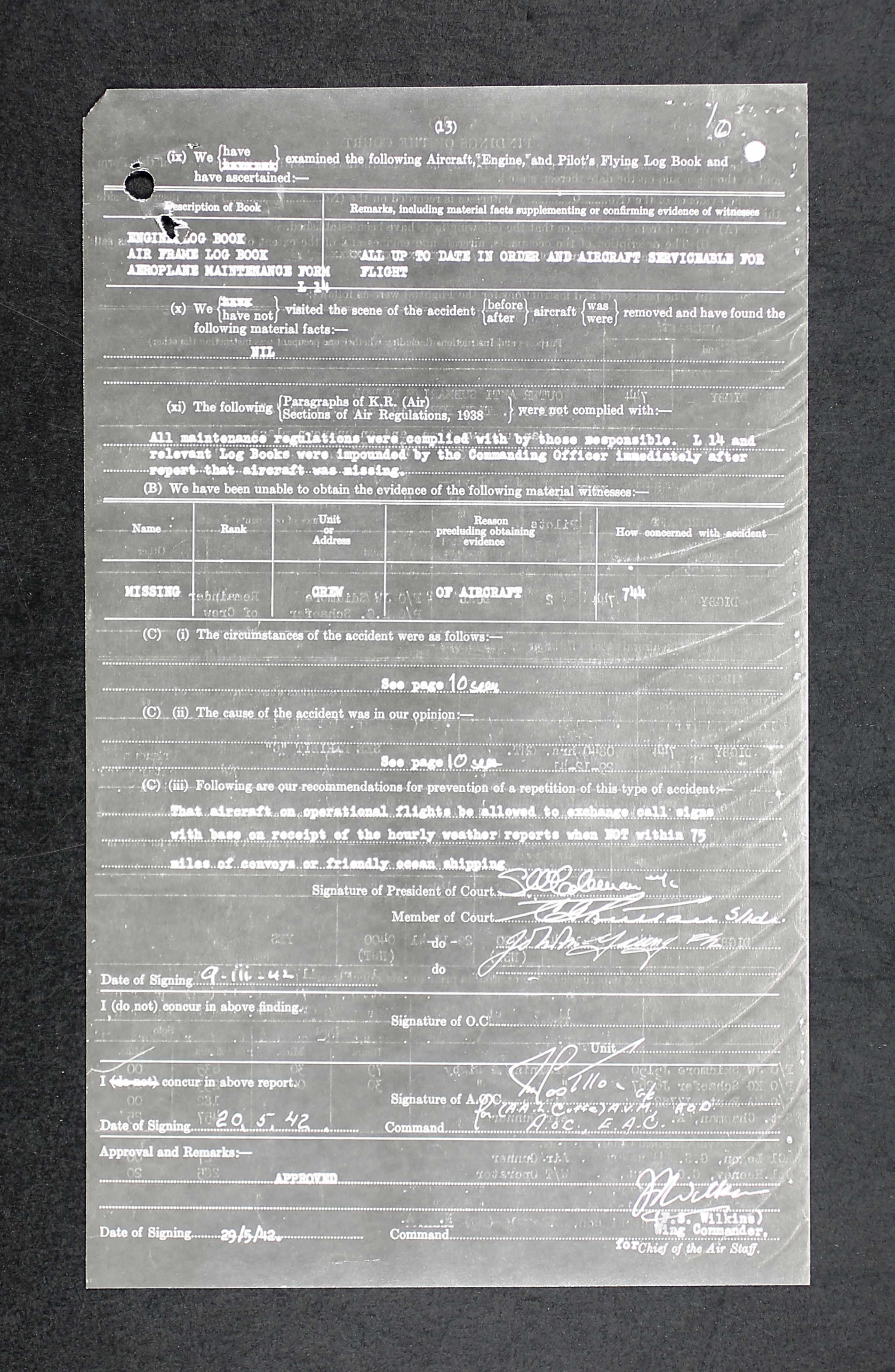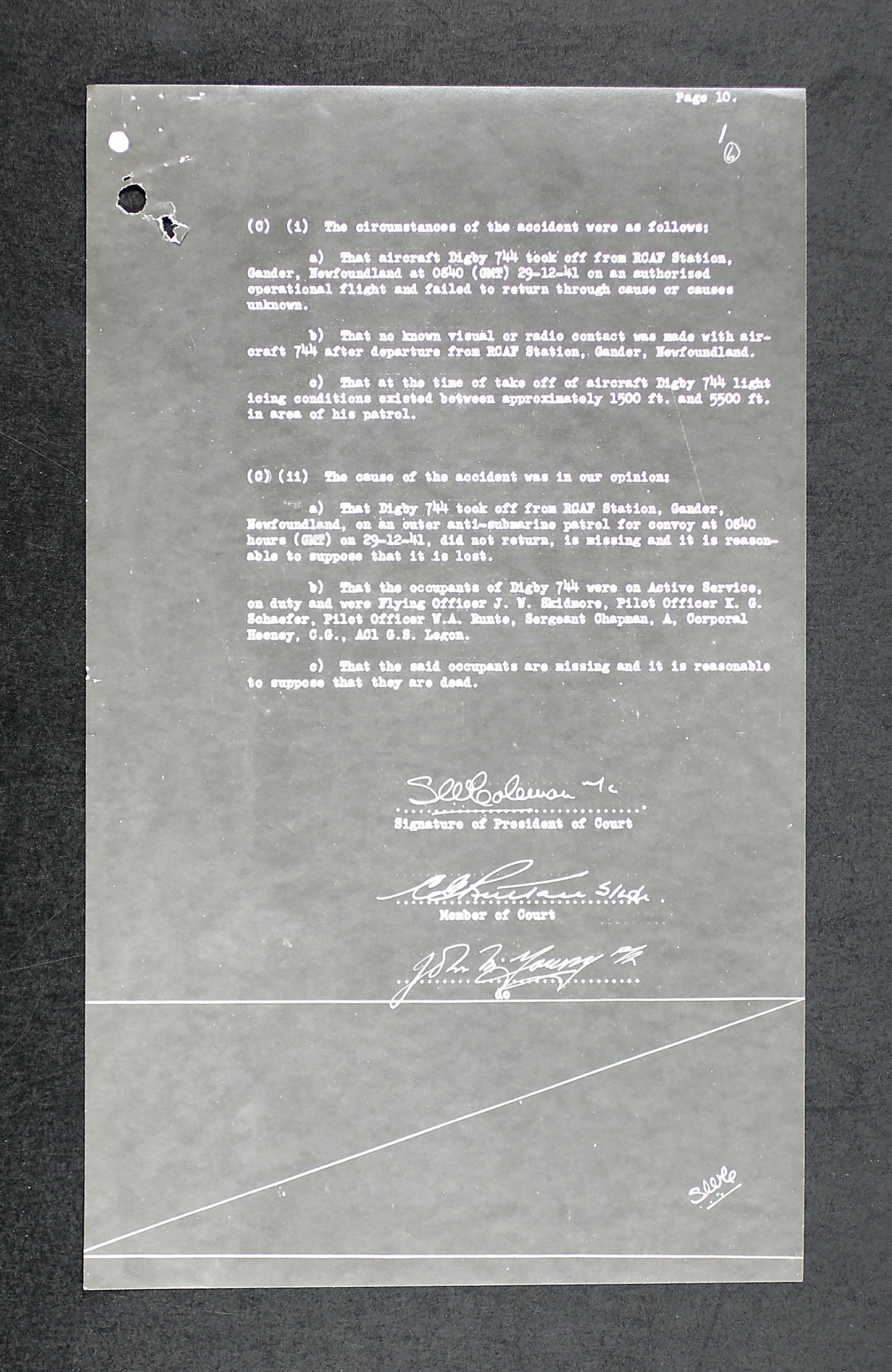 Ledger keeper at bank, the brother of war artist, Carl Schaefer, joined RCAF and became pilot, mother not keen. He and crew were lost during a convoy patrol over the Atlantic.
Kenneth George Schaefer was the son of John (aka Jack) D. Schaefer (1877-1920), merchant, and Elizabeth (nee Ries) Schaefer (1885-1976) of Hanover, Ontario. He had a half-brother, Carl Fellman Schaefer (1903-1995), who was a war artist. The family was Presbyterian.
Kenneth was mentioned in the Owen Sound Daily-Sun Ties in May 1936 taking part in pole vault, hurdles, high jump, and relay, although on his attestation papers, he indicated he was poor at athletics, yet his physique was noted as athletic. On another form he wrote that he played tennis extensively, and played badminton and swam moderately, playing some baseball, hockey and golf. He smoked 15 cigarettes per day and rarely drank alcohol. He stood 65 11 ½" tall and weighed 149 pounds in September 1940. "Have been very interested in flying since small. Chief hobby: studying aircraft and their development and building models."
February 4, 1941: "Appears to have fairly good interest in life. His father died when the son was two years old. The oldest son is now a successful artist. He graduated from high school and took a job as a bank clerk and has remained there for three years up to time of enlistment. He took correspondence banking course from Queens University and made his success of it. In three years he is made a little better than the usual progress in the bank. His mother is not too keen about his joining the RCAF and she is now living with a sister. Her income is only $30 a month now but she seems to manage on that. He himself has always wanted to be a pilot and has built many model airplanes. Good appearance, alert but nervous. He is keen and should be, but his mother is a possible source of trouble with her limited income and dependence on her sister."
At No. 2 ITS, Regina, from January 20 - February, 20, 1941: 15th out of 115 in class. Good background. Good average type. Smart and cheerful."
At No. 2 EFTS, Fort William, Ontario, February 21 to April 22, 1941: "Above average ability as a pilot. Excellent type. Keen and alert. Very satisfactory progress. Confident. Should do well. GROUND TRAINING: Exceptional ability, conduct good. Assimilates knowledge quickly." He was first in his class of 25.
He was at No. 5 SFTS, Brantford, Ontario May 4 to July 16, 1941 where he earned his pilot's wings. He was first in his class.
At No. 13 OTU Squadron, Patricia Bay, BC from July 29 to October 20, 1941: "An above average M.E. landplane pilot. Slow to learn at first but very conscientious." Other comments: "Agove the average in ground subjects only. Theis student led the class and was above the average in attitude and ability." Kenneth was then sent to Eastern Coastal Command.
At 0840, December 29, 1941 Digby 744 took off with the crew PILOT F/O J. W. Skidmore, J5105, SECOND PILOT P/O K. G. Schaefer, J6267, OBSERVER P/O Albert William Runte, J7783, AIR GUNNER AC1 John Sydney Legon, R93484, AIR GUNNER Sgt. Arthur Chapman, R65744, and WIRELESS OPERATOR Cpl. Cecil G. Heeney, P3016, with No. 10 BR Squadron, and flew out of Gander. They failed to return through cause or causes unknown. That no known visual or radio contact was made with aircraft 744 after departure from RCAF Station, Gander, Newfoundland. That at the time of take-off of aircraft, light icing conditions existed between approximately 1500 feet and 5500 feet in the area of his patrol. The cause of the accident: That Digby 744 took off on an outer anti-submarine patrol for convoy did not return, is missing and it is reasonable to suppose that it is lost. That the occupants of Digby 744 were on Active Service on duty…that the said occupants are missing and it is reasonable to suppose that they are dead."
"Digby from Gander unreported and overdue, but fuel should not be exhausted until approximately 2200 tonight. Aircraft on overseas convoy operation and absolutely no wireless contact with aircraft since departure at 0440 29/12 and D/F repeat D/F therefore possible…All available facilities of RCAF, RCN, USN, and USAAC endeavouring to contact and bring in aircraft."
A Court of Inquiry was struck. [Microfiche T-12340, Image 4644] Seven witnesses were called. DESCRIPTION OF FLIGHT: Digby aircraft 744 took off at 0640 hours from Gander, Newfoundland on an authorized operational flight east of Newfoundland. The aircraft failed to return. No visual or radio contact was made with aircraft from the time of take-off. An extensive search was made for the missing aircraft and crew, but no trace of either was found. It is reasonable to suppose that the aircraft is lost or totally damaged and occupants dead. The third witness, S/L Albin Laut, C861, Officer Commanding of 10 BR Squadron stated that he felt the captain and crew of Digby 744 were fully qualified in all respects. [He was killed on October 3, 1943, while on a cross country flight near Sydney, NS flying Ventura PV-1 2148.] The sixth witness, P/O Bertrand Hutchinson, J5063, pilot at No. 19 BR Squadron stated, "I was detailed as Second Pilot in Digby 745 to do a submarine patrol on US Convoy Task Force 19. We took off just after Digby 744 which was proceeding to the same convoy as ourselves. We did not see Digby 744 at all, but at position 50 degrees 00 N, 50 degrees 30 W, when it was still dark, I saw a flame float on the water about 3 or 4 miles to our starboard side. It stopped burning just after we passed it. Other than this, I saw nothing of Digby 744. We proceeded on our patrol, searching for the convoy until our time was up and then returned to base." FINDINGS OF INVESTIGATION: CAUSE: (a) That Digby 744 took off from RCAF Station, Gander, Newfoundland on an outer anti-submarine patrol for convoy at 0640 hours, 29-12-41, did not return, is missing and it is reasonable to suppose that it is lost. (b) That the occupants of Digby 744 were on Active Service, on duty…(c) that the said occupants are missing, and it is reasonable to suppose that they are dead. CONCLUSION: Aircraft failed to return for reasons unknown, probably due to icing conditions. All maintenance regulations were complied with by those responsible. L14 and relevant Log Books were impounded by the Commanding Officer immediately after report that aircraft was missing. RECOMMENDATION: That aircraft on operational flights be allowed to exchange call signs with base on receipt of the hourly weather reports when NOT within 75 miles of convoys or friendly ocean shipping." Aircraft of the unit and of the US Army Air Corps searched for three days with no result. They had later been grounded due to weather.
On December 31, 1941, Mrs. Schaefer received word that her youngest son was missing. She wrote to the Department of National Defence for Air Service, Ottawa in connection with the clothing left by her son and was instructed to return same to his unit. In April 1942, she sent two kit bags of Kenneth's to Brantford.
In late October 1955, Mrs. Schaefer received a letter informing her that since her son had no known grave, his name would appear on the Ottawa Memorial.