Kenneth Norman Miller R170646
August 14, 1914 - January 14, 1943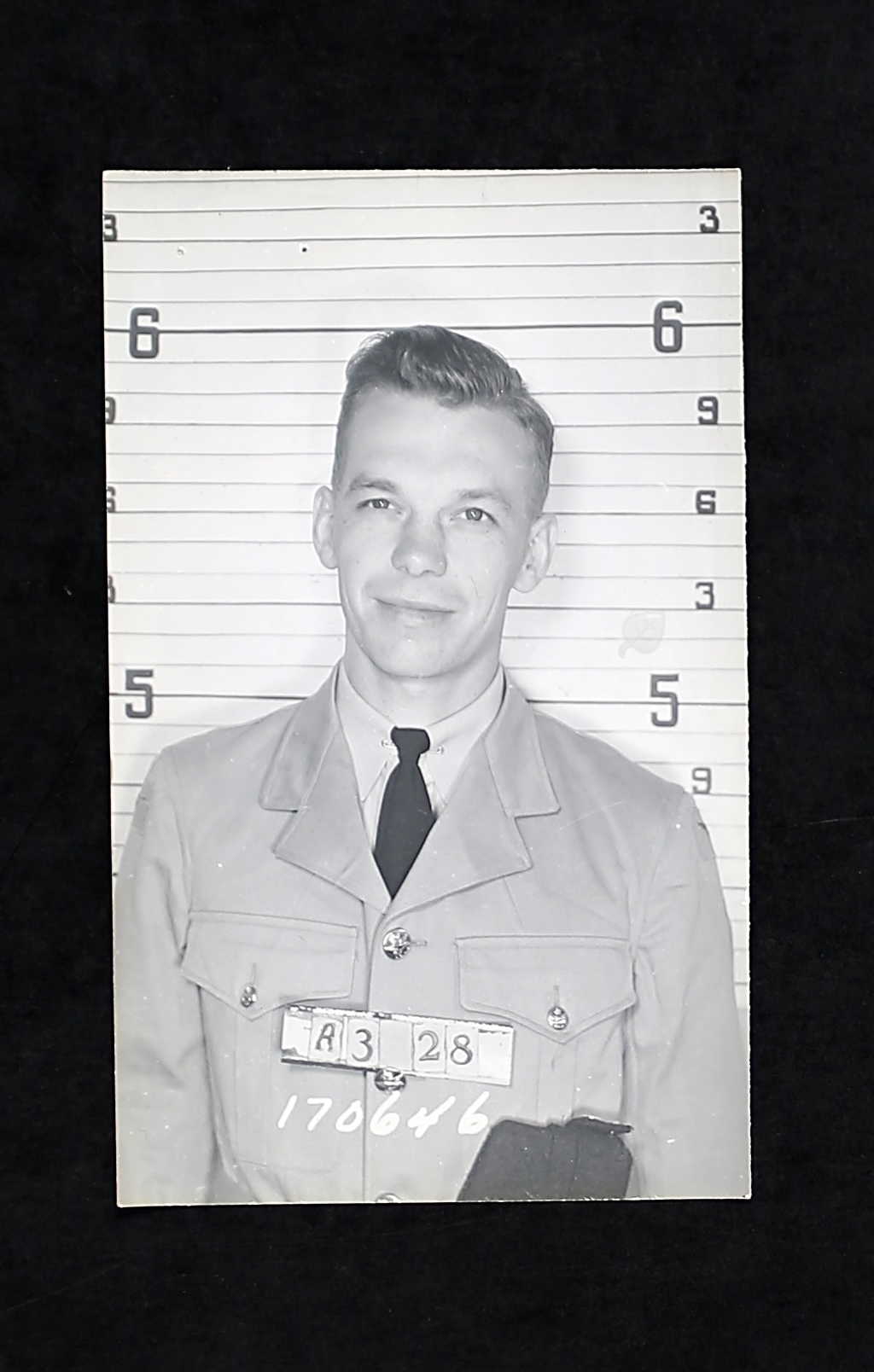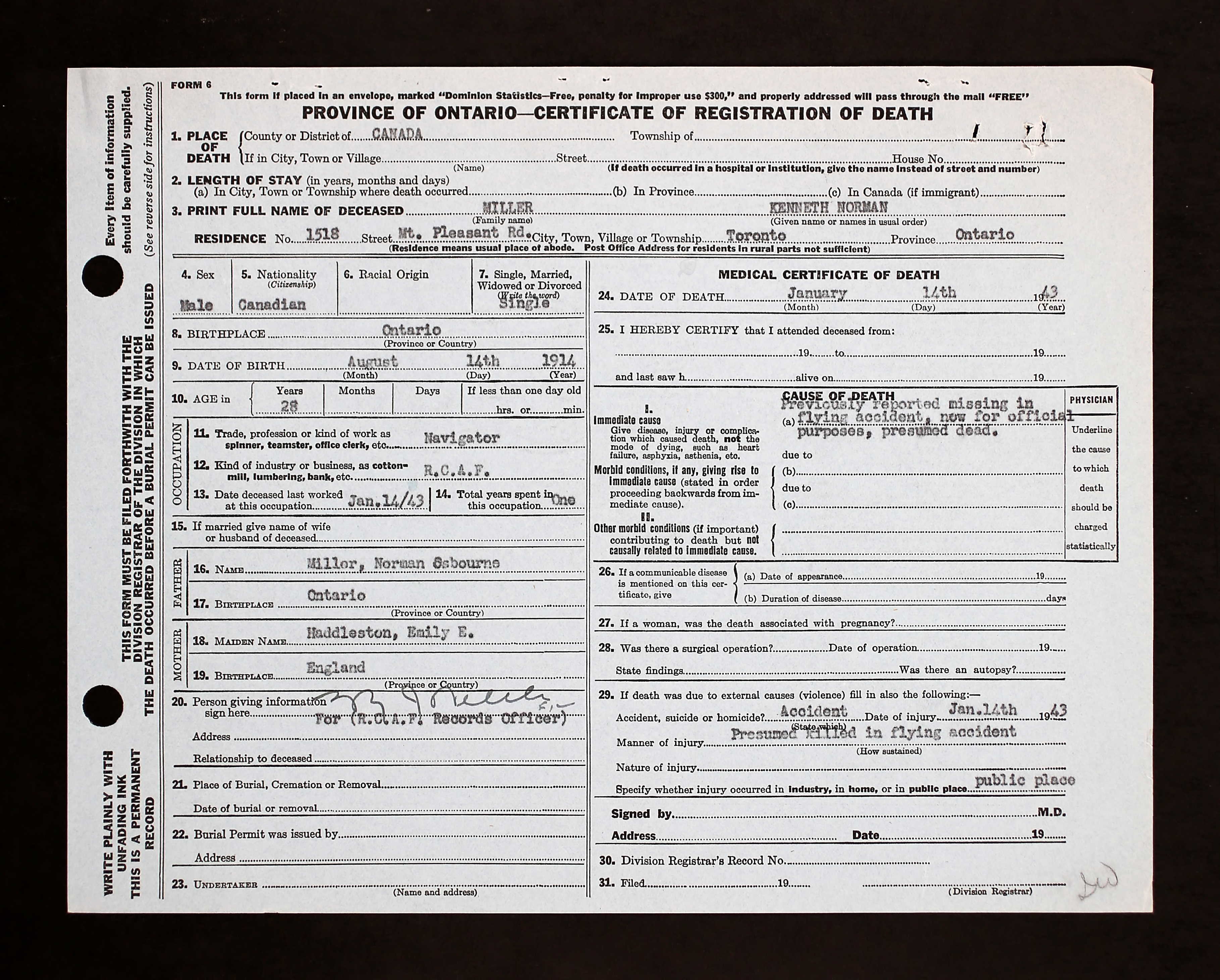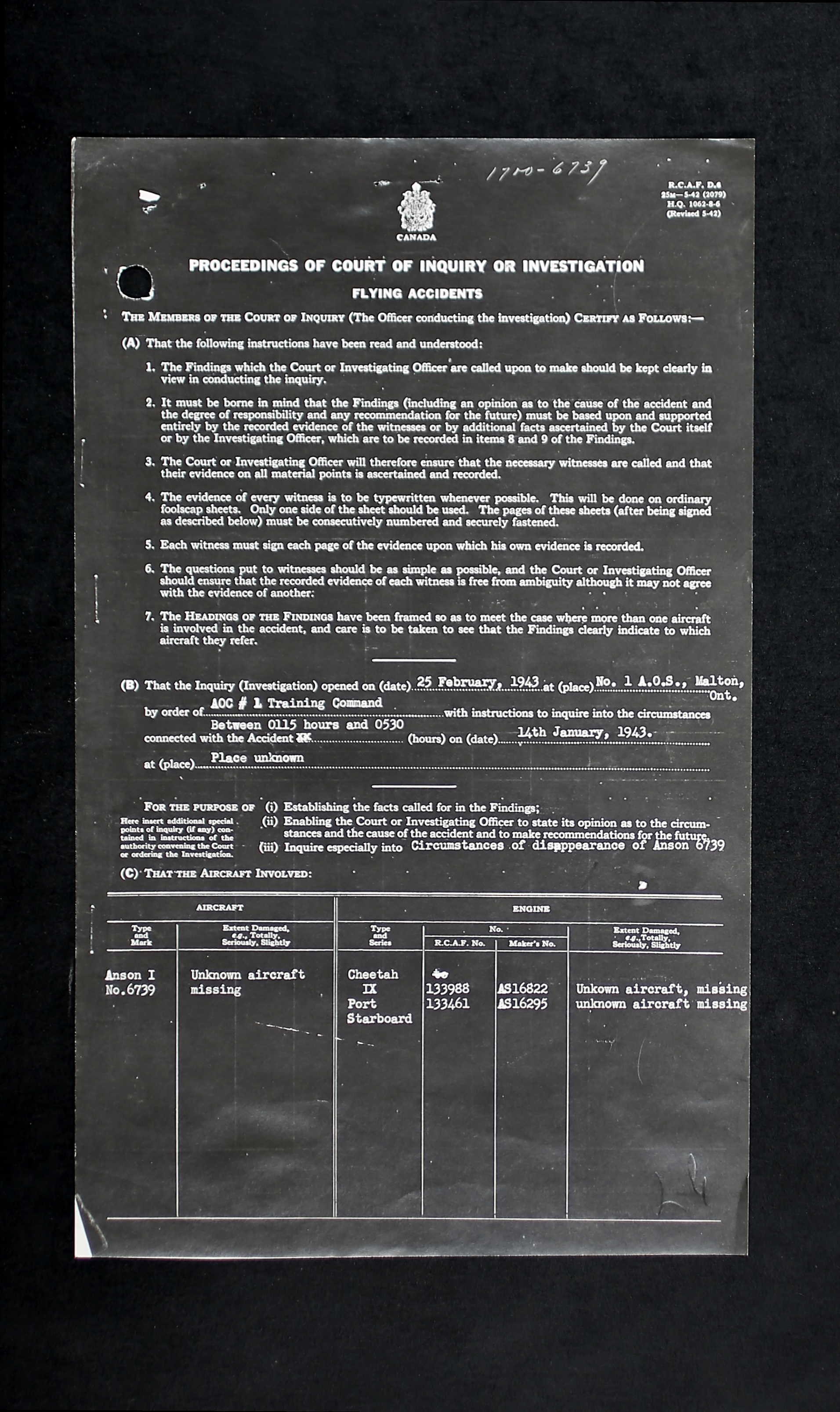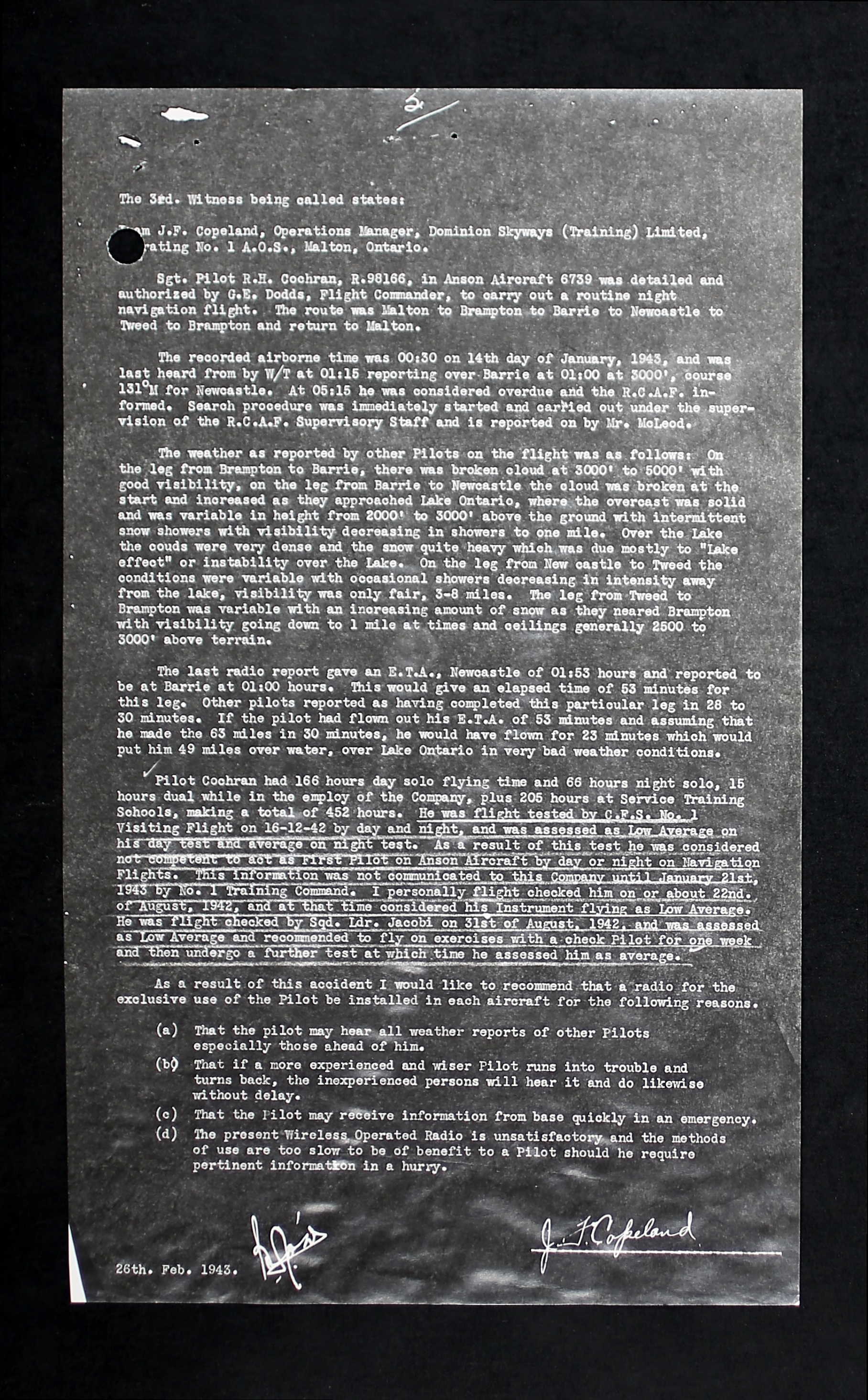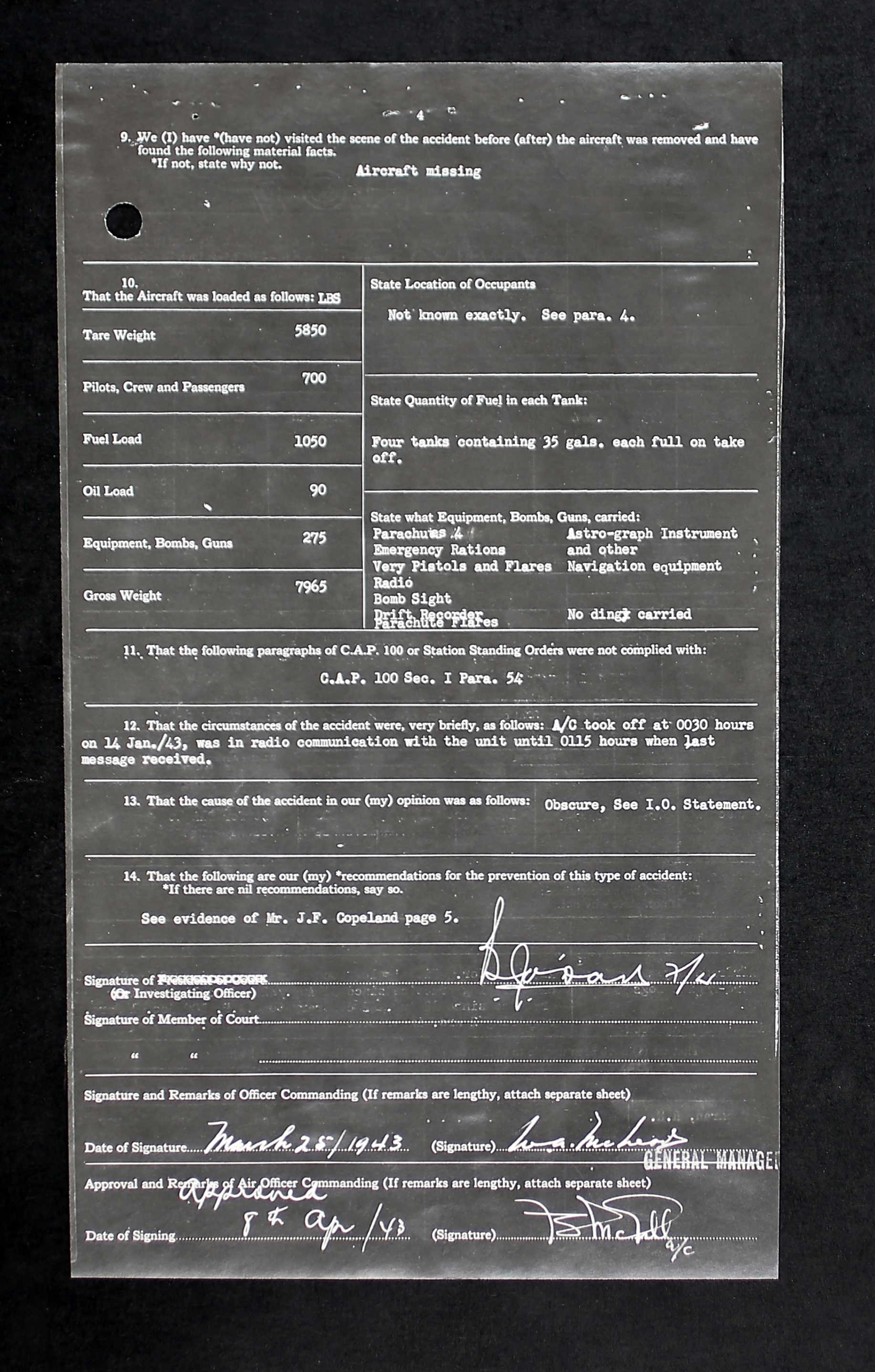 Purchasing agent became navigator. On night flight over Lake Ontario aboard Anson 6739, he was lost with three others.
Kenneth Norman Miller was the son of Norman Osbourne Miller, construction/sanitary engineer, and Emily E. (nee Haddleston) Miller. He had one full sister, Mrs. Emily K. Easterbrook and two younger half-sisters, Corrine and Nancy Miller. Their mother died in 1918 of Diphtheria. His step-mother was Nora Evelyn Miller. The family attended the United Church.
Kenneth liked mathematics and history best in school, but Latin and French were the two subjects he enjoyed the least. He was the President of two clubs: Simpson's 1/200 Club and Bedford Youngmen's Club. "I feel that as I have had little trouble in adapting myself to new duties in the business world, that I should be able to achieve a measure of success in the duties that I am assigned to in the RCAF."
He was working at James Rd. Kearney Corp. of Canada in Leaside, Ontario, in the sales department as a purchasing agent. Prior, he had been at Robt Simpson Co., Toronto. After the war, he wanted to work in a manufacturing agency. He enjoyed reading. He liked to ski and golf, with a 12 handicap. He did not smoke but drank moderate amounts of alcohol.
On his medical examination, his physique was noted as wiry, his mentality: alert. "Raised scar size of dime, lateral aspect right shoulder. Cardiopulmonary murmur present. There is also heard a systolic murmur over the left subclavia which is abolished by arm movement, aggravated by forced expiration a traction phenomenon. Pass as fit." Kenneth stood 5'9 ½" tall and weighed 149 pounds.
In October 1942: "Choice: N, P, would take any job in aircrew which he is deemed suitable. Motivation: felt it was about time he did something. Education: junior matriculation, partial senior matriculation. Has done clerical work and getting along quite well at it since then. Little mechanical interest. Probably not better than average emotional stability. Lies awake several hours before examinations."
At No. 1 ITS, Course 63, September 28 to December 4, 1942: "18th out of 29 students. "A quiet, conscientious airman who applied himself well while at this Unit. Very find service spirit and deportment. 81%"
Kenneth had $202.84 in his bank account, plus held eight War Savings Certificates. He had $3,500 in life insurance policies.
He started his journey through the BCATP on June 9, 1942 in Toronto at No. 1 Manning Depot. He was then sent to No. 6 B&G, Mount View, Ontario until September 26, 1942 when he was sent to No. 1 ITS, Toronto, September 27 to December 5, 1942.
Kenneth was at Malton, Ontario, No. 1 AOS, Course 65 from December 7 to January 14, 1943. "Making better than average progress. Mid-term results: Elementary of Nav: 83%. Odd subjects: 79%. Signals: 95%. Keen student. Anxious to succeed. Co-operative and straightforward at time."
On January 14, 1943, he was missing after a routine navigation flight. He was Second Navigator. Three other crew members were aboard: Sgt. R. H. Cochran, Pilot, Gordon Charles Bricker, First Navigator and Sgt. J. R. Barnett, Wireless Air Gunner.
On February 25, 1943, a Court of Inquiry was struck to investigate the missing Anson I 6739. Three witnesses were called to the Court of Inquiry held to investigate.
The third witness, J. F. Copeland, Operations manager, Dominion Skyways, (Training) Limited, operating No. 1 AOS, Malton, Ontario stated that Anson aircraft 6739 was detailed to carry out a routine night navigation flight. The route was Malton to Brampton to Barrie to Newcastle to Tweed to Brampton and return to Malton. the recorded airborne time was 00: 30 on the 14th day of January 1943 and was last heard from wireless transmission at 01: 15 reporting over Barrie at 0100 hours at 3000 feet. at 05: 15 the aircraft was considered overdue and the RCAF was informed. A search was immediately started and carried out. The weather reported by other pilots on the flight indicated that there was broken cloud and good visibility but as they approached Lake Ontario where the overcast was solid and variable in height from 2000 to 3000 feet above the ground with intermittent snow showers with visibility decreasing in showers to one mile. Over the lake the clouds were more dense and the snow quite heavy which was due mostly to lake effect or instability over the lake. On the leg from Newcastle to Tweed, the conditions were variable with occasional showers decreasing in intensity away from the lake, visibility was only fair 3 to 8 miles. The leg from Tweed to Brampton was variable with an increasing amount of snow as they neared Brampton with visibility going down to one mile at times and ceilings generally 2500 to 3000 above terrain. Other pilots reported as having completed this particular leg in 28 to 30 minutes. If the pilot had flown out his estimated time of arrival of 53 minutes and assuming that he made the 63 miles in 30 minutes, he would have flown for 23 minutes which would have put him 49 miles over water, over Lake Ontario in very bad weather conditions.
The pilot was assessed as low average on his day test and average on night test. As a result of this test he was considered not competent to act as first pilot on ants and aircraft by day or night on navigation flights. This information was not communicated to this company until January 21st 1943 by No. 1 Training Command. This witness personally flight checked him on or about the 22nd of August 1942 and at that time considered his instrument flying as low average. He was flight checked by a Squadron Leader on the 31st of August 1942 and it was assessed as low average and recommended to fly on exercises with a check pilot for one week and then undergo a further test at which time he assessed him as average.
Mr. Copeland recommended that a radio for the exclusive use of the pilot be installed in each aircraft so that the pilot may hear all weather reports of all other pilots especially those ahead of him, that if a more experienced and wiser pilot runs into trouble and turns back, the inexperienced persons will hear it and do likewise without delay, that the pilot may receive information from base quickly in an emergency, and the present wireless operated radio is unsatisfactory and the methods of use are too slow to be of benefit to a pilot should he require pertinent information in a hurry.
The cause of the accident was listed as obscure. No dinghy was carried aboard this aircraft.
In late October 1955, Mr. Miller received a letter informing him that his son had no known grave and Kenneth's name would appear on the Ottawa Memorial.