Kenneth Earl Hope R51020
December 4, 1916 - August 23, 1942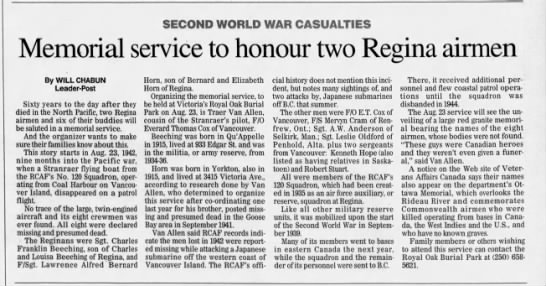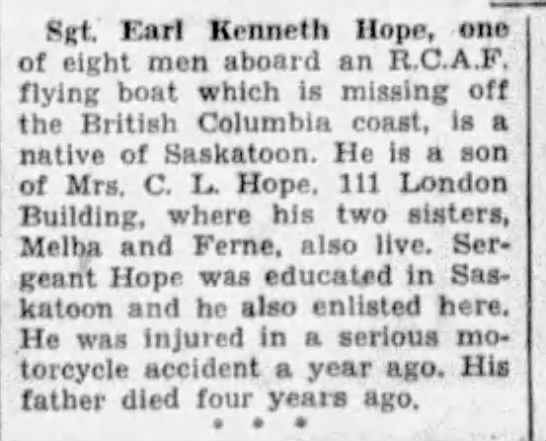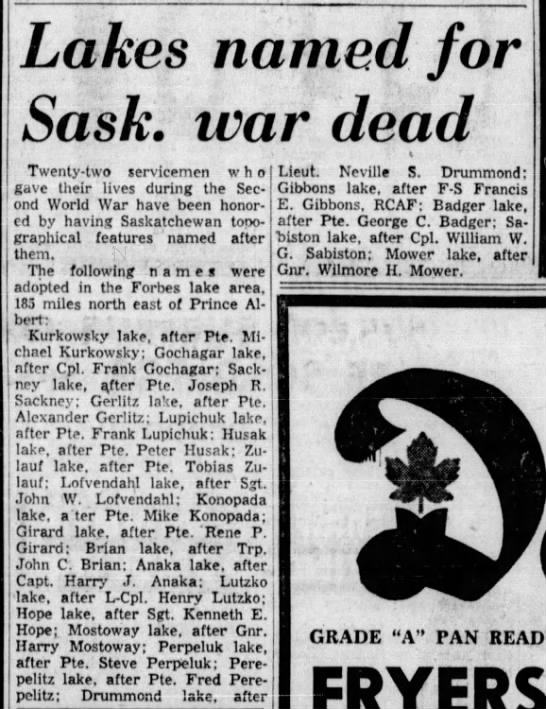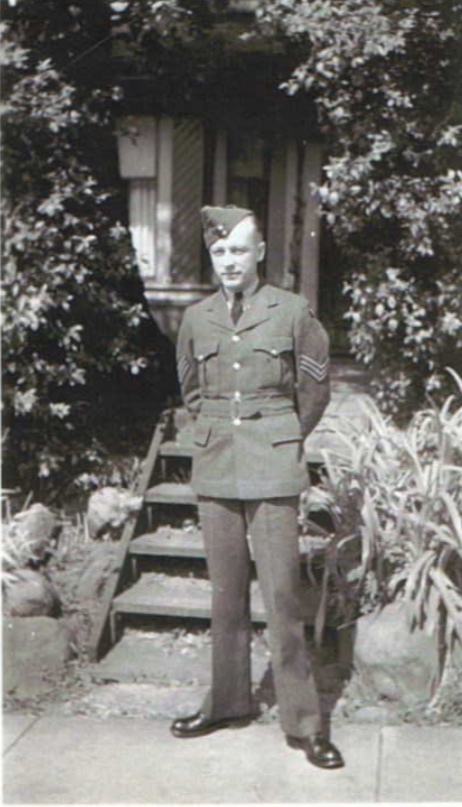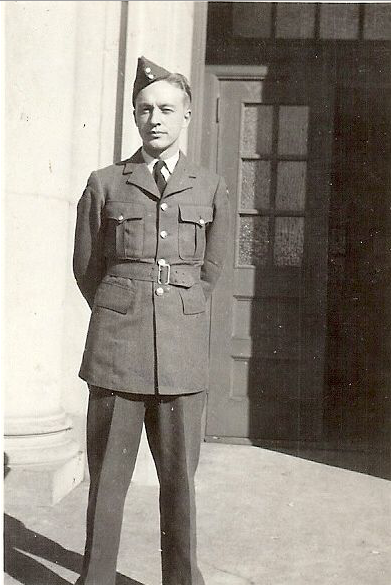 Hotel elevator operator became airframe mechanic at Patricia Bay. He was aboard Stranraer 951 when it went down 90 miles west of Vancouver Island.
Kenneth Earl Hope was the son of Thomas Earl Hope (1884-1939) and Cora Lillian (nee Findlay) Hope (1890-1979) of Saskatoon, Saskatchewan. He had two sisters, Melba Bernice (1912-2001) and Ferne Lorraine (1924-2005). Twin sisters died in infancy. The family was Presbyterian.
Kenneth attended school in Saskatoon until 1931, then attended Saskatoon Technical from 1931-1935, matriculation, woodwork and drafting. He played hockey and swam.
He enlisted in Saskatoon on October 16, 1939. He had been a hotel elevator operator for the CNR prior to becoming an airframe mechanic. Before that, he was a timekeeper at a construction firm and a labourer.
Kenneth stood 5'8 ½" tall, and weighed 140 pounds, had blue eyes and brown hair with a fair complexion. "This boy is a very fine gentlemanly type." He hoped to remain as a mechanic in the air services.
Kenneth married Marion Jean Duffy of Sutherland, Saskatchewan, on December 26, 1939, who later moved to Sidney, BC to be close to her husband. Thomas Aubrey Hope was born on December 2, 1940 in Sidney, BC at the Rest Haven Santitarium.
Kenneth was average in his dress, personal appearance and deportment at Patricia Bay, March 27, 1941 when he was promoted from LAC to Corporal.
He was in Saskatoon, then in St. Thomas, Ontario, posted then to Vancouver and Patricia Bay, taken on strength at 120 BR Coal Harbour December 10, 1941.
On August 9, 1941, Kenneth had surgery at the Esquimalt Military Hospital due to lacerations to scalp, multiple contusions, and a concussion due to a serious motorcycle accident on Patricia Bay Road the day before. Upon his release from hospital, he indicated he had no complaints and was feeling fit to leave the hospital. "Patient very thin and is still 10 pounds under his normal weight. However, he had gained 12 pounds in past six weeks. There is no sign of muscular wasting nor paresis of any groups. Slight sight dorso lumbar scoliosis." Other comments: "This patient was in a motorcycle accident on August 7 1941…he was admitted to Work Point Military Hospital for preliminary treatment…readmitted to Patricia Bay Hospital August 17, 1941. Has had an uneventful recovery." The RCAF doctor felt that two weeks sick leave should be granted and Kenneth did not require convalescent leave. However, Kenneth did have convalescent leave from October 4, 1941 for two weeks.
In September 1942, he was promoted to Sergeant. His character was rated very good, and his trade proficiency was satisfactory. "Keen, smart and intelligent."
From Aviation Safety Network: "At 1750 on August 23, 1942, Supermarine Stranraer 951 of 120 (BR) Squadron RCAF, with a crew of eight was on a routine combat patrol out of Coal Harbour, Vancouver Naval Air Station Base when it suffered engine failure and was forced to ditch. An SOS was received at 18.18 hours to say that it was sinking. A search located the aircraft but due to high sea conditions, rescue was impossible. Later searches failed to locate the aircraft or crew and they were lost without further trace."
Crew: • F/S Everard Thomas Cox (Captain) Vancouver, BC • F/S Lawrence Alfred Bernard Horn, (2nd Pilot) Regina, Sask. • Sgt Robert Bruce Stuart, (Observer) Vancouver, BC • F/S Mervyn Cram, (WAG) Renfrew, Ont. • Sgt Adolph Willard Anderson, (WAG) Selkirk, Man (under training) • Sgt Kenneth Earl Hope, (AFM) Vancouver, BC • Sgt Leslie Oldford, (AEM) Penhold, Alta • Sgt Charles Franklin Beeching, (AEM) Regina, Sask.
From the Court of Inquiry: "One man in excess of the normal crew of seven was carried. This airman was a WAG under instruction…the aircraft was not overloaded…equipped with one dinghy which would accommodate five men. One spare dinghy was available at the Station which could have been drawn by the captain of the aircraft but was not. Two rescue boats…attempted to reach the aircraft…but due to high seas and failure of radio returned to base. One reached the reported position before daylight the morning following the crash but could not locate the aircraft. The captain of the sighting aircraft carried only one dingy and was having trouble with both engines during the time he circled above the aircraft hence he did not drop his dinghy."
On August 30, 1951, Marion remarried in Victoria, BC. Her second husband was Timothy Arthur Hogan. (They had a son, Gary Timothy Hogan.) They later resided in Vancouver, BC; by January 1956, they lived in Trenton, Ontario where Marion received a letter informing her that since Kenneth had no known grave, his name would appear on the Ottawa Memorial.
In 1959, a lake was named in Kenneth's honour, geographical coordinates are 55°59' North and 104°47' West, about two hours north of La Ronge.
LINKS: