Joseph 'John' Sidney Roch Smith R171430
February 6, 1921 - December 26, 1944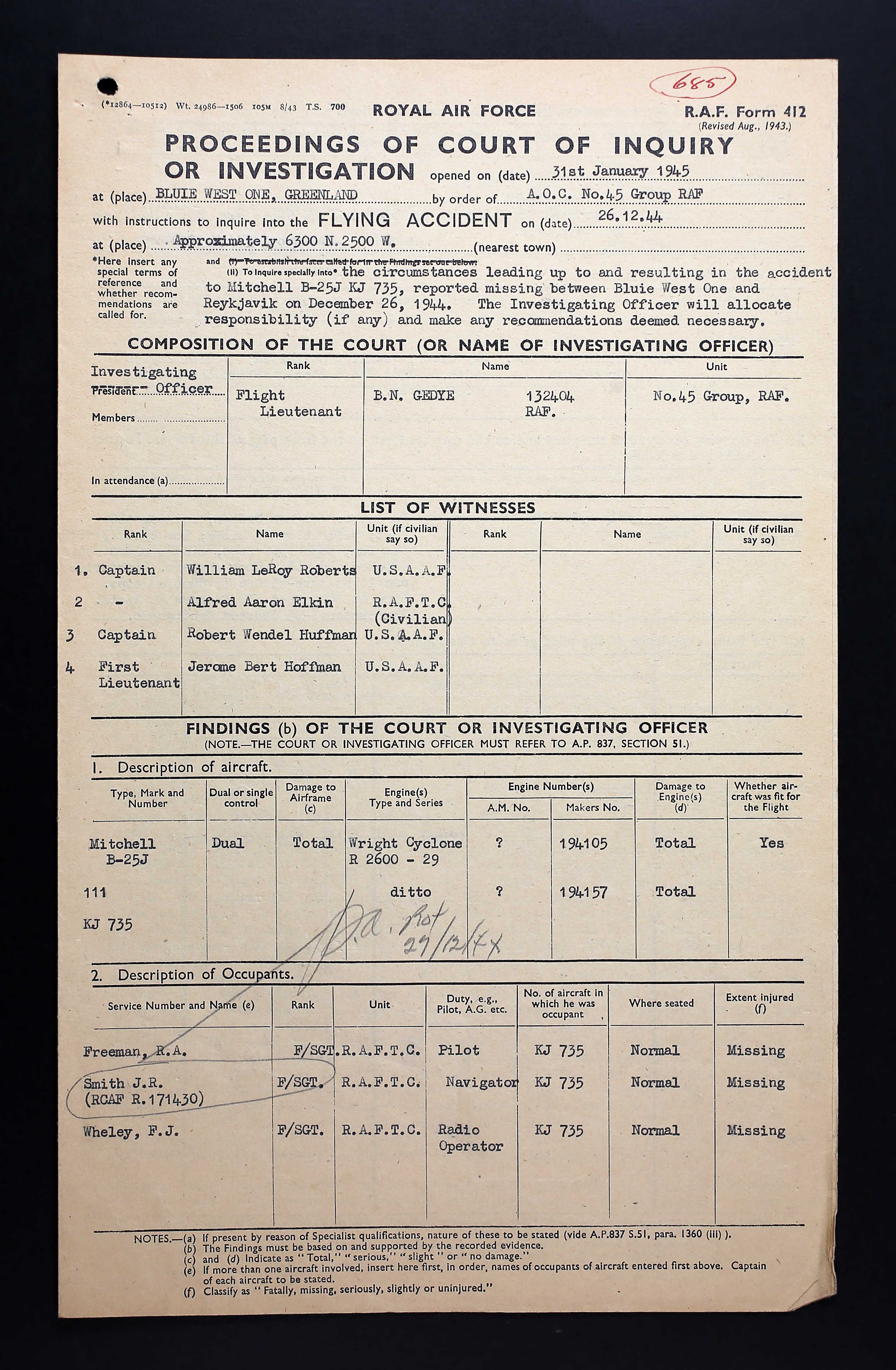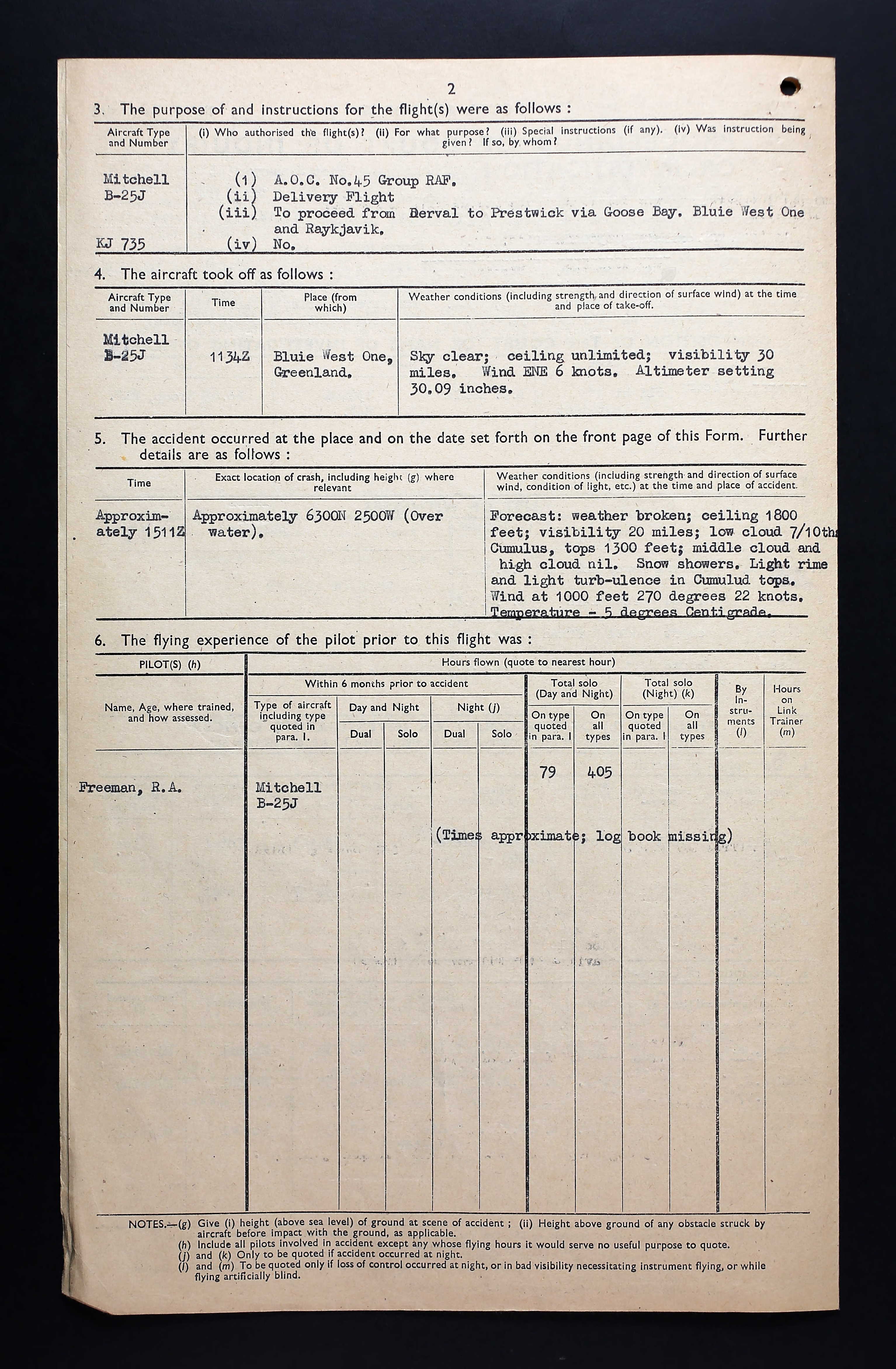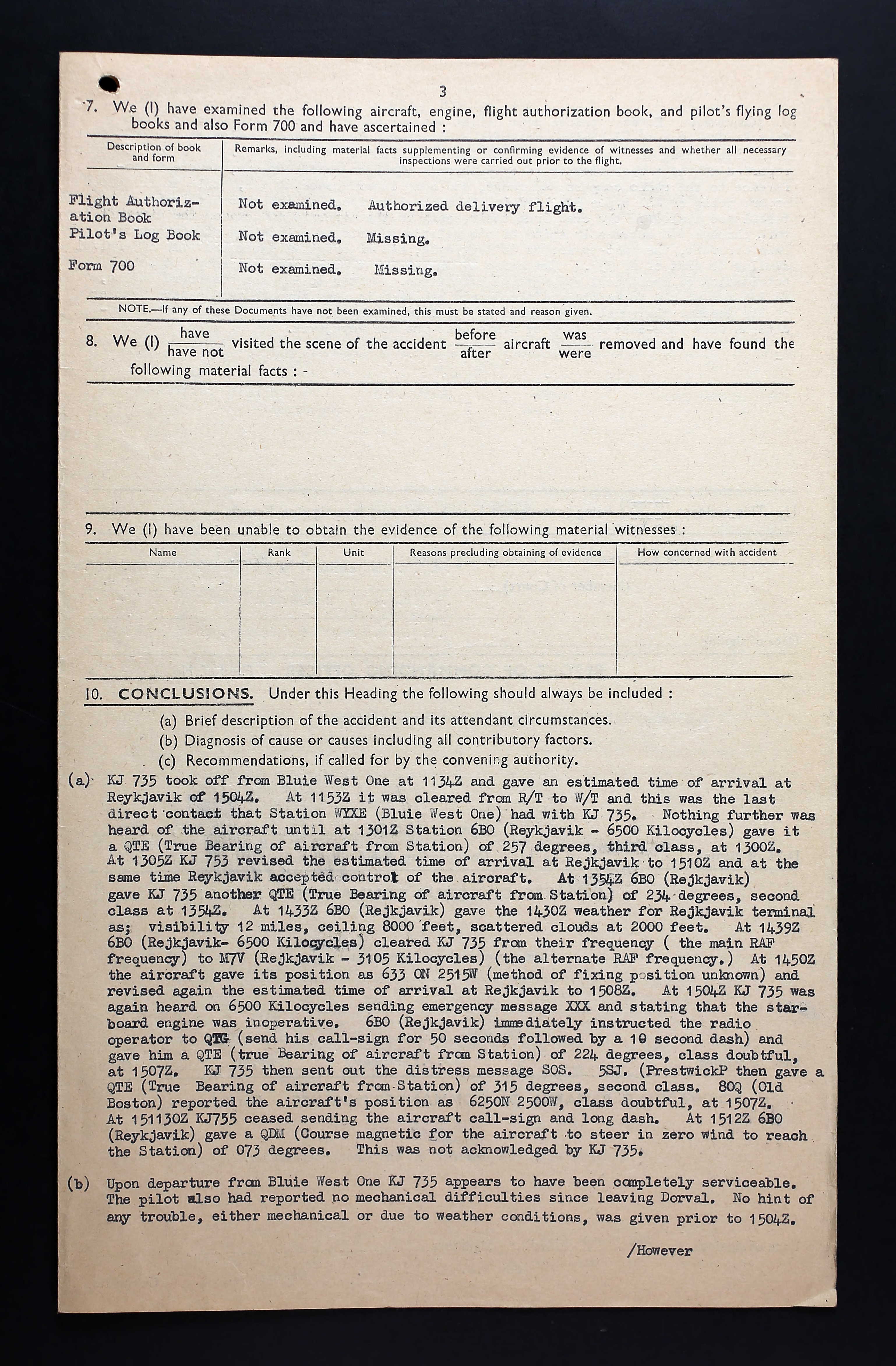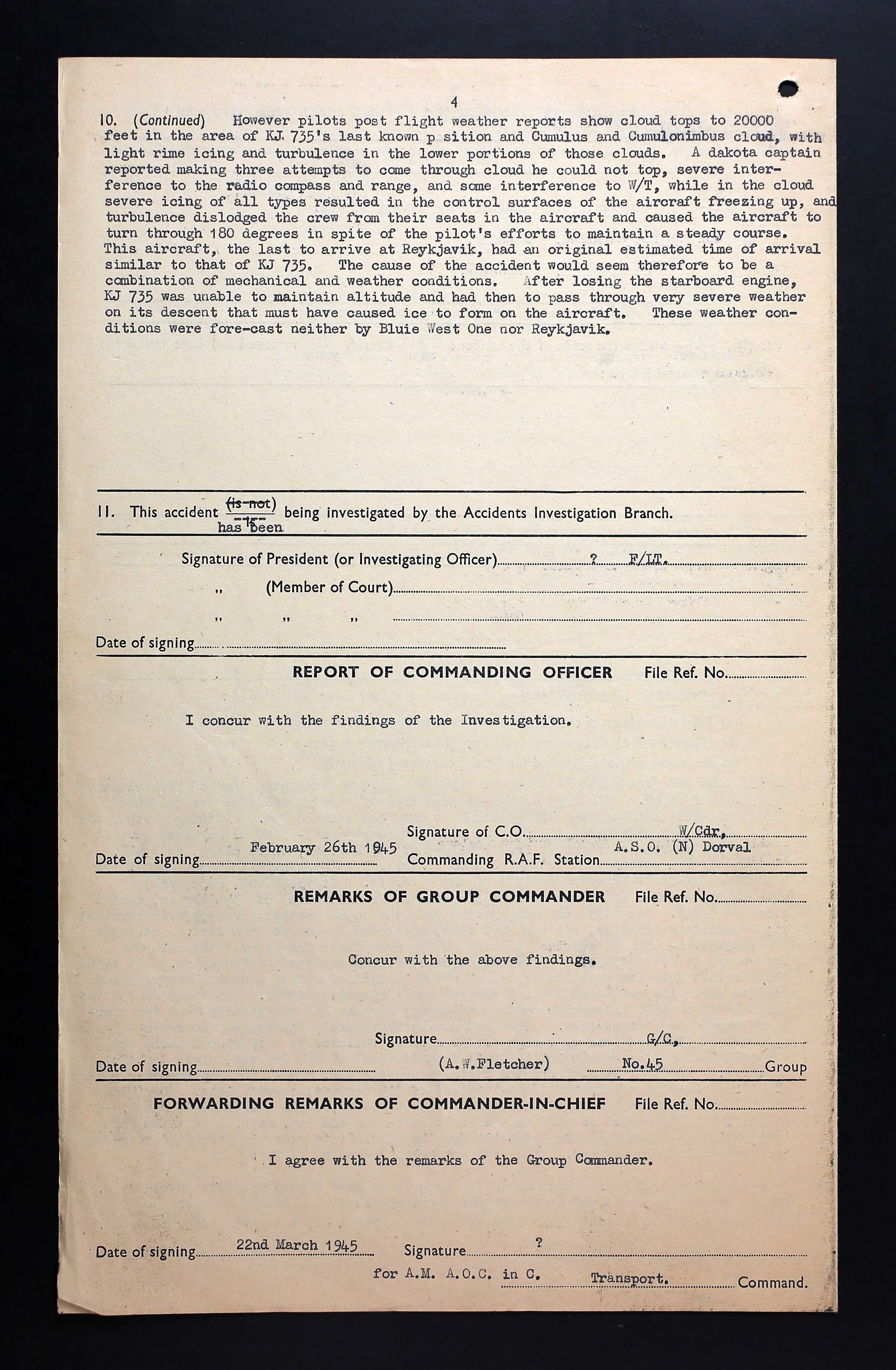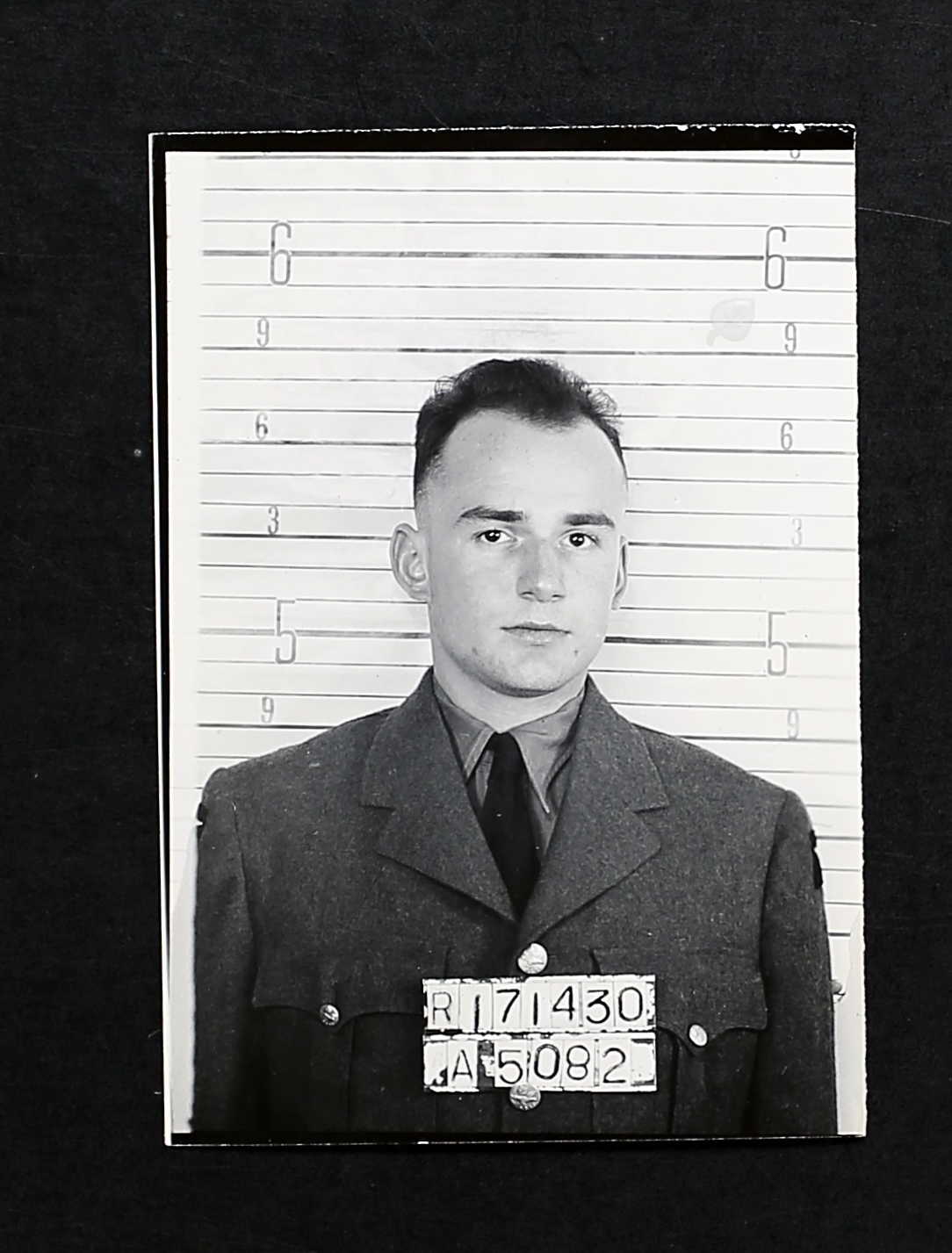 Bilingual riveter at Noorduyn Aircraft joined RCAF and became navigator. Aboard Mitchell KJ735, he and crew were lost between Greenland and Iceland in late December 1944.
Joseph John Sidney Roch Smith was the son of John 'Russell' Smith and Parmelia (nee Houle) Smith of Montreal, Quebec. He had two brothers, John and Theodore, and two sisters, Noelle Smith Fiset and Louise Smith Gelinas. A third brother, Richard, died at the age of two of Whooping Cough. Mr. Smith's whereabouts were unknown in 1944. Mrs. Smith wrote, "I have been lawfully divorced from Mr. Smith in British Columbia Courts, Vancouver, to be exact since 1935, having custody of the children." Mr. Smith (1873-1964), retired partner in Davidson & Smith Grain Elevators, remarried at the age of 56 in 1936, and resided in the Vancouver area. The family was Roman Catholic.
Known as John R. Smith, he liked reading and music, plus swimming, badminton, tennis, and skating. He had an appendectomy in 1936 and a large scar on his left leg noted. He was considered wiry and alert in January 1941 when he first tried to enlist with the RCAF. He was working as a riveter at Noorduyn Aircraft. John was fluent in English and French. In January 1942, he had hemorrhoids. "Piles have been injected with quinine methane, no pain, or bleeding, no protrusion," by March. John was accepted into the RCAF June 19, 1942. "Quiet, pleasant young lad. Bilingual, clean cut, and courteous. Does his test fairly well. Good material for aircrew. Intelligent. Clear voice."
January 7, 1943: "Fair build, physically fit. Alert, keen, average intelligence, good responses, motive obscure, not very sure of himself. Wants pilot or navigator." His night vision was rated as high average. He stood 5' 6 ¾" tall and weighed 130 pounds. He had brown hair and brown eyes.
John started his journey through the BCATP at No. 5 Manning Depot, Lachine, Quebec, July 6 until August 19, 1942. He was then sent to No. 2 SFTS, Uplands, Ontario until December 27, 1942. At No. 6 ITS, Toronto, December 29, 1942 to May 5, 1943: "This trainee displays a tense, nervous disposition and tends to be a little overanxious. Good in sports and mixes well in flight. Average ability and is well-motivated." He was 80th out of 101 in his class with 78%. He was then sent to Mountain View May 16 until July 10, 1943. John was sent to No. 10 AOS Chatham until December 10, 1943. Pennfield Ridge was his next destination until March 11, 1944.
He was attached to No. 45 (RAFTC) by March 14, 1944. On December 26, 1944, he was aboard Mitchell KJ735; the aircraft was lost between Greenland and Iceland. In the Court of Inquiry: "The circumstances leading up to and resulting in the accident to Mitchell B-25J KJ 735, reported missing between Bluie West One and Reykjavik on December 26, 1944. The investigating officer will allocate responsibility (if any) and make any recommendations deemed necessary." Other crew members were: Pilot F/Sgt R. A. Freeman, RAFTC, and Radio Operator F/Sgt F. J. Wheley. Witnesses were: Captain William LeRoy Roberts, USAAF, Captain Alfred Aaron Elkin, RAFTC (civilian), Captain Robert Wendel Huffman, USAAF, and First Lt. Jerome Bert Hoffman, USAAF. The crew were to proceed from Dorval to Prestwick via Goose Bay, Bluie West One and Reykjavik on a delivery flight. Over water at approximately 1511 Z, forecast: weather broken, ceiling 1800 feet; visibility 20 iles; low clod 7/10ths Cumulous, tops 1300 feet; middle cloud and high cloud nil. Snow showers. Light rime and light turbulence in Cumulus tops. Wind at 1000 feet 270 degrees 22 knots. Temperature – 5 degrees Centigrade. The pilot, R. A. Freeman had 405 hours total flying. "KJ 735 took off from Bluie West One at 1134Z and gave an estimated time of arrival at Reykjavik of 1504Z. At 1153Z, it was cleared from R/T/ to W/T and this was the last direct contact that Station WYXE (Bluie West One) had with KJ235. Nothing further was heard of the aircraft until at 1301 Station 6BO (Reykjavik – 6500 kilocycles) gave it a QTE (True Bearing of aircraft from Station) of 257 degrees, third class at 1300Z. At 1305Z, KJ735 revised the estimated time of arrival…to 1510Z and at the same time, Reykjavik accepted control of the aircraft. At 1354Z, 6BO gave KJ735 another QTE of 234 degrees, second class at 1354. At 1433Z, 6BO gave the 1430 weather for Reykjavik terminal as visibility 12 miles, ceiling 8000 feet, scattered clouds at 2000 feet. At 1439Z, 6BO, cleared KJ735 from their frequency to M7V, the alternate RAF frequency. At 1450Z, the aircraft gave its position and revised again the estimated time of arrival to 1508Z. At 1504, KJ735 was again heard on 6500 kilocycles sending emergency message XXX stating that the starboard engine was inoperative. 6BO immediately instructed the radio operator to QTG, send his call-sign for 50 seconds followed by a 10 second dash and gave his a QTE of 224 degrees, class doubtful, at 1507Z. KJ735 then sent out the distress message SOS. Prestwick then gave a QTE of 315 degrees, second class. Old Boston reported the aircraft's position…class doubtful, at 1507Z. At 1511Z, KJ735 ceased sending the call-sign and long dash. At 1512Z, 6BO gave a QDM (course magnetic for the aircraft to steer in zero wind to reach the station) of 073 degrees. This was not acknowledged by KJ735. Upon departure from Bluie West One, KJ735 appears to have been completely serviceable. The pilot also had reported no mechanical difficulties since leaving Dorval. No hint of trouble, either mechanical or due to weather conditions was given prior to 1504Z. However, pilot's post flight weather reports show cloud tops to 20,000 feet in the area of KJ735's last known position and cumulous and c cumulonimbus cloud, with light rime icing and turbulence in the lower portions of those clouds. A Dakota captain reported making three attempts to come through cloud he could not talk, severe interference to the radio compass and range, and some interference to W/T, while in the cloud severe icing of all types resulted in the control surfaces of the aircraft freezing up, and turbulence dislodged the crew from their seats in the aircraft and caused the aircraft to turn through 180 degrees in spite of the pilot's efforts to maintain a steady course. This aircraft come the last to arrive at Reykjavik had an original estimated time that similar of KJ735. The cause of the accident would seem therefore to be a combination of mechanical and weather conditions. After losing the starboard engine, KJ735 was unable to maintain altitude and have them to pass through very severe weather on its decent that must have caused ice to form on the aircraft. These weather conditions were forecast neither by Bluie West One or Reykjavik."
John had a funds of $620 in the Bank of Toronto, plus some War Savings Certificates, as well as Victory Loan Bonds. He is remembered on the Ottawa Memorial.