Joseph Coates Redmond J5072
March 23, 1917 - November 8, 1943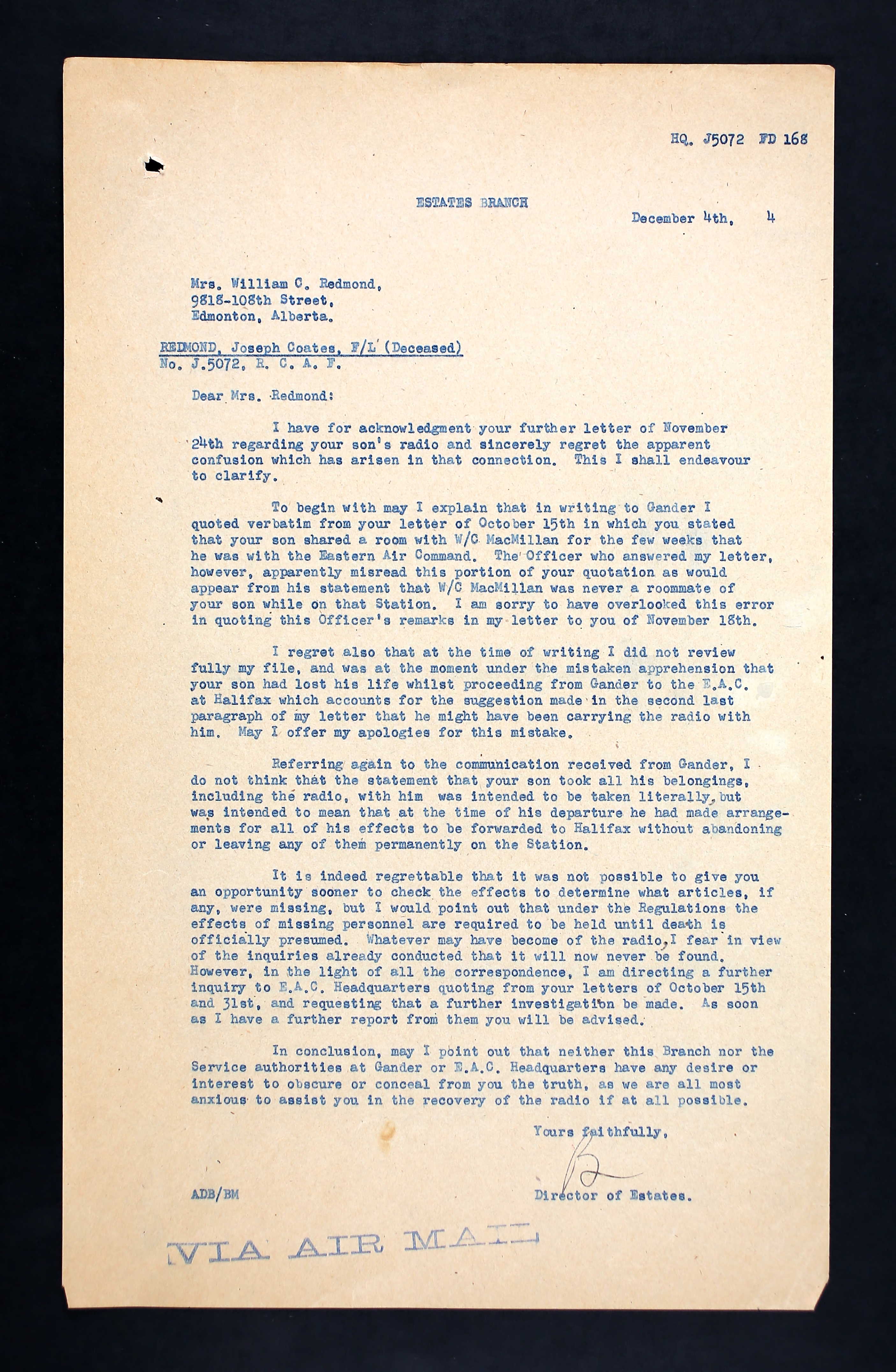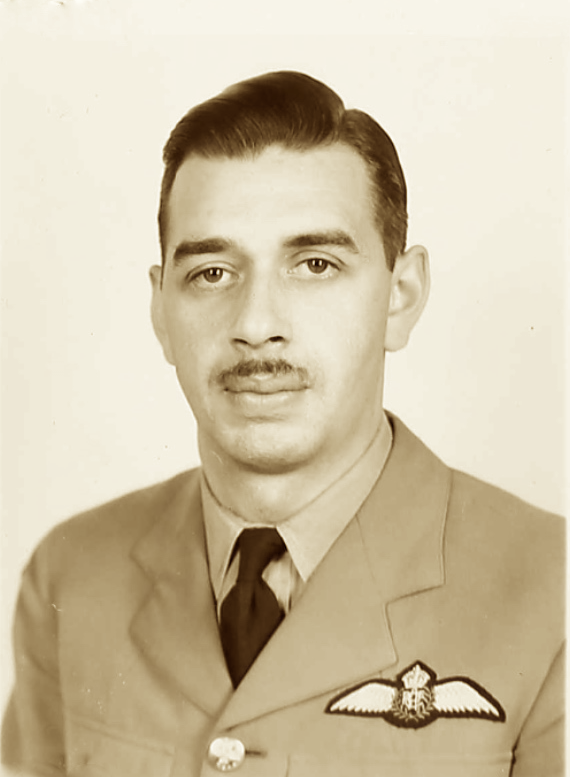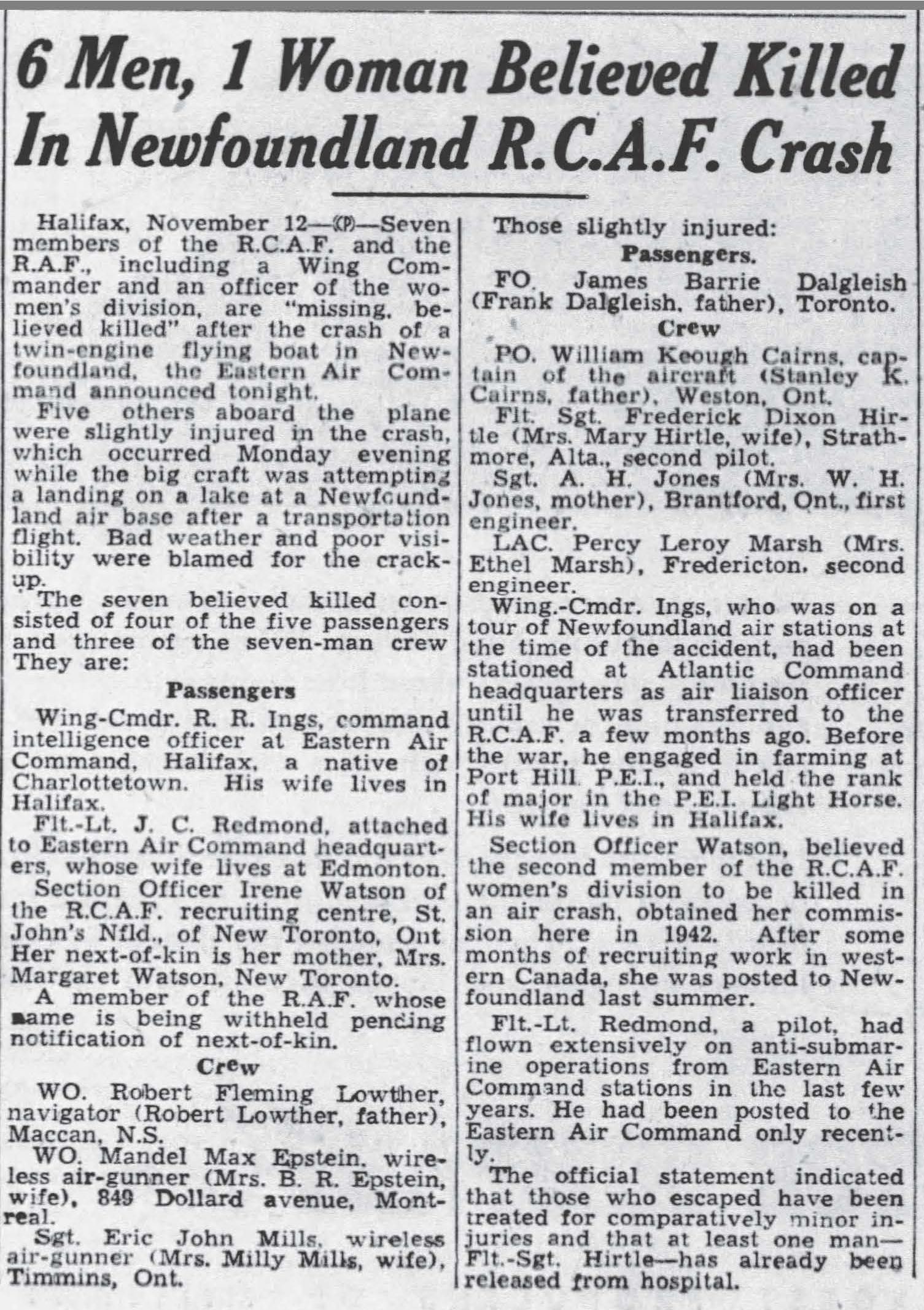 Student became pilot with RCAF. He with eleven others were aboard Canso 9834 when it was involved in a flying accident near Botwood, Newfoundland. He with six others lost their lives.
Joseph Coates Redmond, born in Edmonton, Alberta, was the son of Dr. William Carleton Redmond (1875-1948), medical doctor and Evelyn May (nee Coates) Redmond. He had two brothers: William and Hugh. Hugh was overseas with the RCAF. The family was Presbyterian.
He attended McKay Avenue School from 1923 to 1930, then Garntaw High 1930-1933, then Victoria High, 1934-1935. He attended the University of Alberta from 1935 to 1939 studying Arts and Applied Sciences. He was the foreman at Kenn's Service Garage Limited, Edmonton, at various times between 1936 and 1940. "We have always found him industrious, honest and aggressive, and we are quite sure he would apply himself to any work which he may be given," stated the managing director at Kenn's on January 12, 1940. He was assessed in August 1940: "Fair material for commission; fair type. Good education and useful experience." He worked for the Department of Mines and Resources as a surveyor for summer work 1938-39.
He stood 5'9" tall and weighed 150 pounds. He had black hair and brown eyes, wearing a dark trimmed moustache. He liked rugby, skating, golf, and softball, plus motor mechanics. "Frank, courteous, not prepossessing in appearance. Good education. Useful experience. Reference letters from dependable sources." A 2" scar on his left forearm and a birthmark on his right hip were noted. He smoked ten cigarettes per day and drank two pints of beer a month. Joseph planned to return to school after the war was over.
At No. 2 ITS, Regina, November 27, 1940: "Nothing particularly outstanding" yet he was 4th out of a class of 192. He received an 89% in his classes. He was then sent to No. 5 EFTS, High River, Alberta. P/O J. C. Redmond was at No. 13 OT Squadron at Patricia Bay, British Columbia from May 10 to July 28, 1941, attending a course. "A good capable twin engine pilot. With more experience, should make a good operational pilot. Possesses initiative and confidence." He received a 100% grade on Signals, a 95% on Patrol and Search and a 92% on Practical Coding. He received 78% in Coding Theory, Ship Recognition and Seasmanship. Meteorology: 75%. D. R. Navigation: 88% and Reconnaissance: 84%. He was sent to Nova Scotia in August 1941 to EAC HQ. He flew out of Halifax for a few weeks before being posted overseas to Gander. October 1942, Gander, Newfoundland: "This officer has proven his ability as a pilot on several occasions with this Unit, has over 1000 hours in Newfoundland in the last 12 months. Would be capable of holding a mere responsible position as a flight commander and recommended for promotion to acting F/L." Joseph was admitted to Station Hospital at Gander, Newfoundland on October 3, 1941, for shock following a class B crash. No injuries were sustained.
In July 1942, he was considered to be doing "very good work. He is loyal, energetic, capable, and willing. His promotion to Flying Officer is recommended." He was first pilot aboard Digby aircraft with No 10 BR Squadron and flying as Captain of aircraft on operations since April 1, 1942.
He suffered from appendicitis in December 1942 and had surgery at University Hospital, Edmonton.
On July 2, 1943, the Officer Commanding No. 10 (BR) Squadron, Gander, stated: "A fine young officer with a pleasing personality and a splendid record of devotion to duty Would make an excellent operations room assistant controller...Like most pilots of his rank, he needs administrative experience to round him out. Immediate promotion to temporary rank of F/L is recommended please, effective August 1, 1943." On September 13, 1943, the officer in charge of the Officers Administrative Course wrote: "An intelligent, capable general list officer of average appearance and deportment who made good progress on the course. Has good knowledge of drill but should try to develop word of command." Out of 41 students Joseph Redmond was 19th, receiving a 75%.
At the time of the accident, it appears that F/L Redmond was making his way from Gander returning to Halifax. Dr. and Mrs. Redmond were very upset with the RCAF because of the time it took for them to receive their son's personal belongings including a valuable radio. They never received their son's radio, its whereabouts unknown. His name appears on the Ottawa Memorial.
For more information, please click on the link below. All personnel onboard Canso 9834 who died are listed, along with the Court of Inquiry's investigation.
LINKS:
THOSE ABOARD CANSO 'A' 9832
*P/O William Keough Cairns, J35956, survived *F/S Frederic Dixon Hirtle, R131516, survived *F/O James Barrie Dalgleish, J10579, survived * Sgt A. H. Jones, Brantford, Ontario, injured *LAC Percy Leroy Marsh, Fredericton, injured *WO2 Robert Flemming Lowther, J41907, killed *Wing Commander Ralph Royden Ings, C27599, killed. *F/L Joseph Coates Redmond, Edmonton, Alberta, J5072, killed *Major Kenneth Storey Morton, RAF, killed *Mandel Max Epstein, R104789, RCAF, killed *S/O Irene Watson, RCAF WD, killed *Sgt. Eric John Mills, R184018, RCAF, killed
Further information about the survivors:
• P/O William Keough Cairns (1921-1992), Weston, Ontario, J35956 -- survived. He married Rene Irene Fairbridge (1920-1984) in 1945. They had a daughter, Barbara (1946 - 2004) and a son, Douglas (1947-1947). In 1948, an article explained that a postman, named William Cairns, 28 years old, rescued a housewife in Toronto from her gas-filled home. He was celebrated and became a hero, winning the DOW Award for his act of outstanding bravery, earning a $100 Canada Savings Bond. He enjoyed genealogy, researching his family tree. William Cairns died in Toronto.
• F/S Frederick Dixon Hirtle, Strathmore, Alberta, R131516 -- survived. In February 1939, according the Calgary Herald, Fred Hirtle, along with the winners of an amateur radio contest held at his father's movie theatre in Strathmore, were part of a radio broadcast. Fred was a member of a music club, playing the cornet, trumpet, and organ. He continued to play music throughout his life. In December 1967, he became the new Chief Flying Instructor with the Chilliwack Flying Club. A newspaper article reported: "He was with the RCAF's coastal command flying Cansos in Newfoundland and Sunderlands overseas. He was discharged from the services in 1945. He took an instructor's course with Waneta Airways, Trail, BC in 1956 and has been an instructor at Trail and Castlegar since that time. He moved to the coast in September. Married, he has one daughter, Elaine, who is teaching school in the district." He was a member of the Rotary Club in Salmon Arm, BC in 1983. He passed away in 1997, buried in Sorrento, BC. He was married twice, his second wife passing away in 1999.
• F/O James Barrie Dalgleish, Toronto, Ontario, J10579 -- survived. He married Margaret Louise Patton in June 1944.
• Sgt A. H. Jones, Brantford, Ontario -- injured.
• LAC Percy Leroy Marsh, Fredericton, New Brunswick -- injured.
• Major Kenneth Storey Morton, RAF, Doddington, Northumberland, UK -- killed. He was the son of John and Hilda Susie Morton. He was serving on the HQ Staff of Coastal Command, RAF. He is commemorated in St. Aidan's Churchyard and on the Brookwood 1939-1945 Memorial, Brookwood, Surrey. In the church, there is a stained-glass window in his memory, depicting a Halifax bomber towing a glider. The inscription reads, "To the Glory of God and in loving memory of Kenneth Storey Morton, Major Royal Artillery (T.A.) of Hetton Law who gave his life on Active Service Overseas on 8th November 1943, aged 23. Erected by his parents." Some discrepancies in the information as he died in a Canso, and another source shows he was 28. His name appears on the Brookwood 1939-1945 Memorial in Surrey, England.